'Ameryka' a Biting Commentary on Our National Psyche
A new staging of Nancy Keystone's award-winning political play comes to the Kirk Douglas Theatre in Culver City.

In 2009, Ameryka's writer/director Nancy Keystone was perusing a catalogue, Western Amerykański: Polish Poster Art and the Western, when she spotted a 1989 poster that celebrated the first democratic elections in Poland since World War II. The central image was a black-and-white-photo of Gary Cooper in the 1952 film High Noon. Keystone's curiosity was piqued over the odd connection between Polish elections and classic American cinema, and her subsequent research helped spark this sprawling political piece that spans two countries — the U.S. and Poland —and several historical time periods.
A collaborative effort of Keystone's Critical Mass Performance Group, the play speaks to the struggle of ordinary citizens for a voice in their destiny and the tactics and hypocrisy of the powerful forces that would silence them. Originally staged in 2016 at the Shakespeare Center Los Angeles, here it's played out on a large spare proscenium (set by Keystone) at the Kirk Douglas Theatre as part of Center Theatre Group's "Block Party" project, which supports smaller LA. Companies. The patchwork narrative shifts back and forth among the American Revolutionary War period, the 1950s under McCarthyism, the 1980s, when a two-faced Reagan administration fired striking air traffic controllers while supporting the striking Polish Solidarity movement abroad, and the early years of this century when the CIA, obsessed with the war on terror, established a base in Poland, sweetening its presence with American dollars.
These scenarios are peopled with both fictional and historical personages, including Tadeusz Kosciuszko (Jeff Lorch), a Polish military officer and passionate democrat who fought with the colonists against the British, his friend Thomas Jefferson (Curt Bonnem), who spoke against slavery but kept his slaves, and Kosciuszko's military aide during the Revolutionary War, Agrippa Hull (Lorne Green), a free black man and soldier whose accomplishments inspired Kosciuszko to champion abolitionism, in contrast to Jefferson (who was charged by Kosciuszko to use his estate after he died to help free slaves, and promised to do so but never did). A scene where Kosciuszko and Jefferson dine at Monticello and discuss the evils of slavery, while being catered to by Jefferson's slave (Ray Ford), is only one of the pungently ironical moments the play serves up.
Twentieth century personages include a pious William Casey (Russell Edge), who leads a prayer vigil with his underlings before plotting to implement a national directive challenging the Soviets through Poland ("Fuck Yalta"), Anna Walentynowicz (Valerie Spencer), a colleague of Lech Walesa, and Father Jerzy Popieluszko (Lorch), the pro-Solidarity priest assassinated in 1984.
After opening with the rough-handed arrest of Walentynowicz by Polish security agents, the play harks back to 1959. (Fictional) jazz musician Gene Jefferson (Ford) visits Poland, where he discovers that Poles love jazz and other things American, including Westerns and Gary Cooper. An African-American who steels himself daily against condescending racism (illustrated by his prior interview with a State Department official) he's taken aback at their rah-rah America enthusiasm. That same cultural disconnect manifests in a scene from the '80s; a gay American man named Ray (Ford) recounts meeting this terrific Polish guy in a bar, only to be put off when the Pole sings Reagan's praises for supporting Solidarity. To Ray, Reagan's legacy are the thousands of AIDS victims.
A complex entangled piece, Ameryka packed a punch when it was staged at the Shakespeare Center nearly 18 months ago (winning the Stage Raw award for Production of the Year) but loses some of its edge in the larger space at the Kirk Douglas. Less than optimal acoustics seem to be part of the problem. Many of the original ensemble members are reprising their roles; one exception is Lorch, recently brought in to replace the original actor. His work is fine, as is everyone's, but I did wish for more distinctive and distinguished ardor from this character in particular.
Still, Ameryka remains a substantive, historically informative work, a biting commentary on the contradictions and illusions that bedevil not only our own national psyche but others. It's the sort of drama we need more of.
Critical Mass Performance Group, Kirk Douglas Theatre, 9820 Washington Blvd., Culver City; (213) 628-2772, online at www.CenterTheatreGroup.org; Wed.-Sat., 8 p.m.; Sat., 2 p.m;, Sun., 1p.m.; through April 29.
---
Copyright Capital & Main
'Skeleton Crew' Is a Play With a Moral Spine
Set in a Detroit automobile outfitting plant, Dominique Morisseau's drama grabs you from the start with its focus on blue-collar men and women, and their struggle for dignity and self-respect.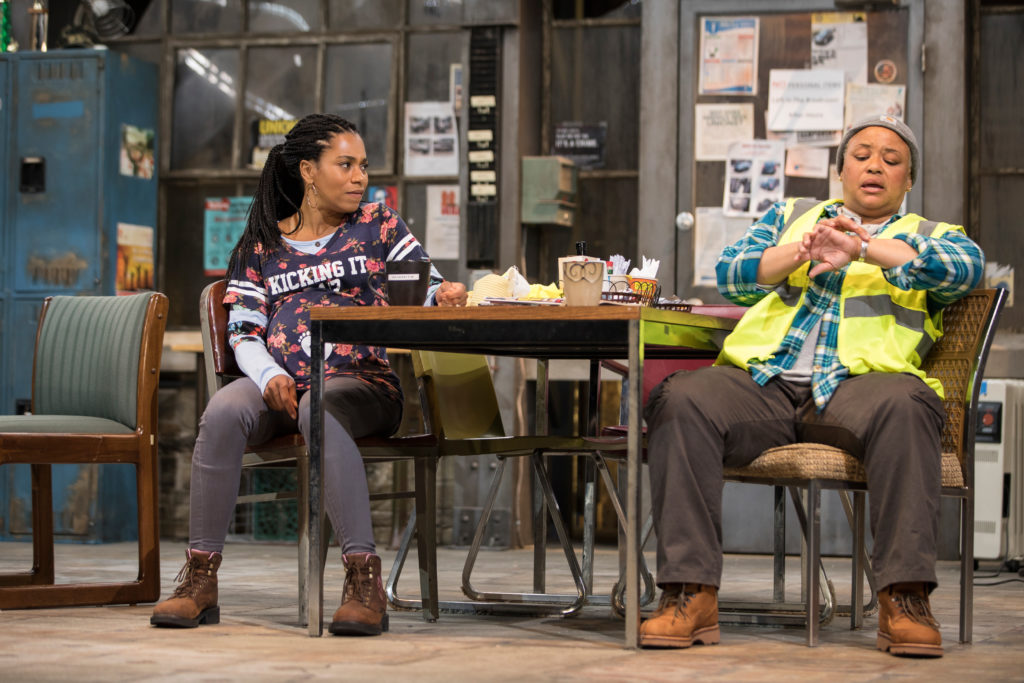 Working-class men and women of color are rarely front and center in today's media and, likewise, are presented all too occasionally on the American stage. So it's buoying to see that trend bucked in playwright Dominique Morisseau's percipient and well-crafted drama, Skeleton Crew. The play is the final installment in her Detroit  Project Trilogy; the first, Paradise Blue, is set in the 1940s amidst displacement caused by urban renewal and gentrification, while the second, Detroit '67, transpires on the eve of the 1967 Detroit riots sparked by a police action.
Directed by Patricia McGregor at Los Angeles' Geffen Playhouse, Skeleton Crew is a play with a moral spine. It takes place in 2008, when the shrinking U.S. auto industry is being further downsized. Morisseau's engaging quartet of characters — Faye (Caroline Stefanie Clay), Dez (Armari Cheatom), Shanita (Kelly McCreary) and Reggie (DB Woodside) – are employed at an automobile outfitting plant. Faye, Dez and Shanita are workers on the line while Reggie (who has a wife and kids, and has pulled himself together after a troubled youth) is their supervisor.
The first three customarily mingle in their break room (designer Rachel Myers' impressively cluttered, dingy and detailed set), trading the sort of familiar barbs and genuine concern for each other common among longtime co-workers. They also face off on philosophy: Upper-middle-aged Faye and the younger, pregnant Shanita take pride in their labor, while Dez, though a good worker, is a malcontent scornful of management and firm in the belief that everyone needs to watch out for himself. He's a thorn in Reggie's side, for while Reggie wants to be supportive of his workers, he must act at the behest of higher management. For his part, Dez resents Reggie's authority, and a palpable unease exists between them.
Besides this male matchup, we're made privy to Dez's attraction to Shanita, who mostly turns away his advances, but every now and then displays a hint of interest. Most poignant is Reggie's regard and affection for the lesbian Faye, which has roots in his boyhood when she loved, and lived, with his now-deceased mom.
These people's various predicaments intensify when rumors spread of the plant's shutdown — a disaster for all, but a particular calamity for the already near-broke Faye who, one year short of retirement, would lose her pension. The crisis forces each of these people to make a choice.
A sound piece of social realism, Skeleton Crew grabs you from the start in its focus on blue-collar men and women, and their struggle against odds for dignity and self-respect. Morisseau not only furnishes these characters a platform for their travails, she endows them with strong values, big hearts and the opportunity to choose between right and wrong.
Unfortunately, the performance I attended did not soar. Many exchanges lacked a fresh edge. The actors certainly had their characters down, but too often they appeared to be coasting on technique. (This seemed particularly true of Clay, who performed the role to great accolades in Washington, DC in 2017, also under McGregor's direction). Additionally, some of the stage movement was not entirely fluid; in confrontations, actors sometimes would just stand and face each other in an artificial way. And Cheatom's interpretation of Dez struck me as a bit overly churlish and depressive: I needed more glimpses of the intelligence and edge that would secretly attract the strong, self-directed Shanita.
The most compelling moments belong to Woodside, well-cast as a man trying his best in difficult circumstances to do the right thing.
---
Gil Cates Theater at the Geffen Playhouse, 10886 Le Conte Ave., Westwood Village; Tues.-Fri., 8 p.m.; Sat., 3 & 8 p.m. Sun., 2 & 7 p.m.; through July 8. (310) 208-5454 or www.geffenplayhouse.org