'Ameryka' a Biting Commentary on Our National Psyche
A new staging of Nancy Keystone's award-winning political play comes to the Kirk Douglas Theatre in Culver City.

In 2009, Ameryka's writer/director Nancy Keystone was perusing a catalogue, Western Amerykański: Polish Poster Art and the Western, when she spotted a 1989 poster that celebrated the first democratic elections in Poland since World War II. The central image was a black-and-white-photo of Gary Cooper in the 1952 film High Noon. Keystone's curiosity was piqued over the odd connection between Polish elections and classic American cinema, and her subsequent research helped spark this sprawling political piece that spans two countries — the U.S. and Poland —and several historical time periods.
A collaborative effort of Keystone's Critical Mass Performance Group, the play speaks to the struggle of ordinary citizens for a voice in their destiny and the tactics and hypocrisy of the powerful forces that would silence them. Originally staged in 2016 at the Shakespeare Center Los Angeles, here it's played out on a large spare proscenium (set by Keystone) at the Kirk Douglas Theatre as part of Center Theatre Group's "Block Party" project, which supports smaller LA. Companies. The patchwork narrative shifts back and forth among the American Revolutionary War period, the 1950s under McCarthyism, the 1980s, when a two-faced Reagan administration fired striking air traffic controllers while supporting the striking Polish Solidarity movement abroad, and the early years of this century when the CIA, obsessed with the war on terror, established a base in Poland, sweetening its presence with American dollars.
These scenarios are peopled with both fictional and historical personages, including Tadeusz Kosciuszko (Jeff Lorch), a Polish military officer and passionate democrat who fought with the colonists against the British, his friend Thomas Jefferson (Curt Bonnem), who spoke against slavery but kept his slaves, and Kosciuszko's military aide during the Revolutionary War, Agrippa Hull (Lorne Green), a free black man and soldier whose accomplishments inspired Kosciuszko to champion abolitionism, in contrast to Jefferson (who was charged by Kosciuszko to use his estate after he died to help free slaves, and promised to do so but never did). A scene where Kosciuszko and Jefferson dine at Monticello and discuss the evils of slavery, while being catered to by Jefferson's slave (Ray Ford), is only one of the pungently ironical moments the play serves up.
Twentieth century personages include a pious William Casey (Russell Edge), who leads a prayer vigil with his underlings before plotting to implement a national directive challenging the Soviets through Poland ("Fuck Yalta"), Anna Walentynowicz (Valerie Spencer), a colleague of Lech Walesa, and Father Jerzy Popieluszko (Lorch), the pro-Solidarity priest assassinated in 1984.
After opening with the rough-handed arrest of Walentynowicz by Polish security agents, the play harks back to 1959. (Fictional) jazz musician Gene Jefferson (Ford) visits Poland, where he discovers that Poles love jazz and other things American, including Westerns and Gary Cooper. An African-American who steels himself daily against condescending racism (illustrated by his prior interview with a State Department official) he's taken aback at their rah-rah America enthusiasm. That same cultural disconnect manifests in a scene from the '80s; a gay American man named Ray (Ford) recounts meeting this terrific Polish guy in a bar, only to be put off when the Pole sings Reagan's praises for supporting Solidarity. To Ray, Reagan's legacy are the thousands of AIDS victims.
A complex entangled piece, Ameryka packed a punch when it was staged at the Shakespeare Center nearly 18 months ago (winning the Stage Raw award for Production of the Year) but loses some of its edge in the larger space at the Kirk Douglas. Less than optimal acoustics seem to be part of the problem. Many of the original ensemble members are reprising their roles; one exception is Lorch, recently brought in to replace the original actor. His work is fine, as is everyone's, but I did wish for more distinctive and distinguished ardor from this character in particular.
Still, Ameryka remains a substantive, historically informative work, a biting commentary on the contradictions and illusions that bedevil not only our own national psyche but others. It's the sort of drama we need more of.
Critical Mass Performance Group, Kirk Douglas Theatre, 9820 Washington Blvd., Culver City; (213) 628-2772, online at www.CenterTheatreGroup.org; Wed.-Sat., 8 p.m.; Sat., 2 p.m;, Sun., 1p.m.; through April 29.
---
Copyright Capital & Main
Two Cousins and a Magical Ice Cream Truck Figure in Leon Martell's New Play
Although not all of ICE's comedy clicks, Martell's story has both weight and charm. The production's overriding plus is its successful rendering, fashioned with humor and craft, of the difficulties immigrants face.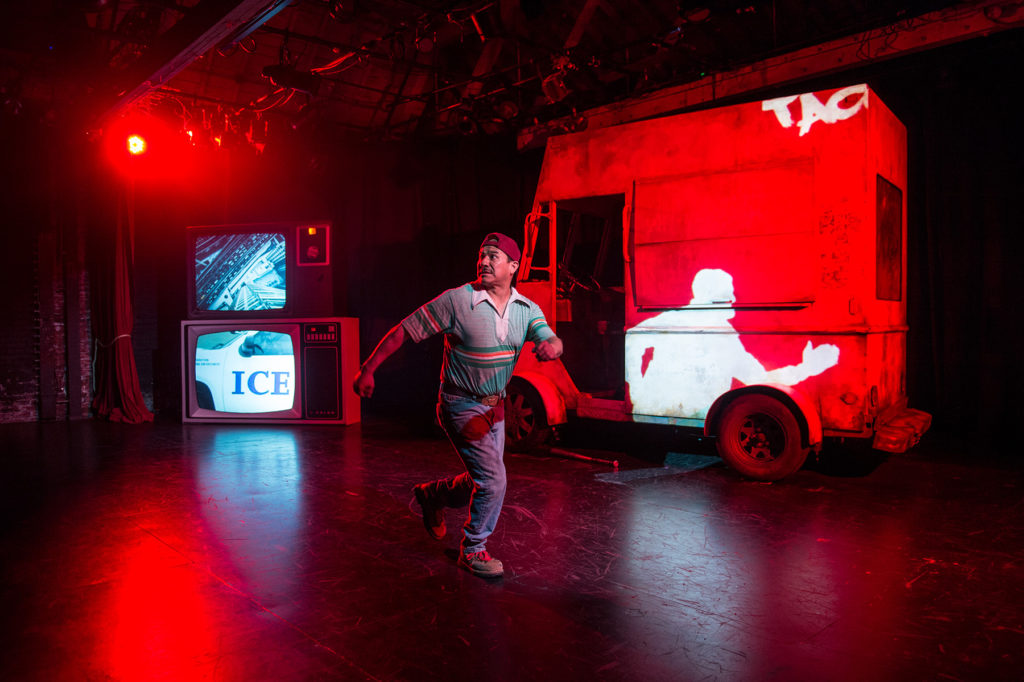 ICE, Leon Martell's family friendly play, takes place in 1988 and follows the misadventures of two undocumented immigrants: Chepe (Jesús Castaños-Chima), an avid baseball fan who dreams of making a fortune selling gourmet tacos; and his cousin Nacho (Tony Dúran), whom the beleaguered Chepe summons from Mexico to assist him in setting up his business. Directed by Debbie Devine at 24th Street Theatre, the show displays plenty of heart, not all of it realized in this premiere production. Despite this, there's enough political relevancy, moral truth and human comedy packed into the show's 65-minute time frame to overlook its shortcomings.
The core of the humor is the difference in personality between the two cousins. The ambitious Chepe is bitter and frustrated about his experience in America, where he's been cheated and lied to by bosses who exploit his labor and pay him next to nothing. Yet he's bought into the American Dream of money and fame, and to achieve that he's purchased a dilapidated old ice cream van to convert into a taco truck. It doesn't run, though, and the secret family salsa recipe is with his kin in Mexico. So, he phones home and implores his mechanic cousin to head north, bringing the salsa recipe as well as his skills.
Cousin Nacho, by contrast, is a sweet old-fashioned guy. He wants success too, but making money isn't the only thing he thinks about. He juggles tomatoes to make kids laugh and indignantly admonishes Chepe for his desperate inclination to do what it takes (steal tomatoes, for example) to score success.
Into the mix Martell tosses a blind, disgruntled priest (Davitt Felder), who plays guitar and wants to launch English classes for children in his parish (the archdiocese turns him down). Then there's Chepe's truck, which has opinions of its own. It breaks out in jingles at random intervals; later, it communicates with Nacho via blinking red letters that eerily appear on the side of the vehicle, furnishing the two men with simple directives and essential advice. When ICE (Immigration and Customs Enforcement) shows up, it alerts them to run.
Although not all of the comedy clicks, Martell's story has both weight and charm. The production's overriding plus is its successful rendering, fashioned with humor and craft, of the difficulties immigrants face. Its main weakness is Castaños-Chima's technically skilled but somewhat chilly depiction of his character, which leaves us wishing for more warmth and complexity. Felder appears awkward in his role of the blind priest, but proves versatile on video as Chepe's various nemeses. Dúran's naïve Nacho is a lovable presence from first to last.
Displayed on a monitor, Matthew G. Hill's video slides add historical and social perspective, and his backwall projections, in tandem with Dan Weingarten's lighting and Chris Moscatiello's sound, help conjure a magical aura to this parabolic piece.
24th Street Theatre, 1117 West 24th St., Los Angeles; Sat., 3 & 7:30 p.m.; Sun., 3 p.m.; through June 10, (213) 745-6516 or 24thstreet.org.
---
Copyright Capital & Main