America's Saying No to Prison Inc.
Like many states in the "tough on crime" era, Minnesota is struggling to reduce overcrowding in its prisons and jails. For now, the state's government is paying counties to house over 500 incarcerated people that its prisons can't hold. Corrections Corporation of America (CCA), the notorious private prison operator, says they have a long-term solution for Minnesota.
But Minnesotans, backed by the criminal justice reform movement sweeping the country, are responding with "No thanks!"
CCA wants to reopen the shuttered Prairie Correctional Facility in Appleton, MN, and lease space to the state. They deny they're lobbying in Minnesota, but a politically connected lobbying firm, Goff Public Affairs, is pushing state officials to reopen the prison. That would be a costly mistake for both moral and economic reasons.
The company has a long rap sheet of cutting corners for the sake of profit, often understaffing facilities and overworking and underpaying correctional officers. Over the course of one month in 2013, CCA lost contracts in four different states after several prisoner deaths and riots under their watch. One of those contracts was with the state of Idaho for a prison so dangerous its prisoners called the facility "Gladiator School."
In 2012, CCA sent a letter to the nation's governors offering to buy prisons from states with "challenging corrections budgets." In exchange, they wanted the state to guarantee 90 percent prisoner occupancy for at least 20 years. To sell the deal they touted the recently purchased Lake Erie Correctional Institution in Ohio. But only a year into CCA's control of the facility, state audits found staff mismanagement, delays in medical treatment and "unacceptable living conditions," including a lack of access to toilet facilities, which forced prisoners to defecate in plastic containers and bags.
It's no accident that CCA wants Minnesota taxpayers to foot the bill to reopen Prairie Correctional Facility. Once operational, the facility could hold up to 1,600 prisoners, which would leave over a thousand open beds beyond Minnesota's needs. CCA actively markets open beds to state and local governments across state lines as an opportunity to ease overcrowding. As of late 2013, 10,500 prisoners were housed outside of their home states in for-profit prisons. This practice incentivizes more incarceration within and across state lines–with beds to fill and profits to be made, a publicly traded company like CCA will work hard to fill them.
Their financial chicanery doesn't end there. A few years ago CCA converted its corporate structure into a type of real estate company called a real estate investment trust (REIT). In addition to tax benefits, the change allows CCA to own the prisons it operates, meaning it earns profits as both landlord and operator.
Minnesotans fighting for good jobs and a humane criminal justice system aren't alone in standing up against the private corrections industry. Last week, in a significant decision to limit privatization's impact on prisoners and families, the Federal Communications Commission capped the price of prison phone calls. And presidential candidate Hillary Clinton recently stopped accepting campaign contributions from the private prison industry, including CCA.
There are much wiser ways for Minnesota to reduce overcrowding. Across the country, states are starting to have the hard conversations required to rebuild our underfunded mental health system, create job training programs and roll back mandatory sentencing for nonviolent drug offenses.
"We need to restore families, not destroy them," said Toya Woodland of the faith-based group ISAIAH, which is opposing the CCA deal. That should be the standard for our criminal justice system, not whether there's profit to be made.
---
(This post was crossposted on Huffington Post and is republished with permission.)

Rick Scott Invested in the Same Financial Firms As Florida's Pension System
Co-published by MapLight
For most of his time in office, Florida's governor has shielded his investments from public view. A new disclosure shows Rick Scott and his wife have invested at least $18 million in financial firms managing money for the state's pension system that he oversees.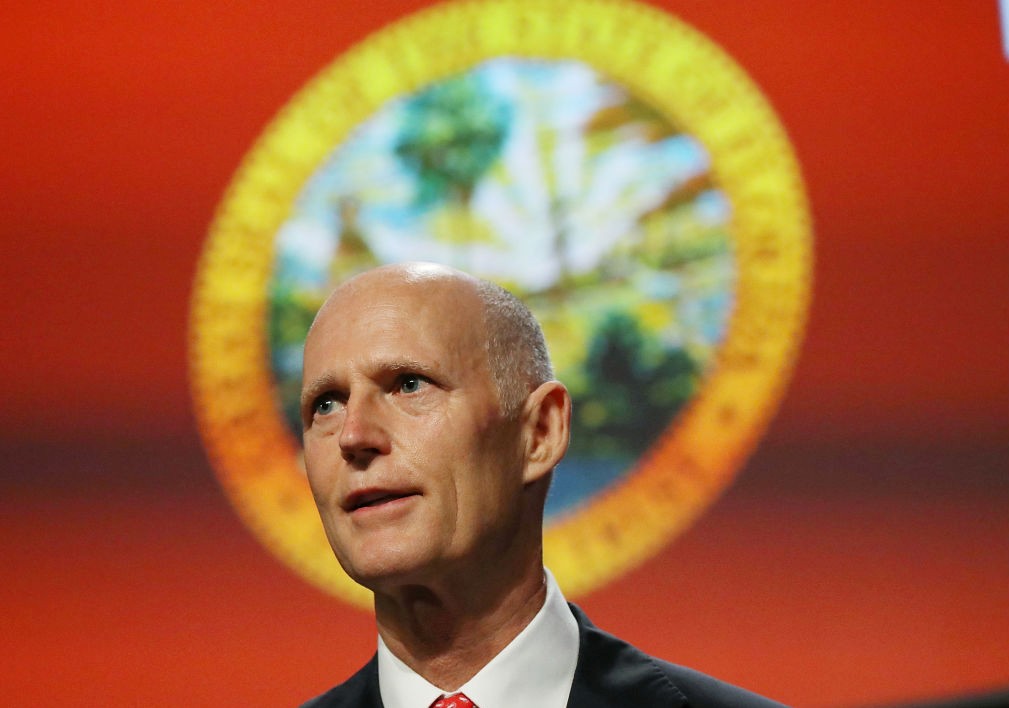 ---
Former SEC Lawyer: "There needs to be an investigation into whether the state is subsidizing Rick Scott's personal returns."
---
Co-published by MapLight
Florida Gov. Rick Scott and his wife have invested at least $18 million in three financial firms managing money for the state's pension system that Scott oversees — a situation that intertwines the governor's personal finances with his responsibility for supervising state employees' retirement savings.
The investments were first divulged in a federal financial disclosure form that Scott filed as part of his U.S. Senate campaign in July. For most of his time in office, Scott has shielded his investments from public view, and only reported their overall value in his blind trust.
The terms of Scott's investments remain undisclosed. The firms' own corporate documents say they can give certain investors special preferences not afforded to other investors — and experts have in recent years argued that hedge funds, private equity firms, and other "alternative investments" are giving such preferences to elite investors. One former Securities and Exchange Commission attorney told MapLight and Capital & Main that Scott must disclose whether he is being given such preferences.
---
Critics have raised questions about how blind the Scott family trusts really are.
---
Florida ethics laws are supposed to prohibit state officials from entering into contractual relationships with companies that do business with their agencies. However, after Scott became governor in 2011, state ethics officials said he and his family members could put their assets into a blind trust to avoid conflicts of interest and still maintain their investments in companies operating in Florida.
Critics have raised questions about how blind the Scott family trusts really are. Scott placed one of his longtime business associates in charge of managing his blind trust. The Tampa Bay Times reported that Scott's blind trust has invested with a private equity firm tied to a high-speed rail project in Florida. The trust also had an indirect interest in a cancer treatment company that received tax breaks from Scott's administration.
---
"The question is whether Rick Scott is being allowed to invest on better terms than the state pension fund."
---
"When Governor Scott was elected, he put all of his assets in a blind trust, which is managed by an independent financial professional who decides what assets are bought, sold or changed," said Scott campaign spokesperson Lauren Schenone. "The rules of the blind trust prevent any specific assets or the value of those assets within the trust from being disclosed to the governor, and those requirements have always been followed."
Scott is one of three state officials who serve as trustees for the Florida State Board of Administration, which manages a $160 billion fund for roughly 400,000 retirees. Scott, Attorney General Pam Bondi, and Chief Financial Officer Jimmy Patronis oversee lucrative state investment deals granted to cash-hungry Wall Street firms.
The three firms that have received $325 million worth of Florida pension investments have allowed the Scott family's blind trusts to simultaneously invest their personal fortunes in these funds. Scott's investments in the funds did not appear in a 2014 disclosure itemizing his holdings. His campaign did not say when the investments were made.
"There are no ethics rules that prohibit or limit a trustee from investing in funds also invested in by the SBA," said SBA spokesperson John Kuczwanski, though he added that trustees are subject to Florida's general code of ethics. Kuczwanski said that the governor has no involvement in specific pension investment decisions.
Don Hinkle, a Democratic lawyer, filed a lawsuit last year alleging that the governor has failed to comply with the state's blind trust and financial disclosure laws. He said he was surprised by the news that Scott had invested in the same firms as the Florida pension system.
"I would think that he would have avoided investments where the state of Florida's money is propping his up," Hinkle told MapLight and Capital & Main.
In 2011, a few months after Scott became governor, the SBA committed $150 million to Highline Capital Partners, a New York-based hedge fund. Scott's financial disclosure shows that his family's trusts have invested at least $4 million in the same Highline fund as the state.
The SBA also committed $100 million in 2015 to a hedge fund managed by Canyon Capital Advisors, a Los Angeles-based firm created by veterans of the notorious investment bank Drexel Burnham Lambert, which was driven into bankruptcy as a result of illegal and unethical trading practices. Scott and his family have invested at least $12 million in Canyon funds, according to his financial disclosure.
Before Scott became governor, the SBA invested $75 million with VSS, a New York-based private equity firm that was launched by a co-founder of Psychology Today. Scott and his wife, Ann, have invested more than $2.2 million in another VSS fund. A spokesperson for VSS said the firm doesn't comment on its investors.
All three firms' SEC filings say they can offer certain investors special fee terms or other benefits not offered to other investors.
"Alternative investment funds have the ability to offer every investor different fees at a different rate of return, so the question is whether Rick Scott is being allowed to invest on better terms than the state pension fund," said former SEC attorney Edward Siedle, whose Florida-based firm conducts forensic investigations of state pension systems.
"If you give one investor an advantage, another investor has to be disadvantaged," Siedle said. "That means there needs to be an investigation into whether the state is actually subsidizing Rick Scott's personal returns and whether the governor enjoys advantages that are harming the retirees."
Schenone, Scott's spokesperson, said that his blind trust has "been upheld multiple times by the State Commission on Ethics and the court system. Governor Scott has also followed the requirements of all state and federal financial filings."
She noted that former Florida Republican Gov. Jeb Bush and Scott's 2010 Democratic opponent Alex Sink had also used blind trusts, although Scott's campaign attacked Sink for hers at the time.
"Blind trusts sound good but can run afoul of state laws requiring public officials to disclose their personal finances," a Scott campaign ad said in 2010. "[But] simply moving large amounts of money into a blind trust does not magically erase the knowledge of what you own."
---
This piece was reported by Andrew Perez of MapLight and David Sirota of Capital & Main, and published in partnership with the Florida Center for Investigative Reporting.