American Gulag: A New Film Blasts Farm Labor Conditions
It's been more than 50 years since Cesar Chavez and Dolores Huerta founded the United Farm Workers union. In the ensuing decades, broader activism and increased awareness of the importance of those who grow and harvest our food have resulted in better wages and living conditions for some workers in our state and others, in spite of public indifference. The farmworkers' story of struggle and of battles won (and those yet to be fought) are told in Food Chains, an unsparing documentary that screened Sunday at Laemmle's Playhouse 7 in Pasadena under the sponsorship of the nonprofit Food Chain Workers Alliance.
The film chronicles the exploitation and brutal poverty — and in some instances, forms of enslavement— that plague American agriculture. Food Chains is directed by Sanjay Rawal, produced by Rawal, Smriti Keshari and Hamilton Fish, narrated by Forest Whitaker, and executive-produced by actress Eva Longoria and activist/filmmaker Eric Schlosser (Fast Food Nation); the last two also appear in the film. Rawal, who spent considerable time operating an agricultural genetics company with his father, told Capital & Main that "there is so much interest in food these days but little interest in the hands that bring us our food. And that's not a question of apathy, but a question of awareness — the lives of farmworkers are impacted not by legislation alone, but by enforcement mechanisms, and we see across the nation a severe lack of enforcement of labor laws."
This lack of oversight and enforcement is one point the film makes clear; another point is that the chief culprits behind worker exploitation are supermarkets, fast-food companies and food-services industries.
"We need to realize that our entire food system is controlled by a handful of companies," Rawal explains. "If large supermarket chains wanted to abolish GMO products, for example, they could do so in one swift motion. They have a stranglehold over the entire agribusiness system from farming on down. We need to pressure those retailers to return money to the system. In addition to their power to set prices, they need to set the conditions under which workers toil."
Food Chains actually tells two stories. It presents a broad past-present overview of American agribusiness and its ruthless, plantation-style exploitation of workers. (One farmer muses, "we used to own our slaves, now we rent them.") Spanning decades from the time when most agricultural workers toiling away on Southern farms were African Americans, the film shows pictures of impoverished Japanese, Chinese and Punjabi men, all of whom were exploited for their labor at one time, all the way up to present day Hawaii, with its fields of migrant Thai workers. Skillfully blended in is footage from Edward R. Murrow's groundbreaking 1960 documentary, Harvest of Shame, which immediately brings to mind the old adage, "The more things change, the more they remain the same." Rawal also visits Napa Valley, the "Eden of the wine industry" (where housing is virtually unaffordable for workers, and vintners resort to hiring the homeless), and a small organic chicken farm in Central California operated by a husband and wife team.
The film's primary narrative focus, however, is on a group of scrappy tomato pickers in the Southern Florida town of Immokalee, and the bold activism of the Coalition of Immokalee Workers (CIW), whose Fair Food Program (FFP) has revolutionized the tomato industry in Florida, and can serve as a national model for reform. It asks retailers to pay an additional penny per pound for Florida tomatoes, which doubles the wages of workers, while also asking retailers not to purchase from farms with records of human rights abuses. The success of this program adds a bright spot and sense of hope to the movie's otherwise grim tone. Major companies such as Walmart, Taco Bell and Trader Joe's have signed on to the FFP. Currently, the CIW is involved in a protracted struggle for worker rights with Publix, a supermarket giant in Florida that so far has refused to even sit down with CIW to discuss its proposals.
"I know that our work isn't done," says Rawal. "We'll need to spend a few years promoting this film, to make sure the change we hope to make will in fact become a reality."
In addition to sponsoring the movie, the Food Chain Workers Alliance has come out with an informative comic book that focuses on food workers and their efforts to improve communities and workplace environments. Food Chain Avengers is written by Jerel Dye, with characters and backstory by Luis DeLeon. JoAnn Lo, the alliance's executive director, says that she would like to see it turned into a video or game app, if funding is possible.
"It can be an inspirational as well as educational tool for young people, because it addresses issues like worker organization, racism and discrimination," she says.
Two Cousins and a Magical Ice Cream Truck Figure in Leon Martell's New Play
Although not all of ICE's comedy clicks, Martell's story has both weight and charm. The production's overriding plus is its successful rendering, fashioned with humor and craft, of the difficulties immigrants face.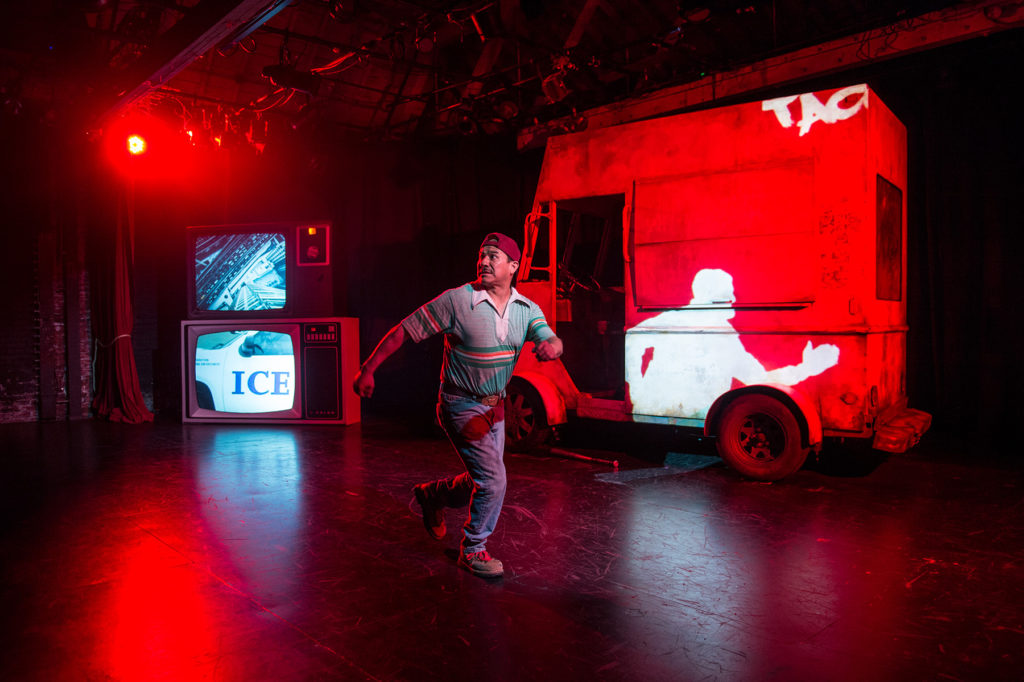 ICE, Leon Martell's family friendly play, takes place in 1988 and follows the misadventures of two undocumented immigrants: Chepe (Jesús Castaños-Chima), an avid baseball fan who dreams of making a fortune selling gourmet tacos; and his cousin Nacho (Tony Dúran), whom the beleaguered Chepe summons from Mexico to assist him in setting up his business. Directed by Debbie Devine at 24th Street Theatre, the show displays plenty of heart, not all of it realized in this premiere production. Despite this, there's enough political relevancy, moral truth and human comedy packed into the show's 65-minute time frame to overlook its shortcomings.
The core of the humor is the difference in personality between the two cousins. The ambitious Chepe is bitter and frustrated about his experience in America, where he's been cheated and lied to by bosses who exploit his labor and pay him next to nothing. Yet he's bought into the American Dream of money and fame, and to achieve that he's purchased a dilapidated old ice cream van to convert into a taco truck. It doesn't run, though, and the secret family salsa recipe is with his kin in Mexico. So, he phones home and implores his mechanic cousin to head north, bringing the salsa recipe as well as his skills.
Cousin Nacho, by contrast, is a sweet old-fashioned guy. He wants success too, but making money isn't the only thing he thinks about. He juggles tomatoes to make kids laugh and indignantly admonishes Chepe for his desperate inclination to do what it takes (steal tomatoes, for example) to score success.
Into the mix Martell tosses a blind, disgruntled priest (Davitt Felder), who plays guitar and wants to launch English classes for children in his parish (the archdiocese turns him down). Then there's Chepe's truck, which has opinions of its own. It breaks out in jingles at random intervals; later, it communicates with Nacho via blinking red letters that eerily appear on the side of the vehicle, furnishing the two men with simple directives and essential advice. When ICE (Immigration and Customs Enforcement) shows up, it alerts them to run.
Although not all of the comedy clicks, Martell's story has both weight and charm. The production's overriding plus is its successful rendering, fashioned with humor and craft, of the difficulties immigrants face. Its main weakness is Castaños-Chima's technically skilled but somewhat chilly depiction of his character, which leaves us wishing for more warmth and complexity. Felder appears awkward in his role of the blind priest, but proves versatile on video as Chepe's various nemeses. Dúran's naïve Nacho is a lovable presence from first to last.
Displayed on a monitor, Matthew G. Hill's video slides add historical and social perspective, and his backwall projections, in tandem with Dan Weingarten's lighting and Chris Moscatiello's sound, help conjure a magical aura to this parabolic piece.
24th Street Theatre, 1117 West 24th St., Los Angeles; Sat., 3 & 7:30 p.m.; Sun., 3 p.m.; through June 10, (213) 745-6516 or 24thstreet.org.
---
Copyright Capital & Main