American Gulag: A New Film Blasts Farm Labor Conditions
It's been more than 50 years since Cesar Chavez and Dolores Huerta founded the United Farm Workers union. In the ensuing decades, broader activism and increased awareness of the importance of those who grow and harvest our food have resulted in better wages and living conditions for some workers in our state and others, in spite of public indifference. The farmworkers' story of struggle and of battles won (and those yet to be fought) are told in Food Chains, an unsparing documentary that screened Sunday at Laemmle's Playhouse 7 in Pasadena under the sponsorship of the nonprofit Food Chain Workers Alliance.
The film chronicles the exploitation and brutal poverty — and in some instances, forms of enslavement— that plague American agriculture. Food Chains is directed by Sanjay Rawal, produced by Rawal, Smriti Keshari and Hamilton Fish, narrated by Forest Whitaker, and executive-produced by actress Eva Longoria and activist/filmmaker Eric Schlosser (Fast Food Nation); the last two also appear in the film. Rawal, who spent considerable time operating an agricultural genetics company with his father, told Capital & Main that "there is so much interest in food these days but little interest in the hands that bring us our food. And that's not a question of apathy, but a question of awareness — the lives of farmworkers are impacted not by legislation alone, but by enforcement mechanisms, and we see across the nation a severe lack of enforcement of labor laws."
This lack of oversight and enforcement is one point the film makes clear; another point is that the chief culprits behind worker exploitation are supermarkets, fast-food companies and food-services industries.
"We need to realize that our entire food system is controlled by a handful of companies," Rawal explains. "If large supermarket chains wanted to abolish GMO products, for example, they could do so in one swift motion. They have a stranglehold over the entire agribusiness system from farming on down. We need to pressure those retailers to return money to the system. In addition to their power to set prices, they need to set the conditions under which workers toil."
Food Chains actually tells two stories. It presents a broad past-present overview of American agribusiness and its ruthless, plantation-style exploitation of workers. (One farmer muses, "we used to own our slaves, now we rent them.") Spanning decades from the time when most agricultural workers toiling away on Southern farms were African Americans, the film shows pictures of impoverished Japanese, Chinese and Punjabi men, all of whom were exploited for their labor at one time, all the way up to present day Hawaii, with its fields of migrant Thai workers. Skillfully blended in is footage from Edward R. Murrow's groundbreaking 1960 documentary, Harvest of Shame, which immediately brings to mind the old adage, "The more things change, the more they remain the same." Rawal also visits Napa Valley, the "Eden of the wine industry" (where housing is virtually unaffordable for workers, and vintners resort to hiring the homeless), and a small organic chicken farm in Central California operated by a husband and wife team.
The film's primary narrative focus, however, is on a group of scrappy tomato pickers in the Southern Florida town of Immokalee, and the bold activism of the Coalition of Immokalee Workers (CIW), whose Fair Food Program (FFP) has revolutionized the tomato industry in Florida, and can serve as a national model for reform. It asks retailers to pay an additional penny per pound for Florida tomatoes, which doubles the wages of workers, while also asking retailers not to purchase from farms with records of human rights abuses. The success of this program adds a bright spot and sense of hope to the movie's otherwise grim tone. Major companies such as Walmart, Taco Bell and Trader Joe's have signed on to the FFP. Currently, the CIW is involved in a protracted struggle for worker rights with Publix, a supermarket giant in Florida that so far has refused to even sit down with CIW to discuss its proposals.
"I know that our work isn't done," says Rawal. "We'll need to spend a few years promoting this film, to make sure the change we hope to make will in fact become a reality."
In addition to sponsoring the movie, the Food Chain Workers Alliance has come out with an informative comic book that focuses on food workers and their efforts to improve communities and workplace environments. Food Chain Avengers is written by Jerel Dye, with characters and backstory by Luis DeLeon. JoAnn Lo, the alliance's executive director, says that she would like to see it turned into a video or game app, if funding is possible.
"It can be an inspirational as well as educational tool for young people, because it addresses issues like worker organization, racism and discrimination," she says.
The Power of the Poster
Carol Wells, the founder of the Center for the Study of Political Graphics in Los Angeles, talks to Capital & Main about the enduring power of political art.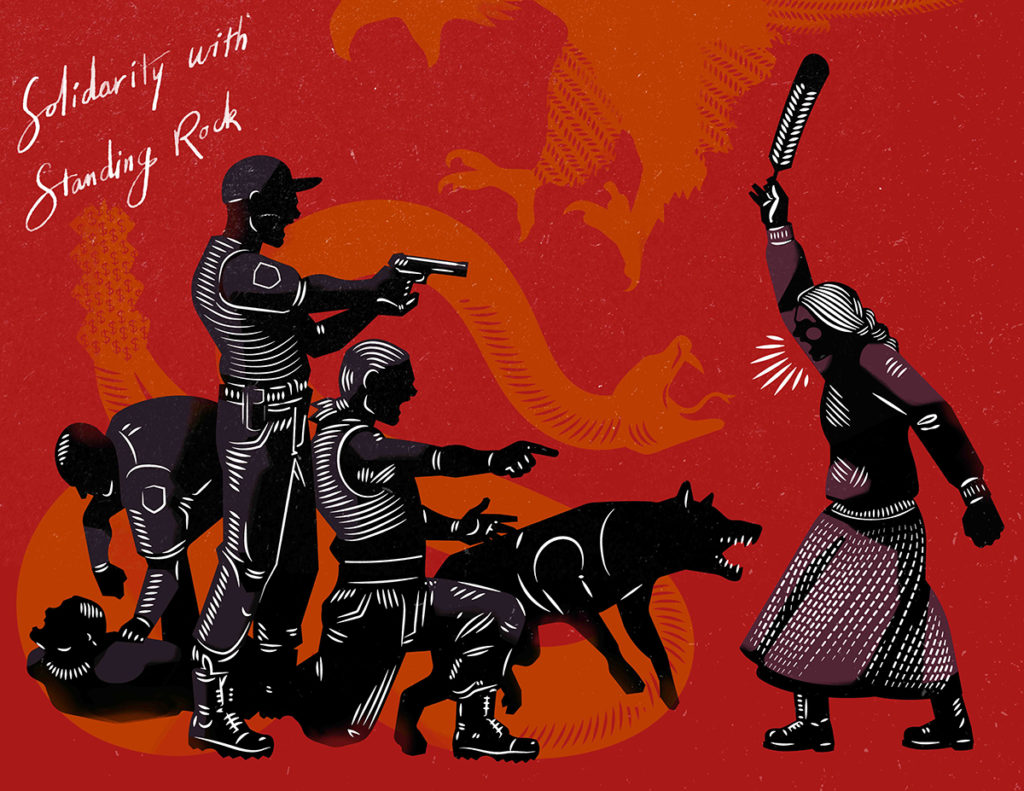 Carol Wells remembers the exact moment she discovered her calling. An art historian at the time, she was on a trip to Nicaragua with her friend David Kunzle, a UCLA art history professor, who was collecting political posters to add to his burgeoning collection. While staying with friends, Wells watched a neighbor's 8-year-old son approach a poster on the wall, stare at it intently, and then start to silently mouth the words. Wells was struck by how engaged the boy was. "In that moment I became obsessed with collecting posters."
Now over 40 years later, Wells is the founder and executive director of the Center for the Study of Political Graphics in Los Angeles. Wells has amassed approximately 90,000 posters, building one of the largest collections of its kind in the world. The Center shares its collection with the public in part through curated exhibits. This year the CSPG has produced Feminae: Typographic Voices of Women by Women and its latest is To Protect & Serve? Five Decades of Posters Protesting Police Violence, running through July 15 at the Mercado La Paloma in downtown Los Angeles.
Since that encounter in Nicaragua in 1981, Wells' obsession with collecting posters hasn't waned. In CSPG's nondescript West L.A. office space, Wells pulls out poster after poster, lecturing passionately on the backstory and cultural impact of each, including one that superimposes text from a New York Times interview with a shocking image of the My Lai massacre ("Q: And babies? A: And babies."). Recently, she managed to sit down with C&M to discuss her passion.
---
Capital & Main: So, you were an art history professor, you happen to see a kid on a trip, and suddenly your life was changed forever?
Carol Wells: Yeah, I'm in Nicaragua alone in the living room with this kid. He's looking around, and all of a sudden, he sees the poster. It was pretty big, bright green, a thick outlines of a woman holding a big basket of coffee beans. And the text in Spanish said, "In constructing the new country, we are becoming the new woman." I see him walk over to the poster and I'm watching him mouth the words. It was a pretty sophisticated concept, so I doubt he figured it out. But I literally had this epiphany: "Oh my God. That's how posters work." You're going about your daily life, and all of a sudden something breaks through the bubble, and it grabs your attention. It's the graphic, it's the color, it's the combination, and it pulls you out of your head and into that poster and it makes you ask a question. "Why is this here? What is this about? What does this mean?" And every time you ask a question, you're a different person than you were before you asked the question.
How many posters do you get a year?
We get between two to five thousand a year donated from all over the world. The bulk of our collection is [from] 1945 and later.
I assume technology has probably hurt the art form, but has it helped get the messages out?
Most people think that, and it's actually not true. Since the internet age started, there's actually a poster renaissance of works on paper. Because you can't walk with your computer monitor in a demonstration. You can't plant your monitor on your lawn.
And you can't put a laptop on the wall…
Exactly. You want to hear a really great story? Truthdig.org published a cartoon [made by] a political cartoonist named Mr. Fish. It was during the Arab spring, and he had superimposed Che Guevara with the stylized beard and King Tut's face, but it had Che's beret. And it [was titled], "Walk like an Egyptian." So, it was a reference to the music, but [it was also] a reference to what was going on the streets of Cairo. I sent it out as our poster of the week to 9,000 people. The very next day, somebody took a photograph on the street of Cairo, with somebody holding a piece of paper with that image on it. A poster can literally go around the world and people will print it out.
What struck me in viewing your exhibits is how many of these posters could still be used today, not only artistically but also, sadly, in the timeliness of their messages.
We had this fabulous poster by Yolanda Lopez, a Bay Area artist, which she first did in 1978. It depicts a young man in Aztec garb pointing a finger like Uncle Sam saying, "Who's the illegal alien, PILGRIM?" And it's a great poster, it's simple, not too many words, funny, provocative. So, we had an exhibit at UCLA in the mid '90s and there were 4 or 5 high school students standing around this poster saying, "Wow, you've got posters up to the minute." And I went over to them and I said, "Look at the date. This is before you were born."
Is that one of your goals with the exhibitions? To show the evergreen nature of this work?
Absolutely. I mean that's why we did the police abuse exhibition now. It basically goes back five decades. It's 50 years of posters protesting police abuse. Mainly in the United States, but also internationally.
What's the goal for CSPG?
Well the aim right now is really to digitize the collection and get it online. We have 10% of the collection digitized. But the mission is to collect and to document, because stories get lost. All the exhibitions, they're showing massacres, they're showing genocide, they're showing police abuse, they're showing all of these horrible things. And people often ask me, "How can you look at this stuff all day long?" I said, "Because the poster artists are optimists. They believe people can change if they have the information."
Yes, that's the reason why they're doing it, right?
That's why they're doing it, and that's why I'm doing this, because I believe that people can change if they knew the truth.
And what happens 20, 50 years from now?
Well, my goal is to stay independent, because the other option is to become part of the university. Universities, for all the fabulous things that they do, they also censor. We did an exhibition at USC in 1992 on the 500 years since Columbus, and how the legacy of racism and exploitation and genocide continues. And one of the board of trustees was Italian and took [the exhibit] as an affront to Columbus. It really wasn't about Columbus, it was about colonialism. And he ordered it down.
Do you have a favorite poster?
I'm always amazed at the creativity and vision of artists. Every week I'll say, "Oh my God, how do they think of that?" But it's always still going to be the poster I saw that kid trying to figure out. It has to be my favorite one because that one changed my life.
What makes a perfect poster?
The right balance between aesthetics and message. If you only rely on the corporate press, the New York Times and L.A. Times, for your information, you're not going to get the side from the street, from the movement, from the activists. The posters are primary historical documents that are recording the issues that were at the time, and the passions that were at the time, and the divisions that were at the time. You're not going to get it anyplace else.
---
Copyright Capital & Main