American Gulag: A New Film Blasts Farm Labor Conditions
It's been more than 50 years since Cesar Chavez and Dolores Huerta founded the United Farm Workers union. In the ensuing decades, broader activism and increased awareness of the importance of those who grow and harvest our food have resulted in better wages and living conditions for some workers in our state and others, in spite of public indifference. The farmworkers' story of struggle and of battles won (and those yet to be fought) are told in Food Chains, an unsparing documentary that screened Sunday at Laemmle's Playhouse 7 in Pasadena under the sponsorship of the nonprofit Food Chain Workers Alliance.
The film chronicles the exploitation and brutal poverty — and in some instances, forms of enslavement— that plague American agriculture. Food Chains is directed by Sanjay Rawal, produced by Rawal, Smriti Keshari and Hamilton Fish, narrated by Forest Whitaker, and executive-produced by actress Eva Longoria and activist/filmmaker Eric Schlosser (Fast Food Nation); the last two also appear in the film. Rawal, who spent considerable time operating an agricultural genetics company with his father, told Capital & Main that "there is so much interest in food these days but little interest in the hands that bring us our food. And that's not a question of apathy, but a question of awareness — the lives of farmworkers are impacted not by legislation alone, but by enforcement mechanisms, and we see across the nation a severe lack of enforcement of labor laws."
This lack of oversight and enforcement is one point the film makes clear; another point is that the chief culprits behind worker exploitation are supermarkets, fast-food companies and food-services industries.
"We need to realize that our entire food system is controlled by a handful of companies," Rawal explains. "If large supermarket chains wanted to abolish GMO products, for example, they could do so in one swift motion. They have a stranglehold over the entire agribusiness system from farming on down. We need to pressure those retailers to return money to the system. In addition to their power to set prices, they need to set the conditions under which workers toil."
Food Chains actually tells two stories. It presents a broad past-present overview of American agribusiness and its ruthless, plantation-style exploitation of workers. (One farmer muses, "we used to own our slaves, now we rent them.") Spanning decades from the time when most agricultural workers toiling away on Southern farms were African Americans, the film shows pictures of impoverished Japanese, Chinese and Punjabi men, all of whom were exploited for their labor at one time, all the way up to present day Hawaii, with its fields of migrant Thai workers. Skillfully blended in is footage from Edward R. Murrow's groundbreaking 1960 documentary, Harvest of Shame, which immediately brings to mind the old adage, "The more things change, the more they remain the same." Rawal also visits Napa Valley, the "Eden of the wine industry" (where housing is virtually unaffordable for workers, and vintners resort to hiring the homeless), and a small organic chicken farm in Central California operated by a husband and wife team.
The film's primary narrative focus, however, is on a group of scrappy tomato pickers in the Southern Florida town of Immokalee, and the bold activism of the Coalition of Immokalee Workers (CIW), whose Fair Food Program (FFP) has revolutionized the tomato industry in Florida, and can serve as a national model for reform. It asks retailers to pay an additional penny per pound for Florida tomatoes, which doubles the wages of workers, while also asking retailers not to purchase from farms with records of human rights abuses. The success of this program adds a bright spot and sense of hope to the movie's otherwise grim tone. Major companies such as Walmart, Taco Bell and Trader Joe's have signed on to the FFP. Currently, the CIW is involved in a protracted struggle for worker rights with Publix, a supermarket giant in Florida that so far has refused to even sit down with CIW to discuss its proposals.
"I know that our work isn't done," says Rawal. "We'll need to spend a few years promoting this film, to make sure the change we hope to make will in fact become a reality."
In addition to sponsoring the movie, the Food Chain Workers Alliance has come out with an informative comic book that focuses on food workers and their efforts to improve communities and workplace environments. Food Chain Avengers is written by Jerel Dye, with characters and backstory by Luis DeLeon. JoAnn Lo, the alliance's executive director, says that she would like to see it turned into a video or game app, if funding is possible.
"It can be an inspirational as well as educational tool for young people, because it addresses issues like worker organization, racism and discrimination," she says.
'Skeleton Crew' Is a Play With a Moral Spine
Set in a Detroit automobile outfitting plant, Dominique Morisseau's drama grabs you from the start with its focus on blue-collar men and women, and their struggle for dignity and self-respect.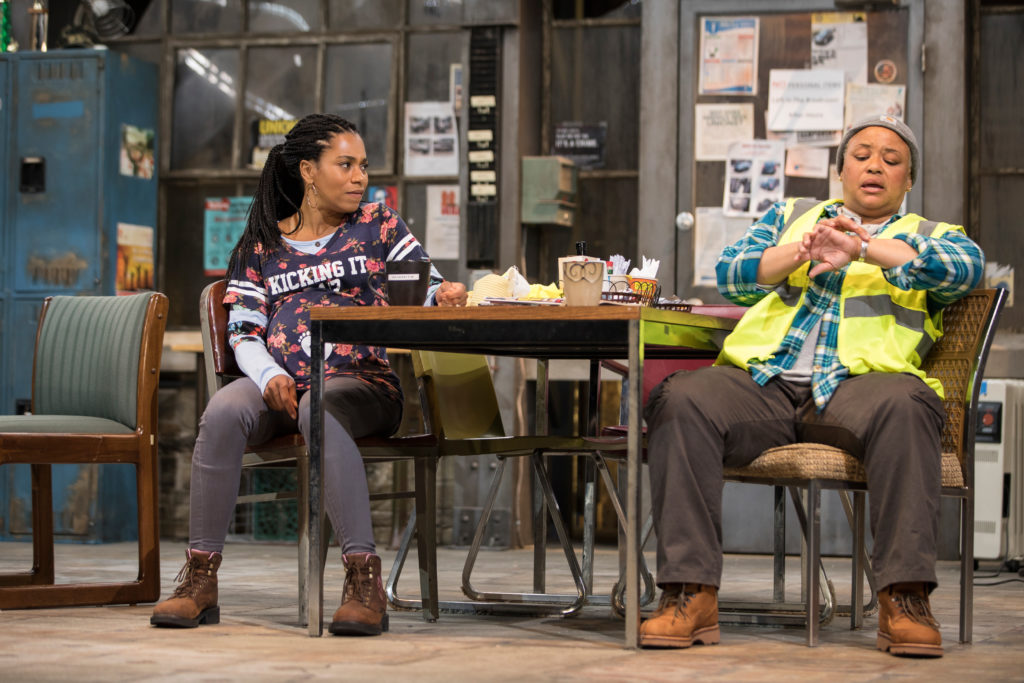 Working-class men and women of color are rarely front and center in today's media and, likewise, are presented all too occasionally on the American stage. So it's buoying to see that trend bucked in playwright Dominique Morisseau's percipient and well-crafted drama, Skeleton Crew. The play is the final installment in her Detroit  Project Trilogy; the first, Paradise Blue, is set in the 1940s amidst displacement caused by urban renewal and gentrification, while the second, Detroit '67, transpires on the eve of the 1967 Detroit riots sparked by a police action.
Directed by Patricia McGregor at Los Angeles' Geffen Playhouse, Skeleton Crew is a play with a moral spine. It takes place in 2008, when the shrinking U.S. auto industry is being further downsized. Morisseau's engaging quartet of characters — Faye (Caroline Stefanie Clay), Dez (Armari Cheatom), Shanita (Kelly McCreary) and Reggie (DB Woodside) – are employed at an automobile outfitting plant. Faye, Dez and Shanita are workers on the line while Reggie (who has a wife and kids, and has pulled himself together after a troubled youth) is their supervisor.
The first three customarily mingle in their break room (designer Rachel Myers' impressively cluttered, dingy and detailed set), trading the sort of familiar barbs and genuine concern for each other common among longtime co-workers. They also face off on philosophy: Upper-middle-aged Faye and the younger, pregnant Shanita take pride in their labor, while Dez, though a good worker, is a malcontent scornful of management and firm in the belief that everyone needs to watch out for himself. He's a thorn in Reggie's side, for while Reggie wants to be supportive of his workers, he must act at the behest of higher management. For his part, Dez resents Reggie's authority, and a palpable unease exists between them.
Besides this male matchup, we're made privy to Dez's attraction to Shanita, who mostly turns away his advances, but every now and then displays a hint of interest. Most poignant is Reggie's regard and affection for the lesbian Faye, which has roots in his boyhood when she loved, and lived, with his now-deceased mom.
These people's various predicaments intensify when rumors spread of the plant's shutdown — a disaster for all, but a particular calamity for the already near-broke Faye who, one year short of retirement, would lose her pension. The crisis forces each of these people to make a choice.
A sound piece of social realism, Skeleton Crew grabs you from the start in its focus on blue-collar men and women, and their struggle against odds for dignity and self-respect. Morisseau not only furnishes these characters a platform for their travails, she endows them with strong values, big hearts and the opportunity to choose between right and wrong.
Unfortunately, the performance I attended did not soar. Many exchanges lacked a fresh edge. The actors certainly had their characters down, but too often they appeared to be coasting on technique. (This seemed particularly true of Clay, who performed the role to great accolades in Washington, DC in 2017, also under McGregor's direction). Additionally, some of the stage movement was not entirely fluid; in confrontations, actors sometimes would just stand and face each other in an artificial way. And Cheatom's interpretation of Dez struck me as a bit overly churlish and depressive: I needed more glimpses of the intelligence and edge that would secretly attract the strong, self-directed Shanita.
The most compelling moments belong to Woodside, well-cast as a man trying his best in difficult circumstances to do the right thing.
---
Gil Cates Theater at the Geffen Playhouse, 10886 Le Conte Ave., Westwood Village; Tues.-Fri., 8 p.m.; Sat., 3 & 8 p.m. Sun., 2 & 7 p.m.; through July 8. (310) 208-5454 or www.geffenplayhouse.org