Why is the nation more bitterly divided today than it's been in 80 years? Why is there more anger, vituperation and political polarization now than even during Joe McCarthy's anti-communist witch hunts of the 1950s, the tempestuous struggle for civil rights in the 1960s, the divisive Vietnam war or the Watergate scandal?
If anything, you'd think this would be an era of relative calm. The Soviet Union has disappeared and the Cold War is over. The civil rights struggle continues, but at least we now have a black middle class and even a black President. While the wars in Iraq and Afghanistan have been controversial, the all-volunteer army means young Americans aren't being dragged off to war against their will. And although politicians continue to generate scandals, the transgressions don't threaten the integrity of our government as did Watergate.
And yet, by almost every measure, Americans are angrier today. They're more contemptuous of almost every major institution — government, business, the media. They're more convinced the nation is on the wrong track. And they are far more polarized.
Political scientists say the gap between the median Republican voter and the median Democrat is wider today on a whole host of issues than it's been since the 1920s.
Undoubtedly, social media play a part — allowing people to pop off without bearing much responsibility for what they say. And most of us can cocoon within virtual or real communities whose members confirm all our biases and assumptions.
Meanwhile, cable news and yell radio compete for viewers and listeners by being ever more strident. Not long ago I debated a Republican economic advisor on a cable TV program. During the brief station-break, the show's producer told me to "be angrier." I told her I didn't want to be angrier. "You have to," she said. "Viewers are surfing through hundreds of channels and will stop for a gladiator contest."
Within this cacophony, we've lost trusted arbiters of truth — the Edward Murrows and Walter Cronkites who could explain what was happening in ways most Americans found convincing.
We've also lost most living memory of an era in which we were all in it together — the Great Depression and World War II — when we succeeded or failed together. In those years we were palpably dependent on one another and understood how much we owed each other as members of the same society.
But I think the deeper explanation for what has happened has economic roots. From the end of World War II through the late 1970s, the economy doubled in size — as did almost everyone's income. Almost all Americans grew together. In fact, those in the bottom fifth of the income ladder saw their incomes more than double. Americans experienced upward mobility on a grand scale.
Yet for the last three and a half decades, the middle class has been losing ground. The median wage of male workers is now lower than it was in 1980, adjusted for inflation.
In addition, all the mechanisms we've used over the last three decades to minimize the effects of this descent — young mothers streaming into paid work in the late 1970s and 1980s, everyone working longer hours in the 1990s and then borrowing against the rising values of our homes — are now exhausted. And wages are still dropping — the median is now four percent below what it was at the start of the so-called recovery.
Meanwhile, income, wealth, and power have become more concentrated at the top than they've been in 90 years.
As a result, many have come to believe that the deck is stacked against them. Importantly, both the Tea Party and the Occupier movements began with the bailouts of Wall Street — when both groups concluded that big government and big finance had plotted against the rest of us. The former blamed government; the latter blamed Wall Street.
Political scientists have also discovered a high correlation between inequality and political divisiveness.
The last time America was this bitterly divided was in the 1920s, which was the last time income, wealth and power were this concentrated.
When average people feel the game is rigged, they get angry. And that anger can easily find its way into deep resentments — of the poor, of blacks, of immigrants, of unions, of the well-educated, of government.
This shouldn't be surprising. Demagogues throughout history have used anger to target scapegoats — thereby dividing and conquering, and distracting people from the real sources of their frustrations.
Make no mistake: The savage inequality America is experiencing today is deeply dangerous.
(Robert B. Reich, Chancellor's Professor of Public Policy at the University of California at Berkeley, was Secretary of Labor in the Clinton administration. Reposted from his website with permission.)

'Skeleton Crew' Is a Play With a Moral Spine
Set in a Detroit automobile outfitting plant, Dominique Morisseau's drama grabs you from the start with its focus on blue-collar men and women, and their struggle for dignity and self-respect.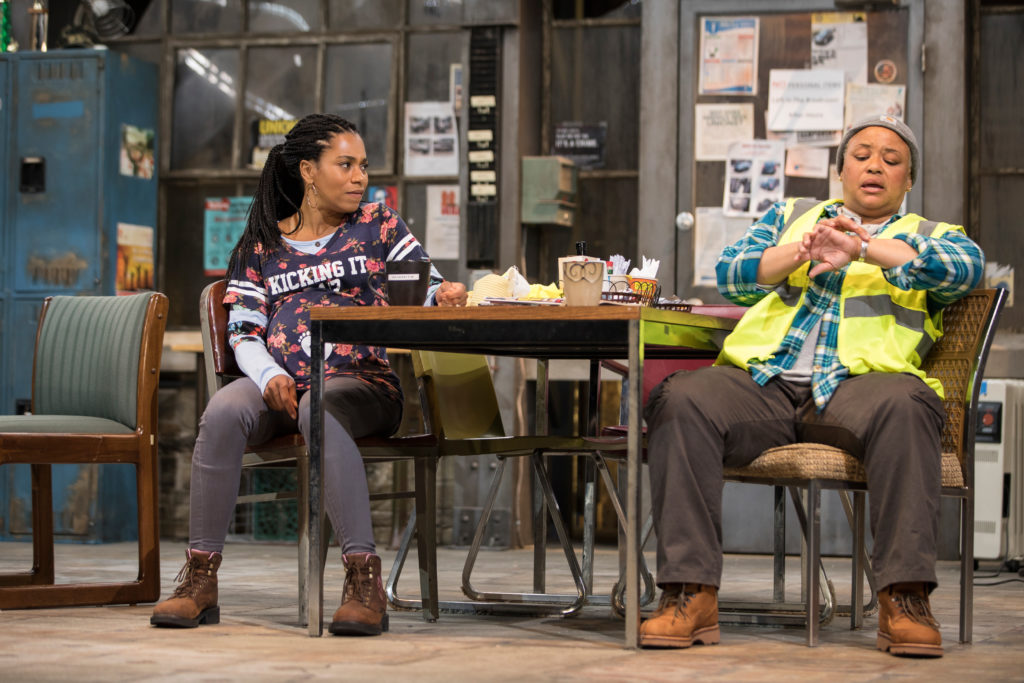 Working-class men and women of color are rarely front and center in today's media and, likewise, are presented all too occasionally on the American stage. So it's buoying to see that trend bucked in playwright Dominique Morisseau's percipient and well-crafted drama, Skeleton Crew. The play is the final installment in her Detroit  Project Trilogy; the first, Paradise Blue, is set in the 1940s amidst displacement caused by urban renewal and gentrification, while the second, Detroit '67, transpires on the eve of the 1967 Detroit riots sparked by a police action.
Directed by Patricia McGregor at Los Angeles' Geffen Playhouse, Skeleton Crew is a play with a moral spine. It takes place in 2008, when the shrinking U.S. auto industry is being further downsized. Morisseau's engaging quartet of characters — Faye (Caroline Stefanie Clay), Dez (Armari Cheatom), Shanita (Kelly McCreary) and Reggie (DB Woodside) – are employed at an automobile outfitting plant. Faye, Dez and Shanita are workers on the line while Reggie (who has a wife and kids, and has pulled himself together after a troubled youth) is their supervisor.
The first three customarily mingle in their break room (designer Rachel Myers' impressively cluttered, dingy and detailed set), trading the sort of familiar barbs and genuine concern for each other common among longtime co-workers. They also face off on philosophy: Upper-middle-aged Faye and the younger, pregnant Shanita take pride in their labor, while Dez, though a good worker, is a malcontent scornful of management and firm in the belief that everyone needs to watch out for himself. He's a thorn in Reggie's side, for while Reggie wants to be supportive of his workers, he must act at the behest of higher management. For his part, Dez resents Reggie's authority, and a palpable unease exists between them.
Besides this male matchup, we're made privy to Dez's attraction to Shanita, who mostly turns away his advances, but every now and then displays a hint of interest. Most poignant is Reggie's regard and affection for the lesbian Faye, which has roots in his boyhood when she loved, and lived, with his now-deceased mom.
These people's various predicaments intensify when rumors spread of the plant's shutdown — a disaster for all, but a particular calamity for the already near-broke Faye who, one year short of retirement, would lose her pension. The crisis forces each of these people to make a choice.
A sound piece of social realism, Skeleton Crew grabs you from the start in its focus on blue-collar men and women, and their struggle against odds for dignity and self-respect. Morisseau not only furnishes these characters a platform for their travails, she endows them with strong values, big hearts and the opportunity to choose between right and wrong.
Unfortunately, the performance I attended did not soar. Many exchanges lacked a fresh edge. The actors certainly had their characters down, but too often they appeared to be coasting on technique. (This seemed particularly true of Clay, who performed the role to great accolades in Washington, DC in 2017, also under McGregor's direction). Additionally, some of the stage movement was not entirely fluid; in confrontations, actors sometimes would just stand and face each other in an artificial way. And Cheatom's interpretation of Dez struck me as a bit overly churlish and depressive: I needed more glimpses of the intelligence and edge that would secretly attract the strong, self-directed Shanita.
The most compelling moments belong to Woodside, well-cast as a man trying his best in difficult circumstances to do the right thing.
---
Gil Cates Theater at the Geffen Playhouse, 10886 Le Conte Ave., Westwood Village; Tues.-Fri., 8 p.m.; Sat., 3 & 8 p.m. Sun., 2 & 7 p.m.; through July 8. (310) 208-5454 or www.geffenplayhouse.org