Alireza Mahdavi: Come Out, Come Out Wherever You Are!
It is 3 p.m., June 27, 2013 and I find myself walking on the sidewalk along Pacific Coast Highway in Newport Beach. Just like any other day in Southern California, the skies are blue, the sun is bright gold and the owners of new BMWs, Mercedes Benzes and Maseratis speed down the highway without a care in the world. Unlike any other day, I find myself among a delegation of community members, clergy, reporters and union representatives in support of Joe Dickson and his co-workers.
We march towards the elegant Newport Beach Balboa Bay Country Club to speak with Alireza Mahdavi before he gives a speech to a group of investors and financiers at a convention. We certainly did not pay $900 to have some alone time with the CEO of American Logistics International; I don't think any of us have that kind of money to spend on a chicken dinner alone. I know Joe wouldn't want to pay that kind of money, for as he says, "I barely get paid $900 a week to take care of my family. How am I supposed to do that?"
The only thing we can do is try to talk to Mahdavi at his speech, to let him know that Joe has something to tell him.
Who are Joe Dickson and Alireza Mahdavi? Joe is a truck driver for American Logistics, a trucking company in Carson that operates at the Ports of Los Angeles and Long Beach; Mahdavi is his boss, the owner of that company. Joe simply wants to have some time to sit down with his boss to tell him that he and his coworkers have many work safety concerns that need to be addressed, and that the company should respect their petition to join a labor union. They are also calling for a halt to all company retaliation and harassment for pursuing their legal right to union representation.
Joe and his co-workers are finding that Mahdavi is hard to pin down for a chat.
Mahdavi's hide-and-seek game began in early January of this year, when a delegation of American Logistics drivers delivered a petition publicly declaring their intention to form a union, and sought to partner with the company to find the best process for doing so. There was no reply from Mahdavi. More petitions from drivers were met with more silence from the company's owner.
Drivers at American Logistics have since filed unfair labor practices with the National Labor Relations Board alleging that the company violated federal law by interfering with their legal right to organize. The drivers, along with community and clergy leaders, also led a second delegation to American Logistics' management urging that they address safety concerns that they believe endanger their lives and those of the community at large. Perhaps most damning is a complaint issued by the U.S. government against the company, when a regional office of the National Labor Relations Board (NLRB) agreed that American Logistics was "interfering with, restraining and coercing employees in the exercise of the rights guaranteed by the [National Labor Relations Act]."
Throughout all of this, workers have grown increasingly vocal, frustrated by the company's silence. Drivers gather every week at the company's gates to share information and draw attention to the labor dispute. They continue to try to engage in a dialogue with company executives and decision-makers. With community and clergy allies, they have conducted delegations to Mahdavi's other businesses, in the hope of finding him there.
And so, I march alongside Joe Dickson. The banquet hall is filled with dozens of company executives that paid hundreds to learn about the EB-5 program— a program that Mahdavi uses to raise funds for his business. When the company owner refused to come to the workers, the workers decided they would come to the company owner. They had done this once before as a delegation to a previous EB-5 conference. This time, Joe and his supporters didn't want to take "no" for an answer. After being rebuffed at the door to the conference, we stood in the hallway and chanted, demanding to see Alireza. Instead of coming out, some executive simply closed the door, trying to drown out Joe Dickson and the community outside.
We were kicked out of the country club, but not before sending a loud message to Mahdavi. He has yet to respond; he has yet to be found. He has remained silent to his workers, the community, the clergy and even the federal government. But he will be located; he will have to respond. After all, the most basic premise of playing hide-and-seek is to be found. So, come out, come out, wherever you are! You can't hide forever.
(Ernesto Rocha is an organizer with the Los Angeles Alliance for a New Economy's Clean & Safe Ports campaign.)
Government Shutdown's Silver Lining: A Corporate Hiring Guru Speaks Out
Co-published by Fast Company
Ending the shutdown won't curtail the hiring opportunities for corporate recruiters, says one expert. It's like divorce: Once you start thinking about leaving, the odds that it will happen go up dramatically.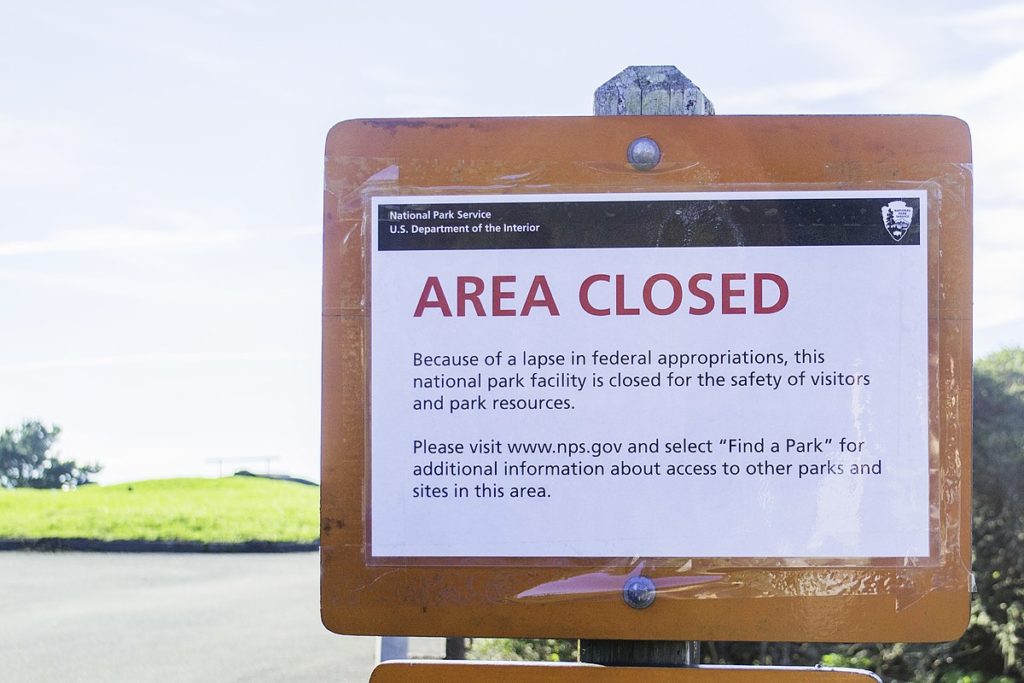 ---
In the new economic climate, even the most mission-driven of federal workers might be forgiven for abandoning the nation's parks, airways and regulatory agencies.
---
Co-published by Fast Company
When the federal government shut down for 16 days in 2013, corporate hiring guru John Sullivan advised companies on how to raid federal government workplaces for talent.
A blog post he penned at the time caused some to charge him with being unpatriotic, he said recently, while others thanked him for the reminder that federal workers were ripe for the plucking.
This time around, the climate is even better for corporations looking to cull staff from a workforce that is already well-trained and also known for its loyalty, Sullivan tells Capital & Main by phone. He describes the current moment—with hundreds of thousands of federal employees forgoing paychecks and, in many cases, sitting at home — as tantamount to "a sale on Black Friday."
---
Congresswoman:  The shutdown could have a long-term impact on the federal government's ability to attract workers with IT skills.
---
"If you've been screaming for the last two years" about the skills-and-talent shortage, "this week there isn't one," says Sullivan, who heads the human resource management program at San Francisco State University's College of Business.
The partial shutdown, that began on December 22 when President Trump failed to secure funding from Congress for his border wall, has impacted employees at a host of federal agencies, including the departments of Agriculture, Commerce, Homeland Security, Housing and Urban Development, Interior, Justice, State, Transportation and Treasury and the NASA.
What makes this particular shutdown so suitable for raiding federal workplaces? It's not just that employee morale has taken a nosedive, thanks to a president who is at war with many of the agencies he oversees. Nor is it only the fact that Trump threatened to keep the government closed for as long as a year, a notion that "really scares people," says Sullivan.
---
With Amazon's opening new offices in the District of Columbia area, three out of four IT workers in DC say they would consider leaving their current jobs for the tech behemoth.
---
It's also the economic climate. Companies are growing. Unemployment is low. Remote work is increasingly an option. Technical advances have made looking for a job easier than it was in 2013. "You can say 'boo' to your phone and apply for a job," adds Sullivan, delivering his matchmaking pitch with such force that even the most mission-driven of federal workers might be forgiven for abandoning the nation's parks, airways and regulatory agencies.
Congresswoman Robin Kelly (D-IL), the ranking member of the House Subcommittee on Information Technology, worried, in a statement last week, that the shutdown would have a long-term impact on the federal government's ability to attract workers with IT skills. The federal government has generally struggled to attract young tech workers, and Amazon's new offices in the District of Columbia area has three out of four IT workers in DC saying they would consider leaving their current jobs for the tech behemoth.
Tech workers — and upper-salaried talent — are not the only employees coveted by the private sector, says Sullivan. Forest Service employees. Coast Guard workers. Transportation and Safety Administration agents. Any unpaid workers could be lured away, especially in states like California and Texas, where economies are strong, he maintains. An employment agency for California's casinos recently put this shout out on Twitter: "Any @TSA employees looking for new opportunities, PTGaming is hiring!" along with the popular hashtag, #shutdownstories.
The shutdown could also prompt federal employees to throw scruples to the wind and step into the infamous revolving door that leads workers from government jobs to the private sector and back again. When Sullivan was advising companies in 2013, he helped firms hire from agencies that regulated them.
"And by the way," asks Sullivan, persisting with his siren song, "if I was a regulator, [with] President Trump eliminating all those regulations, why am I needed? Why not go to the private sector?"
Sullivan, who says he is an underpaid government worker in his own right, is concerned about the public cost of his and others' efforts to lure away the federal government's top talent. The best employees will leave first, and "literally billions" in training dollars will be lost, he predicts.
But he puts the blame squarely on a public sector that undervalues its workers. Corporations that pilfer federal government workforce for talent offer a kind of public service and corrective by demonstrating the price that must be paid "for degrading public service and unnecessarily frustrating federal employees," he wrote in his 2013 post.
Ending the shutdown won't curtail the hiring opportunities for corporate recruiters, says Sullivan. "It's like divorce. Once you start thinking about [leaving], the odds [that it will happen] go up dramatically."
---
Copyright Capital & Main