ALEC Confidential: Tales from the Supply-Side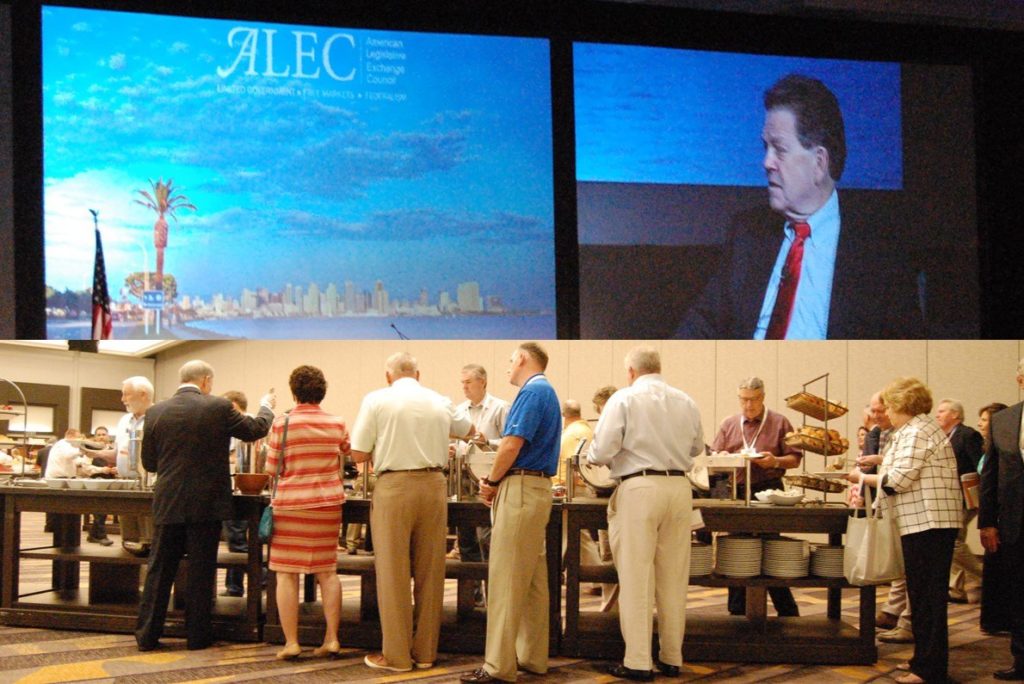 Top: Arthur Laffer. Bottom: ALEC breadline.
"The biggest scam of the last 100 years is global warming!" thundered Stephen Moore to ALEC's plenary breakfast club this morning. "It's no surprise that when you give these professors $10 billion, they're going to find a problem."  Moore then singled out North Dakota for its regulatory-free attitudes toward the fracking industry: "I just have one message for you — drill, baby, drill!"
The annual meeting of the American Legislative Exchange Council began wrapping up business in San Diego Friday on this defiant note from Moore, a former Wall Street Journal writer. This newly hired Heritage Foundation economist is an apostle of completely eliminating state income taxes  and has been in a running feud with liberal economist and New York Times columnist Paul Krugman, over Moore's casual regard for accurate reporting.
Moore's speaking partner today was fellow supply-sider Arthur Laffer, the former economic guru of the Nixon and Reagan administrations, perhaps better known for the Laffer Curve, a graph that essentially purported to demonstrate how lowering the tax rate for the One Percent would reap the highest tax revenues for the country, rather than its now-historic levels of income inequality.
Together with tax reform zealot Jonathan Williams, the two men publish ALEC's annual Rich States, Poor States report card that rates states based on their adoption of ALEC laws. The pair have just collaborated on a new laissez faire potboiler, An Inquiry into the Nature and Causes of the Wealth of States: How Taxes, Energy, and Worker Freedom Change Everything.
With California Board of Equalization member (and the state's highest Republican officeholder) Diane L. Harkey moderating, Moore announced to the assembly of state legislators and corporate lobbyists that it was a good time for ALEC.
"When I look at the 50 states list, we are winning," he declared before triumphantly citing the recent adoption by Michigan, Wisconsin and Indiana — "Three states in the Midwest and the cradle of unionism" — of right-to-work laws. To that victory list he added North Carolina for its draconian unemployment benefit cuts, and Nevada for passing an unprecedented evisceration of its public education system.
But mostly the breakfast talk came down to the repeated reiteration that taxes — any taxes — equaled economic death and socialism, and were the cause of California's high rate of income inequality.
Laffer zeroed in on California public school teachers as his favorite example of government waste. He said that although state teachers are the highest paid, according to the National Assessment of Educational Progress  test scores they are doing the "fourth worst" job in the country.
Laffer and Moore ended  with a call to repeal state income taxes of any kind.
"There are nine states that don't have the income tax," Moore said. "We need another no-income tax state. Let's have 20 no-income tax states and 48 states that are right-to-work."
The room erupted in enthusiastic applause.
---
ALEC breakfast photos by Bill Raden

LISTEN: How Two African-American Entrepreneurs Are Determined To Change Diets In The Black Community
On the latest episode of "The Bottom Line" podcast, Naturade's Claude Tellis and Kareem Cook share how their own families' experience with diabetes has spurred them to promote healthy eating options.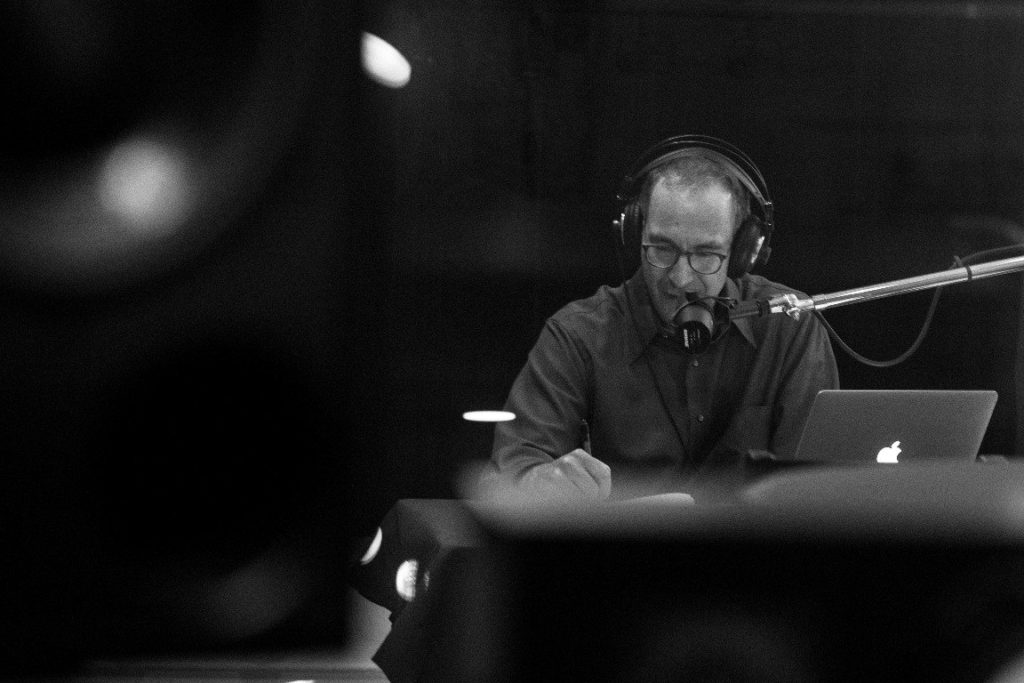 Many entrepreneurs pride themselves on solving some sort of "pain point" for their customers. But as Claude Tellis and Kareem Cook, the co-owners of health-products provider Naturade make clear, some pain points are a lot more serious than others.
"I had an uncle that went into the doctor, wasn't morbidly obese or anything, lived in Louisiana and . . . the family was faced with, 'Do we amputate both of his legs or not?'" Tellis told me on the latest episode of my podcast, The Bottom Line. "He never made it out of the hospital. He died, and he was about 55 years old."
Another uncle, says Tellis, who serves as Naturade's CEO, "was faced with losing a couple toes." Eventually, "they had to take his leg from the knee down."
In the African-American community, dealing with this grim loss of life and limb—often brought on by diabetes and peripheral arterial disease—has become disturbingly routine. "You just kind of grew up with insulin in the refrigerator," says Cook, Naturade's chief marketing officer.
And so Tellis and Cook have set out to combat this crisis by helping underserved populations—especially those in black neighborhoods—eat better. Their vehicle for sparking change is Naturade, which they acquired in 2012 for $8 million.
Although the Orange, Calif., company is nearly a century old, Tellis and Cook have revamped it completely, including introducing a new product that is now their No. 1 seller: VeganSmart, a plant-based meal replacement that is high in protein, low in sugar, and full of vitamins and minerals. Its suggested retail price is $35 for 15 servings.
"What we really wanted," says Tellis, "was something that had Whole Foods quality that could be sold to a Walmart consumer."
To achieve that vision, they've built the brand methodically. Step one, Tellis says, was making sure that vegans bought in, so that "people when they look online will see that there's an authenticity and there's a rigor" to what's being offered.
From there, they handed out VeganSmart at Wanderlust yoga festivals, aiming to attract a hip, upscale crowd. This helped advance a "premium viewpoint of the product," Tellis says.
Finally, there came the last step: bridging into urban America. To catch on there, they've adopted an influencer strategy, tapping rappers like Styles P and Da Brat and professional basketball players to promote VeganSmart. (Grant Hill, soon to be inducted into the NBA Hall of Fame, is an investor in Naturade.)
The result is a profitable company that is now selling into, among other retailers, both Whole Foods and Walmart—just as Tellis and Cook had planned it.
Not that any of this has come easy. The duo, who met as Duke University students in the early 1990s, have played in the health-food space for more than 15 years now.
Their first venture, launched in 2002, was a vending machine company called Healthy Body Products, which supplied nutritious snacks and drinks instead of junk food and soda. The business won contracts with the Los Angeles Unified School District, but it was difficult to scale. So Cook and Tellis ultimately sold the venture—but not before gaining some insight into what it takes to persuade those in the mainstream to eat right.
At one point, they brought in actor Michael Ealy (then fresh off one of the Barbershop films) to talk to the students about the importance of maintaining a good diet. "One of the biggest things we learned in our first business was how to make it cool," Tellis explains.
And, of course, if that doesn't work as a motivator, there's always a second message to fall back on. "Everyone wants to be cool," says Cook. "And no one wants to die."
You can listen to my entire interview with Tellis and Cook here, along with Bridget Huber reporting on Impact America Fund's efforts to help improve low- to moderate-income areas, and Karan Chopra laying out what small rice farmers in West Africa can teach American business leaders.
The Bottom Line is a production of Capital & Main.