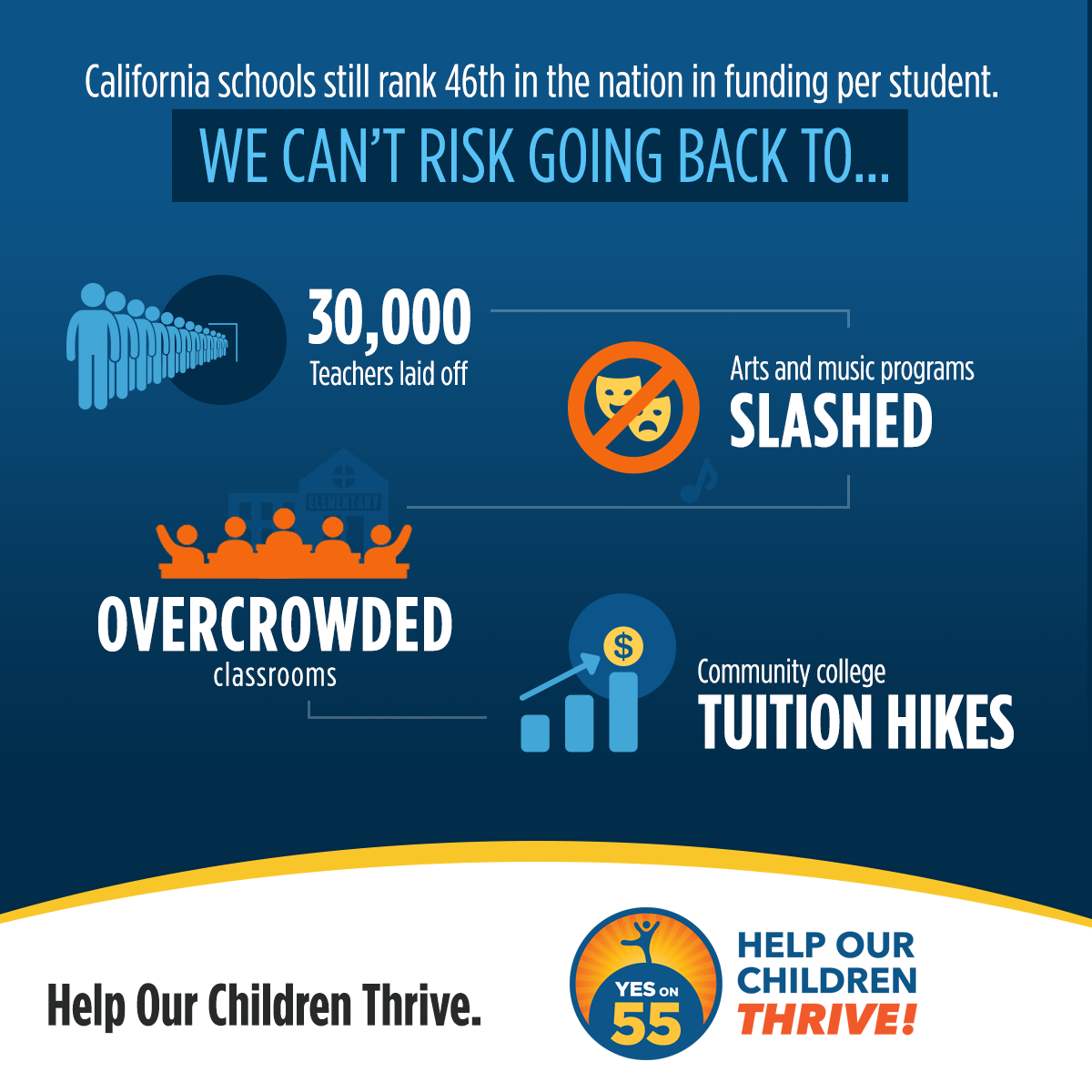 An infographic supporting Proposition 55.
Victorious Proposition 55 has extended a policy initially approved by Californians in 2012 to make up the recession-era budget cuts in the Golden State—cuts that devastated spending on education and health care. The 2012 measure, Proposition 30, established a personal income tax increase on household incomes of $250,000 and above. Upon winning, Prop. 30 immediately released state monies–$6 billion for schools and health care.
This year's Prop. 55 measure, written to continue the 2012 tax hike that had been scheduled to expire in 2018, won by a whopping 62-38 percent margin.
The fat Prop. 55 victory margin likely benefited from the lack of the fierce push-back Prop. 30 had experienced from opponents that had included a multimillion dollar campaign underwritten by Palo Alto physicist Charles Munger Jr. All but five state counties out of 58 voted in support of Prop. 55.
The win may feel like yet one more temporary fix to get money to schools and services. But it could be also seen as part of a pattern showing that a previously tax-allergic electorate voted not only for Prop. 55, but here, in Los Angeles, for other tax-raising measures to address pressing problems.
The successful Measure HHH will increase property taxes on commercial and residential addresses to provide permanent housing and supportive services for thousands of L.A.'s chronically homeless. It passed with a resounding 76 percent approval. Measure M, a transportation tax designed to massively expand public transportation, passed by nearly 70 percent.
Los Angeles voted 67 percent "yes" on Prop. 55. It and other revenue-generating measures may have gained a boost from a grassroots movement in California. The Million Voters Project, a consortium of six statewide groups pledged to turn out one million new and infrequent California voters in the 2018 elections, turned out 80,000 voters this election cycle. The project is committed to re-arranging the taxation system established by Proposition 13, which fixed property taxes at an artificially low 1975 rate, draining the state of revenue.
Ongoing contact with voters by get-out-the-vote groups between elections, and a push for change by an informed electorate, is key to an ongoing shift in California policy toward the interests of low-income communities and people of color, according to Veronica Carrizales, Policy and Campaign Director at California Calls. Her group is one of the six members of the Million Voters Project.
Carrizales looks at the Prop. 55 vote as a bellwether. Prop. 13, she says, is no longer the untouchable third rail of California politics. Tuesday's election is "a signal that voters want to see a change and we should be looking at the horizon."