Actress Speaks Out Against Lunch Shaming in School Cafeterias
When a student doesn't have enough money for lunch, cafeteria staff in many school districts take away the child's tray of hot food and hand the student a brown paper bag containing a cold cheese sandwich and a small milk.

Actress  Debrianna Mansini (Better Call Saul and Breaking Bad) is a passionate advocate for ending hunger in America, specifically through ending the practice of "lunch shaming" in schools. She will speak about it during The Meatball Chronicles, her solo show that opens June 2 at the Broadwater as part of the Hollywood Fringe Festival. She and chef Hunter Long Fox, of the Hollywood restaurant Hunter & Charlie's, will host a celebrity luncheon to raise money to assist poor families who cannot afford the price of a school lunch. Mansini spoke to Capital & Main by phone.
---
Capital & Main: What exactly is lunch shaming?
Debrianna Mansini: Lunch shaming happens when a child's family owes money to the school lunch program, and a cafeteria worker has to refuse to serve the child a hot lunch. (I don't want to disparage cafeteria workers. A lot of them don't want to do it — they're required to.)
I read about it in the New York Times and it just horrified me. Shaming kids about food and poverty? This will this affect them their whole lives.
How does lunch shaming usually work? Are children ever denied food altogether?
When a student doesn't have enough money for lunch, cafeteria staff in many districts take away the child's tray of hot food and hand the student a brown paper bag containing a cold cheese sandwich and a small milk. Some schools take away their lunch entirely. Sometimes the child gets a stamp on their hand. It's kind of akin to having a scarlet letter.
How widespread is the problem?
An alarming number of American youngsters still can't afford a $2.35 lunch. In 2016, 18 percent of kids were living in poverty, according to the Children's Defense Fund. According to the National Center for Children in Poverty, the figure is 21 percent. The poverty rates are highest among minorities.
Yet anti-shaming legislation has been passed in New Mexico and California, has it not?
In April of 2017 New Mexico's [Governor] Susana Martinez signed the Hunger-Free Students' Bill of Rights, which directs schools to work with parents to pay their debts or sign up for federal meal assistance. And it puts an end to practices meant to embarrass children.
In October 2017, [California] Governor [Jerry] Brown signed SB 250. authored by state Senator Robert Hertzberg. It ensures that children will not denied a full lunch because of their parents' debt.
Does that mean parents no longer have to pay?
The law specifically says that districts are not required to give parents a pass on not paying indefinitely. Instead it requires that districts do all they can to enroll families in the federally subsidized school lunch program and also to notify families – not bill collectors — of unpaid balances as soon as they are 10 days behind.
Is there a group or individuals spearheading a national campaign to abolish it?
NM Appleseed is a non-partisan nonprofit with a mission to create systemic change for the poor and underserved. The organization helped pass the bill in New Mexico and has since been in contact with 32 other states about passing legislation. On the federal level, Congresswoman Michelle Lujan Grisham is carrying a bill in the House and Senator Tom Udall is carrying a version in the Senate.
Besides legislation, what are some of the ways groups and individuals are helping to deal with childhood hunger and lunch shaming?
The Community Eligibility Program, set up by the USDA [U.S. Department of Agriculture] in 2010, has become a lifesaver. It gives free lunches to every student in a school where at least 40 percent of the families are extremely poor and automatically qualify for government aid. Another solution is the federal free meal program. But not every struggling family meets the income requirements, and those that do may have language barriers or fears over immigration status or fail to file the paperwork.
Rob Solomon, chief executive of GoFundMe, said it had about 30 active campaigns to raise money for meal debt. One man started Feed the Future Forward, which hosts crawfish boils and golf tournaments to raise money. It has wiped out more than $30,000 in food bills so far.
What's the connection between your show and the cause?
The Meatball Chronicles is a love story centered around the power of food and family. When I heard about lunch shaming, I thought this is something I can actually speak about through my show, which is about our relationship with food. The piece is stand-alone, but I use the time before the audience to raise people's awareness.
I believe food can heal not just our bodies but our souls. And what better way to bring all that together but through theater?
---
Copyright Capital & Main

'Skeleton Crew' Is a Play With a Moral Spine
Set in a Detroit automobile outfitting plant, Dominique Morisseau's drama grabs you from the start with its focus on blue-collar men and women, and their struggle for dignity and self-respect.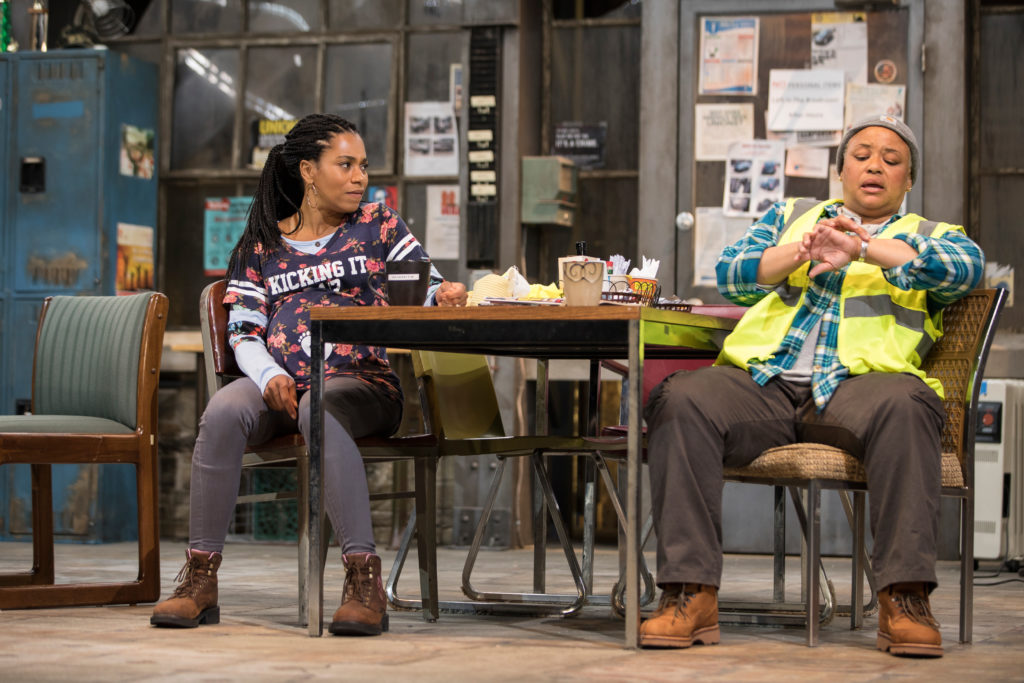 Working-class men and women of color are rarely front and center in today's media and, likewise, are presented all too occasionally on the American stage. So it's buoying to see that trend bucked in playwright Dominique Morisseau's percipient and well-crafted drama, Skeleton Crew. The play is the final installment in her Detroit  Project Trilogy; the first, Paradise Blue, is set in the 1940s amidst displacement caused by urban renewal and gentrification, while the second, Detroit '67, transpires on the eve of the 1967 Detroit riots sparked by a police action.
Directed by Patricia McGregor at Los Angeles' Geffen Playhouse, Skeleton Crew is a play with a moral spine. It takes place in 2008, when the shrinking U.S. auto industry is being further downsized. Morisseau's engaging quartet of characters — Faye (Caroline Stefanie Clay), Dez (Armari Cheatom), Shanita (Kelly McCreary) and Reggie (DB Woodside) – are employed at an automobile outfitting plant. Faye, Dez and Shanita are workers on the line while Reggie (who has a wife and kids, and has pulled himself together after a troubled youth) is their supervisor.
The first three customarily mingle in their break room (designer Rachel Myers' impressively cluttered, dingy and detailed set), trading the sort of familiar barbs and genuine concern for each other common among longtime co-workers. They also face off on philosophy: Upper-middle-aged Faye and the younger, pregnant Shanita take pride in their labor, while Dez, though a good worker, is a malcontent scornful of management and firm in the belief that everyone needs to watch out for himself. He's a thorn in Reggie's side, for while Reggie wants to be supportive of his workers, he must act at the behest of higher management. For his part, Dez resents Reggie's authority, and a palpable unease exists between them.
Besides this male matchup, we're made privy to Dez's attraction to Shanita, who mostly turns away his advances, but every now and then displays a hint of interest. Most poignant is Reggie's regard and affection for the lesbian Faye, which has roots in his boyhood when she loved, and lived, with his now-deceased mom.
These people's various predicaments intensify when rumors spread of the plant's shutdown — a disaster for all, but a particular calamity for the already near-broke Faye who, one year short of retirement, would lose her pension. The crisis forces each of these people to make a choice.
A sound piece of social realism, Skeleton Crew grabs you from the start in its focus on blue-collar men and women, and their struggle against odds for dignity and self-respect. Morisseau not only furnishes these characters a platform for their travails, she endows them with strong values, big hearts and the opportunity to choose between right and wrong.
Unfortunately, the performance I attended did not soar. Many exchanges lacked a fresh edge. The actors certainly had their characters down, but too often they appeared to be coasting on technique. (This seemed particularly true of Clay, who performed the role to great accolades in Washington, DC in 2017, also under McGregor's direction). Additionally, some of the stage movement was not entirely fluid; in confrontations, actors sometimes would just stand and face each other in an artificial way. And Cheatom's interpretation of Dez struck me as a bit overly churlish and depressive: I needed more glimpses of the intelligence and edge that would secretly attract the strong, self-directed Shanita.
The most compelling moments belong to Woodside, well-cast as a man trying his best in difficult circumstances to do the right thing.
---
Gil Cates Theater at the Geffen Playhouse, 10886 Le Conte Ave., Westwood Village; Tues.-Fri., 8 p.m.; Sat., 3 & 8 p.m. Sun., 2 & 7 p.m.; through July 8. (310) 208-5454 or www.geffenplayhouse.org