A New Era in Health Care Begins
Signature Act: The president signs the ACA, 2010. (Keith Ellison)
Four years ago, my wife and I planted an oak tree on Election Day – our Obama Oak – at the front of our house. The remarkable thing about the tree is how long it holds on to its leaves. I see it from my window, now doubled in height, still holding its crimson leaves, even after Sandy's winds blew the leaves off of every other tree in the surrounding Taconic Hills. For me, the Obama Oak's hardiness is a testament to perseverance of a health reform movement and a president, who together completed the 100-year quest to make health care a government-guaranteed right in the United States. With the president's reelection, that quest is now secure and a new era in American health care begins.
I am sure that skeptics on the left will scoff at the assertion that the ACA launches a new era in health care. After all, a key to securing congressional passage of the Affordable Care Act was that the law did not upend the current system of health care financing in the United States. The ACA maintains and expands the current three pillars of health coverage: coverage at work, coverage from the government, and coverage purchased by individuals. But unlike those skeptics, the opponents of ObamaCare understand that once the government is responsible for arranging affordable health coverage for its citizens, it is a whole new ball game.
There are two ways to get a glimpse of the new world, one by looking at Medicare and Social Security, the other by seeing what's happening under RomneyCare in Massachusetts.
Congress has debated changes in Social Security and Medicare almost every year since each program was enacted. Throughout that time, conservatives have tried to stop the programs from expanding and pushed to privatize these public gems. They continue to do so today at their continued political peril. But the history of the programs is that each slowly expands to cover more people with more benefits, as Americans increasingly rely on them for their financial security.
Since its passage in 1935, Social Security's initial meager payments, available to only a limited set of workers, were expanded over time to provide decent (though far from generous) benefits to almost all workers and extended to surviving spouses and dependent children. Medicare also continued to expand the services i covered, including adding prescription drug coverage a decade ago and just last month improving coverage for some chronically ill beneficiaries. Medicaid has also become a very popular part of the social insurance structure, relied upon by low-income families, the disabled, and an increasing number of the aged.
In writing this, I don't mean to gloss over the flaws and even setbacks in Social Security, Medicare, and Medicaid. Each of the programs could be improved. But the vital point is that debates over the programs happen largely in public. Health and retirement security for seniors is not a matter just of market forces or private arrangements; it makes up a substantial amount of federal spending and policy. And politicians have found that Social Security and Medicare are the third rails of American politics.
The same will be true for the Affordable Care Act once its key provisions to expand coverage to tens of millions of people start in 2014. At that point, the mystery that is ObamaCare will begin to be cleared up, as millions of people – touching many more millions of family members – find that they have access to affordable health coverage, either from the government or purchased with government subsidies. People will learn first-hand that if they lose their job, start a small business, or retire early, they will still be able to be insured. All the fear-mongering will lose its bite when instead of the sky falling, people have a new floor of health security.
Congressional fights over the ACA will become an annual staple of American politics. The right will continue to try to gut many of its main provisions. Progressives will work to make the law more affordable, building on the popular support that will be established and pushing for improvements. The health care industry will fight over how it impacts their bottom line. There will be big public debates on how the ACA controls health care spending and how much the government can afford to spend. Through all this, as more people are covered by the ACA, ObamaCare will join Social Security, Medicare, and Medicaid as integral parts of how Americans attain a basic level of financial security and personal well-being.
We can already see some of this in Massachusetts. RomneyCare is very popular, a settled part of the political landscape. It is working well: Romney even bragged that 98 percent of Massachusetts residents were covered in the third presidential debate. Health costs have gone up less quickly than neighboring states, and more employers are providing coverage.
But because the state is now responsible for more of the cost of health coverage, the Massachusetts legislature, often at the urging of Governor Deval Patrick, has vigorous debates every year on how to better rein in the growth of health spending. This year it passed a law intended to set limits on the rise in health spending. Under pressure from the new law, health insurance companies and hospital systems are agreeing to new cost control measures. The people who run the subsidized marketplace for private insurance have used their market clout to get insurers to improve quality while controlling costs. And in liberal Massachusetts – I won't predict this for Congress – there has been no serious consideration of cutting benefits or subsidies to people.
With President Obama's reelection and the Democratic majority under Harry Reid in the Senate, there is no doubt that the Affordable Care Act will be fully implemented in 2014. States in which Republican governors and legislatures have delayed taking action will need to decide by November 16th whether to run the new individual and small business marketplaces (the "exchanges") or hand that authority to the federal government. States and the federal government will start moving aggressively to meet the deadline to begin enrollment next October. A huge new expansion of Medicaid will be agreed to in all but a handful of states. There will be new regulations, furious maneuvering in the health care industry, continued political posturing. And a new era in health care, an era in which the right to health care is a public matter, a matter of regular, government policy, will finally have begun in the United States.
Richard Kirsch is a Senior Fellow at the Roosevelt Institute, a Senior Adviser to USAction, and the author of Fighting for Our Health. He was National Campaign Manager of Health Care for America Now during the legislative battle to pass reform. This post first appeared on Huffington Post and is republished here with permission.

Rick Scott Super PAC Donations Challenge Federal Anti-Corruption Rule
Co-published by Fast Company
The Florida governor led a group that raked in cash from Wall Street firms after Scott's administration gave them pension deals.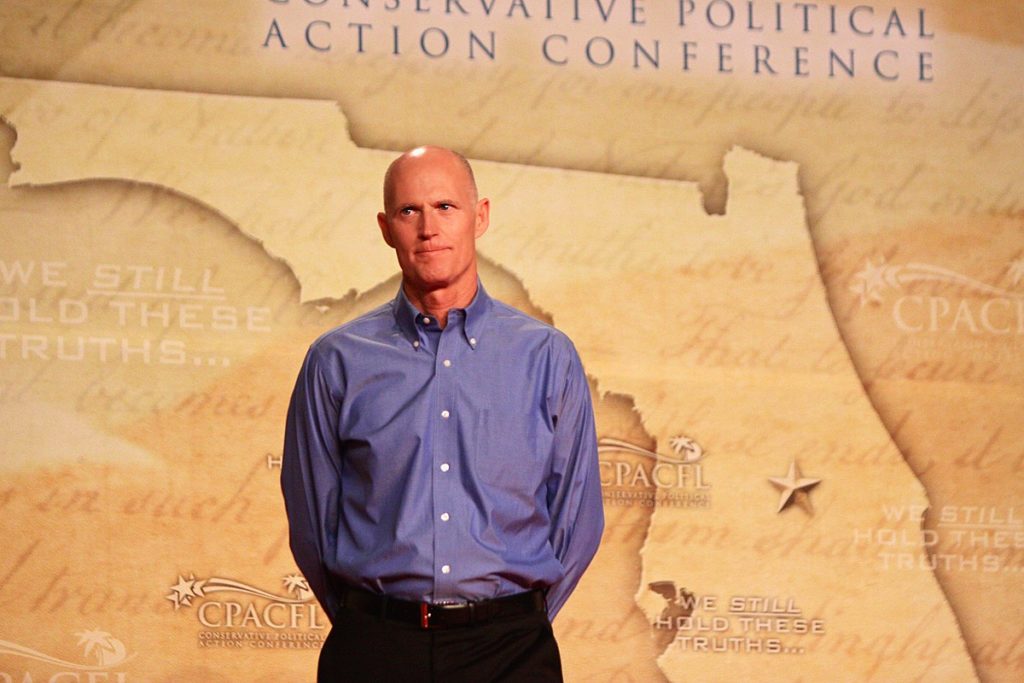 Co-published by Fast Company
A super PAC led by Florida Gov. Rick Scott raked in donations from two private equity executives after Scott's administration directed lucrative state pension investments to their firms, according to government records reviewed by MapLight and Capital & Main.
The donations were made to a committee that's now supporting Scott's U.S. Senate bid, despite a federal rule designed to prevent financial firms from bankrolling the election campaigns of public officials who oversee state pension investments.
Scott, a Republican, began chairing the New Republican PAC in May 2017 and announced his former campaign manager would serve as its executive director. Soon after, the group received $5,000 from New Mountain Capital Chief Executive Officer Steve Klinsky and $50,000 from Energy Capital Partners founder Douglas Kimmelman.
The contributions flowed to the super PAC after New Mountain Capital and Energy Capital Partners received a combined $250 million worth of new investment commitments from Florida's state pension system in 2014 and 2015. Scott is one of three state officials who oversee the $160 billion pension system. During the most recent fiscal year, the Florida investments generated more than $3 million in fees for the firms.
A 2010 Securities and Exchange Commission (SEC) rule prohibits firms from receiving investment fees from public pension systems if their executives donate campaign cash to pension overseers like Scott. SEC officials aimed to prevent investment decisions from being shaped by political influence.
But the commission didn't explicitly bar donations to "independent" political groups, unless the donations were deliberately designed to circumvent the restrictions. And it hasn't addressed whether a state official can lead a super PAC that received donations from firms with pension business and later be supported by the super PAC.
John Kuczwanski, a spokesperson for the Florida State Board of Administration, told MapLight/Capital & Main that Florida's first investments in the two private equity firms happened in 2005 and 2009, and he said Scott had nothing to do with new investments during his governorship, which started in 2011.
"The [state's] initial relationships with both managers predate Governor Scott's time in office," said Kuczwanski, whose agency manages the day-to-day operations of the pension system. "Neither the trustees, nor their appointed investment advisory council members are involved in the investment manager/fund selection process."
Scott's campaign and the super PAC did not respond to questions from MapLight/Capital & Main. New Mountain Capital and Energy Capital Partners did not return requests for comment.
Energy Capital recently completed the purchase of Calpine, whose natural gas power plant near Tampa is regulated by Scott's appointees at the Florida Public Service Commission. Kimmelman, who is now a director of Calpine, also donated $35,000 in 2017 to the National Republican Senatorial Committee, which is backing Scott's Senate campaign.
"A Very Clear Case"
Under the SEC rule — which GOP state parties have tried to overturn — investment executives are not prohibited from donating to independent political groups. But the rule allows regulators to apply restrictions to donations that are deliberately routed through third parties in order to support public officials — a situation that critics argue is happening with Scott and his super PAC.
After the governor announced his Senate bid last week, New Republican PAC's website began promoting his candidacy. End Citizens United, a Democratic-leaning political action committee based in Washington, DC, filed a complaint alleging that Scott has violated Federal Election Commission rules and is using the super PAC, which can accept unlimited donations, to evade contribution limits. Scott's campaign says he stepped down as New Republican PAC's chair in February.
In writing the original rule, SEC officials noted that while they could not restrict all donations to political action committees, contributions to third parties "may effectively operate as a funnel to the campaigns of the government officials." They said the final rule "prohibits acts done indirectly, which, if done directly, would violate the rule."
One ethics expert said that those anti-circumvention provisions should apply to the donations to Scott's super PAC.
"This appears to be a very clear case of close coordination and circumvention of the pay-to-play rule," said Craig Holman, an ethics lobbyist at the government watchdog group Public Citizen. "This is something that I'd like the SEC to pay attention to."
"No Loopholes"
The SEC has only occasionally enforced the pay-to-play rule, and the agency hasn't applied the provisions dealing with third parties to donations to super PACs. Because Scott is a sitting governor who can influence pension investments, he is covered by the rule, which has hampered the fundraising of past governors who tried to run for federal office.
A spokesman for former Texas Gov. Rick Perry's presidential campaign said the rule prevented him from raising enough money to be competitive in the 2012 race. Bloomberg reported that during the same election cycle, then-New Jersey Gov. Chris Christie was rejected as the vice presidential nominee, partly because Republicans feared the rule would prevent them from raising money from Wall Street firms that do business with his state's pension system.
"There is no way around it, and there are no loopholes," said Bill Palatucci, Christie's longtime advisor.
Even so, in recent years the rule has not deterred financial executives from donating to groups that help lawmakers who can influence pension investments. Financial executives whose firms received New Jersey and New Mexico investments continued to donate to the Republican Governors Association (RGA) when Christie and New Mexico Gov. Susana Martinez led the group. During the 2016 election cycle, executives at firms managing state pension money donated nearly $1.3 million to the GOP association, even as the group boosted the campaigns of Republican governors with power over state pension investments.
Last year, U.S. Sen. Tom Udall, D-N.M., called for the SEC to apply the pay-to-play rule to outside groups "to ensure that no one is able to circumvent these laws by using super PACs, dark money groups or other campaign spending vehicles." The RGA has argued that because it funds multiple candidates and does not allow donors to earmark contributions for particular races, it can accept donations from firms with investment business that can be influenced by individual governors. The SEC said in 2016 that donations to outside political groups "are independent expenditures that do not trigger" the rule.
"So long as the PAC faithfully observes the requirement to operate independently of candidates, a contribution to a super PAC will not trigger the [rule], even if the super PAC supports a covered official," Sam Brown, a former advisor to Federal Election Commissioner Ellen Weintraub, wrote in 2016. "Super PACs are increasingly being used in novel ways, and it remains to be seen whether these changes will result in increased circumvention risks."
---
This story is a collaboration between MapLight and Capital & Main.