A Dancer Speaks Out for Organizing
Dana Wilson
My name is Dana Wilson and I am a professional dancer. Whether I am performing with a major recording artist, or busting a move in television and film, it is my job to entertain and evoke emotion through movement. It is also my job to make it look easy.
The reality is, dancers train tirelessly, sacrifice our bodies and dedicate our lives to our work, and sometimes all we get in return is "the experience." Most of us are young (twenty-somethings) and female. We are all are eager to work and it has taken a long time to gain respect as a work force. We have unions that represent us when we work on television shows and movies, but much of our work is still nonunion and many of us are without health insurance. Meanwhile, our bodies are taking a beating and we are always one injury away from unemployment.
Dancers' Alliance is an organization formed by dancers and run by dancers to unite us and improve our working conditions. While DA has been around for over 20 years, we have really stepped up our game in the last few. Last year, we took on music videos as our first major challenge. Although glamorous in their final form, music videos often have some of the worst working conditions. Long hours, dangerous conditions, inadequate breaks and late (not to mention low) payment are just the beginning. Imagine dancing in the middle of the desert for 16 hours wearing nothing but six-inch heels and a leather bikini. Next to a tiger. On scaffolding.
In partnership with our union SAG-AFTRA, we built our campaign to the point where we were prepared for an industry-wide work stoppage on music videos. This campaign was unique in that we were able to engage our young members through the use of social media and actions like flash mobs! The end result: Music videos for major label artists are now covered under a union contract for the first time in 30 years.
The dance community is growing. We are stronger than ever and we are continuing our movement. Our next goal is to organize concert tours. Being on tour with a major recording artist is one of the sweetest gigs a dancer can ask for. We get to travel the world and perform for thousands upon thousands of people. These productions can make up to $10 million per show and are out on the road for years at a time. Dancers do show after show, promoting the artist and the music that was recorded under SAG-AFTRA collective bargaining agreements, yet we don't get the same benefits and protections as the artists, singers and musicians who worked on the recording. Dancers aren't making health-care and pension contributions while on tour, when we need it most.
We officially launched our campaign to organize concert tours in August with an event at Avalon Hollywood, a nightclub popular with dancers. It was our biggest organizing event ever, with over 1,000 people in attendance who got to see live performances as well as a presentation on our union organizing. Most of the attendees were young professional dancers who now feel more strongly than ever about the importance of protecting our rights and improving our working conditions.
We are working on our campaign and have a lot of exciting things coming up. Join our movement and stay connected by following us on twitter @dancersalliance and finding us on Facebook at Imadancer.
(Dana Wilson is a dancer based in Los Angeles currently working for Justin Timberlake. You can follow her @danadaners or www.thedanawilson.com)

A Woman's Art Is Never Done: The Feminae Exhibition
A striking juxtaposition between the past and present courses throughout the small gallery. Celia Blomberg's "International Women's Day March 8" can't help but make one think of 2017's Women's March, which occurred 37 years after the print's first appearance.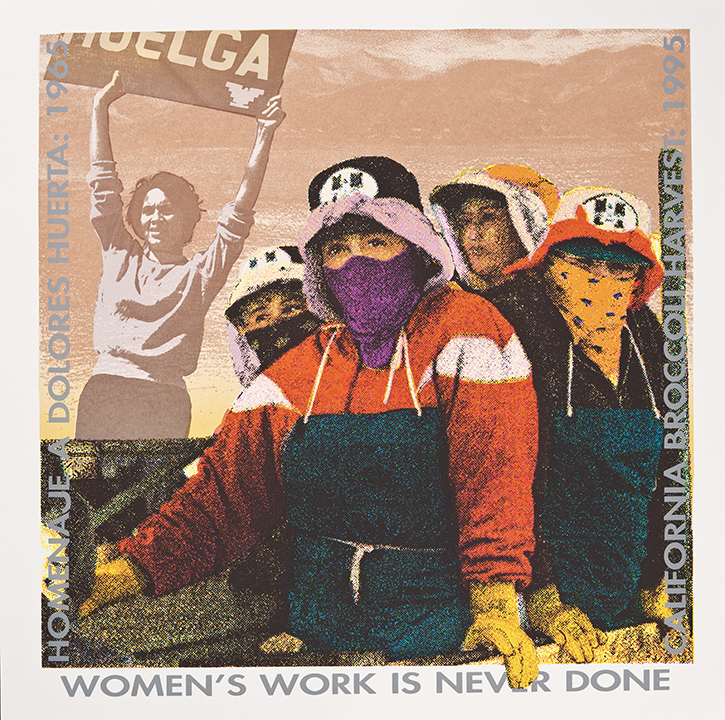 Among the 50-plus works in the Feminae: Typographic Voices of Women By Women exhibit is Yolanda Lopez's "Women's Work is Never Done." Lopez's title is particularly ironic, given the exhibit's gender-based subject matter. The show spans work from the past 50 years, making it easy to understand how much society is still grappling with its themes of gender inequality. Culled from the archives of the Center for the Study of Political Graphics, the graphic images of protest, persuasion and empowerment are truly works of art in their own right.
However, political posters aren't made to merely spruce up walls, but to help figuratively bring barriers down as well.
Two silkscreens from the 1970s, Liliana Porter and John Schneider's "This Woman is Vietnamese" and See Red Woman's Workshop's "So Long As Women Are Not Free People Are Not Free," are particularly powerful, underscoring, as they do, the fact that the subjugation and persecution of women crosses borders and cultures as an unfortunate shared global experience. These two pieces' stark simplicity exemplifies most of the work in the exhibit. In the former, a New York Times photo of a distraught Vietnamese woman with a gun held to her head is centered above these basic words typed out in a typewriter font: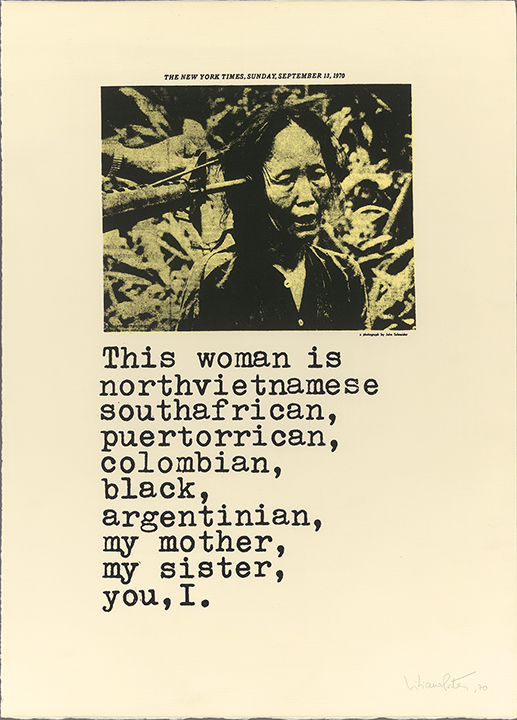 This woman is
northvietnamese
southafrican
puertorrican,
colombian,
black,
argentinian,
my mother,
my sister,
you, I.
By juxtaposing the photo with these words, the creators take the plight of this woman and immediately globalize her pain. In the latter, three female demonstrators are silkscreened in red onto a yellow background. They are marginalized by being stuck in the lower left third of the poster, but two of them are raising their fists skyward and their mouths are open, screaming in defiance. Its non-serif, eponymous type reads: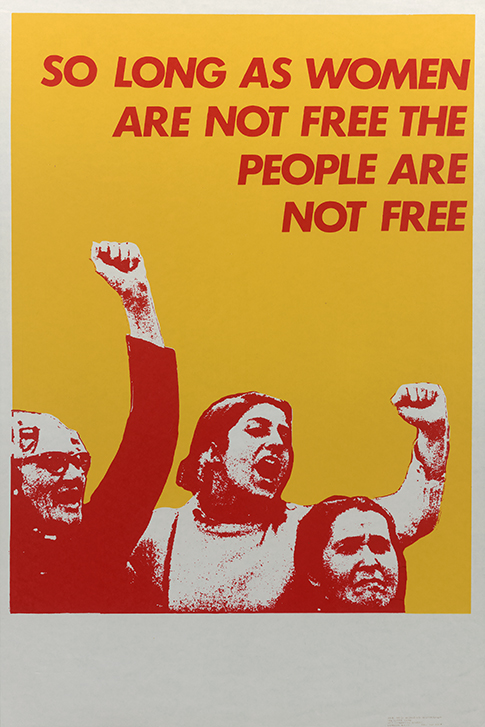 SO LONG AS WOMEN
ARE NOT FREE THE
PEOPLE ARE
NOT FREE
This piece's message takes the global message even farther, making the plight of women a human one — a common theme in the exhibition.
There is also a striking juxtaposition between the past and present that seethes throughout the small gallery. Celia Blomberg's "International Women's Day March 8" can't help but make one think of 2017's Women's March that would take place 37 years later. See Red Woman's Workshop's 1977 "Black Women Will Not Be Intimidated" could easily be repurposed to address the recent spate of blue-on-black brutality. Notable works by Barbara Kruger, Sister Corita Kent and the Guerilla Girls are also included.
Ironically , while it can be surmised that most of these works were made as populist posters to be distributed at the time as banners of protest, their beautiful simplicity and nostalgic elegance probably have resulted in the originals (mostly now found in art museums) sporting hefty vintage-resale prices.
But it is not just the art that has stood the test of time. The fact that the issues addressed in the show — feminism, choice, gender equality, war, immigration, police brutality or violence against women — are all issues at the forefront of debate in 2018 ultimately engenders conflicting feelings.
On one the hand, it is inspiring to see a vibrant exhibit that showcases such diversity in artistic styles, no doubt spawned by the diversity of the artists' own backgrounds. On the other hand, there is a realization that while there has been some progress over the past half century, there is so much work to be done.
Art Center's Hoffmitz Milken Center for Typography, 950 South Raymond Ave., Pasadena; through May 15.
---
Copyright Capital & Main