9/11 and the Politics of Memory
On a side street that runs alongside the World Trade Center, two bronze bas-relief murals depicting rescue scenes from 9/11 are affixed to a wall facing the construction site. One reads, "Dedicated to Those Who Fell and Those Who Carry On." The other admonishes us to "Never Forget."
When I had a chance to write my own name of the 90th floor of the new tower going up on the site of the two that were destroyed, I wrote "Remember," underneath my name. But aside from keeping the sacrifice and bravery of those who died on 9/11 in our thoughts, what was the content of the memory that I was supposed to protect? What are those memories supposed to tell me about how to live now, how to act personally and politically in this world?
To some extent, the struggle over what would replace Ground Zero has been an argument about memory and its uses. Most historians or anthropologists who have studied the dynamics of commemorative rituals and memorial building point to the contemporary concerns that drive them and the ideological functions they perform. When traumas take place that deeply impact individuals or even the "psyche" of a nation, there are inevitable struggles over the "right way" to remember.
Elizabeth Greenspan, in her new book  Battle For Ground Zero: Inside the Political Struggle to Rebuild the World Trade Center – outlines the intense fights over what the content of the memorial museum would be at the World Trade Center site. She quotes Michael Shulan, the creative director of the museum who said that 9/11 "…can mean a clash of cultures, it can be grief, it can be confusion, it could be betrayal, it could be our justification for military power, it can be all of those things. And in fact I think it is all of those things."
While there have been universal calls to "remember," in the psychoanalytic tradition remembering can function as a way of forgetting. In Sigmund Freud's essay, "Remembering, Repeating and Working-Through," he writes that …"the patient does not remember anything he has forgotten and repressed, but acts it out. He reproduces it not as a memory but as an action; he repeats it." According to this line of thought, certain traumas and desires can only be remembered in a distorted way, or acted out as symptoms.
Leaving aside whether it is appropriate to apply the dynamics of individual psychology to society at large – Freud did this quite often in his writings about war and religion  – I think that what we remember and what we forget both involve  psychological and social processes. If commemorative rituals are a way of repeating a trauma, they can become political forces in their own right.
So the politics of this supposed apolitical space was largely directed at the social and psychological process of constructing a memory, sanctioning particular stories from 9/11, and perhaps unavoidably flattening our understanding of these horrific events.
Ground Zero was literally contested symbolic terrain. Greenspan outlines some of the questions that needed to be worked through, the compromises that grew out of conflicting desires and beliefs.
Would the new World Trade Center building – designed to suggest the Statue of Liberty — invite another attack? Was rebuilding 10 million square feet of office space that was lost on 9/11 acquiescence to greed and an affront to the dead? Should the names of the dead be placed above ground or below, assembled in alphabetical order or through groups of affinity? Should the 9/11 museum celebrate the worldwide struggle for freedom or stick to what happened with stories of bravery and loss?
When the political and Port Authority officials did get around to asking "the people" what they felt about the five options for the land they could choose from, chaos ensued. Five thousand people filled the Jacob Javits Convention Center to examine the master plans and vote their choices. All five plans were soundly rejected. Clearly, there was no unanimity on what stories should be told, what emotions the structures should evoke or what the historical context would be to explain what took place.
Without the contextualizing discipline of history as a central component of what we remember, we become, as writer Fintan O'Toole observes about Ireland's memorializing tradition, tourists of our own landscapes, mere audiences of our own culture.
Since I was recently in New York working on video interviews of the workers who were building the new tower, I couldn't help think of other enduring images from earlier events at the World Trade Center, that have shaped our understanding of the past.
While the workers I spoke to were thoughtful, engaging and open-minded, it was a series of events at the original World Trade Center in May, 1970 that helped solidify a darker view of what the "working class" was all about during the tumultuous late 1960s and early 1970s.
When Wall Street employees and construction workers from the World Trade Center attacked anti-war protestors on May 8,1970, in the so-called "hard hat riot," the media jumped on the conflict as a symbol of an unbridgeable gulf between "elite" war protestors and "reactionary hard-hats."
The workers as reactionary signifiers supplied journalists with a theme for countless condescending stories and columns about "authoritarian" and "macho" white males. What was left largely unexplained was why these "conservative" workers engaged in the biggest strike wave in the 1970s since 1946. Almost two and a half million blue-collar workers went on strike in 1970 alone.
In her new book, Hardhats, Hippies, and Hawks, sociologist Penny Lewis outlines a counter-history of the complex political trajectory of working-class people at the time. They were, according to Lewis, moving left, right and center all at once. This "crisis in public representation," Lewis points out, obscured the fact that most of the polling at the time showed workers were less supportive of the war than were then non-working class whites. Enduring half-truths die hard.
The sociologists Richard Sennett and Jonathan Cobb observed at the time that the hard hat, racist and superpatriot projections were a way of dehumanizing people by constructing a useful political symbol out of complex lives. These workers became "a thing, with an empty head hidden beneath, a part of a mass over which the 'educated' or 'enlightened' person towers," they wrote.
This imagery was repeated endlessly – the 1970 film Joe presented the crypto-Fascist rage of a white worker played by Peter Boyle, followed by Archie Bunker and All In The Family in early 1971. Author Barbara Ehrenreich argues that much of the cinematic and television imagery of the time was a projection of "middle-class anxiety and prejudice," that needed a "working class more suited to their mood: dumb, reactionary and bigoted."
What did all of this skewed pop cultural imagery mean politically? Richard Nixon thought he knew. The workers, Nixon told his aide Bob Haldeman, "were with us when some of the elitist crowd were running from us. Thank God for the hard hats!" What we remember, and how we remember it, can make us politically sick.
Greenspan concludes at the end of her book that the rebuilding of the trade center was a story of dysfunction and messiness. She adds that it was also a story of public expression and compromise. "It was a story of how things worked, and how things didn't work, at the turn of twenty-first century America."
I think that's about right.
(Kelly Candaele is a writer, filmmaker, teacher and has served as a trustee for the Los Angeles Community College District.)
Filmmaker Adam McKay Talks About Dick Cheney and the Imperial Presidency
"Our democracy at its root is about the throne," says the creator of Vice. "But what Cheney tried to do was bring the power back to one person on that throne."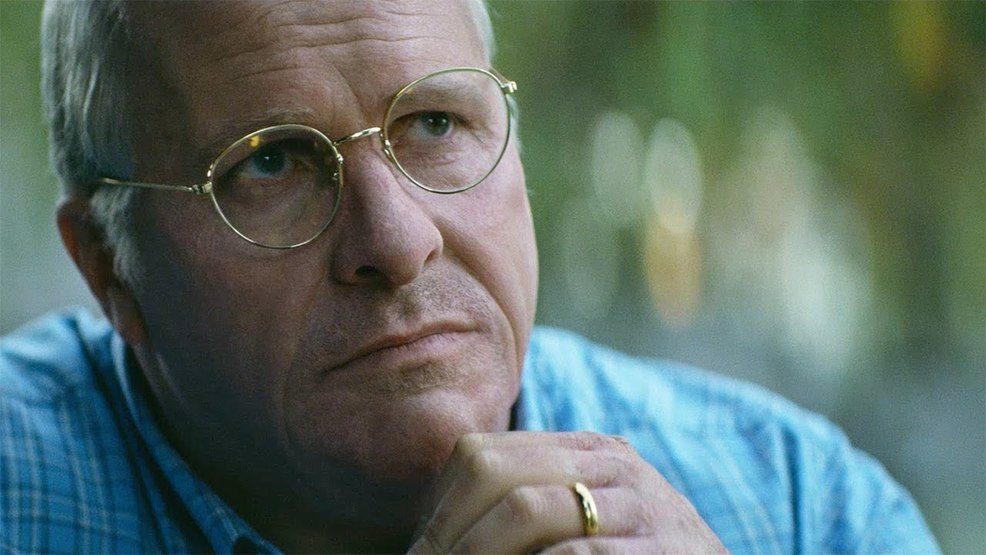 Vice President Dick Cheney quickly faded into the background after leaving the Bush White House in 2009. But while many may not remember the ins and outs of Cheney's record, the recent film Vice argues that he was one of the most powerful and influential architects of the current world, and that Cheney intensified the emergencies facing America today.
Capital & Main reporter David Sirota spoke with Vice screenwriter and director Adam McKay, who had taken on the project after winning an Academy Award for screenwriting on his previous movie, The Big Short.
Vice has been nominated for eight Oscars, including Best Picture — but has also generated its share of controversy. McKay discusses some of the criticism of the film here, along with the twists and turns of the life of Cheney, who rose to become arguably the most potent vice president in American history. The following interview excerpt has been edited for concision and clarity.
---
David Sirota: Do you believe that we are today living in the world that Dick Cheney created?
Adam McKay: Without a doubt, yeah. Trump is a force of charisma, but not in a good way. He's perfect for the 24-hour news cycle — no one knows how to dominate it better than him.
But the actual structural changes that happen to our government, to regulations, to the way we view democracy, to the way the American people interact with government … those changes happened under the hand [of] a grand master of bureaucratic knowledge, Dick Cheney. You look at the Middle East. You look into visions that were widened. I'd definitely go to that period and I say at the center of it, expanding executive power, was Dick Cheney.
There's a scene in the movie where a young Cheney is depicted as not all that partisan — it almost made it seem like him choosing a job with a Democratic or Republican lawmaker was completely random. Is that true to life?
It's not that far off. Cheney's dad was an FDR Democrat. [Dick Cheney] had no interest in politics at all through high school…The first time he really started getting any taste for feet-on-the-floor politics was when he was getting [his] master's up in the University of Wisconsin. He did intern for a Republican, handed out buttons and stuff. We interviewed some people from his early days. He was not an ideologically driven guy.
What he knew was that when he went to D.C. he needed a rocket ship. He needed to get something going. Lynne wasn't entirely happy about him taking this fellowship. She wanted him to get a Ph.D. and become a professor. That was what she always pictured that they would do. So he had to get something going quick when he got to D.C. because he wasn't making any money. And if you wanna get something going quick in the late '60s in Washington, D.C., Donald Rumsfeld was your guy.
What do you think radicalized Dick Cheney and made him such an ideologue?
The first radicalization was just the environment he kind of came of age in, which was the Nixon White House and the Ford White House, which were all about executive power — the imperial presidency. And then his conversation about the unitary executive theory with a young [Antonin] Scalia, who was a lawyer in the Justice Department.
Everything that I found with Cheney goes back to the unitary executive theory. You look at his minority opinion that he wrote on the Iran-Contra affair with David Addington. They actually have several lines in it where they say the president has monarchical-like powers.
The radicalization of Cheney, to me, is two steps. Number one is the political environment he grew up in, [and then] introduction to the unitary executive — [which] was weaponized by 9/11. Especially when he said, "Give me all the unfiltered intelligence." A lot of Washington insiders said, "Anyone who would do that — [it] would drive them crazy." One guy described it as like "listening to Led Zeppelin full volume, 24 hours a day."
So I think he was already an extreme right-winger who then came into collision course with this very traumatic event, 9/11.
Your movie depicts Cheney as motivated by the acquisition of power — but do you believe he had specific policy goals beyond that?
As far as policy goals go, war is the key to being able to use these sorts of unparalleled powers. Some legal scholars would call [these] insane powers. So I always felt like Cheney was putting together these pieces of power to expand his own power … which I do believe made him a power addict … His wife's desire for power, and by extension, America's desire for power, which did fit neatly with the neocons.
But I also think invading Iraq did two things. It activated the unitary executive theory — [if] writings from the DOJ [Department of Justice] that came about at that time were filled with references to the unitary executive theory.
And yes, the oil too, was a part of it. Cheney also is an oil guy. He grew up in an oil state, Wyoming That was his whole life. All his friends are oil guys. I always look at Cheney as a right-hand man, and I think that he serves power: Sometimes that power is oil barons, other times that power is a presidency — the notion of a powerful presidency.
So I think Iraq was sort of a mishmash of ideas. I think it was unitary executive and I think it was definitely oil, and I think it was most of all expansion of executive power and a show of force to the world.
What are the most significant and lasting parts of Cheney's legacy?
I would just say in general, those eight years of Bush and Cheney were so dispiriting that they made a lot of people kind of give up on government. And the fact that we can't fix something that really can be improved pretty easily and pretty quickly, like the opioid epidemic or like gun safety laws. Those are things that 30, 40 years ago we would've had bills passed on the issue. We would've seen fewer deaths within a year, within two years. Even the assault weapon ban, you saw deaths go down after that…
Then, obviously, the Middle East is just a wreck. Our friend, Adam Davidson, had a friend of his, a journalist, go to Iraq recently and come back and just say, "It's awful. It's completely undone." And obviously, with what happened in Syria, ISIS, all that kind of stuff. Those are the clear, kind of bad effects of Cheney and I would say the rise of this particular form of the Republican Party.
Much of your film resurrects events that have been forgotten in the American psyche, because we have this tendency to venerate leaders the moment they leave office. It's as if presidents and their administrations suddenly get immunity from retrospective scrutiny. Why do you think that is?
I feel a lot of this goes back to the pardoning of Nixon. That's a bad, bad thing. I think he should've done some time. I think it's important to not imbue these leaders with king-like mystical properties. Do you remember Jerry Lewis saying, "We should never criticize the president"?
I think we just like the idea of powerful people. We like the idea of a king. We like the idea of these celebrities that get treated like kings. Why did the Bushes keep getting elected to office? Why did the Kennedys keep getting elected to office after several of them did pretty terrible things? We just like that idea. We like the idea that some people's blood is more special than ours. I don't know why. It's really deranged…
Our democracy at its root is about the throne. What they tried to do with the Constitution, the original people that wrote it, was break up the power so you don't have one crazy guy sitting in the throne. But what Cheney tried to do was bring the power back to one person on that throne…
I guess my answer is democracy is still really new, and clearly it's not going well right now. And I think we're going to have to have a whole moment where we look at it and fix a bunch of stuff because parts of it aren't working too well.
Many people say Donald Trump's administration is the worst in American history. After doing a movie on Cheney and the Bush administration, do you agree?
Everyone wants things to be ranked and compared to each other. The real answer is that there is a safe that was filled with diamonds that represent our democracy and checks and balances. They couldn't get a goon like Donald Trump to go in and crack the safe because he doesn't even read books. Like he's not an educated guy.
So they had to go get an expert like Dick Cheney to go in there. Dick Cheney went in, he cracked the safe, he took all the jewels out of the safe, he exited the store, he left the front door wide open. Then after an hour some stray dogs wandered into the store and started crapping all over the place and peeing everywhere. And then when the owner went in, one of the dogs bit him and he said, "These dogs are the worst."
That, to me, is Cheney versus Trump. Yeah. Cheney cracked the safe, Trump is the strange bizarre dude who wandered in (and) took a crap in the store…The police arrest the street guy because look, he took a crap. He's in the store. Meanwhile, Cheney is across town giving W. Bush one diamond while he takes the other 99 and W. Bush is delighted with the one diamond.
---