1992 Remembered: Memory, Truth and Justice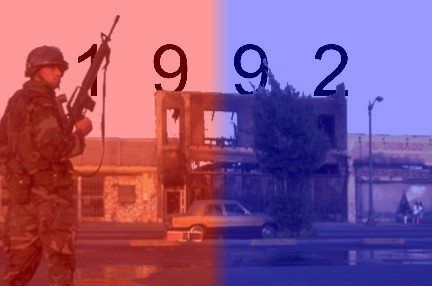 Memory is not only highly selective, but fatefully idiosyncratic. We remember – or forget – based on where we were, who we were with and, more elementally, who we are.
In April 1992, I was a 28-year-old editor of a now long-defunct weekly, the Village View. When violence erupted following the unfathomable not-guilty verdicts in the Rodney King beating trial, I was where I usually was in those days – knee deep in the grind of getting a paper to press. I wish I could recall exactly what I was doing, or who I was with, but those details are lost to history.
What I do know is that, because of who I was – the news editor of an alternative paper with few of the traditional restrictions that most journalists live with – my reaction to, and experience of, the civil unrest were defined not only by the fear and dread shared by many Angelenos, but by adrenaline, deadlines and the thrill of besting our competitors, the L.A. Weekly and L.A. Reader.
Those publications, doomed by a Thursday distribution cycle in the pre-Internet era, carried nary a trace of coverage related to the cataclysm that had overtaken the city. I and my colleagues, on the other hand, scrapped whatever cover story we had planned (memory fails me here too, though I would like to say that it was L.A.'s Top Dive Bars or something equally forgettable) and replaced it with a slim but consequential package of three feature stories.
They included a first-person account by a reporter who narrowly escaped a bullet after leaving First AME Church, where leaders had gathered in the aftermath of the verdicts, and an essay I wrote that struggled, mostly in vain, to understand the significance of what was happening.
All of which is to say that collective memory is a myth. Yes, most of us remember the verdicts, and the eruption of violence at Florence and Normandie, and the fires that consumed large swaths of the city. Beyond that, however, the consensus disintegrates into a million shards. The singularity of memory is complicated further by the lens through which we saw the events that unfolded. For some, April 1992 was an uprising; for others it was a riot; and for others still it was  civil unrest.
What is beyond dispute, except by those who would deny the undeniable, is that what transpired was inextricably linked to the long-simmering anger and despair wrought by years of economic devastation and racial discrimination. In the days and months that followed, it was anything but clear that these conditions would give way to something better. Yet from the vantage point of 2012, we know that L.A. has come a long way, even if the road ahead still stretches to the horizon and beyond.
To mark the 20th anniversary of those terrible days of April 1992, Frying Pan News asked writers, artists and activists living here at the time to share their personal recollections. We also asked them to consider how Los Angeles has changed in the ensuing two decades. (For an excellent analysis of the latter, we highly recommend the new report LA Rising: The 1992 Civil Unrest, the Arc of Social Justice Organizing, and the Lessons for Today's Movement by Manuel Pastor and Michele Prichard.)
What followed was a kaleidoscopic portrait of an inflamed city, which we and PROSPER LA have now collected into an online anthology, Rage and Reflection: Meditations on L.A.'s 1992 Civil Unrest, and the Ongoing Transformation of a City.
While no unifying theme emerges from these essays, it is clear that the events of April 1992 left a permanent imprint. And though Los Angeles circa 2012 is far from perfect, this collection suggests that in the last 20 years we have bent the arc of history in the direction of justice.