1992 Remembered: Memory, Truth and Justice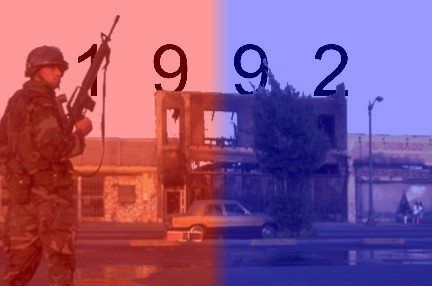 Memory is not only highly selective, but fatefully idiosyncratic. We remember – or forget – based on where we were, who we were with and, more elementally, who we are.
In April 1992, I was a 28-year-old editor of a now long-defunct weekly, the Village View. When violence erupted following the unfathomable not-guilty verdicts in the Rodney King beating trial, I was where I usually was in those days – knee deep in the grind of getting a paper to press. I wish I could recall exactly what I was doing, or who I was with, but those details are lost to history.
What I do know is that, because of who I was – the news editor of an alternative paper with few of the traditional restrictions that most journalists live with – my reaction to, and experience of, the civil unrest were defined not only by the fear and dread shared by many Angelenos, but by adrenaline, deadlines and the thrill of besting our competitors, the L.A. Weekly and L.A. Reader.
Those publications, doomed by a Thursday distribution cycle in the pre-Internet era, carried nary a trace of coverage related to the cataclysm that had overtaken the city. I and my colleagues, on the other hand, scrapped whatever cover story we had planned (memory fails me here too, though I would like to say that it was L.A.'s Top Dive Bars or something equally forgettable) and replaced it with a slim but consequential package of three feature stories.
They included a first-person account by a reporter who narrowly escaped a bullet after leaving First AME Church, where leaders had gathered in the aftermath of the verdicts, and an essay I wrote that struggled, mostly in vain, to understand the significance of what was happening.
All of which is to say that collective memory is a myth. Yes, most of us remember the verdicts, and the eruption of violence at Florence and Normandie, and the fires that consumed large swaths of the city. Beyond that, however, the consensus disintegrates into a million shards. The singularity of memory is complicated further by the lens through which we saw the events that unfolded. For some, April 1992 was an uprising; for others it was a riot; and for others still it was  civil unrest.
What is beyond dispute, except by those who would deny the undeniable, is that what transpired was inextricably linked to the long-simmering anger and despair wrought by years of economic devastation and racial discrimination. In the days and months that followed, it was anything but clear that these conditions would give way to something better. Yet from the vantage point of 2012, we know that L.A. has come a long way, even if the road ahead still stretches to the horizon and beyond.
To mark the 20th anniversary of those terrible days of April 1992, Frying Pan News asked writers, artists and activists living here at the time to share their personal recollections. We also asked them to consider how Los Angeles has changed in the ensuing two decades. (For an excellent analysis of the latter, we highly recommend the new report LA Rising: The 1992 Civil Unrest, the Arc of Social Justice Organizing, and the Lessons for Today's Movement by Manuel Pastor and Michele Prichard.)
What followed was a kaleidoscopic portrait of an inflamed city, which we and PROSPER LA have now collected into an online anthology, Rage and Reflection: Meditations on L.A.'s 1992 Civil Unrest, and the Ongoing Transformation of a City.
While no unifying theme emerges from these essays, it is clear that the events of April 1992 left a permanent imprint. And though Los Angeles circa 2012 is far from perfect, this collection suggests that in the last 20 years we have bent the arc of history in the direction of justice.

'Skeleton Crew' Is a Play With a Moral Spine
Set in a Detroit automobile outfitting plant, Dominique Morisseau's drama grabs you from the start with its focus on blue-collar men and women, and their struggle for dignity and self-respect.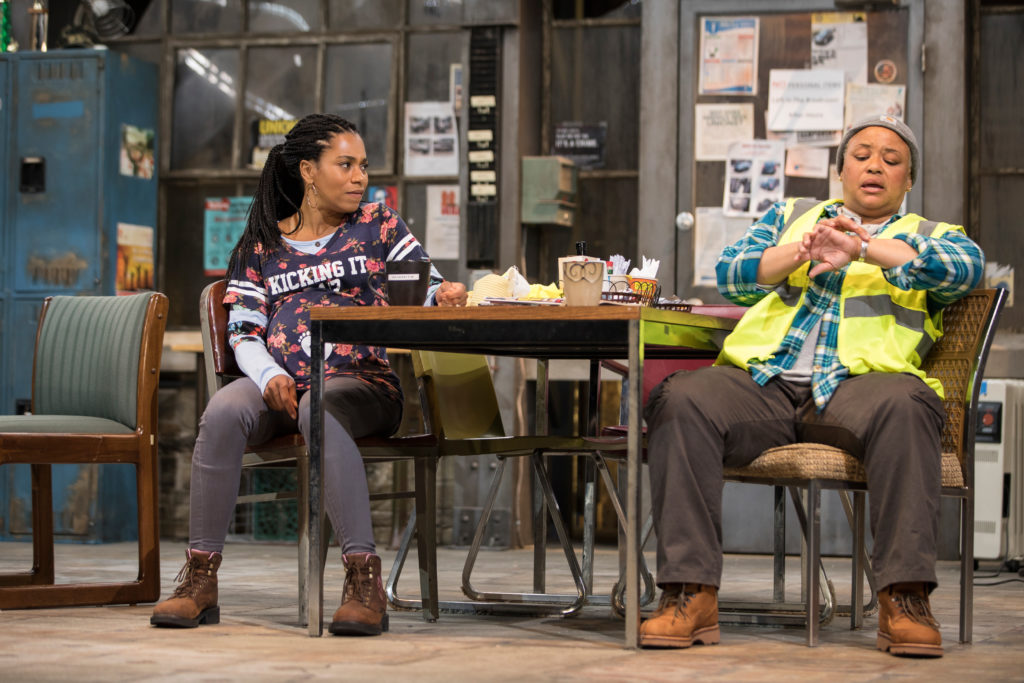 Working-class men and women of color are rarely front and center in today's media and, likewise, are presented all too occasionally on the American stage. So it's buoying to see that trend bucked in playwright Dominique Morisseau's percipient and well-crafted drama, Skeleton Crew. The play is the final installment in her Detroit  Project Trilogy; the first, Paradise Blue, is set in the 1940s amidst displacement caused by urban renewal and gentrification, while the second, Detroit '67, transpires on the eve of the 1967 Detroit riots sparked by a police action.
Directed by Patricia McGregor at Los Angeles' Geffen Playhouse, Skeleton Crew is a play with a moral spine. It takes place in 2008, when the shrinking U.S. auto industry is being further downsized. Morisseau's engaging quartet of characters — Faye (Caroline Stefanie Clay), Dez (Armari Cheatom), Shanita (Kelly McCreary) and Reggie (DB Woodside) – are employed at an automobile outfitting plant. Faye, Dez and Shanita are workers on the line while Reggie (who has a wife and kids, and has pulled himself together after a troubled youth) is their supervisor.
The first three customarily mingle in their break room (designer Rachel Myers' impressively cluttered, dingy and detailed set), trading the sort of familiar barbs and genuine concern for each other common among longtime co-workers. They also face off on philosophy: Upper-middle-aged Faye and the younger, pregnant Shanita take pride in their labor, while Dez, though a good worker, is a malcontent scornful of management and firm in the belief that everyone needs to watch out for himself. He's a thorn in Reggie's side, for while Reggie wants to be supportive of his workers, he must act at the behest of higher management. For his part, Dez resents Reggie's authority, and a palpable unease exists between them.
Besides this male matchup, we're made privy to Dez's attraction to Shanita, who mostly turns away his advances, but every now and then displays a hint of interest. Most poignant is Reggie's regard and affection for the lesbian Faye, which has roots in his boyhood when she loved, and lived, with his now-deceased mom.
These people's various predicaments intensify when rumors spread of the plant's shutdown — a disaster for all, but a particular calamity for the already near-broke Faye who, one year short of retirement, would lose her pension. The crisis forces each of these people to make a choice.
A sound piece of social realism, Skeleton Crew grabs you from the start in its focus on blue-collar men and women, and their struggle against odds for dignity and self-respect. Morisseau not only furnishes these characters a platform for their travails, she endows them with strong values, big hearts and the opportunity to choose between right and wrong.
Unfortunately, the performance I attended did not soar. Many exchanges lacked a fresh edge. The actors certainly had their characters down, but too often they appeared to be coasting on technique. (This seemed particularly true of Clay, who performed the role to great accolades in Washington, DC in 2017, also under McGregor's direction). Additionally, some of the stage movement was not entirely fluid; in confrontations, actors sometimes would just stand and face each other in an artificial way. And Cheatom's interpretation of Dez struck me as a bit overly churlish and depressive: I needed more glimpses of the intelligence and edge that would secretly attract the strong, self-directed Shanita.
The most compelling moments belong to Woodside, well-cast as a man trying his best in difficult circumstances to do the right thing.
---
Gil Cates Theater at the Geffen Playhouse, 10886 Le Conte Ave., Westwood Village; Tues.-Fri., 8 p.m.; Sat., 3 & 8 p.m. Sun., 2 & 7 p.m.; through July 8. (310) 208-5454 or www.geffenplayhouse.org