1992 Remembered: Apocalypse Freeway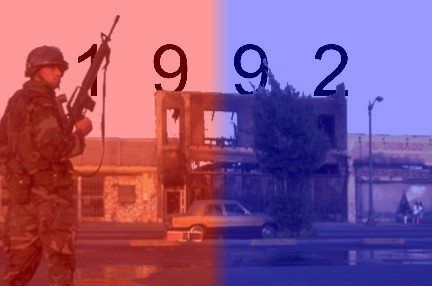 What I mostly remember about the riots is the smell of an urban fire – not the consoling, woody scent that wafts from a campfire, but the melting-telephone smell of a city's guts ablaze. There was also the smoke, thick as tule fog – and the not-knowing, when you drove into it, if you'd come out on the other side.
There was something else about that week – a feeling that the world had been jolted a bit off its axis and nothing would ever be the same again, the way you feel after a breakup or car accident. The worst of it came on April 30. I had gone to a film screening in Santa Monica, and took my friend Kent to cheer him up from losing his job repairing pay phones. I was reviewing the movie for the L.A. Weekly, where I worked as an editor. Later that afternoon, on the drive back home to Echo Park, the eastbound Santa Monica Freeway became a kind of monorail track through the Apocalypse: From its elevated vantage point, drivers could see columns of smoke rising on both sides of the road – the burning Pep Boys on Washington and Hoover was so close to the highway you could almost feel the heat.
Once off the Hollywood Freeway we picked up a case of beer before the last of the stores shut down and drove around to see what was going on. My friend grabbed his .44 Magnum, an ancient single-action piece of crap whose real value lay in scaring people away. "This is a day without law!" I yelled as we popped our beers and tore off.
Most of what we saw was a continuous loop of people breaking into stores like Solo Shoes near Sears on Santa Monica Boulevard, or of dazed neighbors walking through the charred hulks of familiar places like La Barata near MacArthur Park. Everyone we saw appeared to be still or moving in slow motion: The firemen, who sat like children in the streets as they trained their hoses on burning stores and apartment buildings; the Simon's Camera sign falling into its burning store on Vermont – even the people emerging with typewriters from World Savings on Alvarado.
We stopped by some painter friends' studios near LACC. I hadn't known they owned guns, but there lay a shotgun on a dinette table, next to an ammo clip for a pistol, as the TV news broadcast the pillaging that was taking place just around the corner. My friend and I, then, saw only one view of the riots – people who, like the Korean store owners along Olympic Boulevard, were cradling rifles; or the others who were taking advantage of the situation to break into stores.
When curfew approached we headed back to my place and called people up to see what they were doing. Later, we stepped onto my tiny balcony and yelled down to a corner shop on Sunset that was being stripped – some gunshots punched through the dark and we ducked. When Kent went home and took the Magnum with him I turned out the lights and kept thinking about my apartment's French windows and how easily they could be kicked in. Eventually I drifted off to sleep but awoke in the morning to the jeering applause of automatic gunfire that couldn't have been more than a block away.
I had never wanted to own a gun but that next morning I was kicking myself for not having something bigger than a hammer to keep people out of my apartment. A couple of weeks later, though, I'd forgotten all about buying a gun. I would forget about many things: a balcony party at a friend's, where we watched the city burn below; the film critic's wedding I'd attended in Santa Monica, and how everyone had gotten spooked as sundown neared; how the Pioneer Market I shopped at had been ringed by National Guardsmen.
All these things were told to me years later by friends, though I had no recollection of them. You wouldn't be wrong in describing me as alienated and detached from my surroundings back then, although perhaps I wasn't that different from a city that forgets its past. Yet I wouldn't say L.A. didn't learn anything from the riots, because the city is, somehow, a more reasonable and humane place than it was 20 years ago. But something's still missing, something that got lost in the smoke and debris. I only hope we don't find out what it was the way we did in 1992.

Award-Winning Reporter David Sirota to Lead National Investigative Desk on Inequality for Capital & Main
The New York Times has credited Sirota's Wall Street reporting for showing "that secrecy can hide high fees, low returns, excess risk and the identity of politically connected dealmakers."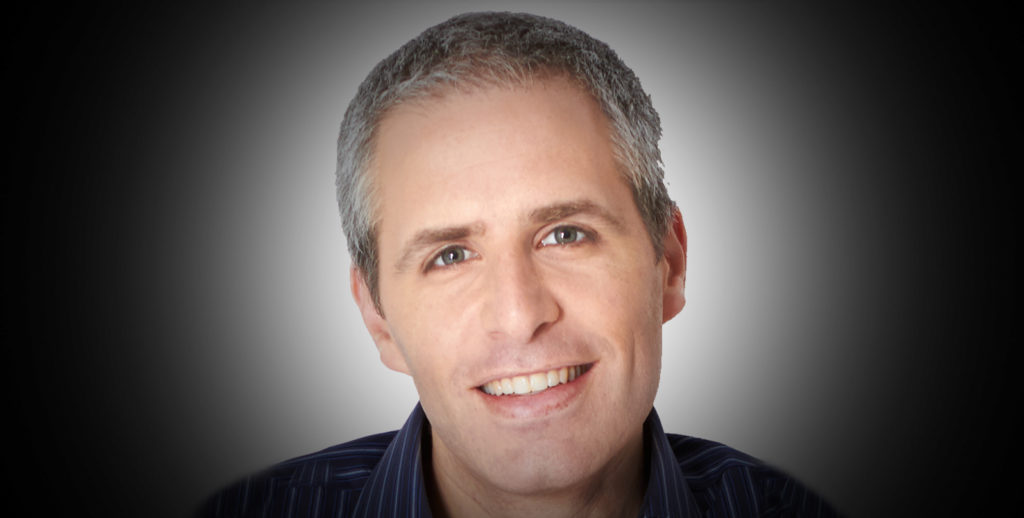 LOS ANGELES — Capital & Main announced today that award-winning reporter David Sirota will lead a new national investigative desk for the California-based publication. His coverage will focus on the country's historically high level of economic inequality, and the role of Wall Street, the private sector and government policy in perpetuating income disparity.
"I am thrilled to join one of the most promising young investigative publications in the country," said Sirota. "There has never been a greater need for aggressive nonpartisan reporting that scrutinizes how corporations, lawmakers and the super-rich wield political and economic power. Capital & Main has established a reputation as an intrepid source of hard-hitting investigative reporting. I am excited to expand their capacity to shine a spotlight on how and why America now has the highest level of economic inequality in the country's modern history."
Sirota will join Capital & Main as a full-time reporter this summer, and prior to that will consult with the publication on editorial content and partnerships. The new position was made possible in part by a grant from the Jonathan Logan Family Foundation in Oakland, CA.
Capital & Main is a non-profit publication founded in 2013 and its reporting has been co-published by (among others) The Atlantic, Time, The Guardian, Reuters, The Daily Beast, Slate, Grist, Fast Company, The Huffington Post and Newsweek. Capital & Main's reporting has won recognition from the Society of American Business Editors & Writers, the Southern California Journalism Awards and the Best of the West contest. Its reporters have been featured on (among others) PRI's The World, WNYC's The Takeaway, as well as on programs on KQED and KCRW.
Sirota has reported extensively on the relationship between money and politics, and has gained a reputation as a journalist willing to scrutinize public officials of both parties. During his career, he has become one of American journalism's most authoritative experts on complex financial systems including taxes, hedge funds, private equity and public pensions. He is a two-time winner of the Best in Business award from SABEW – most recently for his coverage of the 2017 Republican tax bill and its controversial "Corker kickback" provision. Before that, he won recognition from the Columbia Journalism Review for his reporting on how conflicts of interest shaped how Democratic Gov. Dan Malloy's administration oversaw a proposed health-care merger. Sirota has also won Ithaca College's Izzy Award and has been a finalist for UCLA's Gerald R. Loeb Award and Syracuse University's Mirror Award.
The New York Times has credited Sirota's Wall Street reporting for showing "that secrecy can hide high fees, low returns, excess risk and the identity of politically connected dealmakers." In one of its awards, SABEW said Sirota has produced "original, tenacious reporting that displayed a mastery of scouring documents, analyzing data and holding public officials accountable." The legendary late columnist Molly Ivins said, "Sirota is a new-generation populist who instinctively understands that the only real questions are 'Who's getting screwed?' and 'Who's doing the screwing?'"
"David Sirota is one of the finest investigative reporters in the country, and he promises to take Capital & Main's reporting on inequality and related issues to a whole different level," said Capital & Main board member Rick Wartzman, a former Wall Street Journal reporter, Los Angeles Times business editor and the author of four books, including The End of Loyalty: The Rise and Fall of Good Jobs in America. "David's fearless approach to holding the powerful to account is precisely what we need at this moment in time."
From 2014 to 2018 Sirota led International Business Times' investigative reporting team, where he broke major stories on how President Trump's top adviser evades ethics laws as he shapes policies that could enrich his firm; CFPB chief Mick Mulvaney's ties to the financial industry — and how he pressured regulators to back off predatory lending rules at the same time he was raking in cash from payday lenders; how Equifax lobbied against consumer protection rules just before its huge data breach; and how chemical companies that spewed toxins after Hurricane Harvey had worked to reduce safety regulations in the lead-up to the disaster.
In 2014, Sirota's investigative series for PandoDaily about public broadcasting compelled a PBS flagship station to return a $3.5 million contribution from a hedge fund billionaire. That same year, Sirota's investigative reporting about pensions for PandoDaily and then for International Business Times led the New Jersey state government to open a formal pay-to-play investigation and to divest state holdings in a venture capital firm. Sirota's reporting for International Business Times also led San Francisco officials to delay a proposed $3 billion investment in hedge funds.
"We have been longtime admirers of David's work, and couldn't imagine a better fit for our reporting on inequality," said Capital & Main publisher Danny Feingold. "David will give us the capacity to break important national stories on one of the country's great existential threats."
Sirota is also the author of two New York Times best-selling books, Hostile Takeover and The Uprising, as well as Back to Our Future, which became the basis for the National Geographic Channel's miniseries "The '80s: The Decade that Made Us." He appears frequently on MSNBC and CNN, and is the host of a podcast on economic, political and social issues.