Young Marx in Love
A revolutionary buddy film from the director of I Am Not Your Negro.

Actor August Diehl's Marx is part revolutionary, part young Mick Jagger.
---
Among the best films about revolutionaries are 2000's Lumumba, which documented the life of the Congo's murdered independence leader, and last year's I Am Not Your Negro, a brilliant reintroduction to James Baldwin's revolutionary writing. Now the director of those acclaimed films, Haitian Raoul Peck, has once again trained his lens on revolution, but this time in a largely unexpectedly way.
While Peck's past work has been marked by intensity and grit, The Young Karl Marx instead relies less on invention and on more conventional tropes. That approach is not necessarily a bad thing. It allows the filmmaker to make accessible the seemingly daunting challenge of documenting the young life of a philosopher/writer whose work takes place mostly in his head and on paper.
Dynamic Duo: Marx (August Diehl), right, and Engels (Stefan Konarske).
Written by Peck and Pascal Bonitzer, the film begins in the mid 1800s, when Europe's Industrial Revolution has underscored the economic disparity between the ruling class and the working poor, or proletariat. This inequality has spawned a slew of young writers and thinkers who are circling philosophically, individually and collectively, what they hope will become a better society. Among them are journalist Marx (August Diehl) and his wife (Vicky Krieps), who live a meager existence–escaping creditors and cops, sleeping in and screwing when not discussing socioeconomic theory. The couple is soon exiled from Germany to France, where they meet Friedrich Engels (Stefan Konarske), a factory owner's son who has been the first to study and write about the plight of the working class. An instant bromance Between Marx and Engels ensues.
Most of the film follows the duo as they argue and pontificate their way through Europe, honing their philosophy until it can all be memorialized in 1848's The Communist Manifesto. Diehl has incredible charisma and his Marx is part revolutionary and part young Mick Jagger. With Konarske's Engels as his more grounded Keith Richards, they aren't quite enfants terribles, but they do shake things up, quickly rising as leaders of those trying to understand the world around them. And what a glorious world that is. Production designers Benoit Barouh and Christophe Couzon have fashioned a stunning representation of 19th-century Europe. What emerges is a costume buddy film, as if Merchant Ivory produced Butch Cassidy and the Sundance Kid.
Ultimately, though, viewers' personal views of Marx, and their political views in general, will probably decide whether they enjoy the film. By focusing on the genesis of Marx's ideological oeuvre, Peck avoids having to deal with the man's ultimate mixed legacy. Regardless, some will undoubtedly find the filmic fuss over Marx misplaced. But for many, The Young Karl Marx will be a fulfilling view of a time when young idealists were trying to make sense of the world in a far more robust way than the current political spewing of modern-day television pundits.
---
Copyright Capital & Main

Two Cousins and a Magical Ice Cream Truck Figure in Leon Martell's New Play
Although not all of ICE's comedy clicks, Martell's story has both weight and charm. The production's overriding plus is its successful rendering, fashioned with humor and craft, of the difficulties immigrants face.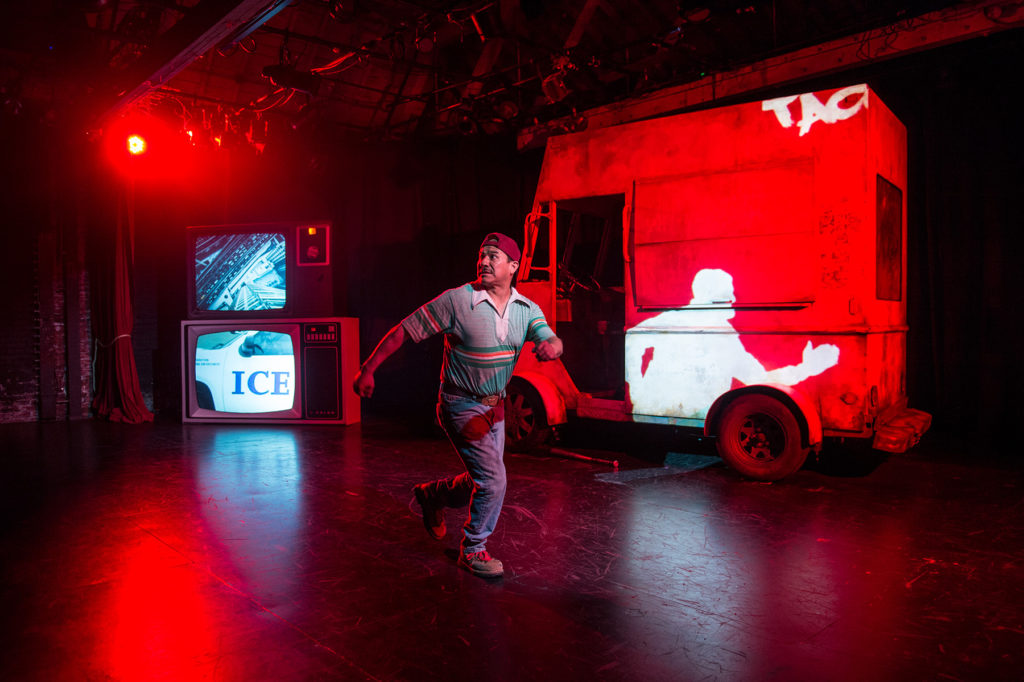 ICE, Leon Martell's family friendly play, takes place in 1988 and follows the misadventures of two undocumented immigrants: Chepe (Jesús Castaños-Chima), an avid baseball fan who dreams of making a fortune selling gourmet tacos; and his cousin Nacho (Tony Dúran), whom the beleaguered Chepe summons from Mexico to assist him in setting up his business. Directed by Debbie Devine at 24th Street Theatre, the show displays plenty of heart, not all of it realized in this premiere production. Despite this, there's enough political relevancy, moral truth and human comedy packed into the show's 65-minute time frame to overlook its shortcomings.
The core of the humor is the difference in personality between the two cousins. The ambitious Chepe is bitter and frustrated about his experience in America, where he's been cheated and lied to by bosses who exploit his labor and pay him next to nothing. Yet he's bought into the American Dream of money and fame, and to achieve that he's purchased a dilapidated old ice cream van to convert into a taco truck. It doesn't run, though, and the secret family salsa recipe is with his kin in Mexico. So, he phones home and implores his mechanic cousin to head north, bringing the salsa recipe as well as his skills.
Cousin Nacho, by contrast, is a sweet old-fashioned guy. He wants success too, but making money isn't the only thing he thinks about. He juggles tomatoes to make kids laugh and indignantly admonishes Chepe for his desperate inclination to do what it takes (steal tomatoes, for example) to score success.
Into the mix Martell tosses a blind, disgruntled priest (Davitt Felder), who plays guitar and wants to launch English classes for children in his parish (the archdiocese turns him down). Then there's Chepe's truck, which has opinions of its own. It breaks out in jingles at random intervals; later, it communicates with Nacho via blinking red letters that eerily appear on the side of the vehicle, furnishing the two men with simple directives and essential advice. When ICE (Immigration and Customs Enforcement) shows up, it alerts them to run.
Although not all of the comedy clicks, Martell's story has both weight and charm. The production's overriding plus is its successful rendering, fashioned with humor and craft, of the difficulties immigrants face. Its main weakness is Castaños-Chima's technically skilled but somewhat chilly depiction of his character, which leaves us wishing for more warmth and complexity. Felder appears awkward in his role of the blind priest, but proves versatile on video as Chepe's various nemeses. Dúran's naïve Nacho is a lovable presence from first to last.
Displayed on a monitor, Matthew G. Hill's video slides add historical and social perspective, and his backwall projections, in tandem with Dan Weingarten's lighting and Chris Moscatiello's sound, help conjure a magical aura to this parabolic piece.
24th Street Theatre, 1117 West 24th St., Los Angeles; Sat., 3 & 7:30 p.m.; Sun., 3 p.m.; through June 10, (213) 745-6516 or 24thstreet.org.
---
Copyright Capital & Main