Young Marx in Love
A revolutionary buddy film from the director of I Am Not Your Negro.

Actor August Diehl's Marx is part revolutionary, part young Mick Jagger.
---
Among the best films about revolutionaries are 2000's Lumumba, which documented the life of the Congo's murdered independence leader, and last year's I Am Not Your Negro, a brilliant reintroduction to James Baldwin's revolutionary writing. Now the director of those acclaimed films, Haitian Raoul Peck, has once again trained his lens on revolution, but this time in a largely unexpectedly way.
While Peck's past work has been marked by intensity and grit, The Young Karl Marx instead relies less on invention and on more conventional tropes. That approach is not necessarily a bad thing. It allows the filmmaker to make accessible the seemingly daunting challenge of documenting the young life of a philosopher/writer whose work takes place mostly in his head and on paper.
Dynamic Duo: Marx (August Diehl), right, and Engels (Stefan Konarske).
Written by Peck and Pascal Bonitzer, the film begins in the mid 1800s, when Europe's Industrial Revolution has underscored the economic disparity between the ruling class and the working poor, or proletariat. This inequality has spawned a slew of young writers and thinkers who are circling philosophically, individually and collectively, what they hope will become a better society. Among them are journalist Marx (August Diehl) and his wife (Vicky Krieps), who live a meager existence–escaping creditors and cops, sleeping in and screwing when not discussing socioeconomic theory. The couple is soon exiled from Germany to France, where they meet Friedrich Engels (Stefan Konarske), a factory owner's son who has been the first to study and write about the plight of the working class. An instant bromance Between Marx and Engels ensues.
Most of the film follows the duo as they argue and pontificate their way through Europe, honing their philosophy until it can all be memorialized in 1848's The Communist Manifesto. Diehl has incredible charisma and his Marx is part revolutionary and part young Mick Jagger. With Konarske's Engels as his more grounded Keith Richards, they aren't quite enfants terribles, but they do shake things up, quickly rising as leaders of those trying to understand the world around them. And what a glorious world that is. Production designers Benoit Barouh and Christophe Couzon have fashioned a stunning representation of 19th-century Europe. What emerges is a costume buddy film, as if Merchant Ivory produced Butch Cassidy and the Sundance Kid.
Ultimately, though, viewers' personal views of Marx, and their political views in general, will probably decide whether they enjoy the film. By focusing on the genesis of Marx's ideological oeuvre, Peck avoids having to deal with the man's ultimate mixed legacy. Regardless, some will undoubtedly find the filmic fuss over Marx misplaced. But for many, The Young Karl Marx will be a fulfilling view of a time when young idealists were trying to make sense of the world in a far more robust way than the current political spewing of modern-day television pundits.
---
Copyright Capital & Main

'Skeleton Crew' Is a Play With a Moral Spine
Set in a Detroit automobile outfitting plant, Dominique Morisseau's drama grabs you from the start with its focus on blue-collar men and women, and their struggle for dignity and self-respect.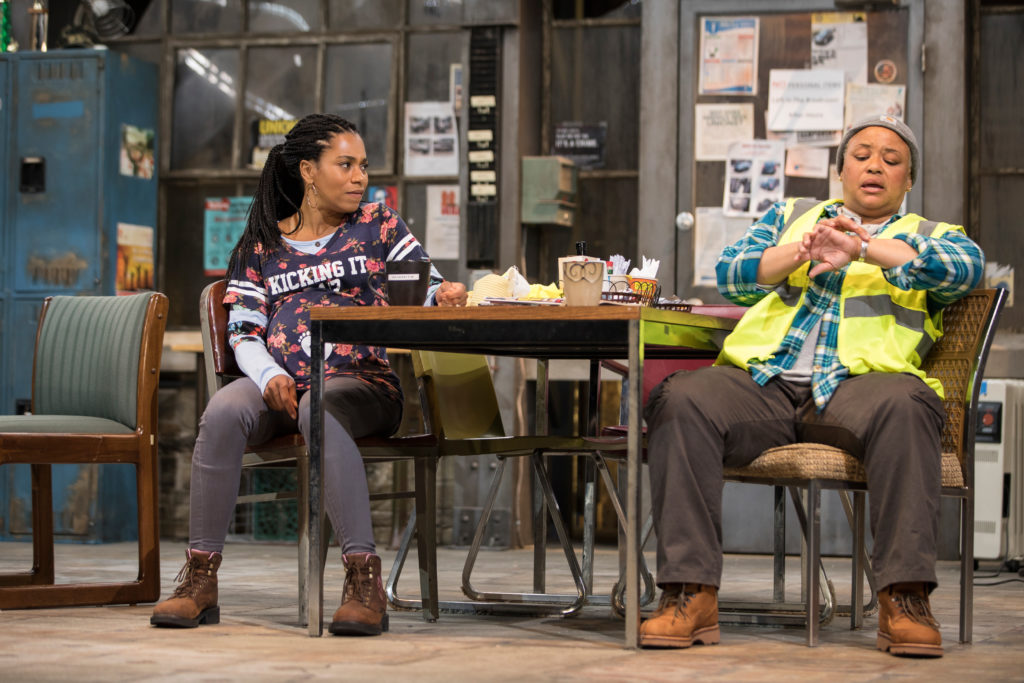 Working-class men and women of color are rarely front and center in today's media and, likewise, are presented all too occasionally on the American stage. So it's buoying to see that trend bucked in playwright Dominique Morisseau's percipient and well-crafted drama, Skeleton Crew. The play is the final installment in her Detroit  Project Trilogy; the first, Paradise Blue, is set in the 1940s amidst displacement caused by urban renewal and gentrification, while the second, Detroit '67, transpires on the eve of the 1967 Detroit riots sparked by a police action.
Directed by Patricia McGregor at Los Angeles' Geffen Playhouse, Skeleton Crew is a play with a moral spine. It takes place in 2008, when the shrinking U.S. auto industry is being further downsized. Morisseau's engaging quartet of characters — Faye (Caroline Stefanie Clay), Dez (Armari Cheatom), Shanita (Kelly McCreary) and Reggie (DB Woodside) – are employed at an automobile outfitting plant. Faye, Dez and Shanita are workers on the line while Reggie (who has a wife and kids, and has pulled himself together after a troubled youth) is their supervisor.
The first three customarily mingle in their break room (designer Rachel Myers' impressively cluttered, dingy and detailed set), trading the sort of familiar barbs and genuine concern for each other common among longtime co-workers. They also face off on philosophy: Upper-middle-aged Faye and the younger, pregnant Shanita take pride in their labor, while Dez, though a good worker, is a malcontent scornful of management and firm in the belief that everyone needs to watch out for himself. He's a thorn in Reggie's side, for while Reggie wants to be supportive of his workers, he must act at the behest of higher management. For his part, Dez resents Reggie's authority, and a palpable unease exists between them.
Besides this male matchup, we're made privy to Dez's attraction to Shanita, who mostly turns away his advances, but every now and then displays a hint of interest. Most poignant is Reggie's regard and affection for the lesbian Faye, which has roots in his boyhood when she loved, and lived, with his now-deceased mom.
These people's various predicaments intensify when rumors spread of the plant's shutdown — a disaster for all, but a particular calamity for the already near-broke Faye who, one year short of retirement, would lose her pension. The crisis forces each of these people to make a choice.
A sound piece of social realism, Skeleton Crew grabs you from the start in its focus on blue-collar men and women, and their struggle against odds for dignity and self-respect. Morisseau not only furnishes these characters a platform for their travails, she endows them with strong values, big hearts and the opportunity to choose between right and wrong.
Unfortunately, the performance I attended did not soar. Many exchanges lacked a fresh edge. The actors certainly had their characters down, but too often they appeared to be coasting on technique. (This seemed particularly true of Clay, who performed the role to great accolades in Washington, DC in 2017, also under McGregor's direction). Additionally, some of the stage movement was not entirely fluid; in confrontations, actors sometimes would just stand and face each other in an artificial way. And Cheatom's interpretation of Dez struck me as a bit overly churlish and depressive: I needed more glimpses of the intelligence and edge that would secretly attract the strong, self-directed Shanita.
The most compelling moments belong to Woodside, well-cast as a man trying his best in difficult circumstances to do the right thing.
---
Gil Cates Theater at the Geffen Playhouse, 10886 Le Conte Ave., Westwood Village; Tues.-Fri., 8 p.m.; Sat., 3 & 8 p.m. Sun., 2 & 7 p.m.; through July 8. (310) 208-5454 or www.geffenplayhouse.org