'Yerma' Update Suffers From Weak Ensemble
Inspired by Federico Garcia Lorca's 1934 classic play, Yerma, this one-act by Oliver Mayer is set in contemporary Los Angeles where Yerma (Jean Murillo) labors as part of a janitorial team at an elite university.

Anthony Bryce Graham and Jean Murillo.  (All photos by Luis Kelly-Duarte.)
In Yerma in the Desert, the desert is less an external place than the state of mind of the title character. Written by Oliver Mayer, the play is inspired by Federico Garcia Lorca's 1934 classic Yerma, whose central character, the wife of a shepherd, is childless and unhappy.
Mayer's one-act is set in contemporary Los Angeles where Yerma (Jean Murillo) labors as part of a janitorial team at an elite university. She's an amiable pleasant-tempered woman who works hard — prompting the scorn of her fellow workers, put off by her willingness to undertake double shifts and good-naturedly scrub toilets. Yerma's husband Juan (Anthony Bryce Graham) also looks down on her occupation; he's an ambitious man who has just joined the police force, a move he regards as upwardly mobile and empowering. While he values their marriage, their intimacy is passionless and he doesn't want children. Yerma, however, is desperate for a baby, and while she isn't looking to have an affair, she does have this old friend Victor (Paul Tully ) to whom she's uneasily drawn.
Jean Murillo and Marilyn Fitoria.
Running in tandem with the main story is a subplot in which Yerma's boss Trini (Brenda Banna) schemes to wreak revenge on a snooty student who has disparaged one of her workers. Her plan is to plant dope in the student's dorm room, then tip off the authorities to have him expelled. The take-no-prisoners Trini has also taken Yerma under her wing, hooking her up with the university's fertility expert, Professor Stallworthy (Spencer Weitzel), in order to bring her wish for a child to fruition, with or without her husband's participation.
Written specifically for this company, Urban Theatre Movement, Mayer's soundly constructed and fluid script has considerable dramatic potential. But Lorca's Yerma — a barren woman in a pastoral community where female personhood can be attained only by having kids — doesn't translate all that aptly to our modern era. Inconsistencies in Juan's character are also problematic; he's possessive of Yerma and wants to stay married to her but doesn't want to touch her or be touched. (He's always been this way, he tells her.) Again, this story element plays fittingly against the backdrop of a primitive patriarchal culture, with its strict code of honor and its emphasis on appearances, but it's harder to buy in the here and now. (The most likely explanation for this character's disparities is that he's in in the closet, but that's not suggested in the script or developed otherwise in the production.)
While these issues might have been ironed out in performance, sadly, that would have required more depth and skill than this ensemble displays. Co-directed by Edgar Landa and Marlene Forte on a dreary set (by Sarah Steinman), the performances for the most part come off as non-professional. Graham, as the conflicted controlling Juan, has the most interesting role, but there's no real life to this performer's delivery — he's in over his head. Murillo's Yerma exudes an appealing aura, but her desperation is more presentational than palpable; there are no layers here, nor are there among most of the supporting players. The exceptions are a crisp and lively Marilyn Fitorina as Yerma's reluctantly pregnant co-worker, and Weitzel, whose patronizing man of science is credible and solid.
Mayer's inclusion of class conflict in his drama is its most intriguing and significant aspect. In the program notes, he writes of wanting to highlight the interior lives of working people — like the maintenance people in this story — whose humanity is often barely recognized by everyone else; they're perceived as part of the supporting apparatus of our lives, with no independent lives of their own. This effort to illuminate their perspective is a vital and all-too-rare dramatic goal, and with better direction and a more seasoned ensemble it easily could be accomplished with more power and grace. I do hope it is, down the line.
---
Greenway Court Theatre, 544 North Fairfax Avenue, West Hollywood; Fri.-Sat., 8 p.m.; Sun., 2 p.m.; through December 16.  GreenwayCourtTheatre.org or 323-673-0544.

'Skeleton Crew' Is a Play With a Moral Spine
Set in a Detroit automobile outfitting plant, Dominique Morisseau's drama grabs you from the start with its focus on blue-collar men and women, and their struggle for dignity and self-respect.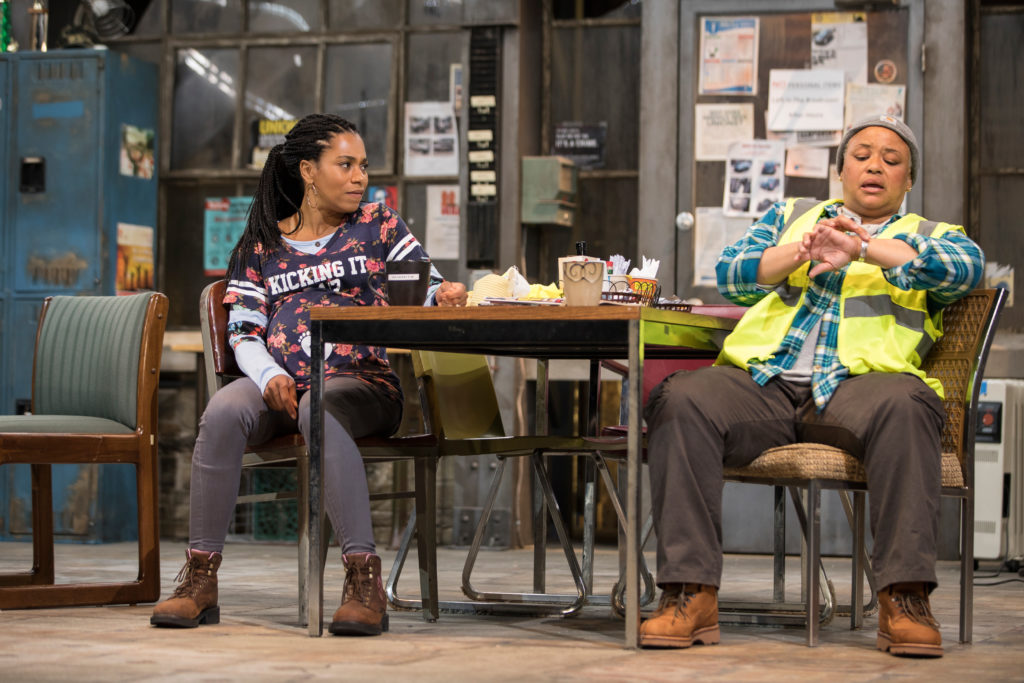 Working-class men and women of color are rarely front and center in today's media and, likewise, are presented all too occasionally on the American stage. So it's buoying to see that trend bucked in playwright Dominique Morisseau's percipient and well-crafted drama, Skeleton Crew. The play is the final installment in her Detroit  Project Trilogy; the first, Paradise Blue, is set in the 1940s amidst displacement caused by urban renewal and gentrification, while the second, Detroit '67, transpires on the eve of the 1967 Detroit riots sparked by a police action.
Directed by Patricia McGregor at Los Angeles' Geffen Playhouse, Skeleton Crew is a play with a moral spine. It takes place in 2008, when the shrinking U.S. auto industry is being further downsized. Morisseau's engaging quartet of characters — Faye (Caroline Stefanie Clay), Dez (Armari Cheatom), Shanita (Kelly McCreary) and Reggie (DB Woodside) – are employed at an automobile outfitting plant. Faye, Dez and Shanita are workers on the line while Reggie (who has a wife and kids, and has pulled himself together after a troubled youth) is their supervisor.
The first three customarily mingle in their break room (designer Rachel Myers' impressively cluttered, dingy and detailed set), trading the sort of familiar barbs and genuine concern for each other common among longtime co-workers. They also face off on philosophy: Upper-middle-aged Faye and the younger, pregnant Shanita take pride in their labor, while Dez, though a good worker, is a malcontent scornful of management and firm in the belief that everyone needs to watch out for himself. He's a thorn in Reggie's side, for while Reggie wants to be supportive of his workers, he must act at the behest of higher management. For his part, Dez resents Reggie's authority, and a palpable unease exists between them.
Besides this male matchup, we're made privy to Dez's attraction to Shanita, who mostly turns away his advances, but every now and then displays a hint of interest. Most poignant is Reggie's regard and affection for the lesbian Faye, which has roots in his boyhood when she loved, and lived, with his now-deceased mom.
These people's various predicaments intensify when rumors spread of the plant's shutdown — a disaster for all, but a particular calamity for the already near-broke Faye who, one year short of retirement, would lose her pension. The crisis forces each of these people to make a choice.
A sound piece of social realism, Skeleton Crew grabs you from the start in its focus on blue-collar men and women, and their struggle against odds for dignity and self-respect. Morisseau not only furnishes these characters a platform for their travails, she endows them with strong values, big hearts and the opportunity to choose between right and wrong.
Unfortunately, the performance I attended did not soar. Many exchanges lacked a fresh edge. The actors certainly had their characters down, but too often they appeared to be coasting on technique. (This seemed particularly true of Clay, who performed the role to great accolades in Washington, DC in 2017, also under McGregor's direction). Additionally, some of the stage movement was not entirely fluid; in confrontations, actors sometimes would just stand and face each other in an artificial way. And Cheatom's interpretation of Dez struck me as a bit overly churlish and depressive: I needed more glimpses of the intelligence and edge that would secretly attract the strong, self-directed Shanita.
The most compelling moments belong to Woodside, well-cast as a man trying his best in difficult circumstances to do the right thing.
---
Gil Cates Theater at the Geffen Playhouse, 10886 Le Conte Ave., Westwood Village; Tues.-Fri., 8 p.m.; Sat., 3 & 8 p.m. Sun., 2 & 7 p.m.; through July 8. (310) 208-5454 or www.geffenplayhouse.org