Wrestlers of the World, Unite
David Shoemaker, writing as The Masked Man on the sports site Grantland, describes a recent  storyline on the professional wrestling TV show Raw, in which wrestlers and other employees walked off the job. The Masked Man sets off the fictional labor uprising against the actual – and unsurprisingly colorful – history of labor grievances in professional wrestling.
In one instance, wrestler and future Minnesota governor Jesse "The Body" Ventura attempted to organize a union, though he got little traction among fellow wrestlers. It was later revealed that Hulk Hogan had ratted him out to Vince McMahon. Ventura later won a significant lawsuit against his employers.
More recently, the Masked Man writes, "In 2008, three wrestlers — Raven, Chris Kanyon, and Mike Sanders — sued WWE for 'cheating them out of health care and other benefits' and insisted that the 'independent contractor' designation was a sham since WWE had 'virtually complete dominion and control over its wrestlers.'"
The sham "independent contractor" designation is a serious issue for workers in more than a few industries. It has been a major source of controversy, policy debate, and legal wrangling in port trucking over the past few years, where a blue-green alliance has sought to revamp the industry to the benefit of the environment and workers.
Misclassifying their workers as independent contractors rather than employees allows companies to avoid responsibilities they would have toward employees, such as better working conditions, workers' compensation, health care, and employer taxes. In avoiding these, risk is shifted onto the individual. Workers' comp provides a stark case. Self-insuring without workers' comp is often either more expensive for workers in dangerous industries or unaffordable for low-wage workers like port truck drivers. Thus, when hit with an injury that takes them off the job, an independent contractor not only faces medical bills, but a complete loss of income. One mistimed "death valley driver" and a wrestler might not be able to put food on the table.
In response to this problem, the California legislature passed SB 549 this year, just signed by Governor Jerry Brown, prohibiting willful misclassification by employers. Hopefully, other states will follow California's lead on this important step, but the real test will be in enforcement.
Keep your eyes open, and you'll see all sorts of instances these days of big corporations consolidating the benefits of business for themselves, while shifting risk onto workers and consumers at the same time.
You can also tune into Raw to watch some misclassified workers in a dangerous entertainment industry act out a scripted labor uprising, while they could certainly use the real thing behind the scenes.

'Skeleton Crew' Is a Play With a Moral Spine
Set in a Detroit automobile outfitting plant, Dominique Morisseau's drama grabs you from the start with its focus on blue-collar men and women, and their struggle for dignity and self-respect.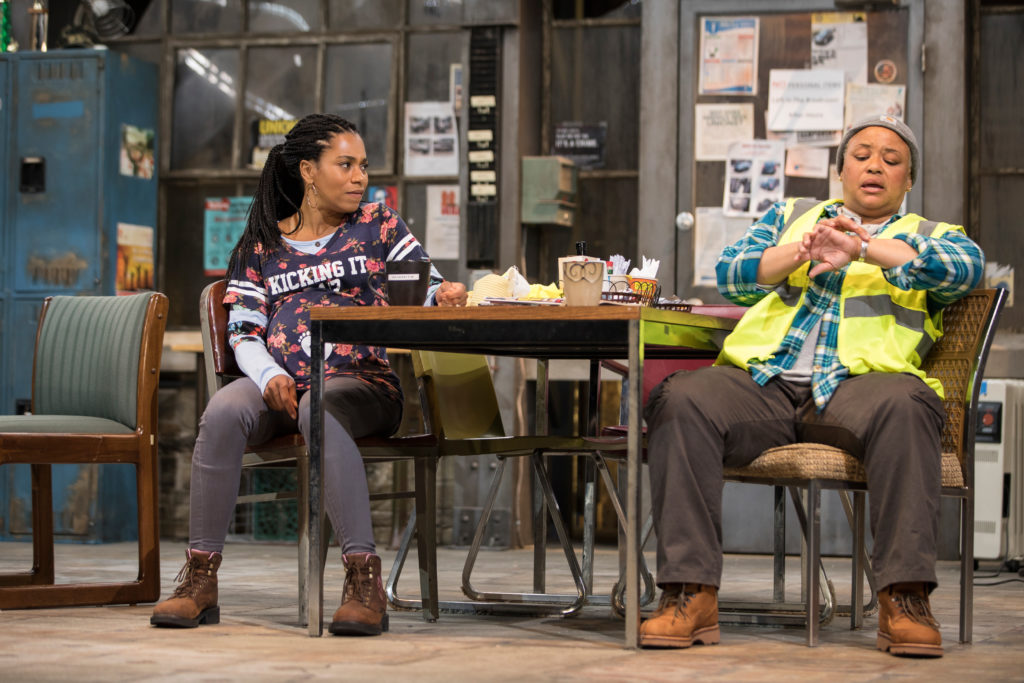 Working-class men and women of color are rarely front and center in today's media and, likewise, are presented all too occasionally on the American stage. So it's buoying to see that trend bucked in playwright Dominique Morisseau's percipient and well-crafted drama, Skeleton Crew. The play is the final installment in her Detroit  Project Trilogy; the first, Paradise Blue, is set in the 1940s amidst displacement caused by urban renewal and gentrification, while the second, Detroit '67, transpires on the eve of the 1967 Detroit riots sparked by a police action.
Directed by Patricia McGregor at Los Angeles' Geffen Playhouse, Skeleton Crew is a play with a moral spine. It takes place in 2008, when the shrinking U.S. auto industry is being further downsized. Morisseau's engaging quartet of characters — Faye (Caroline Stefanie Clay), Dez (Armari Cheatom), Shanita (Kelly McCreary) and Reggie (DB Woodside) – are employed at an automobile outfitting plant. Faye, Dez and Shanita are workers on the line while Reggie (who has a wife and kids, and has pulled himself together after a troubled youth) is their supervisor.
The first three customarily mingle in their break room (designer Rachel Myers' impressively cluttered, dingy and detailed set), trading the sort of familiar barbs and genuine concern for each other common among longtime co-workers. They also face off on philosophy: Upper-middle-aged Faye and the younger, pregnant Shanita take pride in their labor, while Dez, though a good worker, is a malcontent scornful of management and firm in the belief that everyone needs to watch out for himself. He's a thorn in Reggie's side, for while Reggie wants to be supportive of his workers, he must act at the behest of higher management. For his part, Dez resents Reggie's authority, and a palpable unease exists between them.
Besides this male matchup, we're made privy to Dez's attraction to Shanita, who mostly turns away his advances, but every now and then displays a hint of interest. Most poignant is Reggie's regard and affection for the lesbian Faye, which has roots in his boyhood when she loved, and lived, with his now-deceased mom.
These people's various predicaments intensify when rumors spread of the plant's shutdown — a disaster for all, but a particular calamity for the already near-broke Faye who, one year short of retirement, would lose her pension. The crisis forces each of these people to make a choice.
A sound piece of social realism, Skeleton Crew grabs you from the start in its focus on blue-collar men and women, and their struggle against odds for dignity and self-respect. Morisseau not only furnishes these characters a platform for their travails, she endows them with strong values, big hearts and the opportunity to choose between right and wrong.
Unfortunately, the performance I attended did not soar. Many exchanges lacked a fresh edge. The actors certainly had their characters down, but too often they appeared to be coasting on technique. (This seemed particularly true of Clay, who performed the role to great accolades in Washington, DC in 2017, also under McGregor's direction). Additionally, some of the stage movement was not entirely fluid; in confrontations, actors sometimes would just stand and face each other in an artificial way. And Cheatom's interpretation of Dez struck me as a bit overly churlish and depressive: I needed more glimpses of the intelligence and edge that would secretly attract the strong, self-directed Shanita.
The most compelling moments belong to Woodside, well-cast as a man trying his best in difficult circumstances to do the right thing.
---
Gil Cates Theater at the Geffen Playhouse, 10886 Le Conte Ave., Westwood Village; Tues.-Fri., 8 p.m.; Sat., 3 & 8 p.m. Sun., 2 & 7 p.m.; through July 8. (310) 208-5454 or www.geffenplayhouse.org