Wrestlers of the World, Unite
David Shoemaker, writing as The Masked Man on the sports site Grantland, describes a recent  storyline on the professional wrestling TV show Raw, in which wrestlers and other employees walked off the job. The Masked Man sets off the fictional labor uprising against the actual – and unsurprisingly colorful – history of labor grievances in professional wrestling.
In one instance, wrestler and future Minnesota governor Jesse "The Body" Ventura attempted to organize a union, though he got little traction among fellow wrestlers. It was later revealed that Hulk Hogan had ratted him out to Vince McMahon. Ventura later won a significant lawsuit against his employers.
More recently, the Masked Man writes, "In 2008, three wrestlers — Raven, Chris Kanyon, and Mike Sanders — sued WWE for 'cheating them out of health care and other benefits' and insisted that the 'independent contractor' designation was a sham since WWE had 'virtually complete dominion and control over its wrestlers.'"
The sham "independent contractor" designation is a serious issue for workers in more than a few industries. It has been a major source of controversy, policy debate, and legal wrangling in port trucking over the past few years, where a blue-green alliance has sought to revamp the industry to the benefit of the environment and workers.
Misclassifying their workers as independent contractors rather than employees allows companies to avoid responsibilities they would have toward employees, such as better working conditions, workers' compensation, health care, and employer taxes. In avoiding these, risk is shifted onto the individual. Workers' comp provides a stark case. Self-insuring without workers' comp is often either more expensive for workers in dangerous industries or unaffordable for low-wage workers like port truck drivers. Thus, when hit with an injury that takes them off the job, an independent contractor not only faces medical bills, but a complete loss of income. One mistimed "death valley driver" and a wrestler might not be able to put food on the table.
In response to this problem, the California legislature passed SB 549 this year, just signed by Governor Jerry Brown, prohibiting willful misclassification by employers. Hopefully, other states will follow California's lead on this important step, but the real test will be in enforcement.
Keep your eyes open, and you'll see all sorts of instances these days of big corporations consolidating the benefits of business for themselves, while shifting risk onto workers and consumers at the same time.
You can also tune into Raw to watch some misclassified workers in a dangerous entertainment industry act out a scripted labor uprising, while they could certainly use the real thing behind the scenes.

A Woman's Art Is Never Done: The Feminae Exhibition
A striking juxtaposition between the past and present courses throughout the small gallery. Celia Blomberg's "International Women's Day March 8" can't help but make one think of 2017's Women's March, which occurred 37 years after the print's first appearance.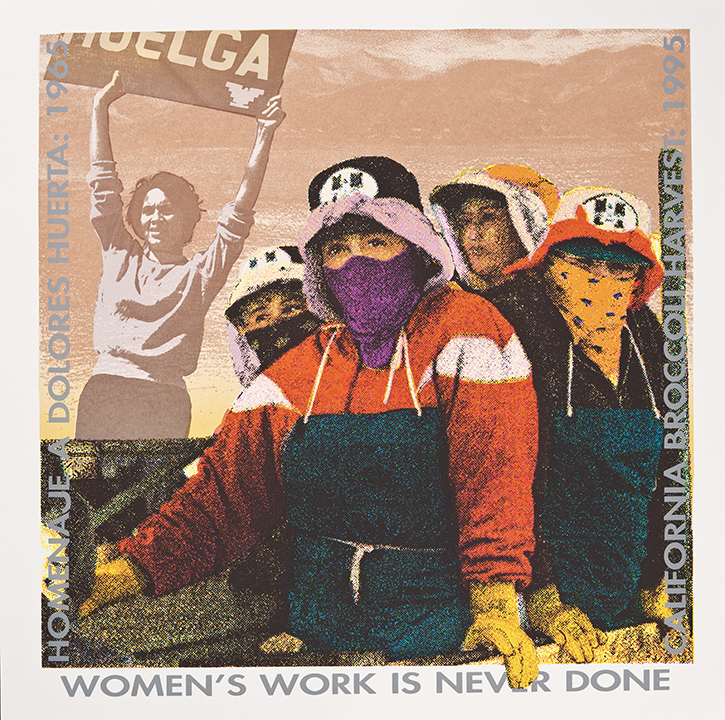 Among the 50-plus works in the Feminae: Typographic Voices of Women By Women exhibit is Yolanda Lopez's "Women's Work is Never Done." Lopez's title is particularly ironic, given the exhibit's gender-based subject matter. The show spans work from the past 50 years, making it easy to understand how much society is still grappling with its themes of gender inequality. Culled from the archives of the Center for the Study of Political Graphics, the graphic images of protest, persuasion and empowerment are truly works of art in their own right.
However, political posters aren't made to merely spruce up walls, but to help figuratively bring barriers down as well.
Two silkscreens from the 1970s, Liliana Porter and John Schneider's "This Woman is Vietnamese" and See Red Woman's Workshop's "So Long As Women Are Not Free People Are Not Free," are particularly powerful, underscoring, as they do, the fact that the subjugation and persecution of women crosses borders and cultures as an unfortunate shared global experience. These two pieces' stark simplicity exemplifies most of the work in the exhibit. In the former, a New York Times photo of a distraught Vietnamese woman with a gun held to her head is centered above these basic words typed out in a typewriter font: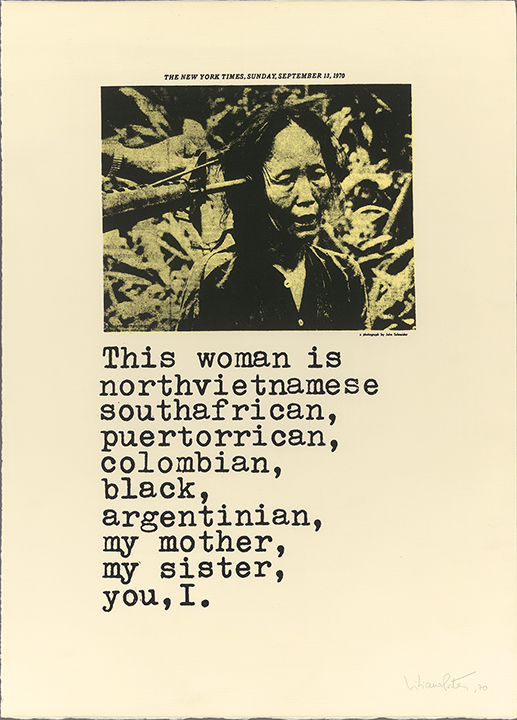 This woman is
northvietnamese
southafrican
puertorrican,
colombian,
black,
argentinian,
my mother,
my sister,
you, I.
By juxtaposing the photo with these words, the creators take the plight of this woman and immediately globalize her pain. In the latter, three female demonstrators are silkscreened in red onto a yellow background. They are marginalized by being stuck in the lower left third of the poster, but two of them are raising their fists skyward and their mouths are open, screaming in defiance. Its non-serif, eponymous type reads: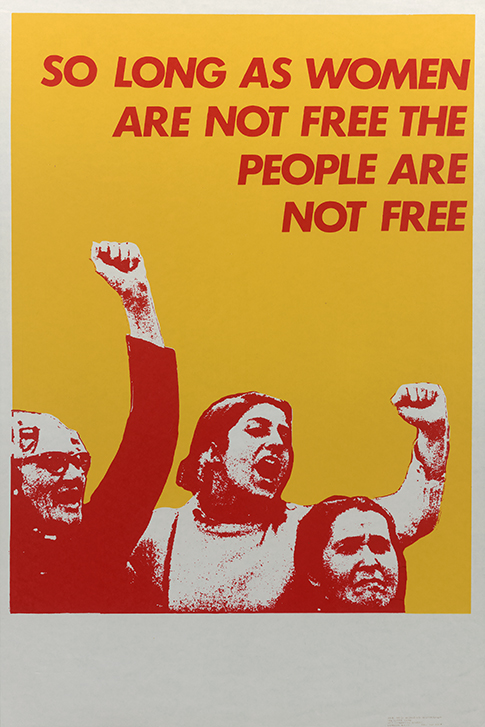 SO LONG AS WOMEN
ARE NOT FREE THE
PEOPLE ARE
NOT FREE
This piece's message takes the global message even farther, making the plight of women a human one — a common theme in the exhibition.
There is also a striking juxtaposition between the past and present that seethes throughout the small gallery. Celia Blomberg's "International Women's Day March 8" can't help but make one think of 2017's Women's March that would take place 37 years later. See Red Woman's Workshop's 1977 "Black Women Will Not Be Intimidated" could easily be repurposed to address the recent spate of blue-on-black brutality. Notable works by Barbara Kruger, Sister Corita Kent and the Guerilla Girls are also included.
Ironically , while it can be surmised that most of these works were made as populist posters to be distributed at the time as banners of protest, their beautiful simplicity and nostalgic elegance probably have resulted in the originals (mostly now found in art museums) sporting hefty vintage-resale prices.
But it is not just the art that has stood the test of time. The fact that the issues addressed in the show — feminism, choice, gender equality, war, immigration, police brutality or violence against women — are all issues at the forefront of debate in 2018 ultimately engenders conflicting feelings.
On one the hand, it is inspiring to see a vibrant exhibit that showcases such diversity in artistic styles, no doubt spawned by the diversity of the artists' own backgrounds. On the other hand, there is a realization that while there has been some progress over the past half century, there is so much work to be done.
Art Center's Hoffmitz Milken Center for Typography, 950 South Raymond Ave., Pasadena; through May 15.
---
Copyright Capital & Main