Worse Than Terrible: How Graham-Cassidy Will Gut States' Health Care
The latest Republican assault on the Affordable Care Act came fast at health-care advocates in the past few weeks, leaving analysts flat-footed in their attempts to decipher its complex funds-allocation formula. But some predict catastrophe ahead, especially for California.

Anti-Affordable Care Act Senators Lindsey Graham and Bill Cassidy
 Health Care Advocate:
"This is not just a rollback of the last five years of progress.
This is a rollback of the last 50 years."
---
In the final hours of the Senate's July health-care debate, Louisiana Republican Senator Bill Cassidy revealed what he considered an astonishing statistic. Thirty-seven percent of federal Affordable Care Act funding goes to just three states: California, Massachusetts and New York. Cassidy's Senate collaborator, South Carolina Republican Lindsey Graham, elaborated — with charts — showing if you add Maryland, the share rises to 39 percent, despite these four states holding a mere 22 percent of the population.
"They get twice as much, if you will, on a per-beneficiary basis, as the rest of the nation put together," Cassidy complained. "That is not fair."
Graham-Cassidy-Heller-Johnson, as the bill later became known after co-sponsorship from Sens. Dean Heller (R-NV) and Ron Johnson (R-WI), came fast at health-care advocates in the past few weeks, leaving analysts flat-footed in their attempts to decipher its complex funds-allocation formula. But even back in early September, when the plan existed only as bullet points, some saw catastrophe ahead, especially for California.
Graham-Cassidy's repeal of the state's Medicaid expansion alone would leave four million California adults living at or near the poverty line without the health coverage they've had since 2014.
"It looks like it's going to be a nakedly partisan attempt to buy off red-state Senators," said Anthony Wright, executive director of the nonprofit advocacy group Health Access California, in a conference call September 5. "That's something we in California should be specifically concerned about."
California receives a higher percentage of ACA money, Wright noted, "because we expanded Medicaid, and our state invested in outreach and enrollment." Since the ACA has been in force, California has seen the steepest drop in uninsured residents of any state in the nation. "We're proud of that," Wright said.
Had he known the full extent of Graham-Cassidy's intentions, Wright says now, he would have described himself as less concerned than alarmed. California will indeed suffer deep cuts if the newest iteration of ACA repeal happens, but so will every state, Republican or Democrat, whether or not they opted in to the ACA's expansion of Medicaid coverage for low-income single adults. "After 10 years, every state is a loser," Wright says. "And most states are losers before that."
The bill "is designed to punish states that did the right thing, whether expanding Medicaid or ACA coverage," says Richard Kirsch, a New York-based advocate who led the grassroots campaign to pass the ACA. That punishment includes states like Florida, which didn't take the Medicaid expansion but set up a strong and successful state exchange. Florida stands to lose close to $200 billion in federal health-care funds by 2036, according to policy analysts at Avalere Health, a Washington DC-based consulting firm. California will lose $800 billion in the same period.
Graham-Cassidy's repeal of the Medicaid expansion alone would leave four million California adults living at or near the poverty line without the health coverage, known in the state as Medi-Cal, that they've had since 2014. In Los Angeles County, where one-fifth of the state's Medi-Cal recipients reside, nearly 1.2 million people will lose coverage — 11 percent of the county's population — according to an analysis by the University of California, Berkeley Labor Center.
Some of California's $17 billion in federal Medicaid expansion funding has helped opioid users gain access treatment for the first time. Funds have also gone to provide people living on the street with preventive health services. A program serving the children of unauthorized immigrants under Medi-Cal would lose nearly a third of its federal support under the proposed repeal.
But Graham-Cassidy gets worse. A bedrock of the Medicaid program for the 52 years since its inception has always been that the federal government matches, dollar for dollar or more, what the state spends on each person, no matter how much those people cost. Graham-Cassidy ends that matching guarantee, replacing it with a per-capita cap. "Even though we have an aging population, even if there's a public health emergency, even if someone requires higher cost of medications," Wright says, "that per-person amount the federal government provides won't change.
"This is not just a rollback of the last five years of progress. This is a rollback of the last 50 years."
Also, as of December 31, 2019, Graham-Cassidy ends the cost-sharing program that under the ACA helped low and middle-income people buy health insurance. In its place, if offers block grants that states can spend mostly at their own discretion. States can use those grants to subsidize premiums, but they can also allow insurance companies to turn down people with pre-existing conditions, or put lifetime limits on coverage.
Even employer-provided insurance plans are not immune, nor are blue states with high ideals. Between 2020 and 2026, the federal government will spend $243 billion less on the block grants than it would have paid to states under the ACA, and state budgets will feel the strain. "It's not like we had those consumer protections in place before the ACA," Wright says. "Without those subsidies, there's going to be tremendous pressure on policy makers to whittle away at benefits."
Senate Republicans plan to vote next week on this fourth attempt to pass ACA repeal with only 50 votes under filibuster-proof budget reconciliation rules. They have until September 30. Kirsch worries they might succeed.
"What's frightening about this push is that it's been done at the last minute, and this is by far more destructive than any of the other repeal-and-replace bills," he says. "What they've done is come up with a proposal that fits neatly into longstanding Republican ideology about returning power and money to the states. Its impact will be cataclysmic."
---
Copyright Capital & Main

State Senator Predicts "Sledgehammer Time" If GOP Tax Bill Passes
Holly Mitchell, a leading legislative advocate for children and low-income Californians, says the state may return to the days of budget cutting if the current Congressional Republican tax plan becomes law.

State Senator Holly Mitchell (All photos by Joanne Kim)
Holly Mitchell, the state Senator who represents Los Angeles' heavily blue-collar 30th District, has been called by one colleague the "social conscience of the entire Senate." A personable policy wonk whose career included a stint as chief executive of Crystal Stairs, a child development nonprofit, Mitchell chairs the Senate Budget Committee — the first African-American woman to do so. She recently sat down in Pico-Fairfax with Capital & Main at the Paper and Plastik Cafe to talk about the possible effects of the Republican tax bill on California's poor.
---
Capital & Main: Taking the temperature between now and New Year's, what's your prognosis for the House and Senate tax bills?
Senator Mitchell: The GOP tax plan is a redistribution of wealth from the poor to the rich or semi-rich. It gambles away the health care of poor people and this is unacceptable.
I'm so disappointed with the work of the [U.S.] Senate Budget Committee. I can't imagine being a legislator, getting a report from the Congressional Budget Office that says the things it says about these bills — and voting to pass it. Did they ignore it? Did they not care?
One Senator, when interviewed, expressed concern about the bill's potential to make the deficit skyrocket. When asked if that was enough to make him not vote for it he said, "I'm not sure. I'm still working on it."
Senator Mitchell: The whole point of having the support of fiscal analysts and the Congressional Budget Office, with their independent status, is to provide you with critical data to help you make a decision. How can you say, "Oh yeah, that's bad, but I'm not sure if I'm going to go forward on this or not"? Politics is continuing to trump — lowercase T—what's best.
Is Sacramento concerned?
Senator Mitchell: Am I concerned? Yes! But I think what I'm more concerned about now is the Healthy Families Program.
This is the entitlement for California families who aren't poor enough for Medi-Cal — but don't earn enough to have private insurance.
Senator Mitchell: It provides care for about two million kids [and] requires federal reauthorization. And [Congress] has not reauthorized it. That could have immediate impacts on California's budget. It's a separate process [from the federal tax bills] but they have already missed the deadline.
It's also been said that the tax proposals could undermine affordable housing construction in California because they would affect the credits and tax breaks that developers receive.
Senator Mitchell: Yes, which are critical for developments to pencil out. Given how far behind we are in terms of our housing-unit need, it would be devastating. L.A. County has done amazing things — voters have said yes to Prop M, yes to Prop HHH. All of that could be compromised — this delicate balance where developers can come in, get these credits to build affordable units. We're already behind the eight ball in terms of our need. This would be yet another blow.
Defenders of the tax bill say everybody will get their taxes cut initially. Then by 2027, according to the Congressional Budget Office, middle- and low-income people will experience a net loss.
Senator Mitchell: They claim that they're protecting "the middle class" — folks who make $100,000 and over. But that's not how we define the middle class in California—here the salary threshold is much lower. What they claim is good news, I think, masks the bad news. And they're rushing it through the process.
What steps are needed to analyze and create a response for a new federal tax plan's effect on California?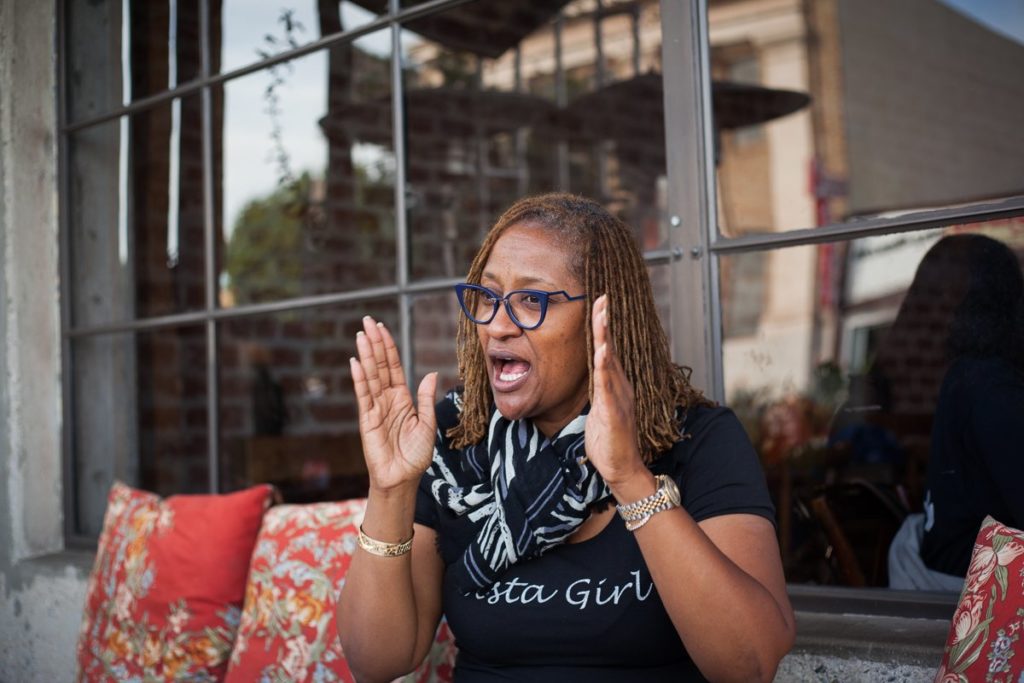 Senator Mitchell: It will be a process. Unlike [the U.S. Senate], I will rely on our Department of Finance, the Legislative Analyst's Office, the Senate Budget Committee staff to have discussions, to have a full budget hearing.
What's your sense of the tax proposals' potential effect on the state's economic health?
Senator Mitchell: How we earn income as a state government could be severely impacted. We are socking money away into rainy-day funds to try to prepare for the time at which our recovery will slow down — [but] we couldn't save enough to prepare for these [federal] proposals and the kind of hole they could blow in the state's general fund.
What's your plan if California does take a financial hit?
Senator Mitchell: As budget chair, I would be forced, as painful as that would be, to go back to the days of cutting. We may not be able to use a scalpel. It may be sledgehammer time — it would be devastating. In terms of the trend we've experienced with investments in K through 12, early education, the investments we have made in the last couple of years in the University of California and Cal State University systems — all these investments that we've made to expand access to services, would be impacted.
We fund Opti-Cal and Dental-Cal [for eye and dental care] — those are the kinds of core, basic human services that we could potentially have to roll back again. Medi-Cal funding helps undergird and support our overall health-care delivery system. If that went away, everything would be compromised.
---
Copyright Capital & Main