Workers of the World – Buy Your Own Company!
Somerset Waters has the passion of a convert. You can hear it in his voice when he outlines why he set up the only worker-owned cooperative business in Los Angeles.
"It's really exciting pushing the boundaries of how a small business can operate here," he says, standing in front of a bank of solar panels outside a residence in Calabasas. "People want a sense of ownership at work, a feeling of justice, a real stake in their working lives."
Last year, inspired by the Pioneer Valley Solar Co-Op in Massachusetts, and with guidance from co-op resource center LA WORCS, Waters created Pacific Electric, a worker-owned co-op, to see if a different kind of business model could take hold in Los Angeles.
The four-person union firm, which has plans for expansion to 100 owner-members, installs solar and other electrical systems for residential and business customers throughout Los Angeles County.
According to the United States Federation of Worker Cooperatives, there are only 30 or so worker-owned businesses in California. While the number is small, other states and cities are embracing the trend. There are good reasons why Los Angeles city officials should encourage the worker-owned movement here as well.
Despite its socialistic sounding discourse, the worker-ownership movement is not directed by employees determined to "expropriate the expropriators." Rather, they are enthusiastic about taking on the advantages and burdens of ownership themselves.
Waters and his colleagues, who belong to International Brotherhood of Electrical Workers Local 11, gain a stake in their business after a trial period of work – 1,000 hours for journeymen and 2,000 hours for apprentices. This path to ownership also requires a small amount of equity capital from the workers as part of their buy-in and as a demonstration of commitment. Once they are member-owners they receive regular hourly wages and benefits, plus a yearly share of the profits. Most important, decisions about how the company is run are made collectively through regular governance meetings of the worker-owners.
Worker cooperatives have a long history in the United States. In the 19th century, thousands of farmers formed business cooperatives throughout the South and Midwest in response to the economic pressures from banks and railroads, and to the booms and busts of industrial capitalism.
Jessica Gordon Nembhard's book Collective Courage focuses on African American cooperative movements throughout our history. A. Philip Randolph's Brotherhood of Sleeping Car Porters and Alabama's Freedom Quilting Bee, were just two of the hundreds of "alternative economies" and mutual aid societies formed to gain access to credit and income in the face of bank discrimination or landlord evictions. Members of the Quilting Bee, who were women of exploited sharecropper families, succeeded in purchasing 23 acres in 1968 to start their own sewing cooperative.
Aside from the economic benefits to the worker-owners, there are more profound reasons for encouraging the growth of cooperatives that have implications for our political system. Thomas Jefferson famously connected the conditions under which people worked with the character of our democracy. His "radical moral theory," historian Joyce Appleby points out, outlined how self-reliant farmers would be free of economic and political dependency, thereby becoming superior citizens. Jefferson connected economics to democracy. If you were independent economically you would not be subject to a bosses' political will.
In Stonington, Maine, 45 worker-owners have just finished a year running three grocery stores that they purchased from a family. Alan White, president of the cooperative's board of directors, recently said that they would never have had the opportunity to own part of a business without the use of this model. "It's the American dream where all of us have a say in what's going on," he said.
Vernon Seile, who describes himself as a conservative Republican and who owned the stores for 40 years, sold them to his employees after receiving offers from other storeowners nearby. "It seemed that the business strategy of the other people who wanted to buy my stores was to cut the employees' wages or lay them off," he said. "That's no way to treat loyal employees so I rejected their offers."
Los Angeles is behind the curve in supporting the worker-owned model. Last year New York City made a $1.2 million grant to provide start-up money and technical assistance to such cooperatives with the goal of establishing 30 new companies. The City Council and New York Mayor Bill de Blasio are making sure that most of the new businesses will be started in minority communities.
There is currently legislation in the California Assembly that would make it easier for worker-owned businesses to meet legal requirements in California. Assembly Bill 816, sponsored by Assemblyman Rob Bonta (D-Alameda), would provide information to small business owners who are selling their operations that one viable alternative is to convert their companies into worker-owned enterprises.
The City of Los Angeles can also help by following New York's lead with financial and technical assistance, with a focus on conversion to worker ownership of already established firms. Hundreds of small and medium businesses close every year – not because they are not viable but because there are no family members who are interested in running them and there are no other buyers. The workers lose their jobs and the city loses part of its tax base.
Educational programs on democratic and cooperative business governance could also be established at our local community colleges or integrated into business courses and economic development efforts. The city should also consider establishing parity for procurement contracts for worker-owned cooperatives similar to advantages that women- and minority-owned businesses receive.
Somerset Waters takes what might be called a Jeffersonian view of what he is doing. "We talk a lot about democracy in the United States but generally democracy stops at the door of the workplace," he says. He believes that the worker-owner model is deeply democratic, more equal and encourages responsibility in his own and his partners' personal and political lives.
Pioneers, if they remain singular, are often regarded as mere cranks. A thousand pioneers, on the other hand, are the beginning of a community and a new common sense. Mayor Garcetti and other city officials can help make a worker-owned cooperative community thrive.
---
(Kelly Candaele is producing and directing a film on the three-year process of building the Wilshire Grand Center. It's currently titled, Head, Hand & Heart – Craftsmanship at Work.)
Home, Shared Home: Renters Watch as Their Buildings Become Apartels
The displacement of renters by large-scale operators who turn apartment buildings into de facto hotels has hit urban areas like Greater Los Angeles hard.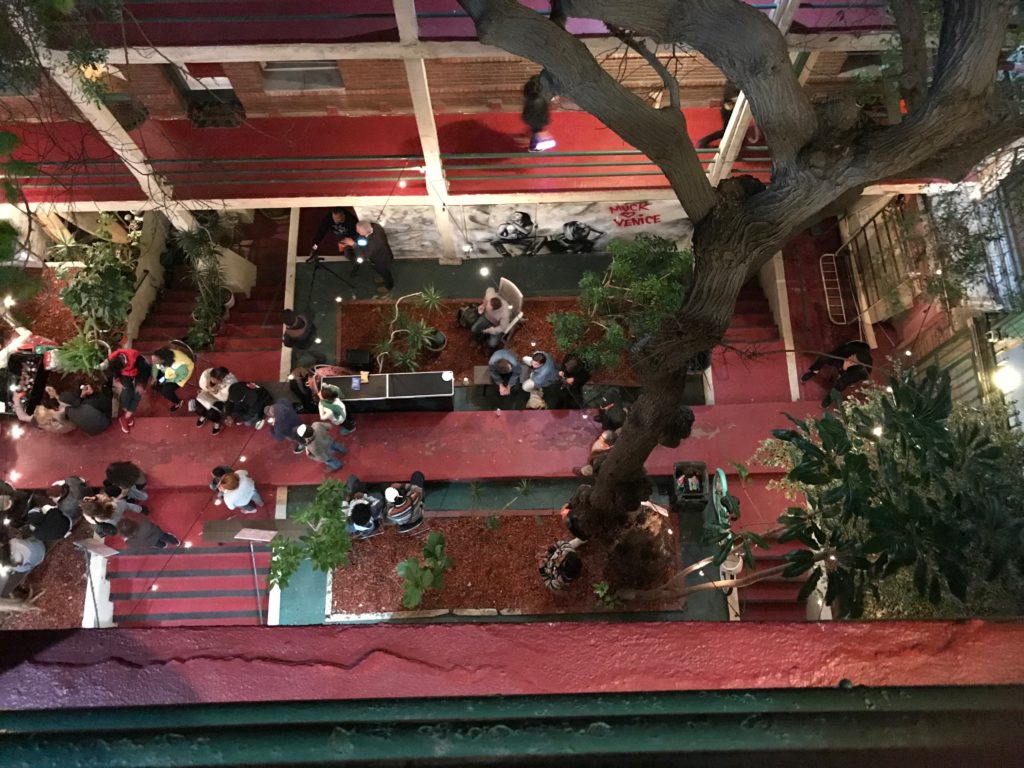 ---
Apartment Renter: Short-term guests begin lining up around 11 a.m., spilling out onto the street as other guests check out.
---
Home-sharing

. This cozy phrase once conjured images of a homeowner generously opening up a room to out-of-towners—while the fee charged by the owner helped him with mortgage payments. Or perhaps we pictured an apartment dweller who left for the weekend and made a little extra cash letting someone else use the premises.
But the present reality of home-sharing is not so cozy for single-family residential neighborhoods, where out-of-town guests may feel no social pressure to allow the neighbors a peaceful night's sleep or to not trash the rental home.
To see today's home-sharing up close, visit the Ellison Suites in coastal Venice, just a block from the famed Venice Boardwalk. Built in 1913 and covered with gigantic murals of Jim Morrison, Marilyn Monroe, John Hurt and Lana Del Rey, it boasts 58 units—but only 12 apartments are occupied by permanent tenants, according to one resident.
---
"We used to have neighbors for 20 years—now we have them for 20 hours."
---
Beyond the Ellison's courtyard, people bump wheeled suitcases up the building's front steps and, on Fridays, signs advertise the night's upcoming party. It might offer a fire dancer, but most parties will at least include free beer and wine — and music that reverberates up through the courtyard.
"We used to have neighbors for 20 years—now we have them for 20 hours," said Bruce Kijewski, one of the remaining tenants, who has lived here since 1977. In the summer, he said, guests begin lining up around 11 a.m., spilling out onto Paloma Avenue as other guests check out.
An online search for The Ellison Suites yields a number of home-sharing and lodging platforms—Booking.com and Expedia among them–advertising its amenities as a short-term beachside rental. The building's own website promotes it as a vacation destination, extolling Jonas Never's murals as "Venice Masterpieces."
The displacement of tenants by large-scale operators who turn their buildings into de facto hotels hit hard in urban areas like Greater Los Angeles, which is plagued by a nearly three percent rental vacancy rate.
While mom and pop are in on some of the home-sharing, today its booming business model most benefits commercial operators who can make more on short-term rentals (STRs) than on permanent residents.
STRs are promoted by a slew of home-sharing platforms, including Airbnb, now valued at $31 billion as it moves toward being publicly traded; and HomeAway and subsidiary VRBO, valued around $3 billion in 2015. The platforms profit by collecting a percentage on every rental offered on their sites by home-sharers.
Local municipalities are scrambling to figure out and ameliorate STR impacts on their neighborhoods and housing stock. In May, Los Angeles City Council measure was sent to the city attorney's office for language changes and is expected to go before the city planning commission in September. The proposed ordinance would set up a permitting system for short-term rentals and establish a 120-day yearly limit for home-sharing. Two nuisance violations—enforced by a city agency—could get an operator's permit revoked.
The Ellison Suites, zoned as a rent-stabilized apartment building, in effect operates as a hotel.
The lowest nightly rate listed on the website is $149. That apartment, when rented to vacationers, could yield $4,470 monthly.
With the Ellison's current rent-stabilized protections, it's hard to straight-up evict someone, but there are ways of persuading them to flee their apartments to make them available for tourists and other visitors.
Michael and Susanne Detto, Ellison residents for 14 years, rented their apartment for $2,000 a month before they moved out in May. All-night parties in the courtyard below their apartment made it impossible to sleep—both work 12-hour shifts as nurses. "It was so loud we couldn't even talk to each other," Susanne Detto said.
Breakdowns in maintenance–power outages, faulty plumbing, leaking ceilings—plus an altercation with management during one of the raucous parties were all part of what the Dettos claim drove them out.
"Especially in summer, he makes three times the money if he rents out every day," Michael Detto said of the Ellison's landlord.
Kijewski and other Ellison tenants say landlord investment goes into creating a hotel entertainment experience rather than supporting habitable apartments. Residents have filed dozens of complaints with the city against building owner Lance Jay Robbins' Paloma Partnership LLC, citing bad plumbing, inadequate water supply, construction without permits and change of use/occupancy without a building permit. (Multiple attempts to get a response from Robbins for this story were unsuccessful.)
---
Michael spoke wistfully of a community where neighbors once shared poetry readings, art discussions and fundraisers in the courtyard now occupied by high-octane weekend parties.
---
The company appealed the building's status to Los Angeles' Building and Safety Commission, arguing that short-term rentals should be allowed because the city's initial certificate of occupancy designating the Ellison a residential apartment was in error and that the building is a hotel.
The company lost. Another appeal is headed for the city planning department.
Meanwhile the Ellison continues to advertise online as a hotel.
With today's lucrative rates of return, it's easy to see why, for large-scale operators, short-term stays make for a more attractive business model than permanent housing. Customers staying for a few nights might do some hating online, but won't be there to press on long-playing maintenance issues.
Tenants at the Metropolitan in Hollywood experience the same push-out climate as Ellison residents, according to Susan Hunter, a case worker with the LA Tenants Union, which is part of a coalition that includes representatives from Los Angeles' hotel industry, labor unions and community groups.
Hunter counts a dozen permanent residents remaining in the sleek, 12-story high-rise that boasts sweeping views of Hollywood and sits within walking distance of Hollywood Boulevard sites.
The website for Apartments.com says there are no apartments presently available.
Zoned as a residential building, the 52-unit Sunset Boulevard property owned by the Harridge Development Group is advertised online as an "apartel." Tenants approached for this story didn't want to speak, they said, for fear of retaliation, but they have complained to Hunter of loud parties, with fighting in the halls and kicked-in doors.
Apart from creating chaotic conditions for tenants sharing space with STRs, the home-sharing model leaves an even larger social footprint. The incentive for large-scale operators everywhere to acquire units—including entire homes — and move them off the permanent housing market places upward price pressure on housing.
From Seattle to New Orleans to Barcelona and beyond, housing advocates are assessing the effects of short-term rentals on housing markets and figuring out how to respond.
In New York City, short-term rentals have resulted in a loss of as many as 13,500 rental housing units, according to a January 2018 report from the School of Urban Planning at McGill University. (The study was commissioned by a labor group opposed to home-sharing.) New York has passed legislation requiring registration and other monitoring measures.
A 2015 San Francisco Board of Supervisors Budget and Legislative Analyst report estimated that Airbnb short-term rentals alone had removed between 925 and 1,960 units from the city's housing market. These, along with 8,000 units already being used for short-term rentals, add up to an 11 percent reduction in rental housing.
Like other cities, San Francisco has aimed to define and enforce the number of nights STRs are permitted. Studies based on data from insideairbnb.com show that, in Los Angeles, renting out a property as a short-term rental for 83 nights or more annually produces more profit than the property could earn as a long-term rental.
In San Francisco, the cradle of Airbnb and adjacent to tech hubs, municipal leaders face an affordable housing shortage and a vacancy rate below three percent, and have established a registration process for short-term rental hosts. Regulations set a cap of 90 days per year for hosts that don't live on the property. Violators are subject to stiff fines.
Seattle, headquarters of several tech giants, took an approach that attacks the short-term rental issue as part of the affordable housing problem. The city defines a short-term rental as a maximum stay of 29 nights and sets up a licensing system.
Using a wider lens on the affordable housing crunch, the city council in May approved an "Amazon tax" that charges the larger employers such as Groupon and Amazon $275 per worker annually to support housing and homeless services. (The city council repealed the tax in August.) Seattle comes in third, behind only New York and Los Angeles, in the numbers of homeless, while boasting only a fraction of those cities' total populations.
Joan Ling, an urban policy analyst who has worked in affordable housing and mixed-use development for over 30 years, supports short-term rental regulation but sees it as only a piece of the larger question of creating affordable housing to support working families. Los Angeles, she said, "has a ways to go . . . Anything is better than nothing. What [regulation] can do is reduce the harm that can be done [by] removing units. The affordability crisis is so pervasive, so deep—we need a huge number of policies to address the crisis."
Michael and Susanne Detto are happy living in their new apartment in Santa Monica—no all-night parties, the plumbing works and it's a 10-minute walk to work. But before the Ellison got pieced out for short term-rentals, the couple also liked their Venice home.
Michael spoke wistfully of the community where neighbors once shared poetry readings, art discussions and fundraisers in the courtyard now occupied by high-octane weekend parties.
Susanne likes where the couple landed, but reflected on the overall cost as tenants got pushed out by the STR model.
"We lost a lot. We lost a lot of our neighbors. We're still kind of recovering."
---
Copyright Capital & Main