Workers' Memorial Day: Not One More Death or Injury!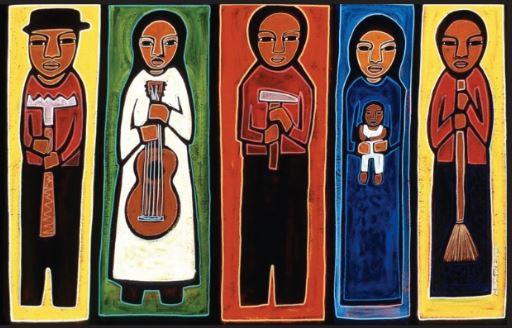 Two local Thursday events will mark preparations for the annual Workers' Memorial Day that will be observed nationally on Sunday. Today's morning activities center on the unveiling of a work-in-progress mural depicting the contributions of immigrant workers and the release of the annual "Dying at Work in California" report. The survey tallies the cost of job-related deaths, injuries and illnesses and tells the stories of the 196 Los Angeles workers killed on the job last year. These stories include:
Steven Saggiani, a longshoreman at the Port of Long Beach, who was only 47 years old when a container aboard a ship fell on top of him on January 19, 2012.
Eva Macias, a 66-year old immigrant from La Palma, Mexico, was killed on June 18, 2012 when she was struck by a bulldozer while working at a waste management plant.
This event culminates a week of action, in which workers across Los Angeles have held actions such as roundtables and teach-ins to call attention to preventable workplace accidents and occupational illnesses and to honor those fallen, injured and ill workers. Find more information about Workers' Memorial Week of Action at www.socalworkersmemorialday.org
What: Press Conference by the Southern California Coalition for Occupational Safety and Health (SoCalCOSH), to highlight Workers' Memorial Day – An International Day of Remembrance for Fallen Workers Due to Poor work Conditions.
When: Thursday, April 25, 10 a.m. PDT
Where: Mural, behind the People's College of Law 660 S. Bonnie Brae St., Los Angeles (alley between Burlington & Bonnie Brae streets off Wilshire Blvd.)
Who: Worker leaders and representatives from the Southern California Coalition for Occupational Safety and Health (SoCalCOSH), Institute of Popular Education of Southern California, Unite HERE Local 11, SEIU-USWW, Teamsters, Warehouse Workers Resource Center, National Day Laborer Organizing Network, UCLA-Labor Center, UCLA-Labor Occupational Safety & Health Program, LA Co. Federation of Labor, AFL-CIO and more. SoCalCOSH is a nonprofit organization whose mission is to educate, advocate and mobilize workers, community members and policymakers to create safe and healthy workplaces. For more information, contact coordinator Shirley Alvarado-del Aguila at (323) 206-2517.
Then, from 5:30-8 p.m.,  SoCalCOSH hosts a commemoration at the Central American Resource Center. (CARECEN), 2845 W. Seventh St., Los Angeles. It features worker testimonies, guest speakers and a call to action. Dinner will be served at this event — which is free of charge, though pre-event registration is required and space is limited. Please RSVP at http://socalworkersmemorialday.eventbrite.com/