Women's March on Washington: The Day We Bled Pink
It had been so long since I'd been at a demonstration, a real demonstration – one hung on the scaffolding of sincerely determined resistance and hope — that I'd forgotten how to conduct myself.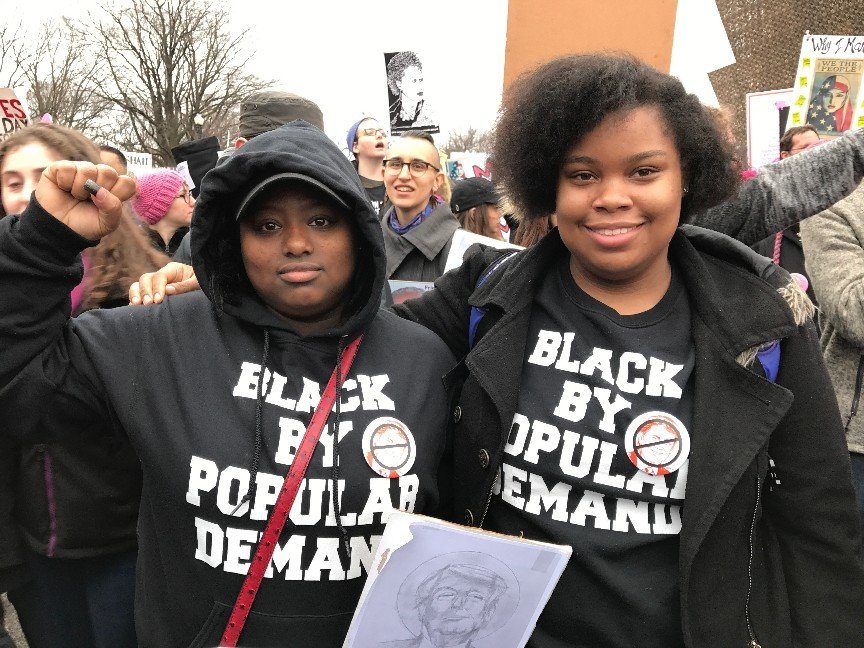 Video and photographs by Lisa Michurski
It had been so long since I'd been at a demonstration, a real demonstration – one hung on the scaffolding of sincerely determined resistance and hope — that I'd forgotten how to conduct myself. I thought, naively, that we would all be walking toward a "somewhere" — perhaps a stage with speakers that would start at an appointed time, a place where we would gather and cheer and be collectively overawed by our long-admired cultural warriors. I got there a whole hour early, with Friends Who Plan — enough time, we thought, to walk toward that rally stage, open my cane that turns into a chair, and take in the proceedings.
But for two hours we were packed shoulder to shoulder with women (and men) in pink hats, knitted and crocheted so the tops of the sides would stick up like cat ears. Together, unherded, we plodded toward the stage that had been erected at the intersection of Third and Independence.
We didn't expect to get close. There would be Jumbotrons. "Can you see the Tron?" emitted from the crowd as commonly as a chant, along with "Do you have the map?" and "Is FireChat working?" No one had cell service. And everyone chattered endlessly about pussyhats: Knit, crochet or sewn with felt? Circular needle or one straight panel? Gifted or DIY? It was a brilliant solidarity art project: A handmade, uniform but personal fashion accessory as the emblem of global resistance.
From the looks of things on Saturday, it appears that, thanks to Donald Trump, maybe for once good people can put aside their differences and get something done. We have been taken to the edge of the cliff and had a chance to look over, and now we're hanging on to each other for dear life. It's the reason Nancy Mazza traveled from San Francisco, with her partner, to the nation's capital to march for the first time in her life. "And I was born in 1948," she said. "Vietnam, gay rights, Planned Parenthood — I didn't march for any of those things. But this time I had to be here."
It's the reason Mercedez Quarles, 23, and her friend Sereen Peace, 22, both seniors at Thiel College in Greenville, Pennsylvania, went out of their way to be inclusive in their reasons for marching. "We're marching for women's rights, for people with disabilities, for everybody," said Quarles, she and her friend gleeful in their "Black by Popular Demand" T-shirts.
Larissa Jones had organized a contingent of marchers from Indiana. "Hoosiers! Over here!" she ordered as she wove them in long lines through the crowd. "A lot of people decided the day-of to join us," she shouted back at me as she led them away. I thought of them watching the inauguration speech the day before, and rearranging their weekend plans to board that bus.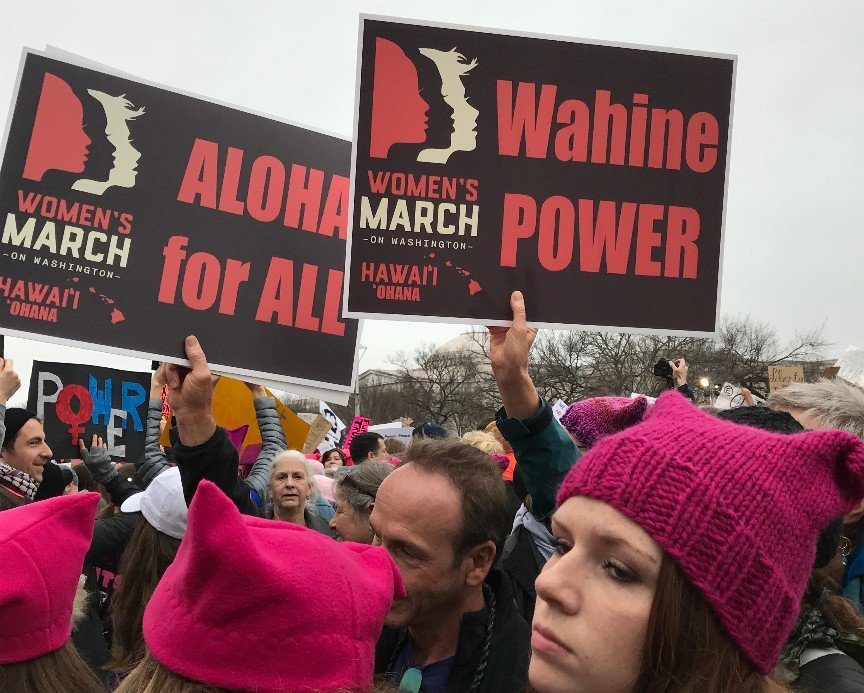 "There's a good vibe here," David Parrella, a 66-year-old marcher from West Hartford, Connecticut, told me as we sat together under a statue of Ulysses S. Grant, surveying the gathering pinkness. "People aren't discouraged. They're ready to fight, but with graciousness and good humor."
Parrella had worried there'd be a lot of bitterness, and with good reason — as the former chair of the National Association of Medicaid Directors. He has contributed expertise to the Affordable Care Act's Medicaid expansion and has watched as the endangered law has transformed states' health care for the poor. "Sixteen of 31 states that took the Medicaid expansion have Republican governors," he told me. "States with socially liberal but fiscally conservative governments won't want to go back," he said.
I imagined some conservative governors being here, too, mingling with the newly married lesbians worried about the continued legality of their unions; and the Muslims whose very existence in their country has been openly threatened; and the people like us, feminists pissed off about the whole shebang, from the unleashing of racial hatred to climate denial to the sheer ludicrousness of the man who built his gaudy political career on conspiracies of white oppression now occupying the highest office in the land. Nothing like a common enemy to forge a united front.
I suspect that was the reason for the absence of animosity Parrella observed, which by midday had evolved into actual kindness and deference, with men helping older women climb to the top of trucks and later descend from them, women offering their hands to help an arthritic stranger negotiate curbs. Another factor in the calm of the D.C. march, at least, was the equanimity of the local police force. Dispatched to check out an unattended package, one trio of cops had found a lost purse, and were relentlessly trying to find its owner by showing strangers the woman's picture on her iPhone.
My friend Lisa and I had been here before. In 2001, we had come to D.C. to protest the inauguration of George W. Bush, because we believed he had stolen the election from Al Gore. (I had a lot of nerve; I had voted for Nader, albeit in a swing state.)
Demonstrations would gain steam over the years that followed, as the Bush administration launched its war on Iraq and deportations of non-citizens accelerated under Barack Obama. But none had quite the unifying force of Saturday's marches, which felt, as one sign put it, not like "one day of resistance but day one of the resistance."
Nor did protest memes ever have such rich fodder: Dubious quotes ("'WHAT THE FUCKING HELL'," read one sign, attributing the sentiment to "A. Lincoln"); women's reproductive rights (more than one sign featured ovaries turned into fists); and Trump himself. My favorite chant: "We don't want your tiny hands/anywhere near our underpants!" Looking out at the sea of pink hats, I thought of Trump's insults to Megyn Kelly, about her menstrual cycle, "blood coming out of her whatever." On Saturday, we bled pink.
One of the hallmarks of the Trump era is how his supporters make traditional conservatives (those people who simply want to gut social services and bust unions and suspend environmental protections) look like reasonable people. Bush Jr., Aziz Ansari observed on Saturday Night Live after the march, once seemed like a "dildo," and now comes off as an eloquent sage. "What a leader he was!"
Trump is a singular challenge; there is no rational defense for so many of his statements and beliefs about women, Muslims and people of color. And thus the protests against him, not just in D.C. but in my hometowns of Los Angeles and St. Paul, Minnesota; in Portland, Seattle, Austin, Chicago and even London and Florence and Antarctica, evinced a political unity most of us have never experienced in our adult lives.
My friends and I may have glimpsed a Tron at one point, from our perch on Twelfth and Madison, but we never made it to that rally stage. Somewhere off in the distance, Gloria Steinem was saying all the best things, as she always does; Madonna was performing, Alicia Keys was beaming love with a hand on her collarbone and Ashley Judd was booting Michael Moore from the stage for pontificating over his allotted time. But we were still moving along in a tight, amorphous, directionless mass among the august buildings on the banks of the Potomac, the capital site Alexander Hamilton had conceded when Thomas Jefferson caved on the matter of assumption of debts. We sang "The Greatest Love of All" and "Lean on Me" with a group of black women from New Jersey; we joined in the rising cheers that rippled through the crowd like waves, perhaps tied to some event at their source — lost on, and unimportant, to us.
"Is it crazy that I thought we'd have lunch at one of the museums?" I heard a woman say as she waited for the stuck crowd to move again. Yes, it probably was. But isn't it nice to find that out?
Unable to get to any one fixed point, we became the point. We were the point.
People gathering in great numbers have changed the world, for both the better and the worse, several times along the way in modern history, and never was there a moment in my lifetime during which putting one's real, physical, vulnerable form on the line for resistance mattered more. When Trump's spokesperson, Sean Spicer, fought with the press about inauguration attendance, he was admitting that demonstrations matter, that they dispel fantasies of absolute power, that they unsettle would-be tyrants. That they resonate louder than online petitions or calls to congress people or clever tweets. By one estimate, as many as three million people participated in U.S. marches alone.
"Our country is strong enough to survive this," Nancy Mazza had told me early in the day about the election. Those numbers made me think she might be right.

Why 24 Hour Fitness Is Going to the Mat Against Its Own Employees
Co-published by Fast Company
24 Hour Fitness' policies have brought the fitness chain in the crosshairs of the National Labor Relations Board, which has said the company's employee arbitration agreements violate federal labor law.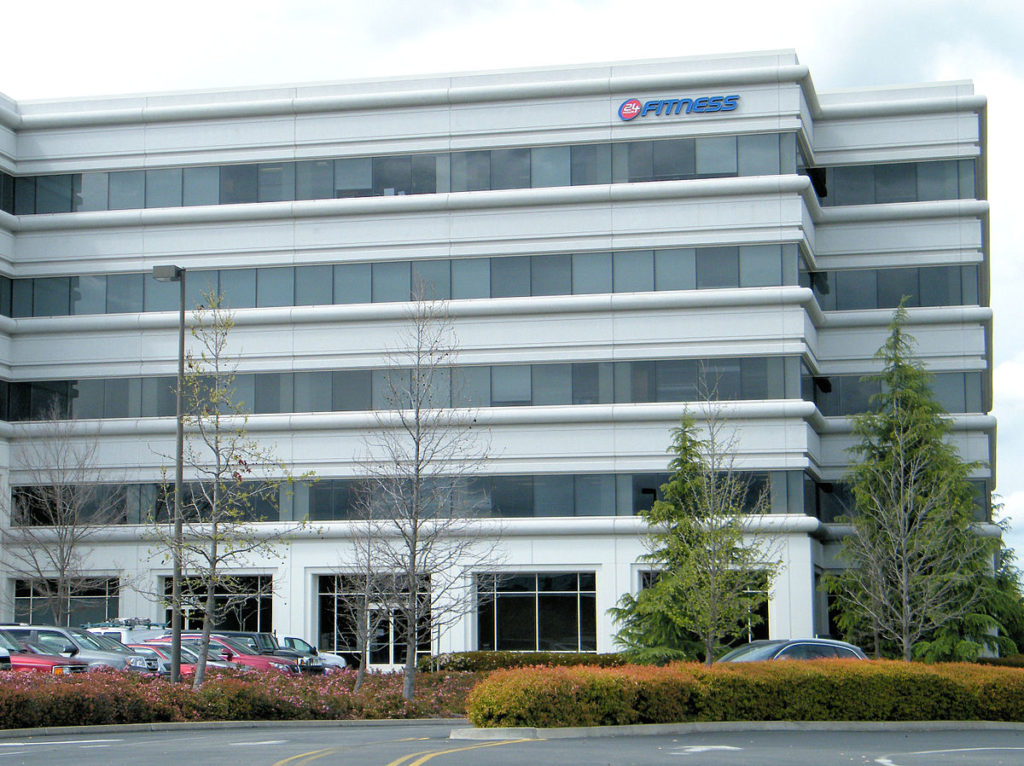 ---
Relentless pressure to sign up new members made one man question the chain's commitment to changing people's lives.
---
Co-published by Fast Company
On its website, 24 Hour Fitness says it has thousands of job openings. That's great news for fitness buffs hunting for work. Or is it?
Disgruntled former employees of the San Ramon, California-based company have filed hundreds of cases over almost two decades, some resulting in settlements in the millions of dollars.
And the large payouts appear to have made 24 Hour Fitness one of the nation's more aggressive advocates for curtailing workers' ability to defend their rights in court, labor lawyers say. That advocacy has also put the almost four-million-member-strong fitness chain in the crosshairs of the National Labor Relations Board, which has said the firm's employee arbitration agreements violate federal labor law.
The company's dispute with the NLRB may make it to the U.S. Supreme Court, which could hear oral arguments next term as to whether the contracts the firm asks workers to sign when they are hired violate historic worker protections put in place as part of New Deal legislation adopted in the 1930s. Those contracts ask employees to waive their right to come together to file class action lawsuits.
---
Attorney:  "24 Hour Fitness has been pretty aggressive in stripping workers of their rights."
---
Some workers say the company's single-minded focus on selling memberships caused it to run afoul of wage and hour law.
"We worked basically 8 to 8 every day no matter what, and if you got a lunch break it was usually at the club, or you went out and came right back," said Gabe Beauperthuy, a former general manager, who worked in fitness centers in Colorado before leaving the company in 2006.
At first, Beauperthuy said, he loved the work and embraced the company's philosophy of personal transformation. But the long days and relentless pressure to sign up new members made him question the company's commitment to changing people's lives, and even his own priorities. He developed a single-minded focus on bringing in the "almighty dollar" for the company because, he explained, "you're a product of your environment."
"I'm thankful that I realized that, and I'm thankful that I'm no longer there," said Beauperthuy, now a competitive amateur wrestler and coach.
24 Hour Fitness declined to comment for this story.
Beauperthuy was one of more than 900 managers, sales counselors and trainers to bring a collective action lawsuit under the Fair Labor Standards Act, alleging the company had misclassified them and denied them overtime pay. After the class was decertified and following seven years of litigation, the group settled for $17.5 million in 2013, according to published reports. The company settled another lawsuit involving thousands of California employees for $38 million, the nation's sixth largest wage and hour class action settlement of 2006.
Those cases may have made 24 Hour Fitness more steadfast in defending their employee arbitration agreement that asks employees to waive their right to bring class action lawsuits in NLRB v. 24 Hour Fitness, which the U.S. Supreme Court may review next year, depending on the outcome of a related case. The fact that 24 Hour Fitness has an employee arbitration agreement with a "class action waiver" does not make it unusual. But the company has been especially aggressive in defending its arbitration agreement in the courts, labor advocates say.
"Historically, there have been a few companies who went out of their way to fight and defend arbitration," says Cliff Palefsky, a San Francisco attorney who filed the unfair labor practice case resulting in the NLRB's finding that 24 Hour Fitness had violated the law. "They've been pretty aggressive in stripping workers of their rights."
About 60 million people—more than half of the non-union private sector workforce—are covered by mandatory arbitration agreements, according to an Economic Policy Institute study. These agreements require employees to resolve disputes through private arbitrators chosen by employers, rather than go through the courts.
An estimated 25 million of these arbitration agreements also include class action waivers, like those used by 24 Hour Fitness, in which employees give up their rights to band together to bring class action suits to address workplace disputes in the courts.
The contract language has received attention in recent months as the "Me Too" campaign has gained steam, and advocates pointed to the difficulty of raising workplace concerns individually in confidential arbitration proceedings that are crafted by the employer. Last year, U.S. Rep. Cheri Bustos (D-IL) introduced a bi-partisan bill that would prevent companies from keeping sexual harassment and sex discrimination claims from going to court, where the proceedings are typically in the public record.
A landmark case expected to be decided by the U.S. Supreme Court this term, National Labor Relations Board v. Murphy Oil USA, will determine whether class action waivers will be a continuing feature of employment contracts. It will also decide the fate of NLRB's dispute with 24 Hour Fitness.
"If the NLRB loses Murphy Oil, then our case would suffer the same fate, essentially," says Palefsky. In its Supreme Court brief, 24 Hour Fitness distinguishes its employment agreements from those at issue in the Murphy Oil case because the fitness employees are given 30 days to opt out of the class action ban.
But Palefsky counters that the rarely-used "opt out" provision is irrelevant because a worker's right to act collectively is one that cannot be signed away.
The argument about class action waivers might seem an academic one to job seekers if 24 Hour Fitness is now complying with the law.
There have been 621 employment cases filed in the federal courts against 24 Hour Fitness since 2000. On a per-establishment basis, that's more than eight times as many as have been filed against its competitor, Gold's Gym, during the same time period, according to a Capital & Main review of federal court records.
The disproportionately large number of cases is likely linked to the battle that took place between 24 Hour Fitness and Beauperthuy's attorney, Richard Donahoo, who continued to fight for his 900 or so clients even after a federal judge in San Francisco granted a 24 Hour Fitness motion in 2011 to decertify the class. (The judge's ruling that the plaintiffs' claims were not sufficiently similar prevented the case from moving forward as a collective action—not the class action decertification language–but the effect was similar.)
"Many times that means it's the death of the case because people don't want to proceed individually," said Donahoo, who is based in Orange County. "Attorneys can't do it economically."
Nevertheless, Donahoo and his colleagues decided to "swallow hard" and fight for each plaintiff individually. They filed hundreds of individual petitions in federal court to compel the company to arbitrate claims in Northern California, where 24 Hour Fitness is headquartered, and successfully fended off 24 Hour Fitness's efforts in 21 federal courts across the country to force the arbitration proceedings to take place near the clubs where each of the former employees had worked.
"Our case became a 'careful what you wish for' scenario for the company," Donahoo said. The company ultimately agreed to a settlement that resolved the individual claims at once.
Since then, 24 Hour Fitness has changed ownership. AEA Investors LP, a New York-based private equity firm, Fitness Capital Partners of Palm Beach, Florida, and the Toronto-based Ontario Teachers' Pension Plan purchased the firm in 2014 in a leveraged buyout. But reasons remain to be concerned about the practice of the fitness company, which employs about 20,000 workers and operates in a highly competitive industry.
In November, the company agreed to pay restitution and settled a lawsuit for $1.3 million filed by Orange County prosecutors, stemming from allegations the company increased annual renewal rates on prepaid memberships beginning in 2015 in violation of its contracts with customers. Customers were sold prepaid memberships and charged upfront fees with the guarantee of a low life-time renewal rate in 2006 but saw their rates rise as much as 300 percent nine years later, according to the Orange County Register. The company admitted no wrongdoing in the settlement agreement.
Last May, the ratings agency Moody's changed 24 Hour Fitness' investment outlook from "stable" to "negative." In justifying the downgrade, the report pointed to the growing number of fitness centers and the fact that the company is highly leveraged. The purchase of the company in 2014 was financed with $1.35 billion in debt, about 75 percent of the total cost, according to the Moody's report.
Moody's also singled out rising labor costs due to increases in the minimum wage in many of the regions where 24 Hour Fitness operates, suggesting the company employs a large number of low wage workers. Most of the clubs are concentrated in three states — California, Texas and Colorado.
"The company should be able to offset some of the pressure from minimum wage increases by using labor optimization, and reallocating the labor force within clubs based upon their age and member profile," according to Moody's report.
The economic pressures 24 Hour Fitness faces may explain the experience of one Ms. Randle, a former Kids' Club attendant, who asked that her first name not be used. She worked at a 24 Hour Fitness in Orange County from 2014 to 2016.
She said managers told her not to leave her post to take a break or use the rest room during her four-hour shift because the other staff on duty lacked the necessary clearance to work with children. She complained to managers and eventually to the human resources department, but had to file a complaint with the California Labor Commissioner's Office to resolve the issue and secure back pay for missed rest breaks, she said.
Ms. Randle thought that one of her co-workers endured repeated urinary tract infections that could have been caused by not being able to take bathroom breaks. Randle felt the managers lacked proper training. "They were always focused on selling memberships," she said. "They didn't care too much about their employees."
---
Roxane Auer provided additional research for this story.
Copyright Capital & Main