Women's March on Washington: The Day We Bled Pink
It had been so long since I'd been at a demonstration, a real demonstration – one hung on the scaffolding of sincerely determined resistance and hope — that I'd forgotten how to conduct myself.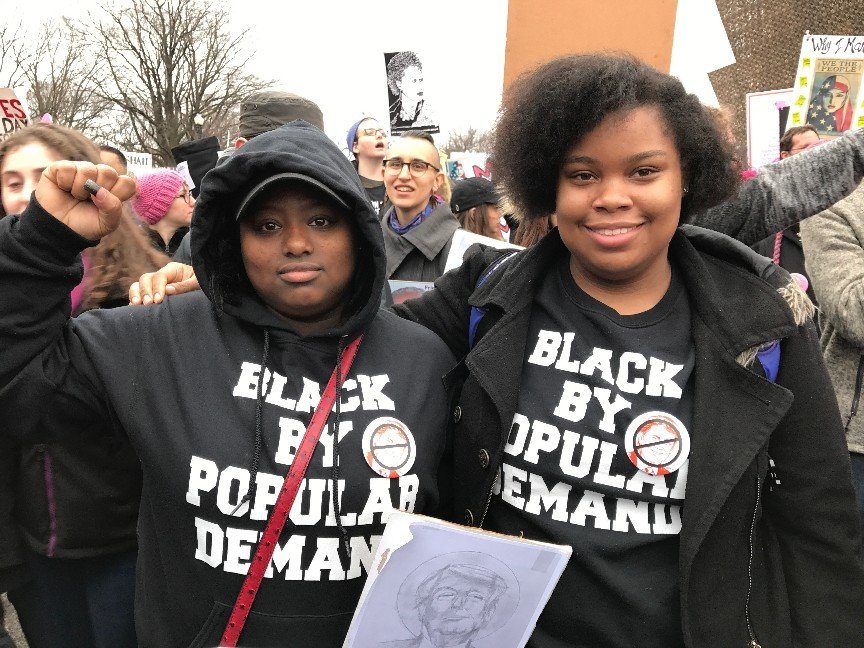 Video and photographs by Lisa Michurski
It had been so long since I'd been at a demonstration, a real demonstration – one hung on the scaffolding of sincerely determined resistance and hope — that I'd forgotten how to conduct myself. I thought, naively, that we would all be walking toward a "somewhere" — perhaps a stage with speakers that would start at an appointed time, a place where we would gather and cheer and be collectively overawed by our long-admired cultural warriors. I got there a whole hour early, with Friends Who Plan — enough time, we thought, to walk toward that rally stage, open my cane that turns into a chair, and take in the proceedings.
But for two hours we were packed shoulder to shoulder with women (and men) in pink hats, knitted and crocheted so the tops of the sides would stick up like cat ears. Together, unherded, we plodded toward the stage that had been erected at the intersection of Third and Independence.
We didn't expect to get close. There would be Jumbotrons. "Can you see the Tron?" emitted from the crowd as commonly as a chant, along with "Do you have the map?" and "Is FireChat working?" No one had cell service. And everyone chattered endlessly about pussyhats: Knit, crochet or sewn with felt? Circular needle or one straight panel? Gifted or DIY? It was a brilliant solidarity art project: A handmade, uniform but personal fashion accessory as the emblem of global resistance.
From the looks of things on Saturday, it appears that, thanks to Donald Trump, maybe for once good people can put aside their differences and get something done. We have been taken to the edge of the cliff and had a chance to look over, and now we're hanging on to each other for dear life. It's the reason Nancy Mazza traveled from San Francisco, with her partner, to the nation's capital to march for the first time in her life. "And I was born in 1948," she said. "Vietnam, gay rights, Planned Parenthood — I didn't march for any of those things. But this time I had to be here."
It's the reason Mercedez Quarles, 23, and her friend Sereen Peace, 22, both seniors at Thiel College in Greenville, Pennsylvania, went out of their way to be inclusive in their reasons for marching. "We're marching for women's rights, for people with disabilities, for everybody," said Quarles, she and her friend gleeful in their "Black by Popular Demand" T-shirts.
Larissa Jones had organized a contingent of marchers from Indiana. "Hoosiers! Over here!" she ordered as she wove them in long lines through the crowd. "A lot of people decided the day-of to join us," she shouted back at me as she led them away. I thought of them watching the inauguration speech the day before, and rearranging their weekend plans to board that bus.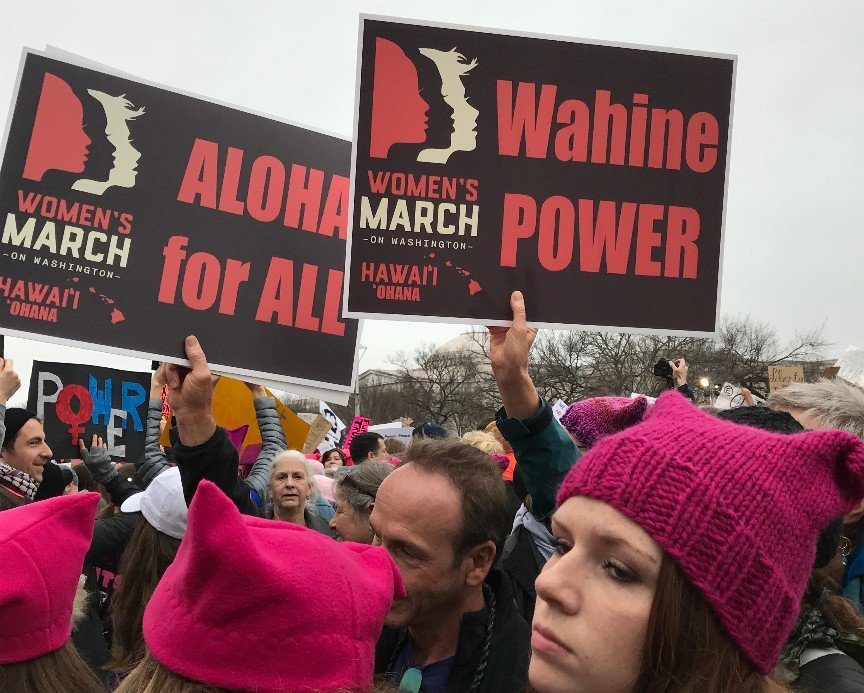 "There's a good vibe here," David Parrella, a 66-year-old marcher from West Hartford, Connecticut, told me as we sat together under a statue of Ulysses S. Grant, surveying the gathering pinkness. "People aren't discouraged. They're ready to fight, but with graciousness and good humor."
Parrella had worried there'd be a lot of bitterness, and with good reason — as the former chair of the National Association of Medicaid Directors. He has contributed expertise to the Affordable Care Act's Medicaid expansion and has watched as the endangered law has transformed states' health care for the poor. "Sixteen of 31 states that took the Medicaid expansion have Republican governors," he told me. "States with socially liberal but fiscally conservative governments won't want to go back," he said.
I imagined some conservative governors being here, too, mingling with the newly married lesbians worried about the continued legality of their unions; and the Muslims whose very existence in their country has been openly threatened; and the people like us, feminists pissed off about the whole shebang, from the unleashing of racial hatred to climate denial to the sheer ludicrousness of the man who built his gaudy political career on conspiracies of white oppression now occupying the highest office in the land. Nothing like a common enemy to forge a united front.
I suspect that was the reason for the absence of animosity Parrella observed, which by midday had evolved into actual kindness and deference, with men helping older women climb to the top of trucks and later descend from them, women offering their hands to help an arthritic stranger negotiate curbs. Another factor in the calm of the D.C. march, at least, was the equanimity of the local police force. Dispatched to check out an unattended package, one trio of cops had found a lost purse, and were relentlessly trying to find its owner by showing strangers the woman's picture on her iPhone.
My friend Lisa and I had been here before. In 2001, we had come to D.C. to protest the inauguration of George W. Bush, because we believed he had stolen the election from Al Gore. (I had a lot of nerve; I had voted for Nader, albeit in a swing state.)
Demonstrations would gain steam over the years that followed, as the Bush administration launched its war on Iraq and deportations of non-citizens accelerated under Barack Obama. But none had quite the unifying force of Saturday's marches, which felt, as one sign put it, not like "one day of resistance but day one of the resistance."
Nor did protest memes ever have such rich fodder: Dubious quotes ("'WHAT THE FUCKING HELL'," read one sign, attributing the sentiment to "A. Lincoln"); women's reproductive rights (more than one sign featured ovaries turned into fists); and Trump himself. My favorite chant: "We don't want your tiny hands/anywhere near our underpants!" Looking out at the sea of pink hats, I thought of Trump's insults to Megyn Kelly, about her menstrual cycle, "blood coming out of her whatever." On Saturday, we bled pink.
One of the hallmarks of the Trump era is how his supporters make traditional conservatives (those people who simply want to gut social services and bust unions and suspend environmental protections) look like reasonable people. Bush Jr., Aziz Ansari observed on Saturday Night Live after the march, once seemed like a "dildo," and now comes off as an eloquent sage. "What a leader he was!"
Trump is a singular challenge; there is no rational defense for so many of his statements and beliefs about women, Muslims and people of color. And thus the protests against him, not just in D.C. but in my hometowns of Los Angeles and St. Paul, Minnesota; in Portland, Seattle, Austin, Chicago and even London and Florence and Antarctica, evinced a political unity most of us have never experienced in our adult lives.
My friends and I may have glimpsed a Tron at one point, from our perch on Twelfth and Madison, but we never made it to that rally stage. Somewhere off in the distance, Gloria Steinem was saying all the best things, as she always does; Madonna was performing, Alicia Keys was beaming love with a hand on her collarbone and Ashley Judd was booting Michael Moore from the stage for pontificating over his allotted time. But we were still moving along in a tight, amorphous, directionless mass among the august buildings on the banks of the Potomac, the capital site Alexander Hamilton had conceded when Thomas Jefferson caved on the matter of assumption of debts. We sang "The Greatest Love of All" and "Lean on Me" with a group of black women from New Jersey; we joined in the rising cheers that rippled through the crowd like waves, perhaps tied to some event at their source — lost on, and unimportant, to us.
"Is it crazy that I thought we'd have lunch at one of the museums?" I heard a woman say as she waited for the stuck crowd to move again. Yes, it probably was. But isn't it nice to find that out?
Unable to get to any one fixed point, we became the point. We were the point.
People gathering in great numbers have changed the world, for both the better and the worse, several times along the way in modern history, and never was there a moment in my lifetime during which putting one's real, physical, vulnerable form on the line for resistance mattered more. When Trump's spokesperson, Sean Spicer, fought with the press about inauguration attendance, he was admitting that demonstrations matter, that they dispel fantasies of absolute power, that they unsettle would-be tyrants. That they resonate louder than online petitions or calls to congress people or clever tweets. By one estimate, as many as three million people participated in U.S. marches alone.
"Our country is strong enough to survive this," Nancy Mazza had told me early in the day about the election. Those numbers made me think she might be right.
No Apologies: Bill de Blasio on Economic Inequality, 2020 and the Amazon Deal
"We must nominate a solid progressive," says New York's mayor about the Democrats' next presidential candidate. "That's the only way we can change the country. It's also the only way we can win."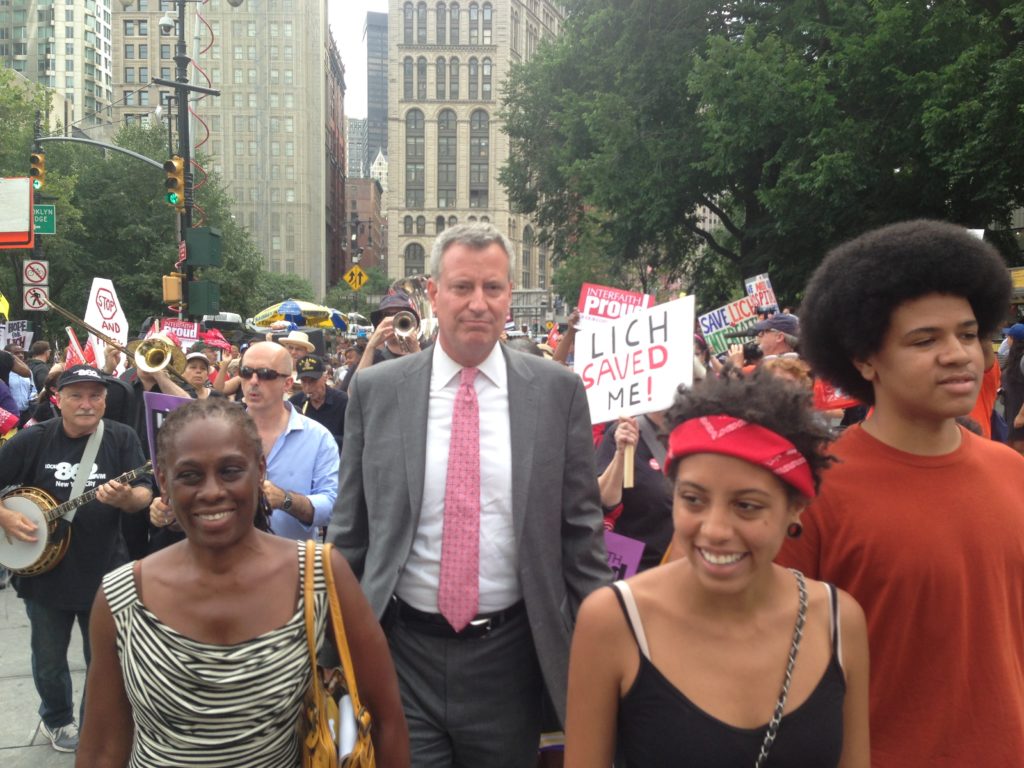 What can municipal leaders do about economic inequality? New York Mayor Bill de Blasio says they can do a lot — and he argues that the Big Apple is proof. He also contends that in the upcoming 2020 presidential election, Democrats must boldly confront the issue and reject centrist candidates like his predecessor Michael Bloomberg, who de Blasio says represent the interests of the wealthy.
De Blasio was elected to the city's top office after he made economic inequality the central issue in his campaign. During his 2013 run, he said New York had "become a tale of two cities, a place where City Hall has too often catered to the interests of the elite rather than the needs of everyday New Yorkers." The facts underscored his assertion: the New York City area is one of America's most economically unequal locales — a place that has both the world's largest number of billionaires and a 19 percent poverty rate.
As mayor, de Blasio has backed a universal health care initiative, rent stabilization laws, affordable housing programs and wage increases for municipal workers.
In recent weeks he has faced criticism for supporting the now-defunct deal to bring Amazon's second headquarters to New York. Deal critics claimed that the deal would have needlessly enriched a wealthy corporation whose business model has been laying waste to small local businesses.
Capital & Main reporter David Sirota caught up with de Blasio to discuss his record, the Amazon deal and the next presidential election. What follows is an edited excerpt of the conversation.
---
What can municipal leaders do at the local level to address economic inequality?
When I ran in 2013, I talked about economic inequality. I talked about a tale of two cities, and the constant refrain I heard from a lot of pundits and journalists was: That's not something that can be addressed locally — that can only be handled on a federal level, maybe a state level. [But] I argued that we had extraordinary tools…to really have an impact in the here and now…
At the local level, we increased the minimum wage to $15 an hour for public workers and nonprofit workers that got public support through their nonprofits. We did a paid parental leave…Pre-K for all — [whose] average expense for a family [is] $10,000 to $15,000 a year per child, if you had to pay for the same kind of time for your kid during the day in a private setting…We're providing afterschool as a universal guarantee for all middle school kids…With guaranteed health care, we're ensuring that 600,000 New Yorkers who have no health insurance will have either very low cost health insurance on a sliding scale or it will be refi'ed for free if they can't afford it.
All of this puts money back in people's pockets [and] I think that question in every locality in America is, how far can you go? How far can you go to addressing income inequality because it really adds up….We don't have the tools to tax the wealthy in the way we should at the local level, but we do have the ability to redistribute. We do have the ability in a powerful way to raise the floor.
Where have you had to make the biggest compromises?
Everything dealing with the state government has been a practicing compromise. I said, "I think the fair way to go about funding Pre-K would have been a millionaire's tax." We couldn't get it. We had to figure out a different funding formula to get enough money to get it up and running nonetheless.
We found a huge challenge also [with] the state government on how to handle the problem of our subways. So far we've ended up with bits and pieces of agreement and some forward motion, but not enough.
Here we are in the center of global capitalism and in a place where there's some very powerful interests that don't share my philosophy, but I have not felt held back in the scheme of things that much, and I attribute it to having strong political support on the ground. I attribute it to the fact that there's a real belief in a progressive vision. There's a real energy behind the notion of addressing these core issues, and honestly, the folks who tried to stand in our way have not had a lot of success in the bigger scheme of things.
The Amazon HQ2 deal that you supported has generated a lot of criticism from those who argued that it was a taxpayer giveaway to a big corporation. What is your response to that criticism?
The vast majority of the incentives in place were state law incentive programs available to any companies that met certain criteria. They have been on the books for a long time and Amazon tapped into them the way any company could have.
I respect the variety of voices that have been raised against the deal. I really do. But I want to say there's really not been a discussion previous to this deal about these kind of programs that have existed for a long time. Some of the folks who are very strongly criticizing this deal had previously voted for these very same incentive programs. I think there needs to be a bigger examination of what's going on here…
The state had one piece of the subsidy plan that they tailor-made [for] Amazon. The city would not do that…Under my administration we will not make a tailor-made incentive plan for any company. Whether it's about coming here or staying here, we just won't do it. We've made that clear. I think that's a race to the bottom. Amazon wanted us to give them specific incentives, we wouldn't do it…
Then the obvious pragmatic question: Was I going to let 25,000 to 40,000 jobs go because a lot of us have differences with Amazon as a company? Was that a reason to let those jobs go to Virginia or to Dallas, Texas or someplace else, when they could have a very positive impact for New Yorkers in terms of their lives and their employment, but also on the revenue base that we have?
This [was] going to bring in a huge amount of revenue to help us with the things that we focus on as a progressive city. With affordable housing and with initiatives to get people jobs and all sorts of other things we do. All of those pieces went into the equation for me.
After years of divided control, the New York legislature has full Democratic majorities in both houses, and the governor of New York is a Democrat. What do you want to see from this Democratic state government in the upcoming year?
So they've already passed major new gun safety legislation. They've passed the New York version of the Dream Act. They've passed reproductive rights legislation and fundamental election reforms. Things that we never could have gotten in this state for decades, like early voting, same-day registration. A huge number of things are happening already.
I think going forward we have to fix our subways and I think a billionaire's tax is the best way to do it…We need to strengthen our rent regulations. I know our colleagues out in California tried to get a referendum passed and it didn't succeed, but in this state we have created strong rent laws at least for New York City, but we need to make them a lot stronger given the cost of living here.
We [need] a school system with mayoral control [and] a vacancy tax. This is something that stops landlords from withholding their properties from small business…We need to eliminate cash bail. We need to have the legislation to speed up the trial process so we can reduce the number of people incarcerated.
You are not ruling out a presidential bid in 2020. What do you think needs to be front and center in those Democratic primaries?
My basic message is [that] this is a progressive moment, we must nominate a solid progressive. That's the only way we can change the country, but it's also the only way we can win. I am very clear that nominating a centrist would just set us back and I've said publicly that centrists need not apply in 2020 in the Democratic Party.
The only thing I think that would cause us to lose in this moment, where we should be poised for great victory, is if the American people can't really tell the Democratic Party apart from the Republican Party, and that's been the case in way too many elections. But we have a chance here to be uncompromising and to be clear. And it starts with addressing income inequality.
It has to be abundantly clear that we are comfortable calling for higher taxes on the wealthy, that we're comfortable acknowledging that this is a very wealthy country. There's plenty of money, it's just in the wrong hands, and we have to be open about that.
We have to be a clear and blunt and progressive populism. The word "populist" to me should never be applied to the right wing like they have a trademark on it, and it's a negative. When I think of populism, I think of progressive economic populism that has existed for many, many decades, which is progressives saying we're on the side of the people and we are willing to take on the elites of the status quo.
But that begins with real simple litmus-test ideas. Are you willing to greatly increase taxes on the wealthy or not? If you're willing to do it, you're a solid progressive. You're going to have a really energetic audience out there. You're going to show the difference between our party and the other party…
I think this party should stand for Medicare for All [and] should be absolutely unapologetic about it…You're paying way too much in all sorts of ways right now for your health care. A Medicare for All system would be more fair, more consistent, more universal.
If we're talking that language, we're going to move people and we're going to redefine what the Democratic Party is, and I think it can turn into a party that wins consistently. But if we don't speak that language, it's not going to surprise me if we once again struggle in places like the industrial Midwest or Florida, and so I want to see the party come to a real consensus around this…
I want to see that whatever we do in the end, it's clear that we both have a sharp, strong ideology that we're comfortable [with] and that we actually have an idea how to make it happen. Because if people perceive it as [being] long on theory, short on reality, that will also alienate working people who are depending on us to get it done, so we have to show this is the kind of thing that can actually happen in real life.
Your immediate predecessor, billionaire Michael Bloomberg, is considering running in the Democratic primary. What do you think of his potential candidacy?
There were things I agreed with Michael Bloomberg on as mayor and there were very clearly things I disagreed [with], but as a candidate for president, let's begin at the beginning. This party is not nominating a billionaire, nor should we nominate a billionaire.
Billionaires in this country got there in large measure through very favorable government policies that helped them every step along the way, starting with favorable tax policies. The folks in the one percent have benefited from exactly what's wrong. And that's not who I'm turning to to fix the problem.
Also, Michael Bloomberg's been abundantly clear. He is a free marketeer. He doesn't want to see a strong government disrupting what's wrong with the free enterprise system, and to stand up for everyday people. That's just not who he is.
This guy is part of that one percent establishment that created the problem. Lord knows this is not the person we turn to, if we're trying to establish a progressive, consistent, uncompromising, strong Democratic Party…
If Bloomberg or Howard Schultz were nominated, it would once again say to the American people, "You can't depend on the Democratic Party to be on your side," and it would confirm to people it's the party of the elites, not the party of working people.
---
Copyright Capital & Main