Women's March on Washington: The Day We Bled Pink
It had been so long since I'd been at a demonstration, a real demonstration – one hung on the scaffolding of sincerely determined resistance and hope — that I'd forgotten how to conduct myself.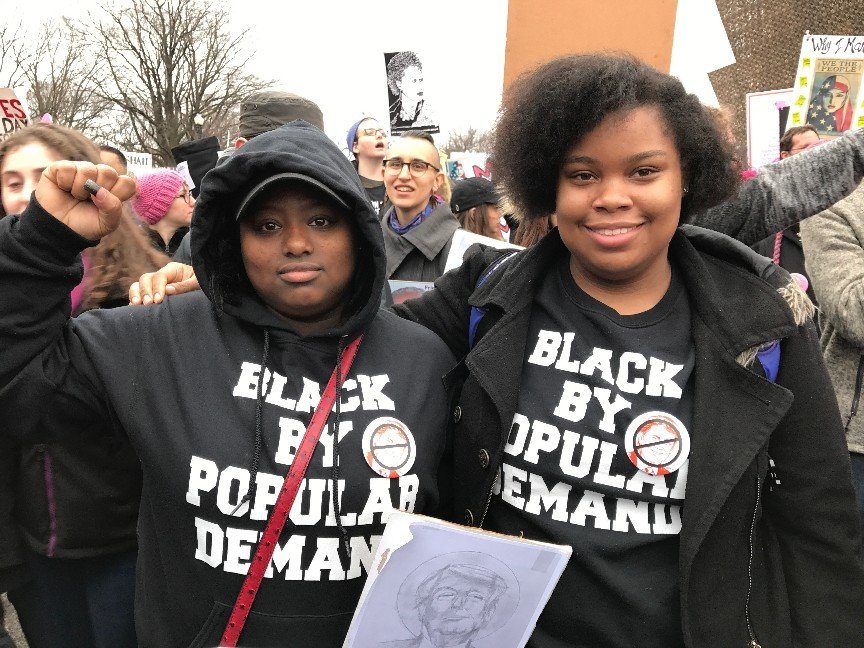 Video and photographs by Lisa Michurski
It had been so long since I'd been at a demonstration, a real demonstration – one hung on the scaffolding of sincerely determined resistance and hope — that I'd forgotten how to conduct myself. I thought, naively, that we would all be walking toward a "somewhere" — perhaps a stage with speakers that would start at an appointed time, a place where we would gather and cheer and be collectively overawed by our long-admired cultural warriors. I got there a whole hour early, with Friends Who Plan — enough time, we thought, to walk toward that rally stage, open my cane that turns into a chair, and take in the proceedings.
But for two hours we were packed shoulder to shoulder with women (and men) in pink hats, knitted and crocheted so the tops of the sides would stick up like cat ears. Together, unherded, we plodded toward the stage that had been erected at the intersection of Third and Independence.
We didn't expect to get close. There would be Jumbotrons. "Can you see the Tron?" emitted from the crowd as commonly as a chant, along with "Do you have the map?" and "Is FireChat working?" No one had cell service. And everyone chattered endlessly about pussyhats: Knit, crochet or sewn with felt? Circular needle or one straight panel? Gifted or DIY? It was a brilliant solidarity art project: A handmade, uniform but personal fashion accessory as the emblem of global resistance.
From the looks of things on Saturday, it appears that, thanks to Donald Trump, maybe for once good people can put aside their differences and get something done. We have been taken to the edge of the cliff and had a chance to look over, and now we're hanging on to each other for dear life. It's the reason Nancy Mazza traveled from San Francisco, with her partner, to the nation's capital to march for the first time in her life. "And I was born in 1948," she said. "Vietnam, gay rights, Planned Parenthood — I didn't march for any of those things. But this time I had to be here."
It's the reason Mercedez Quarles, 23, and her friend Sereen Peace, 22, both seniors at Thiel College in Greenville, Pennsylvania, went out of their way to be inclusive in their reasons for marching. "We're marching for women's rights, for people with disabilities, for everybody," said Quarles, she and her friend gleeful in their "Black by Popular Demand" T-shirts.
Larissa Jones had organized a contingent of marchers from Indiana. "Hoosiers! Over here!" she ordered as she wove them in long lines through the crowd. "A lot of people decided the day-of to join us," she shouted back at me as she led them away. I thought of them watching the inauguration speech the day before, and rearranging their weekend plans to board that bus.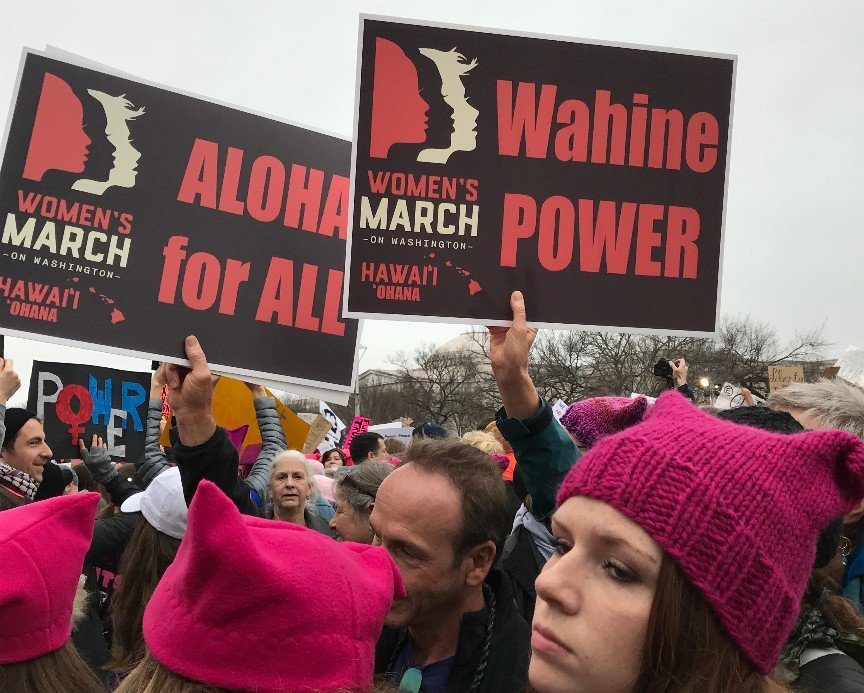 "There's a good vibe here," David Parrella, a 66-year-old marcher from West Hartford, Connecticut, told me as we sat together under a statue of Ulysses S. Grant, surveying the gathering pinkness. "People aren't discouraged. They're ready to fight, but with graciousness and good humor."
Parrella had worried there'd be a lot of bitterness, and with good reason — as the former chair of the National Association of Medicaid Directors. He has contributed expertise to the Affordable Care Act's Medicaid expansion and has watched as the endangered law has transformed states' health care for the poor. "Sixteen of 31 states that took the Medicaid expansion have Republican governors," he told me. "States with socially liberal but fiscally conservative governments won't want to go back," he said.
I imagined some conservative governors being here, too, mingling with the newly married lesbians worried about the continued legality of their unions; and the Muslims whose very existence in their country has been openly threatened; and the people like us, feminists pissed off about the whole shebang, from the unleashing of racial hatred to climate denial to the sheer ludicrousness of the man who built his gaudy political career on conspiracies of white oppression now occupying the highest office in the land. Nothing like a common enemy to forge a united front.
I suspect that was the reason for the absence of animosity Parrella observed, which by midday had evolved into actual kindness and deference, with men helping older women climb to the top of trucks and later descend from them, women offering their hands to help an arthritic stranger negotiate curbs. Another factor in the calm of the D.C. march, at least, was the equanimity of the local police force. Dispatched to check out an unattended package, one trio of cops had found a lost purse, and were relentlessly trying to find its owner by showing strangers the woman's picture on her iPhone.
My friend Lisa and I had been here before. In 2001, we had come to D.C. to protest the inauguration of George W. Bush, because we believed he had stolen the election from Al Gore. (I had a lot of nerve; I had voted for Nader, albeit in a swing state.)
Demonstrations would gain steam over the years that followed, as the Bush administration launched its war on Iraq and deportations of non-citizens accelerated under Barack Obama. But none had quite the unifying force of Saturday's marches, which felt, as one sign put it, not like "one day of resistance but day one of the resistance."
Nor did protest memes ever have such rich fodder: Dubious quotes ("'WHAT THE FUCKING HELL'," read one sign, attributing the sentiment to "A. Lincoln"); women's reproductive rights (more than one sign featured ovaries turned into fists); and Trump himself. My favorite chant: "We don't want your tiny hands/anywhere near our underpants!" Looking out at the sea of pink hats, I thought of Trump's insults to Megyn Kelly, about her menstrual cycle, "blood coming out of her whatever." On Saturday, we bled pink.
One of the hallmarks of the Trump era is how his supporters make traditional conservatives (those people who simply want to gut social services and bust unions and suspend environmental protections) look like reasonable people. Bush Jr., Aziz Ansari observed on Saturday Night Live after the march, once seemed like a "dildo," and now comes off as an eloquent sage. "What a leader he was!"
Trump is a singular challenge; there is no rational defense for so many of his statements and beliefs about women, Muslims and people of color. And thus the protests against him, not just in D.C. but in my hometowns of Los Angeles and St. Paul, Minnesota; in Portland, Seattle, Austin, Chicago and even London and Florence and Antarctica, evinced a political unity most of us have never experienced in our adult lives.
My friends and I may have glimpsed a Tron at one point, from our perch on Twelfth and Madison, but we never made it to that rally stage. Somewhere off in the distance, Gloria Steinem was saying all the best things, as she always does; Madonna was performing, Alicia Keys was beaming love with a hand on her collarbone and Ashley Judd was booting Michael Moore from the stage for pontificating over his allotted time. But we were still moving along in a tight, amorphous, directionless mass among the august buildings on the banks of the Potomac, the capital site Alexander Hamilton had conceded when Thomas Jefferson caved on the matter of assumption of debts. We sang "The Greatest Love of All" and "Lean on Me" with a group of black women from New Jersey; we joined in the rising cheers that rippled through the crowd like waves, perhaps tied to some event at their source — lost on, and unimportant, to us.
"Is it crazy that I thought we'd have lunch at one of the museums?" I heard a woman say as she waited for the stuck crowd to move again. Yes, it probably was. But isn't it nice to find that out?
Unable to get to any one fixed point, we became the point. We were the point.
People gathering in great numbers have changed the world, for both the better and the worse, several times along the way in modern history, and never was there a moment in my lifetime during which putting one's real, physical, vulnerable form on the line for resistance mattered more. When Trump's spokesperson, Sean Spicer, fought with the press about inauguration attendance, he was admitting that demonstrations matter, that they dispel fantasies of absolute power, that they unsettle would-be tyrants. That they resonate louder than online petitions or calls to congress people or clever tweets. By one estimate, as many as three million people participated in U.S. marches alone.
"Our country is strong enough to survive this," Nancy Mazza had told me early in the day about the election. Those numbers made me think she might be right.
Los Angeles' Measure B Is a Moonshot Aimed at Creating a Public Bank
A baby step toward establishing municipal banking in America's second-largest city would be a giant leap for this national movement.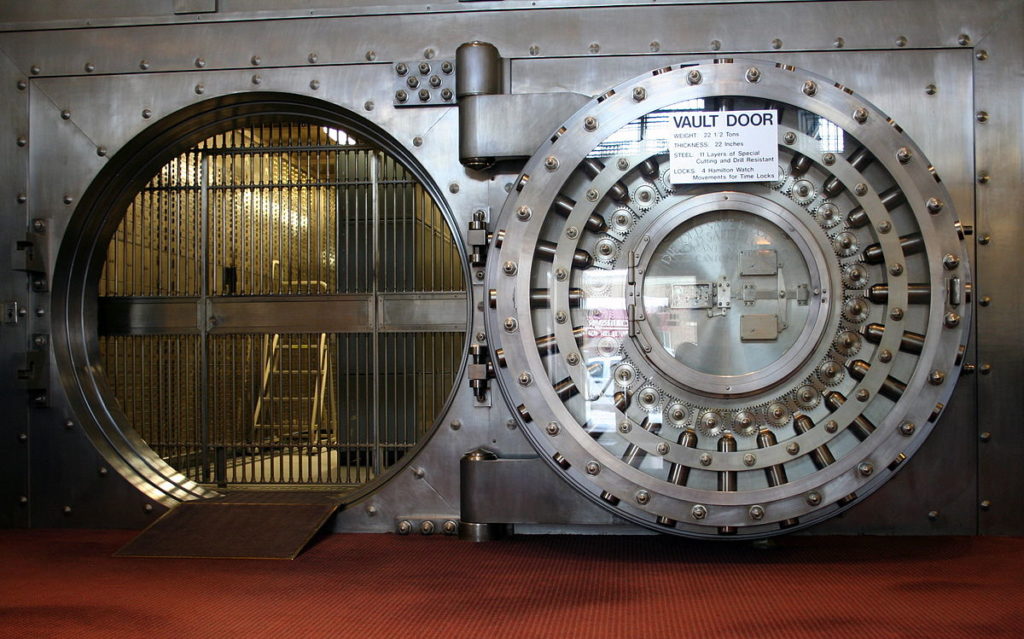 A ballot measure in support of creating a public bank in Los Angeles could serve as a referendum on an idea that has gained traction in cities and states across the country since the 2008 financial crisis.
"To have a resounding 'Yes' vote from Los Angeles, which is one of the most powerful opinion centers of the world, would be tremendously historic," says Trinity Tran, co-founder of Public Bank LA, an advocate for Measure B, which would amend the city charter to allow the city to establish a municipal bank.
But Measure B is a baby step in what promises to be a lengthy process to set up a municipal bank whose stated purpose is to provide the nation's second-largest city with a socially responsible and cost-effective alternative to Wall Street banks.
The movement for public banks draws inspiration from the success of a 99-year-old public bank in the red state of North Dakota and from Germany's network of over 400 regional public banks (or Sparkassen), which advocates say provided significant funds for the development of that country's renewable energy sector.
Since the Great Recession, over 20 U.S. states have introduced bills to establish state-owned banks or to study their economic feasibility. New Jersey Democratic Governor Phil Murphy, a former Goldman Sachs executive, successfully campaigned for his current job on the promise of creating a state-owned bank. And California's gubernatorial frontrunner Gavin Newsom has made the formation of a state bank that would fund infrastructure, student loans and housing part of his platform as well.
A lack of resources is one motivation for city and state leaders' interest in public banking, said Deborah Figart, a distinguished professor of economics at Stockton University in New Jersey.
After the Great Recession, "we really became much more aware of unmet infrastructure needs," said Figart, who conducted an economic impact study for the proposed New Jersey bank. The American Society of Civil Engineers gives the U.S. a D+ grade for the state of its roads, bridges and other infrastructure — "practically a failing grade," she noted. Meanwhile, local governments devote a significant portion of their budgets to paying interest on bonds that go to Wall Street banks and finance companies at a time when interest rates are on the rise.
In Los Angeles, the push for the bank emerged from grassroots activists who demanded that the city divest from San Francisco-based Wells Fargo, whose aggressive sales practices resulted in more than three million deposit and credit card accounts being opened without customers' knowledge.
"We knew that it wasn't really divesting if we were going to move our money to another predatory extractive bank," said Tran. "So we introduced public banking early on in the campaign as a permanent solution to housing the city's public finances."
Last year, the city paid $1.1 billion in interest to bondholders, which in turn funds "wars and pipelines and private prisons," said Tran, who would rather see tax money put to work to address city needs like housing and clean energy. Her banking advocacy began four years ago when she started meeting with fellow activists in Koreatown coffee shops. As of October 20, "Yes on B" supporters had raised $10,128 for the measure, according to the Los Angeles City Ethics Commission. No committee has been formed to oppose the measure.
There are critics, however. Rob Nichols, president and CEO of the American Bankers Association, writing in The Hill, fears that the public bank proposal would suffer from a "scattered business focus" and fall under "undue political influence" that would result in risky loans that would damage the public purse.
"It's easy to make the banks the bad guy," said Stuart Waldman, president of the Valley Industry and Commerce Association. But "it's not easy to run a bank," and a municipal bank would require significant start-up capital. "This is public money, so if they lose public money, if they realize that it doesn't work, that hurts every person in L.A."
The Los Angeles Times editorialized that the measure was one of "the most ill-conceived, half-baked ballot measures in years" and urged a no vote, in part, because the measure does not articulate a vision or plan for the bank.
But if the proposal on the ballot lacks detail, it's because city officials have not wanted to invest in a business plan and feasibility study while the city is still prohibited by its charter from operating a bank, City Council President Herb Wesson told a news conference in October.
Wesson assured reporters that there was "no way on God's green earth" the city would move to create a municipal bank without a subsequent citywide vote on a more detailed plan, and the ballot argument in favor of the measure that goes to every city voter says as much. For now, voters are only being asked to remove a legal hurdle in the charter that prevents the city from establishing a municipal financial institution.
Proponents of public banking regularly point to the Bank of North Dakota as a model. The Progressive-era institution was created in 1919 out of frustration with a banking system that was putting the squeeze on farmers. The bank was initially greeted with suspicion by a national press corps anxious about a Bolshevik incursion into the finance sector. But the bank, now very much part of the state's business establishment, has seen record profits for 14 consecutive years. Because it steered clear of the volatile derivatives market, the Bank of North Dakota avoided the upheaval many financial institutions suffered when the housing market tanked in 2008.
"It's partly because you have civil servants in charge rather than folks whose paychecks depend on how much money the bank makes in a quarter," Sam Munger, director of external affairs for the State Innovation Exchange, told The American Prospect.
Considered a "banker's bank" with a $4.9 billion loan portfolio that supports agriculture, business, homeownership and higher education, the Bank of North Dakota does not compete with other financial institutions.
"It's not a bank for regular household customers, for car loans, credit cards and mortgages," said Figart. "It is a bank for accepting public deposits and lending mostly to the public sector or public-private partnerships."
Wesson has talked about L.A.'s municipal bank as a place where the cannabis industry could park its cash since pot is illegal under federal law. Such a move could restrict the bank's ability to make federal wire transfers, but the L.A. activists who back the initiative see other uses for the bank.
"For our organization, it was never about cannabis; it was always about neighborhood issues," says Gisele Mata, housing organizer of Alliance for Californians for Community Empowerment, a community-based non-profit that has been part of the coalition advocating the bank.
Public Bank LA leaders envision Los Angeles's municipal bank playing a similar role to that of the Bank of North Dakota, but focusing on the city's priorities. "It would start as a banker's bank for the city, refinancing city debt and trying to consolidate the investment away from Wall Street and harmful extractive industries," co-legislative director David Jette told KPCC-FM in October.
Public Bank LA, he added, also envisions the municipal bank "partnering with local credit unions and community banks" to fund housing, small businesses, low-interest student loans, renewable energy projects and, eventually, credit for the underbanked. The bank could also fund infrastructure projects more cheaply than commercial banks by avoiding the interest and fees that go to commercial banks, according to advocates.
Many hurdles remain before an L.A. bank could become operational. State and federal laws do not currently provide a regulatory framework for the formation of public banks, according to an August report by the city's Chief Legislative Analyst's office. The city must come up with a source of collateral for the bank and an oversight structure, and receive approval from the California Department of Business Oversight.
But a modern public bank can be made from scratch. In April, the Federal Reserve approved a public bank for American Samoa in the South Pacific, after the Bank of Hawaii abandoned the geographically remote U.S. Territory.
The North Dakota and American Samoan banks may be rare cases for now, but Figart believes that "in the next five years, there will be" more public banks, and "in the next 10 years, there certainly will be more."
---
Copyright Capital & Main