Women's March on Washington: The Day We Bled Pink
It had been so long since I'd been at a demonstration, a real demonstration – one hung on the scaffolding of sincerely determined resistance and hope — that I'd forgotten how to conduct myself.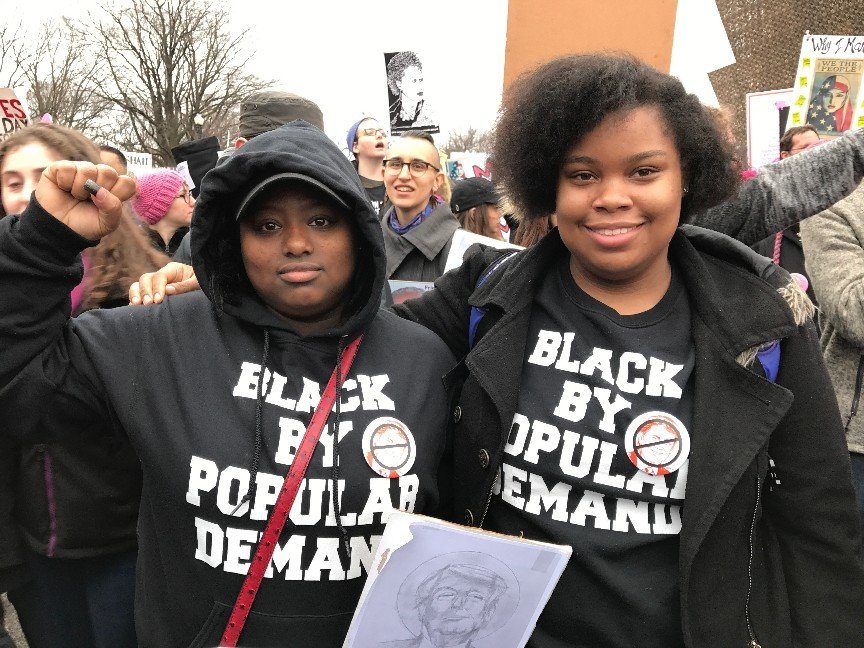 Video and photographs by Lisa Michurski
It had been so long since I'd been at a demonstration, a real demonstration – one hung on the scaffolding of sincerely determined resistance and hope — that I'd forgotten how to conduct myself. I thought, naively, that we would all be walking toward a "somewhere" — perhaps a stage with speakers that would start at an appointed time, a place where we would gather and cheer and be collectively overawed by our long-admired cultural warriors. I got there a whole hour early, with Friends Who Plan — enough time, we thought, to walk toward that rally stage, open my cane that turns into a chair, and take in the proceedings.
But for two hours we were packed shoulder to shoulder with women (and men) in pink hats, knitted and crocheted so the tops of the sides would stick up like cat ears. Together, unherded, we plodded toward the stage that had been erected at the intersection of Third and Independence.
We didn't expect to get close. There would be Jumbotrons. "Can you see the Tron?" emitted from the crowd as commonly as a chant, along with "Do you have the map?" and "Is FireChat working?" No one had cell service. And everyone chattered endlessly about pussyhats: Knit, crochet or sewn with felt? Circular needle or one straight panel? Gifted or DIY? It was a brilliant solidarity art project: A handmade, uniform but personal fashion accessory as the emblem of global resistance.
From the looks of things on Saturday, it appears that, thanks to Donald Trump, maybe for once good people can put aside their differences and get something done. We have been taken to the edge of the cliff and had a chance to look over, and now we're hanging on to each other for dear life. It's the reason Nancy Mazza traveled from San Francisco, with her partner, to the nation's capital to march for the first time in her life. "And I was born in 1948," she said. "Vietnam, gay rights, Planned Parenthood — I didn't march for any of those things. But this time I had to be here."
It's the reason Mercedez Quarles, 23, and her friend Sereen Peace, 22, both seniors at Thiel College in Greenville, Pennsylvania, went out of their way to be inclusive in their reasons for marching. "We're marching for women's rights, for people with disabilities, for everybody," said Quarles, she and her friend gleeful in their "Black by Popular Demand" T-shirts.
Larissa Jones had organized a contingent of marchers from Indiana. "Hoosiers! Over here!" she ordered as she wove them in long lines through the crowd. "A lot of people decided the day-of to join us," she shouted back at me as she led them away. I thought of them watching the inauguration speech the day before, and rearranging their weekend plans to board that bus.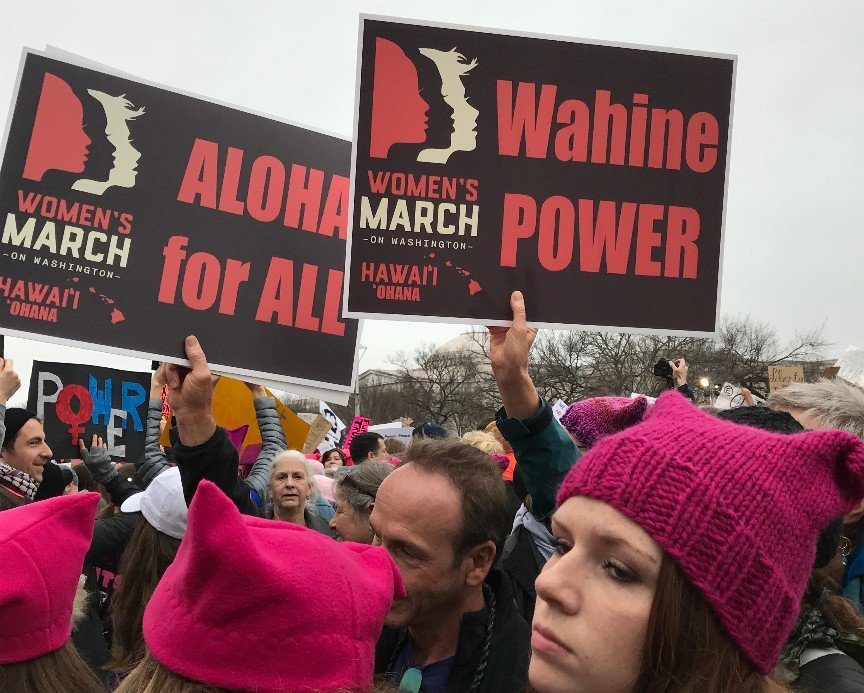 "There's a good vibe here," David Parrella, a 66-year-old marcher from West Hartford, Connecticut, told me as we sat together under a statue of Ulysses S. Grant, surveying the gathering pinkness. "People aren't discouraged. They're ready to fight, but with graciousness and good humor."
Parrella had worried there'd be a lot of bitterness, and with good reason — as the former chair of the National Association of Medicaid Directors. He has contributed expertise to the Affordable Care Act's Medicaid expansion and has watched as the endangered law has transformed states' health care for the poor. "Sixteen of 31 states that took the Medicaid expansion have Republican governors," he told me. "States with socially liberal but fiscally conservative governments won't want to go back," he said.
I imagined some conservative governors being here, too, mingling with the newly married lesbians worried about the continued legality of their unions; and the Muslims whose very existence in their country has been openly threatened; and the people like us, feminists pissed off about the whole shebang, from the unleashing of racial hatred to climate denial to the sheer ludicrousness of the man who built his gaudy political career on conspiracies of white oppression now occupying the highest office in the land. Nothing like a common enemy to forge a united front.
I suspect that was the reason for the absence of animosity Parrella observed, which by midday had evolved into actual kindness and deference, with men helping older women climb to the top of trucks and later descend from them, women offering their hands to help an arthritic stranger negotiate curbs. Another factor in the calm of the D.C. march, at least, was the equanimity of the local police force. Dispatched to check out an unattended package, one trio of cops had found a lost purse, and were relentlessly trying to find its owner by showing strangers the woman's picture on her iPhone.
My friend Lisa and I had been here before. In 2001, we had come to D.C. to protest the inauguration of George W. Bush, because we believed he had stolen the election from Al Gore. (I had a lot of nerve; I had voted for Nader, albeit in a swing state.)
Demonstrations would gain steam over the years that followed, as the Bush administration launched its war on Iraq and deportations of non-citizens accelerated under Barack Obama. But none had quite the unifying force of Saturday's marches, which felt, as one sign put it, not like "one day of resistance but day one of the resistance."
Nor did protest memes ever have such rich fodder: Dubious quotes ("'WHAT THE FUCKING HELL'," read one sign, attributing the sentiment to "A. Lincoln"); women's reproductive rights (more than one sign featured ovaries turned into fists); and Trump himself. My favorite chant: "We don't want your tiny hands/anywhere near our underpants!" Looking out at the sea of pink hats, I thought of Trump's insults to Megyn Kelly, about her menstrual cycle, "blood coming out of her whatever." On Saturday, we bled pink.
One of the hallmarks of the Trump era is how his supporters make traditional conservatives (those people who simply want to gut social services and bust unions and suspend environmental protections) look like reasonable people. Bush Jr., Aziz Ansari observed on Saturday Night Live after the march, once seemed like a "dildo," and now comes off as an eloquent sage. "What a leader he was!"
Trump is a singular challenge; there is no rational defense for so many of his statements and beliefs about women, Muslims and people of color. And thus the protests against him, not just in D.C. but in my hometowns of Los Angeles and St. Paul, Minnesota; in Portland, Seattle, Austin, Chicago and even London and Florence and Antarctica, evinced a political unity most of us have never experienced in our adult lives.
My friends and I may have glimpsed a Tron at one point, from our perch on Twelfth and Madison, but we never made it to that rally stage. Somewhere off in the distance, Gloria Steinem was saying all the best things, as she always does; Madonna was performing, Alicia Keys was beaming love with a hand on her collarbone and Ashley Judd was booting Michael Moore from the stage for pontificating over his allotted time. But we were still moving along in a tight, amorphous, directionless mass among the august buildings on the banks of the Potomac, the capital site Alexander Hamilton had conceded when Thomas Jefferson caved on the matter of assumption of debts. We sang "The Greatest Love of All" and "Lean on Me" with a group of black women from New Jersey; we joined in the rising cheers that rippled through the crowd like waves, perhaps tied to some event at their source — lost on, and unimportant, to us.
"Is it crazy that I thought we'd have lunch at one of the museums?" I heard a woman say as she waited for the stuck crowd to move again. Yes, it probably was. But isn't it nice to find that out?
Unable to get to any one fixed point, we became the point. We were the point.
People gathering in great numbers have changed the world, for both the better and the worse, several times along the way in modern history, and never was there a moment in my lifetime during which putting one's real, physical, vulnerable form on the line for resistance mattered more. When Trump's spokesperson, Sean Spicer, fought with the press about inauguration attendance, he was admitting that demonstrations matter, that they dispel fantasies of absolute power, that they unsettle would-be tyrants. That they resonate louder than online petitions or calls to congress people or clever tweets. By one estimate, as many as three million people participated in U.S. marches alone.
"Our country is strong enough to survive this," Nancy Mazza had told me early in the day about the election. Those numbers made me think she might be right.