Women Take Charge at L.A. County Board of Supervisors
They used to be called the Five Little Kings, each representing more constituents than any member of Congress. With the recent swearing in of Janice Hahn and Kathryn Barger, the Los Angeles Board of Supervisors now can be seen as four queens and a king.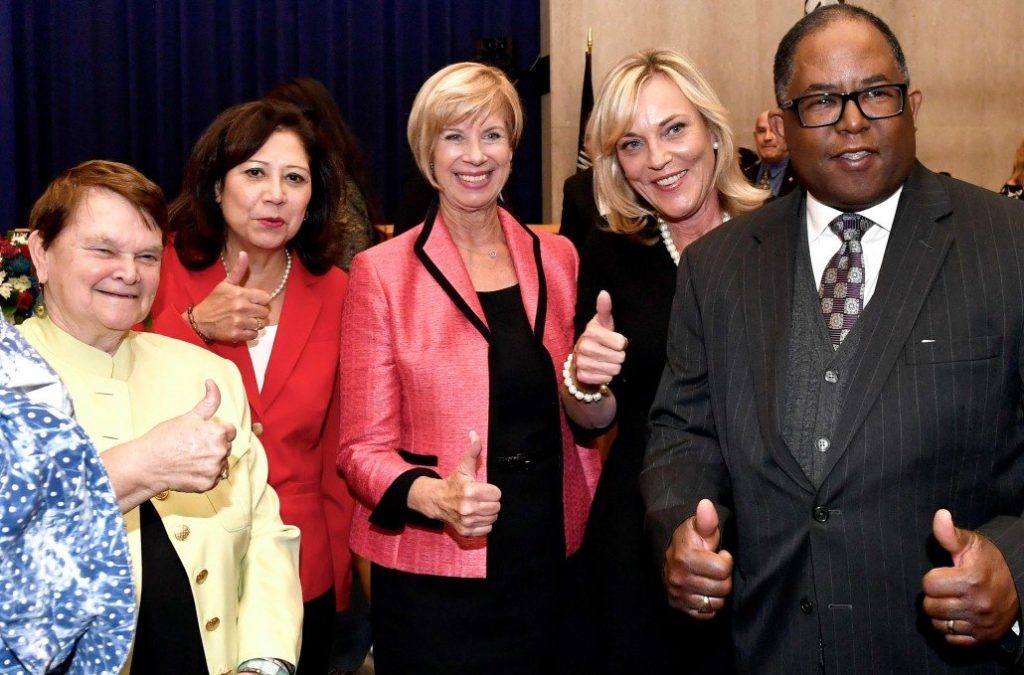 L.A. Board of Supervisors (l-r:) Sheila Kuehl, Hilda Solisa, Janice Hahn, Kathryn Barger and Mark Ridley-Thomas
They used to be called the Five Little Kings, each of whom represented more constituents than many members of Congress, with individual terms of office that could last up to 40 years. Together, they served a constituency of millions, and each had a pot of county money for community services that seemed to be doled out from personal preferences.
With the recent swearing in of Janice Hahn and Kathryn Barger, the Los Angeles County Board of Supervisors now can be seen as four queens and a king. Granted, each serves under newly implemented term limits of three consecutive four-year terms, diminishing a supervisor's long-term power. But will the gender super-majority make changes in how the board works together, legislates or relates to constituents?
Historian and author Nancy Cohen told Capital & Main that research shows "women [electeds] tend to be more collaborative, more inclusive and more transparent" in governing, and that some of these characteristics began appearing when supervisors Hilda Solis and Sheila Kuehl were elected two years ago.
Kuehl also told me she noticed, during the new board's first meeting, that "the women caught each other's eyes" and seemed to be connecting to each other nonverbally more than what had been the case during the male-majority board. Who can know if this will this lead to more collaboration, smoother decision-making and less conflict? But it does suggest a board whose members are more attuned to one another.
In considering the impact of a female majority on the board's priorities, Kuehl suggested that "It may be that women, long used to caring for others, tend to support rehabilitation and recovery approaches over law enforcement and punishment" to address social problems. Supervisor Solis echoed this sentiment in comments on the board's new makeup, noting on the county's website that "the recession…left lots of people down and out, and some still are. Our mission is to lift those people. Find jobs, get services, create opportunities, help young people think about careers, [and] find opportunities to dream again."
"Women are also more sensitive to issues of unequal pay" and access to equal employment opportunities, as well as policies that impact families, noted Kuehl. She gave the example of mothers having trouble appearing in court when court policies, which are now changed, once forbade them from bringing children along.
We won't have to wait long for a new women's focus to emerge. At its December 13 meeting the Board of Supervisors unanimously passed a five-year, countywide "Initiative on Women and Girls," proposed by Solis and Kuehl, to review all county services and operations and develop a comprehensive plan to improve impacts for female residents of all ages.
With the Board of Supervisors overseeing such primary services as health, mental health, children's services, probation, and welfare/social services, and employing 100,000 people, such a review could be broad and impactful.
In online comments, Mark Ridley-Thomas, the sole remaining male supervisor, sounded enthusiastic about an elevated interested in the rights of women, noting, "Those things, to my thinking, are positive because that moves us more in the direction of the fulfillment of democracy."
As for collaboration, in preparation for the formal group photo of the new board, Kuehl notified the other women she had changed her mind on the color jacket she was going to wear. That occasioned each woman to weigh in on the color she intended to wear that would be complimentary and make a pleasing picture.
Kuehl suggested that such a discussion probably never took place amongst the male supes.
Reviewed: A DIY Guide for "The Magicial Resistance"
A new book offers practical tips on how to organize — and cast spells — for equality and the environment.
Religion and politics have gone hand in hand at least from the time of Hammurabi's Code. Though we are guaranteed separation of church and state in the United States, many a prayer has been uttered for political gain. Any and all religions make no bones about their desire to influence social events and governmental organizations using their own methods and views of the Divine, whether it's the Catholic Workers marching for the rights of the poor, Baptist churches rallying for the right of the unborn — or witches casting spells to protect the environment.
---
At a time when many people feel helpless, ceremonial magic places power firmly in the hands of people who want to see positive change for the future.
---
While mainstream faithful said their prayers, conservative chaos magicians invoked Pepe the Frog to aid the 2016 elections. Since then, sorcerers of all stripes and more than few faithful in the Abrahamic faiths have been very publicly throwing down to counteract what they perceive as harmful acts by the current administration.
David Salisbury's Witchcraft Activism is a smart, direct guide to incorporating activism into your witchcraft practice, or experimenting in your activism by adding a little extra whammy. An experienced, long-time activist and well-respected pagan practitioner, Salisbury lays out a guide for activism that incorporates strategy, defense, offense, victory and loss with spiritual tools and magical methods drawn from Western European folk magic traditions.
He begins with setting intention and leads us to getting off the couch and carrying out an action, be it letter writing, participating in marches, attending city council meetings or lobbying — each with certain magical additions to aid in success. Salisbury also gives results based on his actions incorporating magic and suggests a variety of means for different scenarios. Concentration, visualization and focus are stressed as tools, with the addition of sigils, herbs and incantations.
Spiritual actions range from the simple to the complex. Whether meditating before a meeting, doing a divination for suggested actions, writing out a petition and placing it under a candle or using advanced magical practices like egregores, the acts suggested by Salisbury increase dedication to our causes and shift perspective, creating space for new ideas, for relief from burnout and for refocusing on goals.
Over 1.5 million in the United States identify as Pagan or Wiccan in a 2014 Pew Research Center poll—and that's not counting those witches, sorcerers and others who do not identify in those categories. The numbers of magical practitioners have risen steadily over the decades, perhaps because organized religions may not offer a sense of personal connection, of gnosis, or may have goals that are in opposition to participants'. At a time when many people feel helpless, witchcraft, ceremonial magic and folk/indigenous faiths place power firmly in the hands of people who want to see positive change for the future.
Don't believe in magic? Give Salisbury's methods a try and see what happens. You may be surprised, success is your proof. Just stay away from the Goetia!
---
Copyright Capital & Main