Women Take Charge at L.A. County Board of Supervisors
They used to be called the Five Little Kings, each representing more constituents than any member of Congress. With the recent swearing in of Janice Hahn and Kathryn Barger, the Los Angeles Board of Supervisors now can be seen as four queens and a king.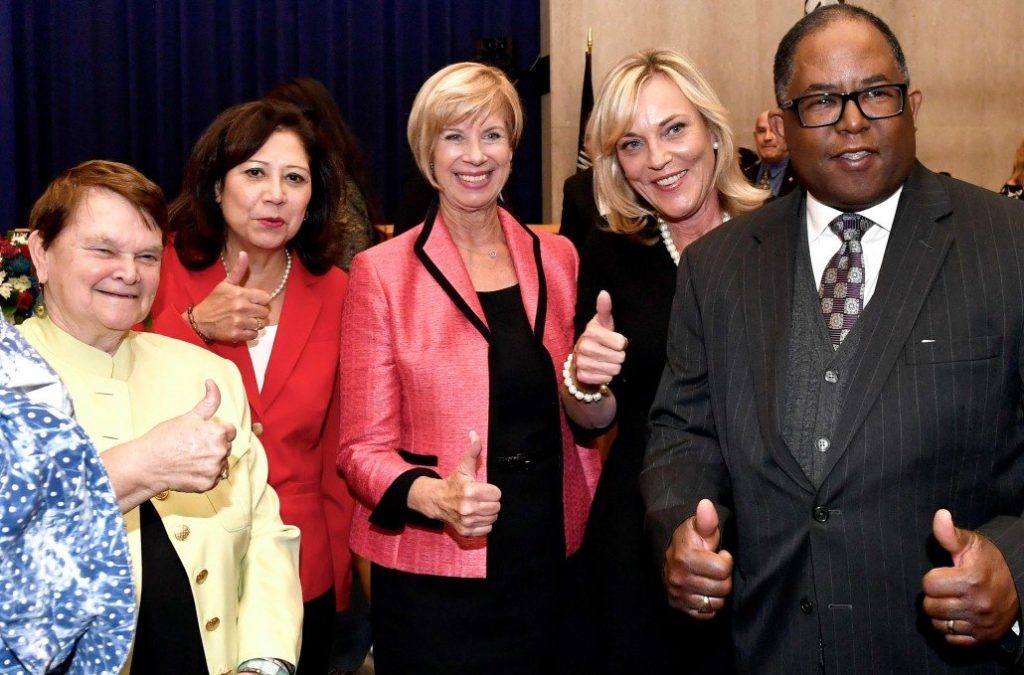 L.A. Board of Supervisors (l-r:) Sheila Kuehl, Hilda Solisa, Janice Hahn, Kathryn Barger and Mark Ridley-Thomas
They used to be called the Five Little Kings, each of whom represented more constituents than many members of Congress, with individual terms of office that could last up to 40 years. Together, they served a constituency of millions, and each had a pot of county money for community services that seemed to be doled out from personal preferences.
With the recent swearing in of Janice Hahn and Kathryn Barger, the Los Angeles County Board of Supervisors now can be seen as four queens and a king. Granted, each serves under newly implemented term limits of three consecutive four-year terms, diminishing a supervisor's long-term power. But will the gender super-majority make changes in how the board works together, legislates or relates to constituents?
Historian and author Nancy Cohen told Capital & Main that research shows "women [electeds] tend to be more collaborative, more inclusive and more transparent" in governing, and that some of these characteristics began appearing when supervisors Hilda Solis and Sheila Kuehl were elected two years ago.
Kuehl also told me she noticed, during the new board's first meeting, that "the women caught each other's eyes" and seemed to be connecting to each other nonverbally more than what had been the case during the male-majority board. Who can know if this will this lead to more collaboration, smoother decision-making and less conflict? But it does suggest a board whose members are more attuned to one another.
In considering the impact of a female majority on the board's priorities, Kuehl suggested that "It may be that women, long used to caring for others, tend to support rehabilitation and recovery approaches over law enforcement and punishment" to address social problems. Supervisor Solis echoed this sentiment in comments on the board's new makeup, noting on the county's website that "the recession…left lots of people down and out, and some still are. Our mission is to lift those people. Find jobs, get services, create opportunities, help young people think about careers, [and] find opportunities to dream again."
"Women are also more sensitive to issues of unequal pay" and access to equal employment opportunities, as well as policies that impact families, noted Kuehl. She gave the example of mothers having trouble appearing in court when court policies, which are now changed, once forbade them from bringing children along.
We won't have to wait long for a new women's focus to emerge. At its December 13 meeting the Board of Supervisors unanimously passed a five-year, countywide "Initiative on Women and Girls," proposed by Solis and Kuehl, to review all county services and operations and develop a comprehensive plan to improve impacts for female residents of all ages.
With the Board of Supervisors overseeing such primary services as health, mental health, children's services, probation, and welfare/social services, and employing 100,000 people, such a review could be broad and impactful.
In online comments, Mark Ridley-Thomas, the sole remaining male supervisor, sounded enthusiastic about an elevated interested in the rights of women, noting, "Those things, to my thinking, are positive because that moves us more in the direction of the fulfillment of democracy."
As for collaboration, in preparation for the formal group photo of the new board, Kuehl notified the other women she had changed her mind on the color jacket she was going to wear. That occasioned each woman to weigh in on the color she intended to wear that would be complimentary and make a pleasing picture.
Kuehl suggested that such a discussion probably never took place amongst the male supes.
The Tests Facing California's New Governor
Gavin Newsom now leads the state with the nation's biggest economy and largest population — and one riven by economic inequality. What will be his most important challenges?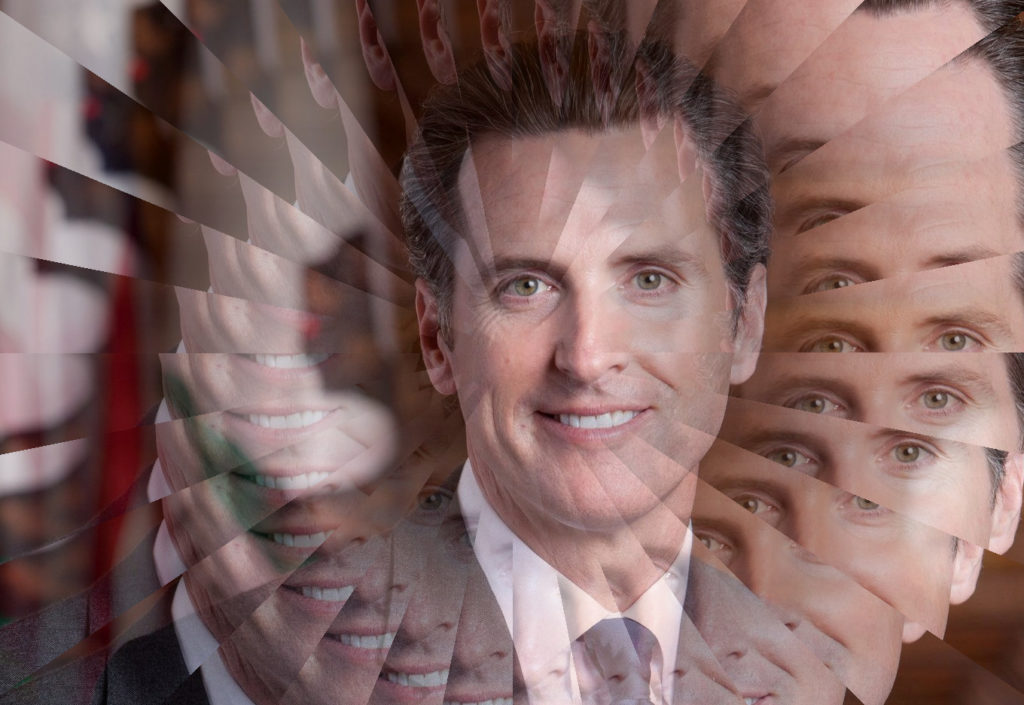 Gavin Newsom inherits a state that should be any governor's dream: A California that is the cradle of the tech revolution and brims with prosperity, a one-party state with supermajorities in both chambers for Newsom's Democrats. But there are clouds darkening the horizon: Daily prophecies tell of coming economic storms; legislative initiatives taken on behalf of immigrants, retirement security and the stemming of global warming are increasingly thwarted by a bellicose White House. And that Democratic Party monopoly in Sacramento masks a deepening ideological fault line dividing pro-business moderates and progressives – the latter of which have largely chafed for the last 16 years under the thrifty administrations of Jerry Brown and Arnold Schwarzenegger, and are eager to burst out with far-reaching (if pricey) legislation.
Then, there are memories of three high-riding liberal governors (Pat and Jerry Brown, and Gray Davis) whose programs or careers were derailed by resentful taxpayers. There are more recent memories, too: Of an impulsive, hard-partying San Francisco mayor whose blunted ambitions led him to spend eight years in the ceremonial wilderness of the lieutenant governor's office. Newsom is said to have matured into a more circumspect, pragmatic politician, although some of the old doubts were fanned back to life by an unflattering New Yorker profile that appeared shortly before his landslide victory November 6.
Perhaps overriding all these auguries is the undeniable fact that despite its enviable economy, its abundance of billionaires-in-residence and laudable array of social services, California still has the highest poverty rate in the U.S., nearly half of its children live in poverty or near-poverty, and merely finding an affordable place to live has become an existential challenge for many. These and similar factors superimpose on the state another kind of fault line, that of economic inequality. Most of the new governor's time will be spent wrangling crises that spring from this disparity. Which is why the following Capital & Main stories primarily focus on the inequality that separates so many Californians from one another.
Affordable Housing, by Jessica Goodheart.
Single-Payer Health Care, by Gabriel Thompson.
Climate Change and Big Oil, by Judith Lewis Mernit.
Inequality Interviews with Manuel Pastor, Ann Huff Stevens and David Grusky.
Early Childhood Education, by Bill Raden.
Inequality in California: Six Takeaways.
---
Copyright Capital & Main