Women Take Charge at L.A. County Board of Supervisors
They used to be called the Five Little Kings, each representing more constituents than any member of Congress. With the recent swearing in of Janice Hahn and Kathryn Barger, the Los Angeles Board of Supervisors now can be seen as four queens and a king.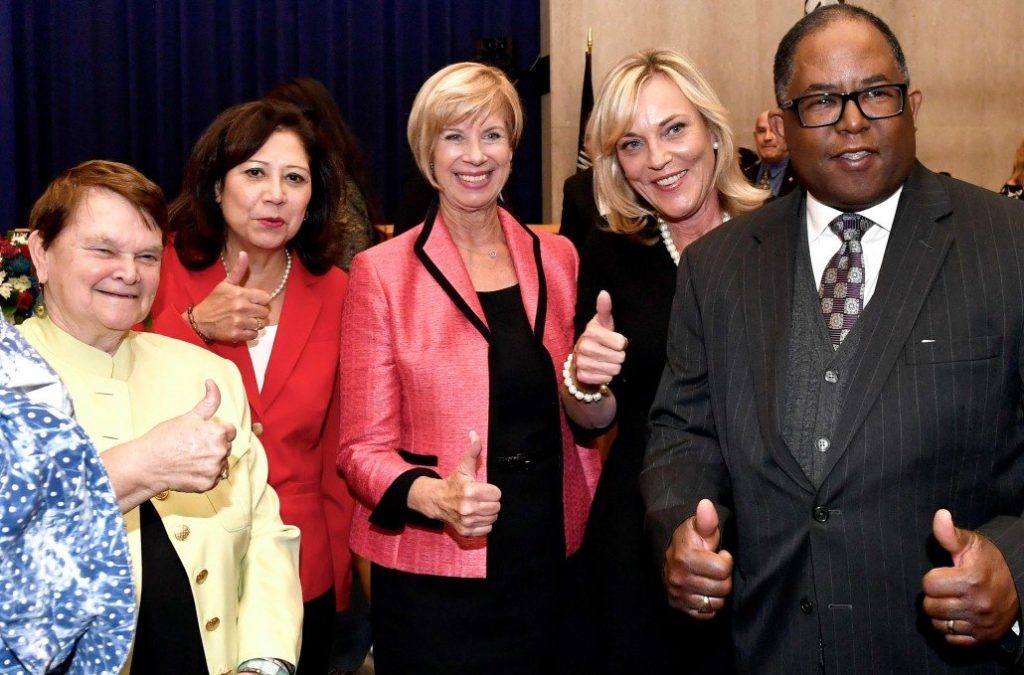 L.A. Board of Supervisors (l-r:) Sheila Kuehl, Hilda Solisa, Janice Hahn, Kathryn Barger and Mark Ridley-Thomas
They used to be called the Five Little Kings, each of whom represented more constituents than many members of Congress, with individual terms of office that could last up to 40 years. Together, they served a constituency of millions, and each had a pot of county money for community services that seemed to be doled out from personal preferences.
With the recent swearing in of Janice Hahn and Kathryn Barger, the Los Angeles County Board of Supervisors now can be seen as four queens and a king. Granted, each serves under newly implemented term limits of three consecutive four-year terms, diminishing a supervisor's long-term power. But will the gender super-majority make changes in how the board works together, legislates or relates to constituents?
Historian and author Nancy Cohen told Capital & Main that research shows "women [electeds] tend to be more collaborative, more inclusive and more transparent" in governing, and that some of these characteristics began appearing when supervisors Hilda Solis and Sheila Kuehl were elected two years ago.
Kuehl also told me she noticed, during the new board's first meeting, that "the women caught each other's eyes" and seemed to be connecting to each other nonverbally more than what had been the case during the male-majority board. Who can know if this will this lead to more collaboration, smoother decision-making and less conflict? But it does suggest a board whose members are more attuned to one another.
In considering the impact of a female majority on the board's priorities, Kuehl suggested that "It may be that women, long used to caring for others, tend to support rehabilitation and recovery approaches over law enforcement and punishment" to address social problems. Supervisor Solis echoed this sentiment in comments on the board's new makeup, noting on the county's website that "the recession…left lots of people down and out, and some still are. Our mission is to lift those people. Find jobs, get services, create opportunities, help young people think about careers, [and] find opportunities to dream again."
"Women are also more sensitive to issues of unequal pay" and access to equal employment opportunities, as well as policies that impact families, noted Kuehl. She gave the example of mothers having trouble appearing in court when court policies, which are now changed, once forbade them from bringing children along.
We won't have to wait long for a new women's focus to emerge. At its December 13 meeting the Board of Supervisors unanimously passed a five-year, countywide "Initiative on Women and Girls," proposed by Solis and Kuehl, to review all county services and operations and develop a comprehensive plan to improve impacts for female residents of all ages.
With the Board of Supervisors overseeing such primary services as health, mental health, children's services, probation, and welfare/social services, and employing 100,000 people, such a review could be broad and impactful.
In online comments, Mark Ridley-Thomas, the sole remaining male supervisor, sounded enthusiastic about an elevated interested in the rights of women, noting, "Those things, to my thinking, are positive because that moves us more in the direction of the fulfillment of democracy."
As for collaboration, in preparation for the formal group photo of the new board, Kuehl notified the other women she had changed her mind on the color jacket she was going to wear. That occasioned each woman to weigh in on the color she intended to wear that would be complimentary and make a pleasing picture.
Kuehl suggested that such a discussion probably never took place amongst the male supes.
Fossil Fuel Giant Stealthily Pumping Unregulated Cash Into Colorado Ballot Fight
Co-published by Westword
In a move that goes beyond Citizens United, Noble Energy is airing undisclosed ads against Proposition 112 — and the GOP Secretary of State says that's A-OK.
Co-published by Westword
In a last-ditch attempt to defeat one of the most far-reaching environmental measures on the 2018 ballot, a fossil fuel giant is blanketing Colorado television with election-focused political ads that it now claims are outside the purview of all state campaign finance laws. The maneuver — which pioneers a novel way for corporations to circumvent disclosure statutes and inject money directly into elections — has been blessed by the office of Secretary of State Wayne Williams, who has led a Republican political group bankrolled by the same fossil fuel corporation that is airing the ads.
At issue is Proposition 112, a landmark measure that would force fossil fuel companies to set their drilling and fracking operations further away from hospitals, schools, child care centers and residential neighborhoods. Natural gas colossus Noble Energy and its subsidiaries have been among the most prominent opponents of the initiative, disclosing $7.1 million in contributions to Protect Colorado, the issue committee opposing the initiative.
Noble has also given $200,000 to a PAC supporting the Republican majority in the state senate, which in recent years has been a bulwark against Democratic attempts to pass stronger safety and environmental protections regarding oil and gas operations.
However, on top of those disclosed and regulated expenditures, documents reviewed by Capital & Main show that Noble has also been airing its own corporate television ads against the measure — and the company refuses to tell state campaign finance regulators any details about the ads or about the amount it is spending on the spots.
Although the U.S. Supreme Court's 2010 Citizens United decision deregulated federal campaign finance laws, the ruling preserved state statutes that require direct election expenditures to at least be disclosed. And yet, even as Noble's ads explicitly press Coloradans to vote against the ballot measure, the company has declared that such ads are not governed by state campaign finance or disclosure laws.
Noble's move represents a bold step even beyond Citizens United: In effect, a company that turns fracked gas into corporate profits has found a way to stealthily pipe a portion of those riches around campaign finance laws and directly into an electoral process that is supposed to empower workaday Coloradans to regulate fossil fuel development.
"It looks like a potential loophole in the law that does allow a corporation to spend unlimited amounts on influencing ballot initiatives without reporting their spending," said Brendan Fischer of the Campaign Legal Center.
Noble could have simply spent more disclosed money through Protect Colorado — the regulated issue committee that files paperwork with the state. But with Protect Colorado already having saturated the airwaves with so much advertising — and with critics hammering the group for spending so much cash against the ballot initiative — Noble's new unregulated ads could be a deliberate strategy to confuse voters.
"It may be that Protect Colorado, with all of its advertising, has come to the end of a happy run of having a credible brand," election lawyer Mark Grueskin told Capital & Main. "They may want to make it look like there's a bigger, broader political consensus about these issues, and that it's not just all oil industry money protecting oil industry interests."
"We Do Not Disclose Our Advertising Budgets"
Noble's ads are explicit demands that Coloradans vote against Proposition 112 in the upcoming election.
"When you vote, we need your support to stop Proposition 112, so we can continue producing the natural gas and oil that power our daily lives," says one of the ads.
When asked if the spots are political ads, a Noble spokesperson told Capital & Main: "No."
That claim conflicts with FCC filings made by the TV stations airing the ads, as required by federal law.
Since the beginning of September, at least 12 Colorado TV stations have reported direct advertising from Noble in their political files, which are legally required disclosures "of all requests for broadcast time made by or on behalf of a candidate for public office." In FCC records, the Noble advertising is listed under "Non-Candidate Issue Ads" alongside ads from PACs like Fair Maps Colorado and the National Republican Congressional Committee.
The FCC records also show that Noble's ad campaign is being managed by the same consulting and media firms that are being retained by Protect Colorado, the industry-funded committee opposing Proposition 112. Disclosure forms identify Sadler Strategic Media as Noble's representative in placing the ads on Colorado TV stations; the California-based firm has also placed advertising for Protect Colorado. The same forms show that both Noble and Protect Colorado are represented by Pac/West Communications, an Oregon-based lobbying and public affairs firm.
Whereas state campaign finance records allow voters to see the total amount different groups are spending on elections, Noble's move allows the company to obscure those details.
"We do not disclose our advertising budgets," a Noble spokesperson told Capital & Main when asked about the undisclosed ads. "NBL opposes 112. NBL has the right to express its own views."
The lack of transparency stands in contrast to Noble previously touting its alleged commitment to disclosure.
"Transparency also extends to our political activities," wrote the company in 2017. "Noble Energy's participation at the local, state and federal level of government is essential to our long-term success. As part of the process, we disclose our political contributions online through our Political Activity Report…Transparency has proven time and time again to play a critical role in a company's business success."
"This Type of Activity Is Likely Legal"
In his reelection bid, Williams, the Colorado Secretary of State, has presented himself as a tough and impartial enforcer of the state's campaign finance and disclosure laws. However, without conducting any investigation, his office has now preemptively declared that Noble's unregulated and undisclosed ads are permissible.
"This type of activity is likely legal," said Williams' spokesperson Lynn Bartels.
Williams has served as an executive committee member of the Republican Secretaries of State Committee, whose parent organization has received $500,000 from Noble Energy since 2016, according to IRS filings. During Williams' 2018 reelection bid, that parent group, the Republican State Leadership Committee, has funneled $500,000 into a Colorado group whose mission is "to support Republican candidates for state house, state senate and statewide office," according to state records.
In a 2016 interview with the New York Times about the overlap between secretary of state candidates' fundraising and public policy, Williams declared: "When you are trying to raise money, you try to work with people who have an interest in the subjects."
In this situation, Williams appears to be working to interpret Colorado laws to let GOP donors like Noble directly bankroll future election campaigns without restrictions or transparency requirements.
According to the Colorado State Constitution, a group is supposed to be regulated as a political committee if it has "a major purpose of supporting or opposing any ballot issue or ballot question." State law says a "major purpose" is displayed by a group's "production or funding, or both, of written or broadcast communications, or both, in support of or opposition to a ballot issue or ballot question."
Though Noble is leading the opposition to the ballot measure and is broadcasting television ads against the initiative, Bartels asserted that Williams' office believes "it is unlikely Noble Energy would be found to have a major purpose of opposing Prop 112, and therefore wouldn't meet the requirement to register."
"There's been a lot of litigation about [major purpose]," Christopher Jackson, a Denver attorney who specializes in election and campaign finance law, told Capital & Main. "A lot of people have argued that means something like at least 51 percent of your funding would have to be towards this particular issue. [But] because the law says 'a major purpose,' that suggests that an organization can have more than one major purpose, so maybe that doesn't have to be a requirement."
The Campaign Legal Center's Fischer said that while Colorado law requires certain disclosures by groups that are spending to influence candidate elections, those same requirements may not apply to ballot measures like Proposition 112.
"When a group like Americans for Prosperity spends money [on candidate elections] in Colorado, they at least have to report their expenditures, if not their donors," said Fischer, referring to the Koch brothers' advocacy group. "Colorado could require something similar for spending on ballot initiatives, but it doesn't appear that it has done so."
---
Copyright Capital & Main