Will Newsom Sign Bill Reviving Redevelopment Agencies?
A proposed law could reboot California's public investment system to provide a stable source of local funding for affordable housing.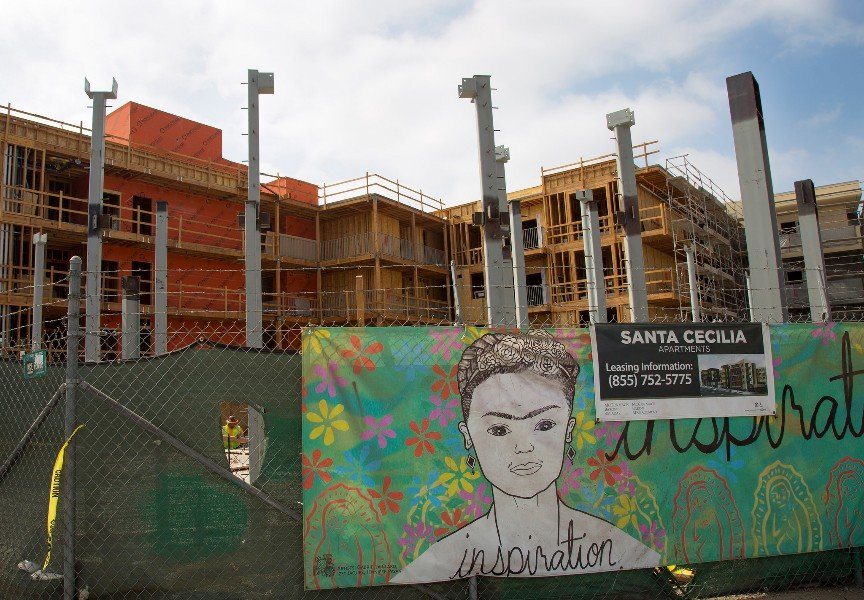 As California's homelessness crisis burgeons, affordable housing advocates estimate that at least $8 billion of state support to public housing investment has been lost since 2012.
"Every city's percentage went up," says Randy Shaw, director of San Francisco's Tenderloin Housing Clinic (THC) and author of Generation Priced Out, of the resulting spike in homelessness. "Oakland had no money and their homeless rate went up 47 percent. L.A. had to raise their own money.  Every city would have benefited from state funding."
In 2011 then-Governor Jerry Brown shut down the decades-old state redevelopment agency (RDA) that had been designed to infuse investment funding into impoverished California communities. The RDA operated through more than 400 local agencies that worked with local governments to reinvigorate blighted neighborhoods.  At the time RDA was abolished it was the largest source of funding for affordable housing in California.
But in 2011 the state was looking at a $25.4 billion deficit, and Brown called the RDA a "piggy bank" that he needed to raid for $1.7 billion in savings. The redevelopment agency was a vulnerable target, with little state oversight. Twenty percent of redevelopment funding was designated for local housing creation, but redevelopment agencies came under fire for lack of accountability, with media reports of local governments using funds allocated for affordable housing to cover their own expenses.
Now a bill sits on Governor Gavin Newsom's desk that could reboot this public investment system to provide a stable source of local development funding and, proponents say, fix issues of oversight and accountability for funds and put in place more stringent standards for local redevelopment spending. It provides the initial investment municipalities need to get affordable housing off the ground, says Michael Lane, deputy director of Silicon Valley At Home (SV@Home), a nonprofit that advocates for policies that support affordable-housing development. "More targeted investment, more oversight make it different and better than the old redevelopment," Lane says.
Senate Bill 5, the Affordable Housing and Community Development Investment Program, has been passed by the Legislature. But it's not clear Newsom will sign it — despite the support of scores of cities, nonprofit housing advocates and the League of California Cities. Observers of affordable-housing efforts say the governor's reluctance to commit to ongoing state funding obligations might spring from his approval, earlier this year, of a robust mix of bills to address homelessness.
But those bills didn't necessarily produce the funding sources housing advocates say are necessary. Shaw notes that one bill, AB 1487, authorizes a structure for affordable housing creation but would require a bond measure to raise the financing.
Housing advocates support the approved measures but argue that the stable source of funding abolished along with the redevelopment agencies was critical to local efforts to produce affordable housing.
The dissolution of the local redevelopment agencies "not only eliminated the major source of steady financing for affordable housing every year," says Amie Fishman, executive director of the nonprofit Housing Association of Northern California. "It also eliminated tremendous capacity at the local level to implement community development programs. It's critical to rebuild those tools that we need."
Fishman says affordable-housing efforts lost funding "to the tune of $1 billion a year since 2012. We would have had essentially $7 [billion] or $8 billion that had gone to housing [but which] was taken away because we were a casualty in a larger fight about the budget."
*   *   *
State funding is crucial in the complex mix that creates affordable housing—a formula of state funding plus federal tax credits and other sources of capital that finance developments, explains SV@Home's Lane. "Most of these developments require five to seven different sources," he says. Senate Bill 5 "would provide the critical infusion of state money."
The measure establishes a new redevelopment structure, with safeguards the old system lacked, to provide money that fuels local housing development, says its author, state Senator Jim Beall (D-San Jose). "The way you get housing built is you finance it," Beall tells Capital & Main. "That's what SB 5 does. It [provides] the missing link in the discussion that we've had about affordable housing."
There are many measures that incentivize housing development or set  requirements for higher density and more units, Beall adds, and these encourage more housing construction. "But that doesn't actually build affordable housing."
His bill establishes a state-level oversight committee to approve local plans and monitor implementation—a key difference from the previous redevelopment structure.
Beall's office estimates that 2.2 million low-income renter households are presently competing for 664,000 affordable rental homes and that, in a time when many cities spend fortunes on temporary shelter beds, SB 5 would create 86,000 units of permanent housing over 10 years. Not quite a game-changer, admits THC's Shaw, but proponents say that each unit accounts for families and others housed.
Local property taxes would be diverted into redevelopment and then reimbursed by the state general fund. SB 5 would initially commit as much as $200 million in state funding annually to local governments to support development plans for affordable housing, climate change adaptation measures and transit-oriented development.  The state contribution will eventually rise to $2 billion over nine years.
The measure requires at least 50 percent of the funds to be spent on affordable housing targeted. SB 5 frees up development funds by reducing local governments' contributions to California's Education Revenue Augmentation Fund. The state would backfill the funding; a fact-sheet from Beall's office says SB 5 will "ensure schools are held harmless to meet the Prop. 98 guarantee." (Proposition 98, passed by California voters in 1988, guarantees a minimal level of education funding from the state for local schools.) "All the schools and counties would be made whole," Beall says. "We have a legislative analyst opinion about that."
But the education funding aspect of SB 5 may well be another sticking point that is possibly adding to Newsom's reluctance to sign the bill. The California School Boards Association opposes the measure, as does the powerful Howard Jarvis Taxpayers Association, because of future funding obligations. Senator Beall emphasizes that there's a "stop button" that would pause funding in the event of a recession, but the HJTA says that's not enough. "You can stop funding but you would have to fulfill the funding that was already in place," says David Wolfe, the group's legislative director. "The recession starts, funding is in place—you can stop future funding but the funding in place proceeds."
The governor has until October 13 to approve or veto the bill.
---
Copyright Capital & Main