Why "When We Rise" Fell Flat
Dustin Lance Black's When We Rise presents a unique opportunity to not only entertain, but to also enlighten people. Which makes its failings that much more disappointing.

The mere fact that Dustin Lance Black's When We Rise is on the air, even in 2017, is remarkable. Running a seven-hour miniseries covering the LGBT movement is a courageous endeavor for ABC in a time when a significant number of viewers still find its subject matter divisive and offensive at worst, and uninteresting at best.
This sad fact has provided the creators a unique opportunity to not only entertain, but to also enlighten people who are less tolerant and understanding. And that's what makes their missteps that much more disappointing.
A tale that both honors LGBT heroes but also introduces these champions and their causes to the masses, When We Rise has been undermined by uneven writing and direction and, perhaps more important, by a failure to reach across the ideological divide.
Creator Black is seemingly the right man for the job, having already penned the acclaimed Milk biopic about the legendary San Francisco city supervisor/activist Harvey Milk, for which he won the Oscar for Best Original Screenplay. His participation gives immediate credibility for those already familiar with the topic. Black could have gone high and introduced his characters by emphasizing robust personalities and their passion and struggles, making them underdogs for whom to root in our age of egregious intolerance. Instead, he goes low.
Black focuses on three seminal figures in the gay movement, all played by a young actor and then an older one, as they journey to San Francisco and pass through nearly half a century, illuminating a cross section of those fighting for LGBT causes. There is Cleve Jones (Austin P. McKenzie and Guy Pearce), a wide-eyed young Caucasian with model looks who would eventually become a student intern working for Milk, and who was one of the first people to see the assassinated supervisor's lifeless body. We also watch legendary woman's rights activist Roma Guy (Emily Skaggs and Mary-Louise Parker), a woman whose radicalism and sexuality are awakened all at once. Rounding out the triptych is Ken Jones (Jonathan Majors and Michael Kenneth Williams) an African-American sailor who went on to become a pioneering activist, but not before having to subjugate his sexuality in the service, deal with racism in both the straight and gay worlds, and endure extreme homophobia in the black community.
Before Black decides to show these figures and their epic stories of personal struggle, he makes a curious choice: They each appear locked in a libidinous and illicit embrace with a separate lover. It's a bold creative choice, made rather less profound by the fact that the objects of their lust all look like Abercrombie and Fitch models. Every time things boil over, it's as if a Bruce Weber doc has suddenly broken out on primetime. To viewers, this comes across as a shocking start for sure, but also emerges as a disservice, a harsh and facile distraction from these heroes' coming exploits.
Once the lips and limbs unlock, the 90-minute pilot then follows our triumvirate on its burgeoning journey of private sexuality and public activism. The directing and writing bounces between riveting scenes of societal discomfort and awkward dialogue during activist meetings that is less special and more Afterschool Special. One minute Ken watches in horror as patrons are roughed up as they are forced out of a gay bar in a powerful scene of confusion and chaos, and then the next Cleve watches San Francisco cops beat a gay colleague in a clunky scene right out of a comic book. Speaking of comics, Rosie O'Donnell and Whoopi Goldberg have supporting roles and their broad acting is only obscured by their atrocious coifs, which suggest they shop at the same bad wig shop.
Meanwhile, the three primary figures hurtle through history until they eventually encounter each other in a convenient and presumptive collision of purpose. It's so pat, one can almost see the lesson plan passed out in schools across America to accompany screenings of the miniseries.
Black has said he made this piece for all of America. If that is truly the case, he should have at first focused more on the thorny issues these heroes faced rather than homing in on the horny. When We Rise does to some degree elevate exploits that have far too long remained in the shadows but, sadly, Black wastes the opportunity to have them soar into the collective consciousness where they so rightfully belong.

'Skeleton Crew' Is a Play With a Moral Spine
Set in a Detroit automobile outfitting plant, Dominique Morisseau's drama grabs you from the start with its focus on blue-collar men and women, and their struggle for dignity and self-respect.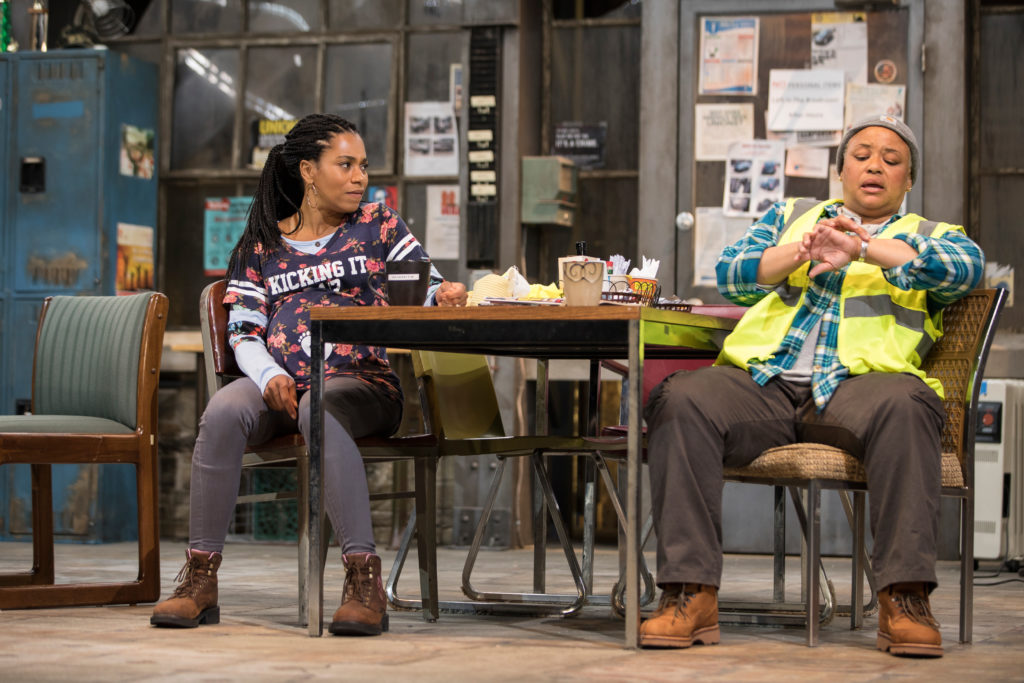 Working-class men and women of color are rarely front and center in today's media and, likewise, are presented all too occasionally on the American stage. So it's buoying to see that trend bucked in playwright Dominique Morisseau's percipient and well-crafted drama, Skeleton Crew. The play is the final installment in her Detroit  Project Trilogy; the first, Paradise Blue, is set in the 1940s amidst displacement caused by urban renewal and gentrification, while the second, Detroit '67, transpires on the eve of the 1967 Detroit riots sparked by a police action.
Directed by Patricia McGregor at Los Angeles' Geffen Playhouse, Skeleton Crew is a play with a moral spine. It takes place in 2008, when the shrinking U.S. auto industry is being further downsized. Morisseau's engaging quartet of characters — Faye (Caroline Stefanie Clay), Dez (Armari Cheatom), Shanita (Kelly McCreary) and Reggie (DB Woodside) – are employed at an automobile outfitting plant. Faye, Dez and Shanita are workers on the line while Reggie (who has a wife and kids, and has pulled himself together after a troubled youth) is their supervisor.
The first three customarily mingle in their break room (designer Rachel Myers' impressively cluttered, dingy and detailed set), trading the sort of familiar barbs and genuine concern for each other common among longtime co-workers. They also face off on philosophy: Upper-middle-aged Faye and the younger, pregnant Shanita take pride in their labor, while Dez, though a good worker, is a malcontent scornful of management and firm in the belief that everyone needs to watch out for himself. He's a thorn in Reggie's side, for while Reggie wants to be supportive of his workers, he must act at the behest of higher management. For his part, Dez resents Reggie's authority, and a palpable unease exists between them.
Besides this male matchup, we're made privy to Dez's attraction to Shanita, who mostly turns away his advances, but every now and then displays a hint of interest. Most poignant is Reggie's regard and affection for the lesbian Faye, which has roots in his boyhood when she loved, and lived, with his now-deceased mom.
These people's various predicaments intensify when rumors spread of the plant's shutdown — a disaster for all, but a particular calamity for the already near-broke Faye who, one year short of retirement, would lose her pension. The crisis forces each of these people to make a choice.
A sound piece of social realism, Skeleton Crew grabs you from the start in its focus on blue-collar men and women, and their struggle against odds for dignity and self-respect. Morisseau not only furnishes these characters a platform for their travails, she endows them with strong values, big hearts and the opportunity to choose between right and wrong.
Unfortunately, the performance I attended did not soar. Many exchanges lacked a fresh edge. The actors certainly had their characters down, but too often they appeared to be coasting on technique. (This seemed particularly true of Clay, who performed the role to great accolades in Washington, DC in 2017, also under McGregor's direction). Additionally, some of the stage movement was not entirely fluid; in confrontations, actors sometimes would just stand and face each other in an artificial way. And Cheatom's interpretation of Dez struck me as a bit overly churlish and depressive: I needed more glimpses of the intelligence and edge that would secretly attract the strong, self-directed Shanita.
The most compelling moments belong to Woodside, well-cast as a man trying his best in difficult circumstances to do the right thing.
---
Gil Cates Theater at the Geffen Playhouse, 10886 Le Conte Ave., Westwood Village; Tues.-Fri., 8 p.m.; Sat., 3 & 8 p.m. Sun., 2 & 7 p.m.; through July 8. (310) 208-5454 or www.geffenplayhouse.org