Why "When We Rise" Fell Flat
Dustin Lance Black's When We Rise presents a unique opportunity to not only entertain, but to also enlighten people. Which makes its failings that much more disappointing.

The mere fact that Dustin Lance Black's When We Rise is on the air, even in 2017, is remarkable. Running a seven-hour miniseries covering the LGBT movement is a courageous endeavor for ABC in a time when a significant number of viewers still find its subject matter divisive and offensive at worst, and uninteresting at best.
This sad fact has provided the creators a unique opportunity to not only entertain, but to also enlighten people who are less tolerant and understanding. And that's what makes their missteps that much more disappointing.
A tale that both honors LGBT heroes but also introduces these champions and their causes to the masses, When We Rise has been undermined by uneven writing and direction and, perhaps more important, by a failure to reach across the ideological divide.
Creator Black is seemingly the right man for the job, having already penned the acclaimed Milk biopic about the legendary San Francisco city supervisor/activist Harvey Milk, for which he won the Oscar for Best Original Screenplay. His participation gives immediate credibility for those already familiar with the topic. Black could have gone high and introduced his characters by emphasizing robust personalities and their passion and struggles, making them underdogs for whom to root in our age of egregious intolerance. Instead, he goes low.
Black focuses on three seminal figures in the gay movement, all played by a young actor and then an older one, as they journey to San Francisco and pass through nearly half a century, illuminating a cross section of those fighting for LGBT causes. There is Cleve Jones (Austin P. McKenzie and Guy Pearce), a wide-eyed young Caucasian with model looks who would eventually become a student intern working for Milk, and who was one of the first people to see the assassinated supervisor's lifeless body. We also watch legendary woman's rights activist Roma Guy (Emily Skaggs and Mary-Louise Parker), a woman whose radicalism and sexuality are awakened all at once. Rounding out the triptych is Ken Jones (Jonathan Majors and Michael Kenneth Williams) an African-American sailor who went on to become a pioneering activist, but not before having to subjugate his sexuality in the service, deal with racism in both the straight and gay worlds, and endure extreme homophobia in the black community.
Before Black decides to show these figures and their epic stories of personal struggle, he makes a curious choice: They each appear locked in a libidinous and illicit embrace with a separate lover. It's a bold creative choice, made rather less profound by the fact that the objects of their lust all look like Abercrombie and Fitch models. Every time things boil over, it's as if a Bruce Weber doc has suddenly broken out on primetime. To viewers, this comes across as a shocking start for sure, but also emerges as a disservice, a harsh and facile distraction from these heroes' coming exploits.
Once the lips and limbs unlock, the 90-minute pilot then follows our triumvirate on its burgeoning journey of private sexuality and public activism. The directing and writing bounces between riveting scenes of societal discomfort and awkward dialogue during activist meetings that is less special and more Afterschool Special. One minute Ken watches in horror as patrons are roughed up as they are forced out of a gay bar in a powerful scene of confusion and chaos, and then the next Cleve watches San Francisco cops beat a gay colleague in a clunky scene right out of a comic book. Speaking of comics, Rosie O'Donnell and Whoopi Goldberg have supporting roles and their broad acting is only obscured by their atrocious coifs, which suggest they shop at the same bad wig shop.
Meanwhile, the three primary figures hurtle through history until they eventually encounter each other in a convenient and presumptive collision of purpose. It's so pat, one can almost see the lesson plan passed out in schools across America to accompany screenings of the miniseries.
Black has said he made this piece for all of America. If that is truly the case, he should have at first focused more on the thorny issues these heroes faced rather than homing in on the horny. When We Rise does to some degree elevate exploits that have far too long remained in the shadows but, sadly, Black wastes the opportunity to have them soar into the collective consciousness where they so rightfully belong.

A Spiritual Mystery Play Fails to Enlighten
Yusuf Toropov's drama, set in a contaminated, cancer-ridden community, involves a publisher and his brother — a priest struggling against the local archdiocese.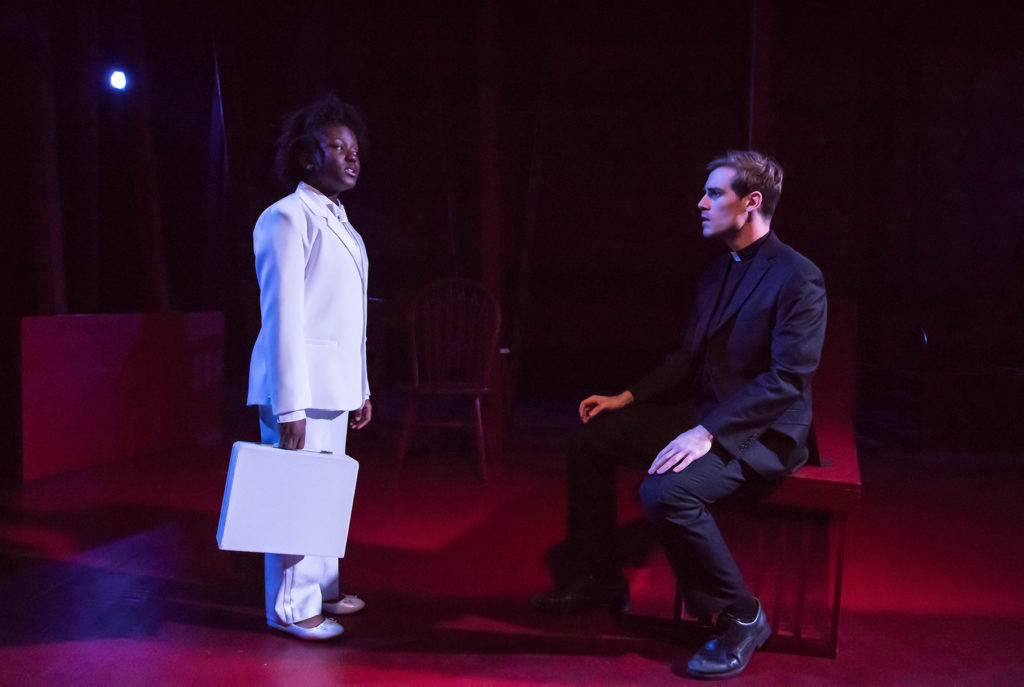 Directed by Chris Fields, Yusuf Toropov's An Undivided Heart, co-produced by the Echo Theater Company and the Circle X Theatre Co., is an aspiring work that aims to be deep but doesn't get there.
The play, running at the Atwater Village Theatre, unfolds on several levels. First, it tells the story of a young Catholic priest who must decide whether or not to publicly expose the pedophiles among his fellow clerics. Second, the work deals with our human struggle to understand why bad things happen with seeming random cruelty (a conundrum whose answers are regularly dispensed by spiritual leaders of all faiths, not very satisfactorily). On yet a third level, the play seeks to express the paradoxical wonder and mystery of life, with an assist from the supernatural.
That's a lot to cover in a little over two hours and, while the production is handsomely staged, its ambitious narrative is diminished by dangling threads, one major improbable setup near the end and too many bits of opaque dialogue.
Tim Wright, Alison Martin and Alana Dietze.
The setting is Holbrook, Massachusetts — a community whose residents have been exposed to contaminants, so cancer is rampant — in the summer of 1992. The story revolves around two brothers, both good guys: Mike (Matthew Gallenstein), a local priest who's written a revelatory book that his superiors want him not to publish, and Max (Tim Wright), an editor, who'd like to help his brother proceed.
When Max arrives at some sort of civic facility (the background particulars of this scene are unclear), he promptly tangles with an angry pregnant clerk named Lynne (Alana Dietz). A few minutes into their altercation, she goes into premature labor, and he rushes her to the hospital — the beginning of a nurturing romance.
Mike, meanwhile, is having strange dreams involving a burning typewriter and a cryptic little girl (Ann'Jewel Lee) who appears to him brandishing a dead cat. The same young person manifests in the dreams of Janice (Tracey A. Leigh, alternating with Jennifer A. Skinner), Max's Buddhism teacher, who is fond of posing riddles. Her favorite: If I am preparing to slice a cat in two, how would you prevent me from doing it?
The narrative shifts between Mike's struggle with his archdiocese, personified by its Cardinal (John Getz, alternating with William Salyers) and Lynne's problems with her dying mom Ruth (Alison Martin, alternating with Sigute Miller), a devout Catholic still in denial over her son's abuse by a priest when he was a youth.
These two storylines are interposed with the baffling dream sequences and Max's (and later Mike's) sessions with the inscrutably smiling Janice and her eschatological brain teasers. One crucial scene that leads to the dramatic climax has Mike looking to entrap an abusive priest (Jeff Alan-Lee, alternating with Jesse Bush) by attending confession with him and pretending to be a pedophile himself. The interchange, in which the priest probes for salacious details, is awkwardly plotted and escalates into over-the-top melodrama.
Cricket Myers' superlative sound design hints at the depth and scope that the playwright himself perhaps had in mind but was unable to attain. Amanda Knehans' set is an effective arrangement of wooden beams, tables and chairs that lighting designer Rose Malone smartly shades with a reddish-orange chroma, like the hues of hell. Elsewhere, she spotlights the players well.
Wright's warm and empathetic Max is highly likable, and he keeps you interested in the scenes he's involved with. Getz is appropriately unctuous as the Cardinal, and Martin draws a richly textured portrait of a not terribly educated housewife, who, buffeted by adversity, still clings to her faith. Michael Sturgis steals the limelight as a singing, simpering cleric. A couple of the other lead performances need refining.
Atwater Village Theatre, 3269 Casitas Ave., Los Angeles; Mon., 8 p.m.; Fri.- Sat., 8 p.m.; Sun., 4 p.m.; through April 22. www.EchoTheaterCompany.com
---
Copyright Capital & Main