Why Reform of Senate Rules Matters
While discussions about Senate procedures sound esoteric, the truth is anything but – the basic functioning of our democracy is under assault by continued, partisan obstruction aided by abuse of the Senate's rules.
Obstruction, especially in the form of the filibuster and the threat of the filibuster, is at an all-time high during the Obama presidency. This imperils our country's ability to rise to the significant challenges of our time and has blocked progress on a host of issues that have majority support but failed to cross the 60-vote threshold in the Senate.
The notable political scientist Barbara Sinclair noted that in 1960s, threatened or actual filibusters affected only 8 percent of major legislation. By the 1980s, threatened or actual filibusters affected 27 percent of legislation. Between 2006 and 2010, that number has reached 70 percent. Unfortunately, and despite the so-called "gentlemen's agreement" between Senate Majority Leader Harry Reid (D-NV) and Senate Minority Leader Mitch McConnell (R-KY), obstruction and gridlock remain dominant in the Senate. As Gregory Kroger, a University of Miami political scientist and filibuster expert, states, "The Senate has ceased to be a functioning organization."
At the beginning of the 112th Congress, U.S. Senate Majority L eader Reid and Republican Leader Mitch McConnell (R-KY) announced a "gentlemen's agreement" to break the procedural gridlock that kept the Senate tied in knots through most of 2010. A package of meaningful Senate reforms backed by reform-minded Senators Jeff Merkley (D-OR), Tom Udall (D-NM), and Tom Harkin (D-IA) and supported by the Fix the Senate Now coalition failed to achieve a majority, with one provision falling just two votes short of passage. However, we hoped that the modest steps away from obstruction outlined in the "gentleman's agreement" would be honored. Unfortunately, the Senate quickly defaulted to its obstructionist tendencies. According to research by David Waldman of Congress Matters and Daily Kos, this current 112th Congress already has witnessed the third highest total of cloture motions ever filed. The only two sessions to see greater levels of obstruction were the immediately preceding 110th and 111th sessions.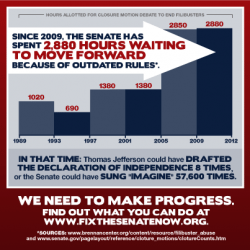 Senate Minority Leader Mitch McConnell (R-KY) infamously declared that his "single most important" goal was to make President Obama a "one-term president." His playbook from the start of the Obama Administration was simple – to convince his caucus to obstruct anything and everything. As a result, to an extent unprecedented in American history, 60 votes became the needed threshold for nearly every order of Senate business. Republicans derailed energy and climate legislation, halted the DREAM Act, which passed the House while receiving 55 votes in the Senate, and blocked any debate on the Employee Free Choice Act, which passed the House with an overwhelming majority and garnered 59 supporters in the Senate. In July, the DISCLOSE Act – which would have increased transparency over independent groups' campaign spending – failed to overcome a Republican filibuster and died, despite receiving support from 51 Senators and past support from many current Republican opponents. Also in July, Senate Republicans blocked the Bring Jobs Home Act, which would have encouraged in-sourcing by providing tax incentives to companies that bring jobs back to the United States from overseas. Separately from blocking substantive legislation, Republicans have used Senate rules to gum up even the most basic levers of governance.
The proposed Senate reforms would not eliminate the filibuster or limit the rights of the minority Party in the Senate. Despite the fear-mongering one hears about the goals of Senate rules reform, we are simply seeking a range of common-sense changes that add needed accountability and transparency to the legislative process. As Norman Ornstein and Thomas Mann suggested recently:
"Restoring the filibuster to its traditional role of allowing an intense minority to temporarily hold up action on issues of great national import — and away from its new use as a regular weapon for obstruction — should be a top priority."
If the Republicans can change the rules to their advantage they will do it, no matter what Democrats may do this year. They have plenty of precedent to rely on already. In fact, the Senate has a longstanding tradition of adapting to new challenges by adopting new rules. Moreover, the suggested reforms do not seek to subvert the ability of the minority party to filibuster – merely to make the process more accountable, while cutting down on obstruction for obstruction's sake. In anticipation of potential progressive reluctance to change the rules in case Republicans take over the Senate, Ed Kilgore, a blogger at Washington Monthly, stated:
"We'll likely never have progressive governance in this country if every step is dependent on 60 votes in a Senate inherently controlled by small, and likely Red, States. If Republicans win the Trifecta in November, they will ruthlessly exploit existing rules to get their agenda enacted, and the theoretically awesome power of the Liberal Filibuster won't matter. In the long run, breaking the power of the filibuster is unquestionably a progressive priority. And it will never, ever happen if it's always a long-term proposition depending on short-term partisan advantages. Reid is right to finally break the mold and pledge to support it no matter what."
When the next Congress convenes, it will only require a simple majority vote to move forward on a package of Senate reforms. Majority cloture at the start of a new Congress is not a new invention, and would establish no new precedent. Vice Presidents Nixon, Humphrey and Rockefeller have all issued favorable opinions from the Chair that a new Congress is free to invoke cloture by majority vote. Additionally, key distinctions need to be drawn between the 2005 push for a nuclear option and this effort to adapt Senate rules. The Constitution protects a new Senate's right to adopt rules at the beginning of a Congress rather than acquiescing to rules adopted by a Senate in office 35 years earlier. The nuclear option called for ignoring rules after they had been used for six months and hence readopted by the new Congress.
At the start of this 112th Congress, the Communications Workers of America (CWA), Common Cause and the Sierra Club led a broad coalition of progressive organizations, dubbed Fix the Senate Now, to support the rules reform effort championed by Senators Merkley, Udall, and Harkin. Broad support for change took the form of more than 40,000 calls to Senate offices, more than 100,000 petitions signed and delivered to the Senate, and dozens of supportive editorials from national and state outlets. CWA is now leading renewed conversations about a new external coalition to back substantial Senate rules reforms for the 113th Congress.
The Senate Resolution 4 rules reform package would protect the voice and power of the minority, while expediting the consideration of legislation and nominations. The most significant reform is replacing the current "silent" filibuster with the "talking" filibuster, so that when the Senate votes for continued debate, there is a debate, but the period of debate ends when all comments are exhausted. This will increase accountability by making the filibuster a public exercise and discouraging frivolous filibusters.
We have a chance to restore the filibuster to its original purpose, but we need your help to do it. Click here to take action and contact your Senators today.
(This post first appeared on Labor's Edge and is republished with permission.)
The Governor and the Oil Lobbyist: Report Blasts Jerry Brown's Friendship With Lucie Gikovich
Co-Published by Fast Company
How much influence has a former Jerry Brown staffer-turned-lobbyist had over the governor?
---
A report calls on incoming governor Gavin Newsom to investigate a lobbyist's efforts in California.
---
Co-Published by Fast Company
Lucie Gikovich, a longtime friend and former member of California Governor Jerry Brown's staff, repeatedly lobbied his office on behalf of a group of oil and gas companies that won major concessions from the governor on important state legislation, according to a report released today by a New York-based non-profit organization.
Gikovich's decades-long friendship with Brown has previously been reported by the Sacramento Bee, including the fact that he stays at her home while on official business in Washington, DC. But her oil and gas industry ties have not received attention prior to this report, according to report author Derek Seidman, a research analyst with the Public Accountability Initiative, which is funded by foundations and the American Federation of Teachers.
---
Lucie Gikovich, her business partner and firm have donated $114,500 to Brown's campaigns over the years.
---
"She's someone that Brown clearly completely trusts and yet is being extremely well paid by her clients to lobby on behalf of their interests," said Seidman, whose report is titled The California Oil Veto: The Lobbyist Behind Governor Jerry Brown's Concessions to Big Oil. Gikovich, who works with the D.C.-based Crane Group, has lobbied Brown's office on behalf of corporate clients for a range of industries since 2011. Gikovich, her business partner and firm have donated $114,500 to Brown's campaigns over the years.
For her part, Gikovich denies having an outsized influence on Brown and minimizes her role in legislation that the report says she influenced. "Governor Brown, more than anyone I know, makes up his own mind after hearing from all sides and carefully analyzing all aspects of the issues," she wrote in an email. "He makes his decisions on the merits, regardless of his relationships with those involved."
Evan Westrup, a spokesperson for the Governor, added a few choice words about the then-unpublished report, when it was described to him in an email. "This report is about as factual – and substantive – as a tweet from Donald Trump," said Westrup. "The governor had no knowledge that any of these companies were her clients, but even if he did, it would've made no difference. On these bills – and the thousands of others that have crossed his desk – the focus has always been on what's best for California, which is why the state's record of climate action is unmatched in the Western world."
---
Phillips 66, one of Gikovich's clients, has paid her $937,500 in fees and retainers to lobby the governor's office and state regulatory boards since 2012.
---
The Public Accountability Initiative's report builds on a longstanding critique of the California governor who, many environmentalists claim, has been too cozy with Big Oil interests in spite of his reputation as a national leader in combating global climate change and reducing demand for fossil fuels in the state. The report also calls on incoming governor Gavin Newsom to investigate Gikovich's lobbying efforts in California and to "sever the state's ties to Gikovich."
One of Gikovich's clients, the oil refinery operator Phillips 66, has paid her $937,500 in fees and retainers to lobby the governor's office and various state regulatory boards since 2012. She was the Houston-based firm's highest paid lobbyist in California, according to the report.
Gikovich served as a top aide to Brown during his first two terms as governor and he hired her as his federal lobbyist when he was mayor of Oakland, a job that earned her $780,000 from 2001 to 2007, according to the report. She also served as Brown's press secretary during his failed 1982 run for the U.S. Senate. As governor, Brown has included her in trade delegations to China and Mexico.
Brown reportedly stayed with Gikovich in her Washington D.C. home in 2013, at the time she was lobbying on behalf of Phillips 66 and Halliburton, and other corporate clients. Such hospitality might not violate ethics laws if the stay "is related to another purpose unconnected with the lobbyist's professional activities," according to the state's ethics rules at the time.
"I find it hard to believe that they would've not talked about any official business but no one can know for certain, of course," says Seidman, whose report says those visits may constitute a "possible violation of ethics rules."
The visits were "all personal, not business" and evidence of Brown's frugality as well as his desire to visit with friends, according to Gikovich's email.
Gikovich's client during the battle over two bills to extend California's landmark climate program, known as cap-and-trade, was Phillips 66, which operates oil refineries in Santa Maria and Rodeo. The package that the governor signed last year included major concessions to the oil industry and split the environmental community, with mainstream environmentalists supporting the compromise and environmental justice groups turning against it.
Gikovich said that her work on the cap-and-trade program—for which she reportedly was paid $105,000 in 2017—was mostly confined to monitoring the legislation. "There was no contact with the Governor personally on these issues," she wrote.
In 2013, Gikovich also reported lobbying Brown's office on behalf of Houston-based Halliburton, the oilfield services giant, on a proposed senate bill sponsored by then-Democratic State Senator Fran Pavley that regulated hydraulic fracturing—"fracking"—an oil extraction method that brings with it the risks of drinking water contamination and of inducing earthquakes, as well as air pollution.
That bill lost the support of environmentalists after the oil industry lobbied to amend it to allow fracking to continue while the process was being studied, as High Country News reported at the time. Westrup countered via email that "prior to this bill, there was no integrated, comprehensive regulatory oversight of this production stimulation method, which has been used in California for more than 30 years."
Gikovich wrote that the Crane Group "had a small subcontract" to provide strategic advice to Halliburton and that she "never spoke even once to the Governor or staff on their issues, including fracking."
The report also credits Gikovich with playing a key role in advocating for the Southern California Gas Company after its Aliso Canyon natural gas storage facility sprung a massive methane leak in 2015, causing the evacuation of thousands of nearby residents. She lobbied Brown's office on behalf of the utility in opposition of a bill that would have granted disaster victims more latitude in litigation against the company. In an email, she said that she submitted a lengthy policy memo, but did not speak to Brown or his staff.
Brown nixed the bill, writing that "nothing has been shown to indicate that current law is insufficient to holding polluters accountable."
"It seems pretty clear that Gikovich's lobbying of his office correlated really closely with his veto of this," said Seidman.
---
Copyright Capital & Main