Why Is the Freedom Foundation Ringing Workers' Doorbells?
Toni Monique is an in-home caregiver who talks like a political philosopher when she is not taking care of her sister, Tonya Ginn, in Buena Park. When told that the Freedom Foundation, an organization with financial ties to right-wing billionaires Charles and David Koch, had recently moved into California to undermine her union, she got downright angry.

Toni Monique is an in-home caregiver who talks like a political philosopher. When she is not helping her sister, Tonya Ginn, in Buena Park, she volunteers with the United Domestic Workers union that represents 94,000 California home care workers. (Disclosure: The UDW is a financial supporter of this website.) When told that the Freedom Foundation, an organization with financial ties to right-wing billionaires Charles and David Koch, had recently moved into California to try and undermine her union, she got downright angry.
"They [Freedom Foundation] say they are fighting for freedom," she said of the foundation. "Well, we should have freedom to put food on the table, food in our stomachs, transportation and a roof over our heads. That's freedom." The political philosopher Isaiah Berlin famously distinguished between "negative freedom" — the ability of people to act "unobstructed by others" – and "positive freedom," the need to act collectively to avoid being ground down by circumstance or constrained by limited resources. Berlin wrote about political theory. Toni Monique and Tonya Ginn are living it.
After years of separation, Toni found her sister three years ago languishing in a Sacramento nursing facility and brought her to live at her small Orange County home. Ginn, who has suffered from a number of physical and mental disabilities, had lived on the street for years, moving in and out of hospitals and other care facilities. "My sister was being treated like an animal," Toni said, sitting on the sofa next to her sister on a recent weekday morning. "We now have a good life together," Ginn added.
Under California law, through in-home support services a relative or other caregiver can assist a disabled or aged person at the home of the client or caregiver. Funded through federal and state monies, and administered by counties, 70 percent of help providers are related to those they care for. Toni, who makes the average wage of $10.20 an hour, takes home less than $20,000 a year.
The United Domestic Workers fights to protect the program as well as boost the wages and benefits of its members. The Freedom Foundation has recently moved to California put a stop to those efforts. Brian Minnich, the foundation's executive vice president, tells Capital & Main it has moved into California to inform government employee union members that "they have a constitutional right to leave the union." He points to a 2014 U.S. Supreme Court decision that ruled workers who were not fully-fledged public employees did not have to join the union as a condition of employment.
The Freedom Foundation was created in Washington State in 1991 by a former Republican legislator and gubernatorial candidate. The organization (formally known as the Evergreen Freedom Foundation) has long been active in libertarian causes and anti-regulatory crusades.
The group is also a member of the State Policy Network (SPN), a national web of conservative policy and advocacy organizations that have raised hundreds of millions of dollars from corporations and radical right-wing billionaires, including the Koch Brothers. Jane Mayer, whose book Dark Money outlines the origins, strategy and funding network of the SPN and similar groups, describes SPNs attempts to provide "cookie-cutterlike policy papers" that push privatization, the weakening of environmental laws, economic deregulation, tax relief for corporations and higher income earners, and anti-union legislation.
Mayer's description reflects the Freedom Foundation's activities in Washington State. According to the Center for Media and Democracy, a watchdog group that profiles organizations and individuals who are trying to influence public policy, the foundation has fought to reduce and restrict public employee pensions, advocated for stricter voter ID laws, pushed privatization efforts and run anti-union campaigns.
David Rolf, president of Seattle-based Service Employees International Union, Local 775, which represents home-care and nursing home workers, has engaged in ongoing battles with the Freedom Foundation. Rolf points to a time some years ago when his union would actually partner with the foundation on issues where the two organizations' interests aligned: closing special interest tax loopholes, opposing government subsidies to private companies, good government reform. But more recently, Rolf says, the Freedom Foundation has "turned into a single-purpose anti-union operation in the guise of a 501(c)(3) charity."
Through a strategy begun in Washington State that they are now rolling out in California, the Freedom Foundation obtained the names and addresses of some Local 775 members that they used to visit the members' homes. During these visits, Freedom Foundation activists tried to talk home-care workers into quitting the union. Minnich stated that the organization is running the same sort of campaign in California but with different tactics. They have already produced anti-union TV commercials on cable channels in Orange County.
Minnich would not spell out in an interview why, exactly, his group would spend so much money to simply pass on the word about that Supreme Court ruling to low-wage caregivers. "I will say," he hinted, "that one of the biggest issues that comes up is how their money is spent politically – they have no choice in how their money is spent."
A number of people who have watched the aggressive tactics of the Freedom Foundation believe their primary goal may not be to hurt home-care workers (Minnich stated that he believes they are actually underpaid for the "yeoman's work" they do) but to defund organized labor's political activity. In addition to going door to door, a secondary strategy is the filing of lawsuits against unions, diverting their time and money.
Collin Jergens, who works for the Seattle-based progressive advocacy organization Fuse Washington, says that the Freedom Foundation's legal and political strategy is transparent. "Their goal," he says, "is to force unions to waste money on lawyers so they can't spend those resources on supporting their membership."
The Freedom Foundation's anti-union obsession – their Washington State headquarters has a prerecorded antihome-care workers union message for callers on hold – fits neatly with the ideological thrust and political goals of their funders.
According to recently published IRS Form 990 tax records, which tax-exempt foundations are required to submit every year, the Freedom Foundation has received substantial contributions from DonorsTrust and the Donors Capital Fund, two "dark money" foundations that, in DonorsTrust's case, Mayer describes as "screen[s] for the right wing, behind which fingerprints disappeared from the cash." According to research conducted by Mother Jones writer Andy Kroll, DonorsTrust "…has funded the right's assault on labor unions, climate scientists, public schools, economic regulations and the very premise of activist government."
The foundations are called "dark money" vessels because current tax law does not require them to provide details about who donated money to them. But the Center for Media and Democracy has published a detailed outline about the linked funding network of corporate and right-wing contributors. Weakening home-care workers making $20,000 a year is not the best PR, even for conservative billionaires. But undercutting labor's attempts to raise wages, build coalitions to decrease dependence on fossil fuels or to raise taxes on the wealthy – that's an agenda that the radical right wing will fight for and fund.
Minnich acknowledged to Capital & Main that getting members to quit the union has "downstream effects" that "impact the dollars that the union has," but that his group's primary goal is to let union members know they have the right to leave the union.
While Minnich is hesitant to elaborate on the political motives of the Freedom Foundation – tax exempt organizations are prohibited from explicitly engaging in politics – Freedom Foundation chief executive officer Tom McCabe ostentatiously plays the role of bad cop. In recent Freedom Foundation fundraising letters he has called union leaders "thugs," "goons," and "creeps" and asked potential donors to help stop "big government liberals," and liberal Democrats" from controlling the Pacific Northwest.
In California, working out of an office in Tustin, the Freedom Foundation has run ads in local papers soliciting home-care workers to appear in anti-union commercials, become plaintiffs in lawsuits and to provide lists of workers the foundation can then contact. Editha Adams, a home-care worker herself and president of the United Domestic Workers, said her members voluntarily belong to the union and pay dues. "Without our union, the IHSS [In-Home Supportive Services] program as we know it would not exist," she said.
While Minnich claimed that the foundation's efforts in Washington led to a 60 percent drop in union membership for child-care aides, union leader Rolf said their tactics in Washington fell flat. "They are clever but not very smart," he pointed out. "The key thing is to have a robust communications program with your members and have an honest talk with them, letting them know they may get a knock on the door."
Freedom is a cherished concept embedded in our political vocabulary, but it is also a concrete thing, manifesting itself in various ways. Americans tend to see freedom, the historian Eric Foner has written, as "historical rather than theoretical," a "terrain of conflict" where freedom has been won but also subverted, shaped by the collision of politics, economics and ideology.
Freedom clearly means different things for the Freedom Foundation than it does for Toni Monique and Tonya Ginn. Is it the freedom from the "impositions" of government and the freedom to get wealthy? Or is it the ability to shape their political fate so that they can escape economic and physical hardship, being free to live a productive life?
"Freedom comes with a price and it should not be at the expense of the weak, disabled and handicapped," Toni Monique said. Her sister smiled and nodded her agreement. "I'm looking forward to having a good life with my family, and I'm willing to go with my walker and tell the government," she added.
Toni Monique and Tonya Ginn have no confusion about which side they are on.
Home, Shared Home: Renters Watch as Their Buildings Become Apartels
The displacement of renters by large-scale operators who turn apartment buildings into de facto hotels has hit urban areas like Greater Los Angeles hard.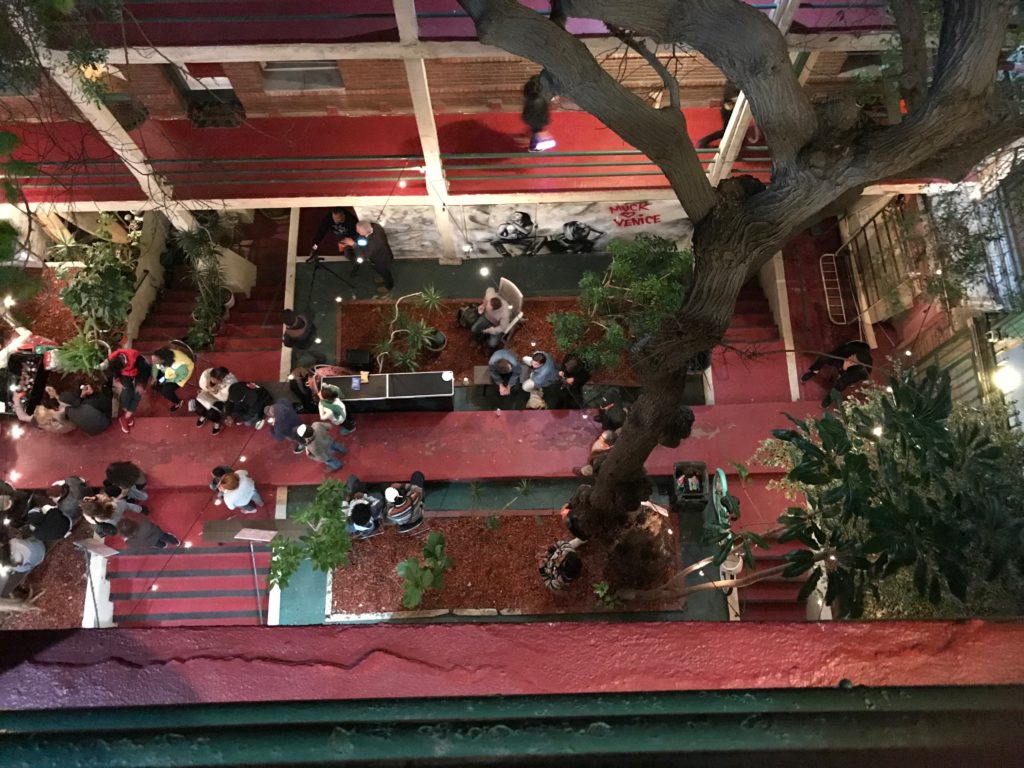 ---
Apartment Renter: Short-term guests begin lining up around 11 a.m., spilling out onto the street as other guests check out.
---
Home-sharing

. This cozy phrase once conjured images of a homeowner generously opening up a room to out-of-towners—while the fee charged by the owner helped him with mortgage payments. Or perhaps we pictured an apartment dweller who left for the weekend and made a little extra cash letting someone else use the premises.
But the present reality of home-sharing is not so cozy for single-family residential neighborhoods, where out-of-town guests may feel no social pressure to allow the neighbors a peaceful night's sleep or to not trash the rental home.
To see today's home-sharing up close, visit the Ellison Suites in coastal Venice, just a block from the famed Venice Boardwalk. Built in 1913 and covered with gigantic murals of Jim Morrison, Marilyn Monroe, John Hurt and Lana Del Rey, it boasts 58 units—but only 12 apartments are occupied by permanent tenants, according to one resident.
---
"We used to have neighbors for 20 years—now we have them for 20 hours."
---
Beyond the Ellison's courtyard, people bump wheeled suitcases up the building's front steps and, on Fridays, signs advertise the night's upcoming party. It might offer a fire dancer, but most parties will at least include free beer and wine — and music that reverberates up through the courtyard.
"We used to have neighbors for 20 years—now we have them for 20 hours," said Bruce Kijewski, one of the remaining tenants, who has lived here since 1977. In the summer, he said, guests begin lining up around 11 a.m., spilling out onto Paloma Avenue as other guests check out.
An online search for The Ellison Suites yields a number of home-sharing and lodging platforms—Booking.com and Expedia among them–advertising its amenities as a short-term beachside rental. The building's own website promotes it as a vacation destination, extolling Jonas Never's murals as "Venice Masterpieces."
The displacement of tenants by large-scale operators who turn their buildings into de facto hotels hit hard in urban areas like Greater Los Angeles, which is plagued by a nearly three percent rental vacancy rate.
While mom and pop are in on some of the home-sharing, today its booming business model most benefits commercial operators who can make more on short-term rentals (STRs) than on permanent residents.
STRs are promoted by a slew of home-sharing platforms, including Airbnb, now valued at $31 billion as it moves toward being publicly traded; and HomeAway and subsidiary VRBO, valued around $3 billion in 2015. The platforms profit by collecting a percentage on every rental offered on their sites by home-sharers.
Local municipalities are scrambling to figure out and ameliorate STR impacts on their neighborhoods and housing stock. In May, a Los Angeles City Council measure was sent to the city attorney's office for language changes and is expected to go before the city planning commission in September. The proposed ordinance would set up a permitting system for short-term rentals and establish a 120-day yearly limit for home-sharing. Two nuisance violations—enforced by a city agency—could get an operator's permit revoked.
The Ellison Suites, zoned as a rent-stabilized apartment building, in effect operates as a hotel.
The lowest nightly rate listed on the website is $149. That apartment, when rented to vacationers, could yield $4,470 monthly.
With the Ellison's current rent-stabilized protections, it's hard to straight-up evict someone, but there are ways of persuading them to flee their apartments to make them available for tourists and other visitors.
Michael and Susanne Detto, Ellison residents for 14 years, rented their apartment for $2,000 a month before they moved out in May. All-night parties in the courtyard below their apartment made it impossible to sleep—both work 12-hour shifts as nurses. "It was so loud we couldn't even talk to each other," Susanne Detto said.
Breakdowns in maintenance–power outages, faulty plumbing, leaking ceilings—plus an altercation with management during one of the raucous parties were all part of what the Dettos claim drove them out.
"Especially in summer, he makes three times the money if he rents out every day," Michael Detto said of the Ellison's landlord.
Kijewski and other Ellison tenants say landlord investment goes into creating a hotel entertainment experience rather than supporting habitable apartments. Residents have filed dozens of complaints with the city against building owner Lance Jay Robbins' Paloma Partnership LLC, citing bad plumbing, inadequate water supply, construction without permits and change of use/occupancy without a building permit. (Multiple attempts to get a response from Robbins for this story were unsuccessful.)
---
Michael spoke wistfully of a community where neighbors once shared poetry readings, art discussions and fundraisers in the courtyard now occupied by high-octane weekend parties.
---
The company appealed the building's status to Los Angeles' Building and Safety Commission, arguing that short-term rentals should be allowed because the city's initial certificate of occupancy designating the Ellison a residential apartment was in error and that the building is a hotel.
The company lost. Another appeal is headed for the city planning department.
Meanwhile the Ellison continues to advertise online as a hotel.
With today's lucrative rates of return, it's easy to see why, for large-scale operators, short-term stays make for a more attractive business model than permanent housing. Customers staying for a few nights might do some hating online, but won't be there to press on long-playing maintenance issues.
Tenants at the Metropolitan in Hollywood experience the same push-out climate as Ellison residents, according to Susan Hunter, a case worker with the LA Tenants Union, which is part of a coalition that includes representatives from Los Angeles' hotel industry, labor unions and community groups.
Hunter counts a dozen permanent residents remaining in the sleek, 12-story high-rise that boasts sweeping views of Hollywood and sits within walking distance of Hollywood Boulevard sites.
The website for Apartments.com says there are no apartments presently available.
Zoned as a residential building, the 52-unit Sunset Boulevard property owned by the Harridge Development Group is advertised online as an "apartel." Tenants approached for this story didn't want to speak, they said, for fear of retaliation, but they have complained to Hunter of loud parties, with fighting in the halls and kicked-in doors.
Apart from creating chaotic conditions for tenants sharing space with STRs, the home-sharing model leaves an even larger social footprint. The incentive for large-scale operators everywhere to acquire units—including entire homes — and move them off the permanent housing market places upward price pressure on housing.
From Seattle to New Orleans to Barcelona and beyond, housing advocates are assessing the effects of short-term rentals on housing markets and figuring out how to respond.
In New York City, short-term rentals have resulted in a loss of as many as 13,500 rental housing units, according to a January 2018 report from the School of Urban Planning at McGill University. (The study was commissioned by a labor group opposed to home-sharing.) New York has passed legislation requiring registration and other monitoring measures.
A 2015 San Francisco Board of Supervisors Budget and Legislative Analyst report estimated that Airbnb short-term rentals alone had removed between 925 and 1,960 units from the city's housing market. These, along with 8,000 units already being used for short-term rentals, add up to an 11 percent reduction in rental housing.
Like other cities, San Francisco has aimed to define and enforce the number of nights STRs are permitted. Studies based on data from insideairbnb.com show that, in Los Angeles, renting out a property as a short-term rental for 83 nights or more annually produces more profit than the property could earn as a long-term rental.
In San Francisco, the cradle of Airbnb and adjacent to tech hubs, municipal leaders face an affordable housing shortage and a vacancy rate below three percent, and have established a registration process for short-term rental hosts. Regulations set a cap of 90 days per year for hosts that don't live on the property. Violators are subject to stiff fines.
Seattle, headquarters of several tech giants, took an approach that attacks the short-term rental issue as part of the affordable housing problem. The city defines a short-term rental as a maximum stay of 29 nights and sets up a licensing system.
Using a wider lens on the affordable housing crunch, the city council in May approved an "Amazon tax" that charges the larger employers such as Groupon and Amazon $275 per worker annually to support housing and homeless services. (The city council repealed the tax in August.) Seattle comes in third, behind only New York and Los Angeles, in the numbers of homeless, while boasting only a fraction of those cities' total populations.
Joan Ling, an urban policy analyst who has worked in affordable housing and mixed-use development for over 30 years, supports short-term rental regulation but sees it as only a piece of the larger question of creating affordable housing to support working families. Los Angeles, she said, "has a ways to go . . . Anything is better than nothing. What [regulation] can do is reduce the harm that can be done [by] removing units. The affordability crisis is so pervasive, so deep—we need a huge number of policies to address the crisis."
Michael and Susanne Detto are happy living in their new apartment in Santa Monica—no all-night parties, the plumbing works and it's a 10-minute walk to work. But before the Ellison got pieced out for short term-rentals, the couple also liked their Venice home.
Michael spoke wistfully of the community where neighbors once shared poetry readings, art discussions and fundraisers in the courtyard now occupied by high-octane weekend parties.
Susanne likes where the couple landed, but reflected on the overall cost as tenants got pushed out by the STR model.
"We lost a lot. We lost a lot of our neighbors. We're still kind of recovering."
---
Copyright Capital & Main