Why Harris v. Quinn Is No Sweeping Victory for Conservatives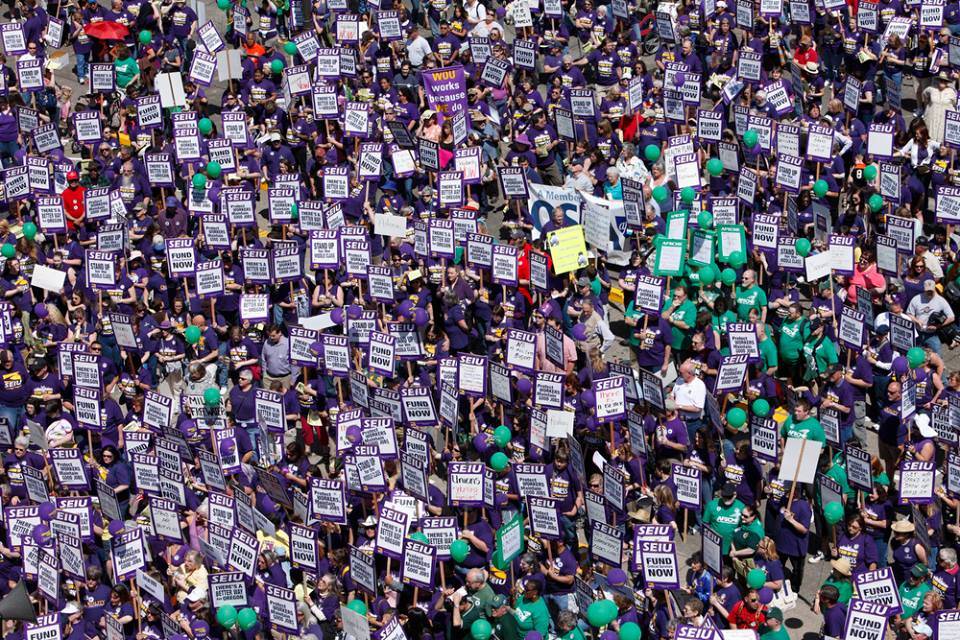 In Harris v. Quinn, the Supreme Court held by a 5-4 margin that an "agency shop" requirement—under which unionized public employees must pay their fair share of the costs of negotiating and administering a collective-bargaining agreement whose benefits they enjoy—may not be imposed on homecare workers who are (in the conservative majority's view) only tenuously employed by the State of Illinois. Doing so, the conservatives held, violates the First Amendment.
The decision creates real obstacles for homecare workers in Illinois, California and other states who wish to have well-funded, effective unions representing them (and who don't want to have their colleagues free-ride on the dues they pay to support such unions). This was a serious blow for homecare workers, but the obstacles are ones that can be overcome.
The bigger story of Harris v. Quinn is what didn't happen: the conservative justices did not end fair-share fee arrangements altogether for public-sector workers. The National Right to Work Foundation (NRTW), a grenade-lobbing, anti-union outfit with deep ties to the Koch Brothers, asked the Supreme Court to overrule nearly 40 years of precedent upholding the agency shop model. Although the issue was squarely presented to the justices, the conservative majority didn't do so. As Justice Elena Kagan put it in her dissent, this "aspect of today's opinion is cause for satisfaction, though hardly applause."
To understand what the Supreme Court did and didn't hold, you have to go back to a 1977 case called Abood v. Detroit Board of Education. There, the Court ruled that the government may—consistent with the First Amendment—require public employees to pay a fair share of a union's costs in negotiating on their behalf for better terms of employment. Why is the First Amendment involved at all? Because the First Amendment prohibits the government not just from silencing speech, but also from compelling it. The plaintiffs in Abood—like the plaintiffs in Harris v. Quinn—argued that by requiring them to financially support a union that negotiated with the government, the government was unconstitutionally forcing them to speak on political issues.
The Court rejected this argument in Abood. It distinguished charges for the fair-share costs of a union's "collective-bargaining, contract-administration, and grievance-adjustment" purposes (which may be imposed on public workers over their objections) from a union's charges for "ideological causes not germane to its duties as collective-bargaining representative" (which may not).
The Court found that the agency shop fulfilled important purposes. Fair-share fees prevent free-riders—unionized public workers who enjoy the benefits of collectively bargained terms of employment without paying for them. (In Harris, for example, the plaintiffs did not object to having the Service Employees International Union (SEIU) represent them, or to the near doubling of Illinois homecare workers' hourly wages between 2003 and 2014, or to the health benefits SEIU negotiated on their behalf; they only objected to paying for these things.)
Preventing free-ridership is not some moral duty, at least as far as the courts are concerned. It is the flip side of another central feature of U.S. labor law: exclusive representation. Unlike in some countries that allow multiple unions in a single workplace, unions in the United States are the exclusive representative of all workers in a bargaining unit. That means that unions are required by law to represent everyone—even workers who don't join as members or contribute—and may not discriminate against non-members in negotiating contracts or arbitrating grievances.
State and local governments have reasonably concluded that fair-share arrangements are necessary if unions are obligated to represent non-members as well as members. And exclusive representation, in turn, promotes labor peace and stability by allowing employers to bargain with workers speaking in one voice, rather than many groups of workers presenting conflicting demands. These important governmental interests, the Abood ruling held, outweigh the modest burden on First Amendment rights that fair-share arrangements impose.
Since 1977, the Supreme Court has regularly invoked Abood and its distinction between fair-share fees for collective bargaining and non-chargeable fees for political activities. Abood is not some one-off precedent; it is a bedrock of U.S. labor law.
So there was concern when the Supreme Court accepted Harris v. Quinn and seemed to signal that it was prepared to overrule Abood and end the agency shop in the public sector. That's certainly what NRTW thought, devoting most of its brief to arguing for this sea change in the law. The concern was heightened by the decision in Knox v. SEIU, a 2012 ruling authored by Justice Samuel Alito which seemed to lay the groundwork for a legal challenge to Abood.
But in the end the conservative justices didn't take this step. Rather than overruling Abood, they settled on a far narrower decision, rejecting what they called the "substantial expansion of Abood's reach" to homecare workers represented by SEIU in Illinois. Abood did not apply to these homecare workers, Justice Alito reasoned, because they are not "full-fledged public employees" at all, but only "partial" or "quasi" public employees (terms that he invented). Alito fixated on Illinois' decision to give disabled persons ("customers" under the Illinois statute) control over certain aspects of the employment relationship with their personal assistants, including the power to hire and fire them and to supervise them day-to-day. Because SEIU "only" bargained with the State of Illinois over such things as personal assistants' wages and healthcare benefits, rather than the full scope of their employment terms, Abood' did not apply to them. Or so Alito reasoned. In her dissent, Justice Kagan attacked both the factual underpinnings of this argument and its relevance to the constitutional analysis.
What the conservatives couldn't do is come up with convincing reasons for overturning Abood entirely. Justice Alito lists his complaints about Abood in non-binding dicta at the beginning of his opinion: it didn't take the First Amendment seriously enough (in fact, Abood is consistent with the approach taken in other First Amendment cases involving public workplaces); it created a distinction between collective-bargaining and political expenditures that's hard to administer (many areas of the law require interpretation by judges; that's what judges are for); it makes it difficult for plaintiffs who want to challenge their fair-share fees (this may be the first opinion that Justice Alito has written expressing concern for plaintiffs' ability to vindicate their rights in court).
For justices seeking to overrule 40 years of precedent, this is pretty thin gruel. At least one conservative member of the Court—probably Justice Scalia, but maybe others—was not convinced that a longstanding precedent like Abood could be overruled with these kinds of arguments.
Here's Justice Kagan calling out the conservative justices on their inability to overrule Abood—in Supreme-Court talk, practically rubbing their noses in it:
Readers of today's decision will know that Abood does not rank on the majority's top-ten list of favorite precedents—and that the majority could not restrain itself from saying (and saying and saying) so. Yet they will also know that the majority could not, even after receiving full-dress briefing and argument, come up with reasons anywhere near sufficient to reverse the decision.
Note my emphasis: it's not that the conservatives chose not to overrule Abood or that they saved that task for a later date. It's that they tried really hard and could not come up with a way to do it. This may be the language of a liberal justice in the minority who sees the writing on the wall, but it sure doesn't sound like it.
So why doesn't Harris v. Quinn presage the end of the agency shop for public-sector workers, or as Justice Kagan called it, "a right-to-work regime for all government employees"? To put it simply: because the arguments that have been thought up so far for doing so aren't very persuasive and because the ramifications of overturning Abood are not that appealing for some conservatives on the Court.
Those ramifications extend beyond the world of public sector unions. Employment disputes of all types involving public-sector workers would take on constitutional dimensions. If the First Amendment protects a homecare worker who doesn't want to fund her union's negotiation for greater public expenditures on wages and benefits, then why wouldn't it also protect an individual public-sector worker who complains to her manager about her allotted vacation, or her overtime schedule, or her office location? Somewhat more seriously, why wouldn't a district attorney's complaints to his supervisors about the legality of a search warrant be constitutionally protected, and his subsequent firing unlawful?
In Garcetti v. Ceballos, the Court's conservatives held that the district attorney's workplace complaints were not protected by the First Amendment; in making them, he acted as a public employee, not a public citizen. The Supreme Court has often refused to allow public employees to make a "federal constitutional issue" out of everyday employment matters, with the full-throated support of the conservatives justices. Justice Alito struggled to find a manageable way to distinguish the collective bargaining involved in Harris from other kinds of speech in public workplaces that have only limited constitutional protection.
Or take another example: as a member of the California bar, I am legally required to pay dues if I want to practice law professionally. Those dues may go to fund things that I disagree with. I may even be against the proliferation of lawyers in the State. But the Court held long ago in a case called Keller v. State Bar of California that I can be required to pay dues to have the State Bar represent me. Why are my bar dues different from Harris's fair-share fees? According to Justice Alito, it's because California has an "interest in regulating the legal profession and improving the quality of legal services." Period. That's the Supreme Court equivalent of "because I say so."
In the end, neither NRTW nor Justice Alito found a convincing way to square these circles. It may be that new members of the Court will find the arguments convincing, or come up with different reasons for overruling Abood. No one should doubt how important the next Supreme Court appointment will be to the labor movement. But it seems unlikely that the current justices will end the agency shop for all public-sector workers.
Another potentially blockbuster labor-law case from this term, UNITE HERE Local 355 v. Mulhall, went out with a similar whimper. NRTW brought that case to the Supreme Court with the intent of criminalizing neutrality agreements—the most effective vehicle today for private-sector union organizing. But after the arguments were presented, the Court's conservatives couldn't find a way to rule against the union, and they dropped the case.
Even on an ideologically driven Court, sometimes the quality of legal arguments matters.
(Paul More is a partner with the law firm Davis, Cowell & Bowe LLP, where he represents private- and public-sector unions in California and nationally. Davis, Cowell & Bowe LLP represented the petitioners in UNITE HERE Local 355 v. Mulhall, which the Supreme Court also heard this term. In 2013, Paul was named one of California's "Top 100 Lawyers" by the Los Angeles/San Francisco Daily Journal, California's leading legal publication.)

Is Tesla a Promise or a Problem for Rebuilding the Middle Class?
In Robert Jimenez's day, California was second only to Michigan in auto manufacturing, and homeownership was a much more attainable aspiration. "We are what's left of the middle class," he says.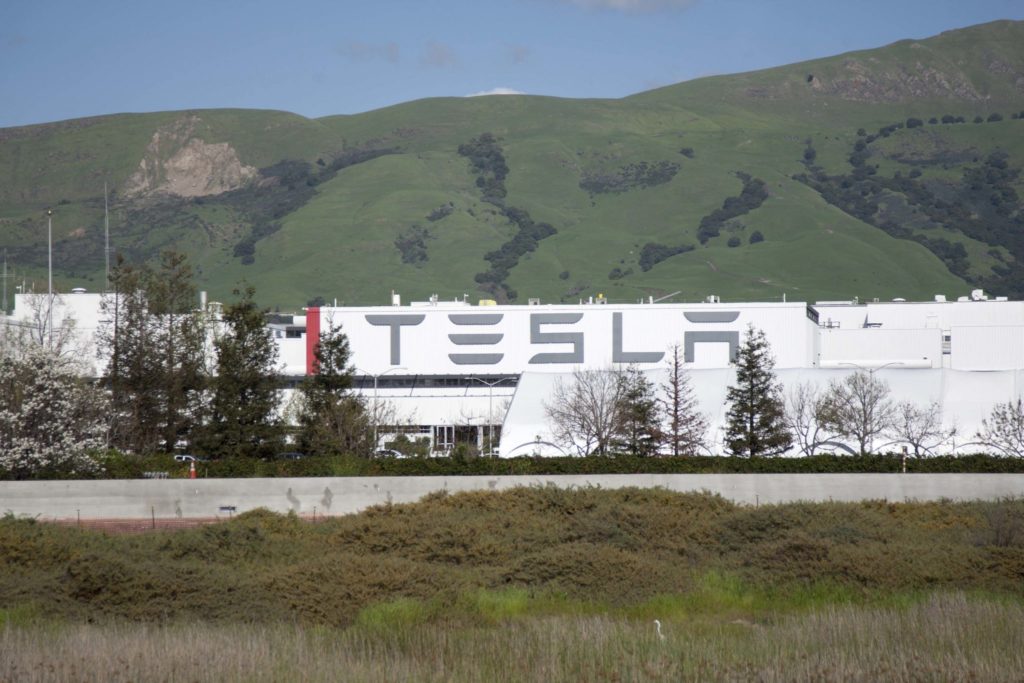 ---
Can an industrial giant like Tesla be a factory for middle-class jobs?
---
Both Michael Sanchez and Robert Jimenez owe their fortunes to California's auto industry. But their personal and professional trajectories couldn't be more different.
Sanchez, a Tesla an assembly line worker, is on a leave of absence due to chronic back pain from a repetitive-motion injury that sidelined him two years ago. He and his wife, Mona Liza Sanchez, rent a "very old broken-down" house in Hayward. Homeownership in Northern California's pricey East Bay is not on his radar, even in this blue-collar suburb south of Oakland.
They lavish their affections on "our babies," by which Sanchez, 39, means their cats and dogs. Their economic situation has caused them to delay starting a family.
---
Source: California Budget & Policy Center analysis of U.S. Census Bureau, American Community Survey and Decennial Census data.
Note: "Middle income" is defined as having household income that is two-thirds to twice the median household income for the county of residence.
---
Meanwhile, Jimenez, who retired in 2005 after 35 years at a Chrysler-owned supplier in downtown Los Angeles, owns a house Montebello, just east of Los Angeles, and put his two children through college. His career flourished during the auto industry's golden age, which began after World War II and was nourished by the federal government's massive investment in road building. In Jimenez's day, California was second only to Michigan in auto manufacturing, and homeownership was a much more attainable aspiration. "We are what's left of the middle class," he says.
---
Elon Musk's labor intransigence could upend a decades-old social contract
between employers and workers.
---
Investment analysts scrutinized Tesla's announcement, made earlier this month, that it met its 2018 production goals for the mass market Model 3, after the company blew past deadline after deadline. But another critical question looms for taxpayers who, according to a 2015 Los Angeles Times analysis, have invested nearly $5 billion in public aid to Musk's companies. Can an industrial giant like Tesla be a factory for middle-class jobs – or has the very nature of manufacturing irrevocably changed since the 1960s, when Robert Jimenez first went to work in the auto industry?
Back then, more than 60 percent of California households could be considered middle income, according to Sara Kimberlin, senior policy analyst with the non-profit California Budget and Policy Center. By 2016, that number had dipped to below 50 percent. Some of the decline can be attributed to the loss of thousands of manufacturing jobs, many of them high-paying union jobs, like the ones that afforded Jimenez and his family a piece of the California Dream.
The 2010 opening of the Tesla plant in a shuttered Fremont auto factory gave hope to Sanchez, who, unlike Jimenez, went to school to study the auto trade. He was hired initially as a temp for $17 per hour in 2012. It took him three-and-a half years to earn his first raise, a feat he says he accomplished by sending emails to Musk, the human resources department and "everybody in between." When he injured himself, Sanchez was making "$20 per hour and change" on the night shift. The starting wage at Tesla has since been raised to $19 per hour.
---
A successful California union drive could "serve as a model for jump-starting the middle class."
---
By contrast, Sanchez's wife, who is 40, had earned $34 per hour after five years of working on the assembly line at the same plant when it was unionized, according to Sanchez. She left the Fremont factory in 2009, when it closed. It had been operated by Toyota and General Motors in a joint venture.
An overriding concern of Michael Sanchez has been Tesla's alleged lack of attention to safety. Sanchez worked on the luxury Model X's underbody with his arms always above his shoulders, his neck straining as he looked up. Tesla should aim to "[make] it where people's bodies are not going to break down as time goes on," he says.
Sanchez fell back on a tried-and-true method of raising workplace standards. In the summer of 2016, he joined the United Auto Workers' effort to unionize the Fremont factory, which currently employs 10,000 people and is California's sole auto manufacturer. Plant safety is one of the UAW's chief organizing issues at Tesla, which has received media attention for its higher than average rates of serious injuries, and for injury-reporting lapses, which the company disputes. A successful union drive could also "serve as a model for jump-starting the middle class" in California, according to Harley Shaiken, a University of California, Berkeley professor who specializes in labor and education.
---
"Imagine if Tesla goes under tomorrow — do you want to lose your job and lose your investment?"
---
In fact, labor advocates have long argued that unions benefit workers more broadly. A recent study, published by economists Henry Farber, Dan Herbst, Ilyana Kziemko and Suresh Naidu, draws from early polling data to show that high rates of unionization lead to lower levels of income inequality across the board. Shaiken also claims that the benefits of unionization would not just accrue to the workforce but to the company as well. A union could ensure that workers "speak more freely, more openly, now making things more effective in the production process," he says.
Musk has not greeted the union effort warmly. In May, he wrote on Twitter: "UAW destroyed once great US auto industry & everyone knows it." He also tweeted that those who joined the union might "give up stock options for nothing," referring to an employee benefit currently available to all Tesla workers: an equity grant, which vests over a four-year period, and stock they can buy at a discount. The UAW charged that Musk's statement was an act of retaliation against employees for union organizing and a violation of labor law, in a complaint filed with the National Labor Relations Board in May.
---
---
Source: Union Membership and Coverage Database, available at www.unionstats.com, compiled from the US Census Bureau's Current Population Survey by economists Barry Hirsch of Georgia State University and David Macpherson of Trinity University.
---
Peter Leyden runs Reinvent, a media company that moderates roundtables with tech entrepreneurs and political leaders concerned about sustainability and the future of work. On the matter of compensation, Leyden suggests that having employees hold an equity stake in the company offers "a different way to think about your involvement at the company" that is "more geared toward the future" than bargaining for wage increases. The growing value of Tesla's stock, Musk argued in a blog post to employees last year, can make its workers wealthier than their counterparts in unionized plants.
---
The path to the middle class is not as clear as it once was. The UAW has recently lost votes in right-to-work Tennessee and Mississippi.
---
Yet Jon Luskin, a certified financial planner at Define Financial, based in San Diego, believes employees are better off with higher wages than stocks. He urges Tesla employees to sell their stocks as soon as they vest. "Imagine if Tesla goes under tomorrow — do you want to lose your job and lose your investment?"
Shaiken says employees should not have to choose between unionization and having a stake in the company's success. He points out that workers at General Motors, which is covered by a union contract, took home almost $12,000 extra this year due to a profit-sharing deal with the company.
Early last year Michael Sanchez was leafleting the Fremont factory as a volunteer UAW organizer when security guards ordered him to leave. One guard told him that "unions are worthless," according to testimony that he provided to an administrative law judge during a trial before an NLRB-appointed judge in June, the San Francisco Chronicle reported. The NLRB's general counsel says the company violated federal law that protects workers' rights to act collectively. Hearings on the matter are expected to resume in September.
---
"If you've got a kid and mortgage and car payment, you need a predictable income.
That's what unions do."
---
"This has all the hallmarks of 1930s resistance, in the 21st-century context," says Shaiken. He adds that such resistance could have "real consequences" beyond Tesla, upending a decades-old social contract between employers and workers.
"No one at Tesla has ever, or will ever, have any action taken against them based on their feelings on unionization," Tesla said in a statement to the NLRB last year.
Of course, the path to the middle class that Robert Jimenez helped forge is not as clear as it once was. When he helped organize the Chrysler-owned auto parts supplier in 1968, union membership in the state stood at about 32 percent. Last year, only 16 percent of California's workforce belonged to unions, and the union membership rate is far lower in the private sector. The UAW has recently lost votes in right-to-work Tennessee and Mississippi.
Peter Leyden characterizes unions as appropriate for 20th-century mass production, but anachronistic in contemporary high-tech manufacturing. He envisions a "new model" of labor-management relations that he describes as "flexible, adaptable, risk-taking" and "in sync with the entrepreneurial and innovative instincts of the people running the companies."
But Nelson Lichtenstein, a UC Santa Barbara historian, argues that Musk is shifting risk onto workers rather than encouraging experimentation, since employees who feel less secure in their jobs will be reluctant to speak up. "If you've got a kid and mortgage and car payment, you need a predictable income. That's what unions do," he adds.
It is Musk and other union critics, says Shaiken, who promote false and outdated notions of auto unions, which often work collaboratively with the companies they represent. As an example, he cites the former General Motors and Toyota joint venture that previously ran the Fremont plant, where "constant improvement was the goal." Tesla, he claims, is pursuing a "hard ideological argument rather than a pragmatic, high-tech way" of identifying how to optimize the production process and valuing workers at the same time.
"A competitive, profitable Tesla and a union are not incompatible, but that's up to the workers there," he says.
---
Research assistance provided by Jake Conran.
Copyright Capital & Main