Why Harris v. Quinn Is No Sweeping Victory for Conservatives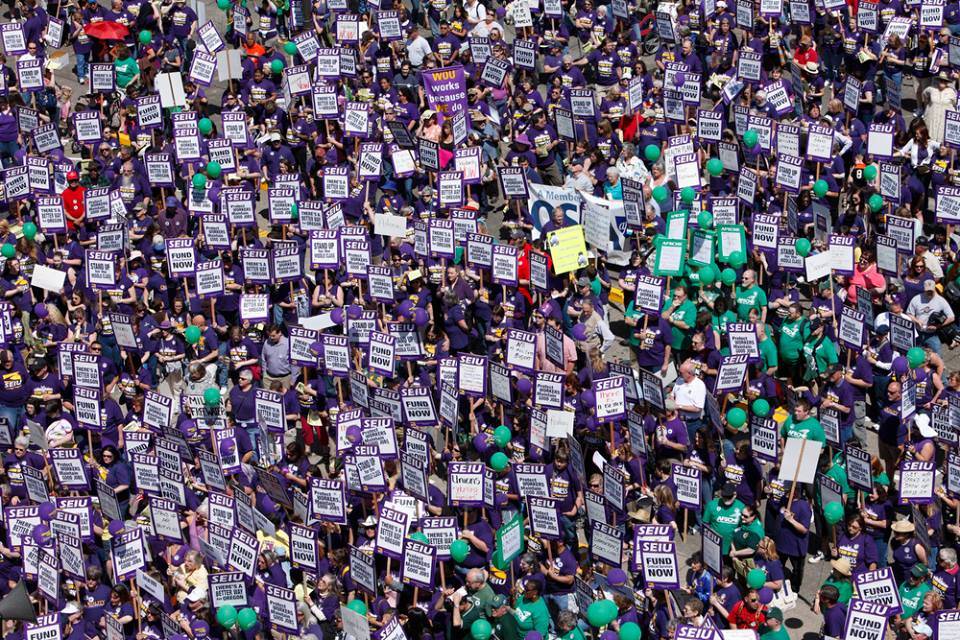 In Harris v. Quinn, the Supreme Court held by a 5-4 margin that an "agency shop" requirement—under which unionized public employees must pay their fair share of the costs of negotiating and administering a collective-bargaining agreement whose benefits they enjoy—may not be imposed on homecare workers who are (in the conservative majority's view) only tenuously employed by the State of Illinois. Doing so, the conservatives held, violates the First Amendment.
The decision creates real obstacles for homecare workers in Illinois, California and other states who wish to have well-funded, effective unions representing them (and who don't want to have their colleagues free-ride on the dues they pay to support such unions). This was a serious blow for homecare workers, but the obstacles are ones that can be overcome.
The bigger story of Harris v. Quinn is what didn't happen: the conservative justices did not end fair-share fee arrangements altogether for public-sector workers. The National Right to Work Foundation (NRTW), a grenade-lobbing, anti-union outfit with deep ties to the Koch Brothers, asked the Supreme Court to overrule nearly 40 years of precedent upholding the agency shop model. Although the issue was squarely presented to the justices, the conservative majority didn't do so. As Justice Elena Kagan put it in her dissent, this "aspect of today's opinion is cause for satisfaction, though hardly applause."
To understand what the Supreme Court did and didn't hold, you have to go back to a 1977 case called Abood v. Detroit Board of Education. There, the Court ruled that the government may—consistent with the First Amendment—require public employees to pay a fair share of a union's costs in negotiating on their behalf for better terms of employment. Why is the First Amendment involved at all? Because the First Amendment prohibits the government not just from silencing speech, but also from compelling it. The plaintiffs in Abood—like the plaintiffs in Harris v. Quinn—argued that by requiring them to financially support a union that negotiated with the government, the government was unconstitutionally forcing them to speak on political issues.
The Court rejected this argument in Abood. It distinguished charges for the fair-share costs of a union's "collective-bargaining, contract-administration, and grievance-adjustment" purposes (which may be imposed on public workers over their objections) from a union's charges for "ideological causes not germane to its duties as collective-bargaining representative" (which may not).
The Court found that the agency shop fulfilled important purposes. Fair-share fees prevent free-riders—unionized public workers who enjoy the benefits of collectively bargained terms of employment without paying for them. (In Harris, for example, the plaintiffs did not object to having the Service Employees International Union (SEIU) represent them, or to the near doubling of Illinois homecare workers' hourly wages between 2003 and 2014, or to the health benefits SEIU negotiated on their behalf; they only objected to paying for these things.)
Preventing free-ridership is not some moral duty, at least as far as the courts are concerned. It is the flip side of another central feature of U.S. labor law: exclusive representation. Unlike in some countries that allow multiple unions in a single workplace, unions in the United States are the exclusive representative of all workers in a bargaining unit. That means that unions are required by law to represent everyone—even workers who don't join as members or contribute—and may not discriminate against non-members in negotiating contracts or arbitrating grievances.
State and local governments have reasonably concluded that fair-share arrangements are necessary if unions are obligated to represent non-members as well as members. And exclusive representation, in turn, promotes labor peace and stability by allowing employers to bargain with workers speaking in one voice, rather than many groups of workers presenting conflicting demands. These important governmental interests, the Abood ruling held, outweigh the modest burden on First Amendment rights that fair-share arrangements impose.
Since 1977, the Supreme Court has regularly invoked Abood and its distinction between fair-share fees for collective bargaining and non-chargeable fees for political activities. Abood is not some one-off precedent; it is a bedrock of U.S. labor law.
So there was concern when the Supreme Court accepted Harris v. Quinn and seemed to signal that it was prepared to overrule Abood and end the agency shop in the public sector. That's certainly what NRTW thought, devoting most of its brief to arguing for this sea change in the law. The concern was heightened by the decision in Knox v. SEIU, a 2012 ruling authored by Justice Samuel Alito which seemed to lay the groundwork for a legal challenge to Abood.
But in the end the conservative justices didn't take this step. Rather than overruling Abood, they settled on a far narrower decision, rejecting what they called the "substantial expansion of Abood's reach" to homecare workers represented by SEIU in Illinois. Abood did not apply to these homecare workers, Justice Alito reasoned, because they are not "full-fledged public employees" at all, but only "partial" or "quasi" public employees (terms that he invented). Alito fixated on Illinois' decision to give disabled persons ("customers" under the Illinois statute) control over certain aspects of the employment relationship with their personal assistants, including the power to hire and fire them and to supervise them day-to-day. Because SEIU "only" bargained with the State of Illinois over such things as personal assistants' wages and healthcare benefits, rather than the full scope of their employment terms, Abood' did not apply to them. Or so Alito reasoned. In her dissent, Justice Kagan attacked both the factual underpinnings of this argument and its relevance to the constitutional analysis.
What the conservatives couldn't do is come up with convincing reasons for overturning Abood entirely. Justice Alito lists his complaints about Abood in non-binding dicta at the beginning of his opinion: it didn't take the First Amendment seriously enough (in fact, Abood is consistent with the approach taken in other First Amendment cases involving public workplaces); it created a distinction between collective-bargaining and political expenditures that's hard to administer (many areas of the law require interpretation by judges; that's what judges are for); it makes it difficult for plaintiffs who want to challenge their fair-share fees (this may be the first opinion that Justice Alito has written expressing concern for plaintiffs' ability to vindicate their rights in court).
For justices seeking to overrule 40 years of precedent, this is pretty thin gruel. At least one conservative member of the Court—probably Justice Scalia, but maybe others—was not convinced that a longstanding precedent like Abood could be overruled with these kinds of arguments.
Here's Justice Kagan calling out the conservative justices on their inability to overrule Abood—in Supreme-Court talk, practically rubbing their noses in it:
Readers of today's decision will know that Abood does not rank on the majority's top-ten list of favorite precedents—and that the majority could not restrain itself from saying (and saying and saying) so. Yet they will also know that the majority could not, even after receiving full-dress briefing and argument, come up with reasons anywhere near sufficient to reverse the decision.
Note my emphasis: it's not that the conservatives chose not to overrule Abood or that they saved that task for a later date. It's that they tried really hard and could not come up with a way to do it. This may be the language of a liberal justice in the minority who sees the writing on the wall, but it sure doesn't sound like it.
So why doesn't Harris v. Quinn presage the end of the agency shop for public-sector workers, or as Justice Kagan called it, "a right-to-work regime for all government employees"? To put it simply: because the arguments that have been thought up so far for doing so aren't very persuasive and because the ramifications of overturning Abood are not that appealing for some conservatives on the Court.
Those ramifications extend beyond the world of public sector unions. Employment disputes of all types involving public-sector workers would take on constitutional dimensions. If the First Amendment protects a homecare worker who doesn't want to fund her union's negotiation for greater public expenditures on wages and benefits, then why wouldn't it also protect an individual public-sector worker who complains to her manager about her allotted vacation, or her overtime schedule, or her office location? Somewhat more seriously, why wouldn't a district attorney's complaints to his supervisors about the legality of a search warrant be constitutionally protected, and his subsequent firing unlawful?
In Garcetti v. Ceballos, the Court's conservatives held that the district attorney's workplace complaints were not protected by the First Amendment; in making them, he acted as a public employee, not a public citizen. The Supreme Court has often refused to allow public employees to make a "federal constitutional issue" out of everyday employment matters, with the full-throated support of the conservatives justices. Justice Alito struggled to find a manageable way to distinguish the collective bargaining involved in Harris from other kinds of speech in public workplaces that have only limited constitutional protection.
Or take another example: as a member of the California bar, I am legally required to pay dues if I want to practice law professionally. Those dues may go to fund things that I disagree with. I may even be against the proliferation of lawyers in the State. But the Court held long ago in a case called Keller v. State Bar of California that I can be required to pay dues to have the State Bar represent me. Why are my bar dues different from Harris's fair-share fees? According to Justice Alito, it's because California has an "interest in regulating the legal profession and improving the quality of legal services." Period. That's the Supreme Court equivalent of "because I say so."
In the end, neither NRTW nor Justice Alito found a convincing way to square these circles. It may be that new members of the Court will find the arguments convincing, or come up with different reasons for overruling Abood. No one should doubt how important the next Supreme Court appointment will be to the labor movement. But it seems unlikely that the current justices will end the agency shop for all public-sector workers.
Another potentially blockbuster labor-law case from this term, UNITE HERE Local 355 v. Mulhall, went out with a similar whimper. NRTW brought that case to the Supreme Court with the intent of criminalizing neutrality agreements—the most effective vehicle today for private-sector union organizing. But after the arguments were presented, the Court's conservatives couldn't find a way to rule against the union, and they dropped the case.
Even on an ideologically driven Court, sometimes the quality of legal arguments matters.
(Paul More is a partner with the law firm Davis, Cowell & Bowe LLP, where he represents private- and public-sector unions in California and nationally. Davis, Cowell & Bowe LLP represented the petitioners in UNITE HERE Local 355 v. Mulhall, which the Supreme Court also heard this term. In 2013, Paul was named one of California's "Top 100 Lawyers" by the Los Angeles/San Francisco Daily Journal, California's leading legal publication.)
Government Shutdown's Silver Lining: A Corporate Hiring Guru Speaks Out
Ending the shutdown won't curtail the hiring opportunities for corporate recruiters, says one expert. It's like divorce: Once you start thinking about leaving, the odds that it will happen go up dramatically.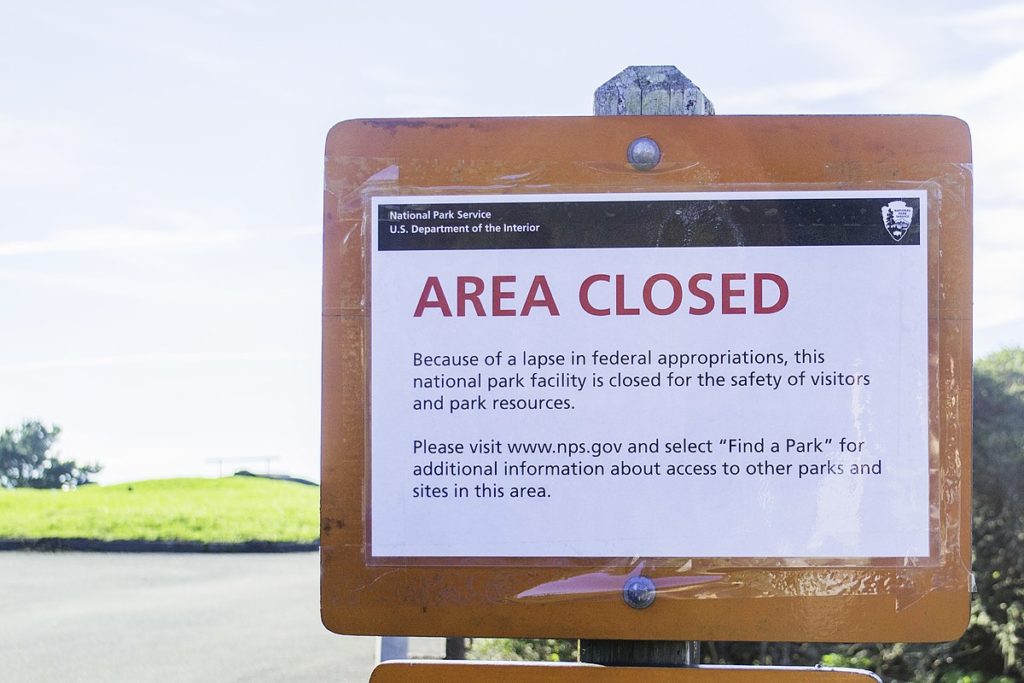 ---
In the new economic climate, even the most mission-driven of federal workers might be forgiven for abandoning the nation's parks, airways and regulatory agencies.
---
When the federal government shut down for 16 days in 2013, corporate hiring guru John Sullivan advised companies on how to raid federal government workplaces for talent.
A blog post he penned at the time caused some to charge him with being unpatriotic, he said recently, while others thanked him for the reminder that federal workers were ripe for the plucking.
This time around, the climate is even better for corporations looking to cull staff from a workforce that is already well-trained and also known for its loyalty, Sullivan tells Capital & Main by phone. He describes the current moment—with hundreds of thousands of federal employees forgoing paychecks and, in many cases, sitting at home — as tantamount to "a sale on Black Friday."
---
Congresswoman:  The shutdown could have a long-term impact on the federal government's ability to attract workers with IT skills.
---
"If you've been screaming for the last two years" about the skills-and-talent shortage, "this week there isn't one," says Sullivan, who heads the human resource management program at San Francisco State University's College of Business.
The partial shutdown, that began on December 22 when President Trump failed to secure funding from Congress for his border wall, has impacted employees at a host of federal agencies, including the departments of Agriculture, Commerce, Homeland Security, Housing and Urban Development, Interior, Justice, State, Transportation and Treasury and the NASA.
What makes this particular shutdown so suitable for raiding federal workplaces? It's not just that employee morale has taken a nosedive, thanks to a president who is at war with many of the agencies he oversees. Nor is it only the fact that Trump threatened to keep the government closed for as long as a year, a notion that "really scares people," says Sullivan.
---
With Amazon's opening new offices in the District of Columbia area, three out of four IT workers in DC say they would consider leaving their current jobs for the tech behemoth.
---
It's also the economic climate. Companies are growing. Unemployment is low. Remote work is increasingly an option. Technical advances have made looking for a job easier than it was in 2013. "You can say 'boo' to your phone and apply for a job," adds Sullivan, delivering his matchmaking pitch with such force that even the most mission-driven of federal workers might be forgiven for abandoning the nation's parks, airways and regulatory agencies.
Congresswoman Robin Kelly (D-IL), the ranking member of the House Subcommittee on Information Technology, worried, in a statement last week, that the shutdown would have a long-term impact on the federal government's ability to attract workers with IT skills. The federal government has generally struggled to attract young tech workers, and Amazon's new offices in the District of Columbia area has three out of four IT workers in DC saying they would consider leaving their current jobs for the tech behemoth.
Tech workers — and upper-salaried talent — are not the only employees coveted by the private sector, says Sullivan. Forest Service employees. Coast Guard workers. Transportation and Safety Administration agents. Any unpaid workers could be lured away, especially in states like California and Texas, where economies are strong, he maintains. An employment agency for California's casinos recently put this shout out on Twitter: "Any @TSA employees looking for new opportunities, PTGaming is hiring!" along with the popular hashtag, #shutdownstories.
The shutdown could also prompt federal employees to throw scruples to the wind and step into the infamous revolving door that leads workers from government jobs to the private sector and back again. When Sullivan was advising companies in 2013, he helped firms hire from agencies that regulated them.
"And by the way," asks Sullivan, persisting with his siren song, "if I was a regulator, [with] President Trump eliminating all those regulations, why am I needed? Why not go to the private sector?"
Sullivan, who says he is an underpaid government worker in his own right, is concerned about the public cost of his and others' efforts to lure away the federal government's top talent. The best employees will leave first, and "literally billions" in training dollars will be lost, he predicts.
But he puts the blame squarely on a public sector that undervalues its workers. Corporations that pilfer federal government workforce for talent offer a kind of public service and corrective by demonstrating the price that must be paid "for degrading public service and unnecessarily frustrating federal employees," he wrote in his 2013 post.
Ending the shutdown won't curtail the hiring opportunities for corporate recruiters, says Sullivan. "It's like divorce. Once you start thinking about [leaving], the odds [that it will happen] go up dramatically."
---
Copyright Capital & Main