Who Will Clean Up Silicon Valley's E-wasteland?
Co-published by Fast Company
What's arguably most responsible for the growing problem of electronic waste is the manufacturing model of planned obsolescence, in which software and hardware become incompatible or antiquated, or smartphones and laptops aren't designed for durability.
Co-published by Fast Company
Last April, Apple released its 58-page Environmental Responsibility Report, an ecological "progress report" for the 2016 fiscal year. The document boasted of a number of sustainability and safety initiatives under the high-profile leadership of Lisa Jackson, a former Environmental Protection Agency administrator.
However, a subsequent report published by Vice's technology vertical, Motherboard, found that Apple had instructed third-party recyclers to shred its old products, rendering them ineligible for reuse or repurposing, even when stored data could be safeguarded without destruction of the hardware. Such "must-shred" policies expose one of the many practices undergirding a burgeoning environmental issue: electronic waste.
The years 2014 and 2015 produced approximately 41 million tons of e-waste each (less than one-sixth of 2014's e-waste was estimated to have been recycled); projections for 2017 approach 50 million tons. Unlike ordinary household trash, e-waste contains heavy metals and hazardous chemicals; smartphones' component parts often consist of lead, mercury and brominated flame retardants, whose toxicity and lack of biodegradability have long threatened the health of humans, animals and the environment. In addition, smartphones and laptops contain "conflict minerals" (coltan, wolframite, cassiterite and gold), whose funding of the Congolese civil war and environmental costs have long been documented. Furthermore, as these minerals' finite supply attenuates, miners must look to deep-sea alternatives.
"Coltan is needed for the antennas on [smartphones] to get those WiFi signals…and there really aren't that many sources of it around the world," says deep-sea ecologist Andrew Thaler. "We don't have a very good pipeline to reuse these minerals after they've lived out their life in a piece of electronics resources…. As we're exhausting ore bodies on the surface, much like with oil exploration, we're going deeper and deeper into the ocean to try to find these resources."
A number of circumstances contribute to the production of e-waste. There's no federal law requiring e-waste to be recycled, and procedures nationwide are often fragmented and cumbersome; only 25 states have implemented legislation. In addition, e-waste recycling is largely privatized, placing its control in the hands of profit-driven businesses. In 2013, the New York Times reported that insufficient governmental oversight of the recycling programs of companies like Sony, Toshiba and Apple had "led to rampant fraud" — recyclers were buying paperwork to inflate the quantity of waste collected. Third-party facilities' recycling streams may also prove noxious; contracts with manufacturers and adherence to environmental protocol vary, affecting how much waste can actually be responsibly recycled. Moreover, businesses that depend on the market value of recyclable materials may opt to abandon their stockpiles or dump them in landfills when materials become obsolete.
"One growing problem is cathode ray tubes [which are commonly found in television and computer monitors from previous decades]," says Freyja Knapp, a Ph.D. candidate in Environmental Science Policy & Management at the University of California, Berkeley. "The leaded glass is a real problem. The barium in them is a problem. [The] markets have declined for" many of the facilities that process CRTs, "and you see a lot of abandoned facilities with big piles of leaded glass just laying there."
What's arguably most responsible for this, however, is the manufacturing model of planned obsolescence, in which software and hardware become incompatible or antiquated, or hardware isn't designed for durability. Smartphones may begin to malfunction after two years, for example, or fail to support recent operating systems or app versions if they're two or three versions removed from the latest models. (iOS 10, the operating system Apple introduced in late 2016, proffers a number of tactile features that require an iPhone 6S or later model.) This also manifests in larger appliances. In 2015, ENDS Europe found that electronic goods' lifespans were dwindling, noting that "the proportion of all units sold to replace a defective appliance grew from 3.5 percent in 2004 to 8.3 percent in 2012"; the percentage of large household appliances that had to be replaced within the first five years also grew from seven percent in 2004 to 13 percent in 2013.
The fragility and comparatively brief two-to-five-year shelf lives of Silicon Valley companies' smartphones and laptops are especially deleterious factors, Thaler notes. What's more, devices from Apple, Google and Microsoft have reached levels of cultural ubiquity rivaled by few other forms of electronics, thus feeding their incredibly high demand.
"A lot of companies make devices that go obsolete in a couple of years and then they essentially become useless to the user and you have to buy the updated version," Thaler explains. "If smartphones lasted for 10 years, there wouldn't be the huge need for e-waste recycling and for finding ways to deal with the massive amount of essentially garbage produced by needing to buy a new cell phone every two years."
Culpability, then, begins with manufacturing and design. "I don't see how [companies' profit motives and e-waste] could not be related because of planned obsolescence…that's forcing the market to continue consuming," Knapp says. "The design decisions getting made [in Silicon Valley are] a significant responsibility, and probably the biggest responsibility."
Some of the largest e-waste producers have shown little interest in making any changes. A proposed New York state law, S618B (the "Fair Repair Act") aims to remove barriers to electronics repair by requiring companies to sell replacement parts and tools (and in some cases, provide guides) to users and proscribing software locks, which can deter third-party vendors from replacing electronics parts. Recent lobbying efforts by Apple, Verizon, the Consumer Technology Association (CTA) and other major tech actors have sought to block the bill. (Similar legislation has arisen in a number of other states, including Illinois, Kansas, Massachusetts, Minnesota, Nebraska and Tennessee, where tech giants are suspected, Motherboard notes, of lobbying against the proposed laws. Apple, Verizon and CTA have not replied to requests for comment for this article.)
Given the problem's magnitude, a number of technocratic solutions have been floated. Thaler postulates that, to combat product obsolescence, companies can begin to reduce "code bloat"; in other words, their software engineers should preemptively write minimal software whose "slimness" renders it compatible with various gradations of hardware. "Because there's no incentive to slim down the software to make it run well on older equipment, that old equipment becomes obsolete through software," he says. "If you change the processor on a board on a smartphone, you can't design software around it if the fundamental architecture of the phone changes. You need new software and a new phone. But for a lot of cases, that fundamental architecture doesn't change nearly as fast as the software just bloats."
Others posit that companies can practice Design for Environment (DFE), a paradigm of ecologically-minded hardware design. The concept, however, is nebulous; like "corporate responsibility," Knapp says, it means virtually nothing concrete, and dependence on companies to make any decisions that ultimately prioritize the environment or public health over their respective bottom lines may seem misguided. Technocrats also propose that governments bestow companies with tax incentives to recycle their old products or produce longer-lasting software, though Apple's fraught history of tax-evasion tactics demonstrates the potential pitfalls of such a plan.
To reach a truly effective solution, the systemic roots of the electronics industry's actions must be addressed, according to Bruce Olszewski, a lecturer and director of the Center for the Development of Recycling at San Jose State University. "[Silicon Valley companies] want consumption because that is what drives profit," says Olszewski. "The incentive in capitalism is always maximizing profit. The problem with that is there's no response mechanism in capitalism for things like social good and reducing pollution."
The problem is not insurmountable, Olszewski asserts, as long as the economic principles governing electronics production begin to shift away from profit and toward sustainability. "We want whoever caused the problem to pay for the problem. That's going to come from some bold leadership…It really is about creating a new economy. It's government's responsibility to recognize the needs for society and sustainability."
Former EPA Official Finds Hope in the Middle of the Climate Crisis
"Those of us who've been working on environmental justice and climate justice," says Mustafa Ali, "understand we're talking about housing, transportation, the environment, public health and jobs."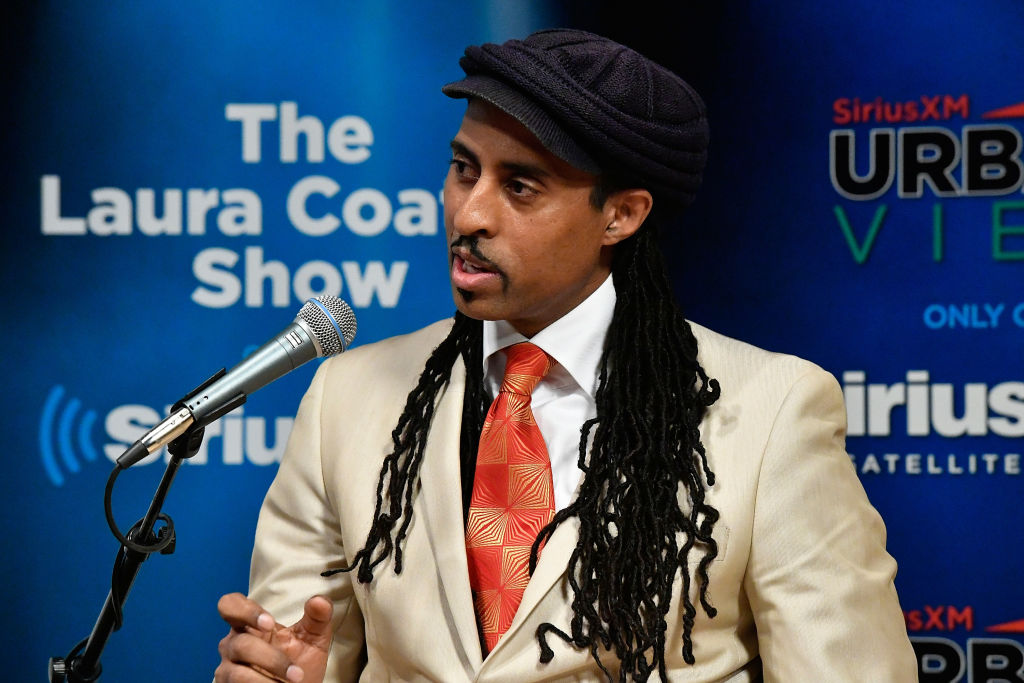 ---
"Because the current administration is so anti-science, so anti-environment, so anti-climate, people who weren't paying attention before are paying attention now."
---
Until he resigned last year, Mustafa Santiago Ali served as the Senior Advisor for Environmental Justice and Community Revitalization at the U.S. Environmental Protection Agency, where he'd worked since 1992. Under the direction of the agency's first administrator of the Office of Environmental Equity, Dr. Clarice Gaylord, Ali helped begin the EPA's effort to recognize and address the disproportionate impacts of pollution on communities situated closest to industrial polluters, communities where people — often people of color — live in poverty. He worked with the Clinton administration on Executive Order 12898, which established a federal program to address environmental justice in communities of color and low-income communities, and in 2007, he went to Capitol Hill to work as a Brookings Institution Congressional Fellow with Rep. John Conyers. He returned to the agency the next year, and stayed until the Trump administration proposed cutting nearly $2 billion from the EPA's already meager $8.2 billion budget, and a leaked memo revealed plans to eliminate the Office of Environmental Justice that Ali had helped found. (Congress ultimately rejected the cuts in the current federal budget, passed in March of 2018).
Ali is now the Senior Vice President of Climate, Environmental Justice & Community Revitalization for the Washington, DC-based Hip Hop Caucus, a national nonprofit that joins the hip hop community to the civic process of politics, social change and the environment. At the recent Climate Reality Conference in Los Angeles, he spoke on a panel of environmental justice advocates, which included Catherine Flowers and mark! Lopez of East Yard Communities for Environmental Justice. Ali had audience members join hands and reaffirm their collective power to effect social and political transformation. I spoke with him afterwards in the over-air-conditioned lobby of the Los Angeles Convention Center.
---
Capital & Main: You spent 24 years at EPA, beginning when George H.W. Bush was still in office, and stayed through the second Bush administration, too. How did you weather other more conservative administrations?
Mustafa Santiago Ali: When I started, at the end of [then-EPA Administrator] William Reilly's administration in 1992, we were really blessed that there was a lot of energy around environmental equity, which became environmental justice. A number of the leaders had gotten together in 1991, through the first National People of Color [Environmental Leadership] Summit in Washington, DC, and put together a set of recommendations before they began to engage with the federal government. One of those recommendations was the creation of an Office of Environmental Equity/Environmental Justice. Those recommendations drove a lot of work that happened in both Republican and Democratic administrations in the early days.
We began to move forward on the creation of the environmental justice small-grants program during the first Bush administration. In the transition to the Clinton administration, we were able to move things forward because an executive order came that I was blessed to be able to work on. Out of that executive order came the interagency working group, which means there are now 17 federal agencies – back then it was 11 — and a couple of White House offices that have distinct responsibility for environmental justice.
There had been successes under all of those administrations. There were challenges in that certain administrations were more tied into business and industry. But all of them made progress before this administration we're in now.
So even Bush II. They had an office to doctor studies done by scientists within Fish and Wildlife, for instance. But you're saying there was still progress on environmental justice then?
There was. It was incremental, and I don't want to oversell it. But without a doubt, it existed. No one ever talked about eliminating the Office of Environmental Justice under Bush.
How hard was it for you to leave?
I had to struggle with it. I prayed, I talked to my parents, I talked to my mentors. There were a couple of times I was going to jump out right at the beginning [of the Trump administration]. Maya Angelou has that great quote about how when someone tells you who they are, believe them. But there's always that thing, you know, maybe they'll have a road to Damascus moment. Maybe there'll be this transition. But it wasn't going to happen. That was being overly hopeful.
I knew the policies they were moving forward on literally could kill people. I knew that, because even when things are moving in a somewhat positive direction, people are still very vulnerable. And I knew that these folks, they just didn't care about all of these leaders, these grassroots leaders and others, who sacrificed everything to try and strengthen environmental laws, to try to get real enforcement actually happening. They've put into their own reports that they know their policies are going to kill people – especially people of color.
Enforcement of environmental crimes is almost non-existent.
I knew that was coming. They were very clear about what they wanted to do around air pollution issues. And since I led the inter-agency working group, I knew that the cumulative effect is that more people were going to get sick and more people were going to die.
You've addressed in your career an overlooked part of environmental justice: the impact of natural and man-made disasters on disadvantaged communities. We saw it in Katrina, in Harvey, and we saw it in Irma and Maria. There are vulnerable people who suffer a disproportionate share of the impacts of these events.
The reason for that — we saw it in Hurricane Maria, all the lives that were lost — is if you don't have a specific focus and understanding of the additional impacts that happen in vulnerable communities, you can't protect folks and help them recover. Flint, the BP oil spill, the hurricanes — we can go down the line in terms of disasters. It doesn't matter if you're talking about low-income white communities, communities of color or indigenous communities. You've got to be thinking, What are the additional things we need to do to help those people?
The Trump administration has been trying to weaken many regulations for chemical facilities and hazardous waste facilities that were written to protect the public. That will also affect vulnerable communities when disasters happen.
They're actually extracting wealth from these communities. Lots of times people think, Oh, these communities in Appalachia. These communities in the Rust Belt. What wealth is there? But when [industries] continue to put these [dangerous facilities] in these communities, housing values plummet, while everyone else's are going up. So you're taking wealth from these communities.
In the same way, when people say climate change isn't real, that means [those communities] can't invest in renewables. That means that communities in the Rust Belt that really need new jobs never get a chance at them. So once again you are taking wealth away from these communities.
How do you get those people to care — the people in the Rust Belt, for instance, who may not understand how they're being harmed by these policies? You tweeted a story about people in Kansas whose water had been contaminated for seven years, and the state health department knew about it but didn't bother to tell them.
That was intentional. It was intentional because sometimes we've set up these barriers in our country around environmental justice. That's a shame. It's about those black people, brown people, maybe indigenous people, and white brothers and sisters [who] sometimes don't think they're going to be impacted also. When we don't help everybody understand that these impacts affect everybody, then we allow people to put these boxes around it and say, "Well, I care, but that's something that's happening to these other folks."
Even in some of the disadvantaged communities of color, it can be hard to get people to care. People are busy feeding their kids. I heard Van Jones make the point years ago at the Bioneers Conference that you can't knock on doors in marginalized communities and scream about how the polar bears are dying. How do you reach out to those people who are already stressed just getting through a day in their lives? How do you talk to them about pollution, let alone climate?
I like to anchor my message in what's going on in people's lives. Normally I would talk about how 27 million people in our country have asthma. Seven million kids. Most folks of color in the urban setting can relate to asthma. They have kids or grandchildren or nieces or nephews [with] asthma. Then we have a conversation about, Okay, where's that coming from? How is this situation being exacerbated? It's because of pollution that's coming out of these plants and pollution coming from the backs of cars. Then I link them into, "Well, did you know that there's currently policy being made that's going to let more pollution come out, so there's going to be more health impacts?"
Those of us who've been working on environmental justice and climate justice for a while understand we're talking about housing, transportation, the environment, public health and jobs. So I talk to people also about their vote, not only in the environmental context, but in the context of the violence that continues to happen in some communities. And how your vote makes the decision about who's the police chief, who's the district attorney. I bring all that together. Then people are like, "Yeah, I got power. And my power's tied up in my vote. And the vote will determine the resources coming into my community, and who's leading that process."
In California the climate fight on the environmental justice front lines and the legislative space are often at odds. It's frustrating, because as mark! Lopez of East Yard Communities for Environmental Justice said on your panel, the frontline communities in the environmental justice fight are where our climate problems begin.
I've noticed that [about California]. Legislators can't do something because of how it will affect business or industry, [but] people in the environmental justice space are saying, "We're the ones who are going to be affected by pollution first. We're the ones who have to deal with this first." [The answer lies in] creating authentic collaborative partnerships.
If we're in a relationship, it means you care about me, and I care about you. In a good marriage, a healthy friendship, many times you care more about the other person than you do about yourself. We've got to get to that. That will get to a greater understanding of how to create a policy that's truly protective of everyone.
You mentioned that 200,000 people die every year prematurely because of air pollution. Can you imagine if 200,000 people were dying of bird flu?
It would be a public health emergency.
But we don't move like we would move if it were a public health emergency. How do you convince people who are making the laws that it is?
We've got two different dynamics going on. One, we really need to accelerate the creation of renewable energy jobs, to create a just transition for the workers in those industries, and to get new people into that space.
Two, we've got to get the money out of politics. We know that's an even harder fight than getting renewable energy jobs in place. There's an addiction to that money. I was at Netroots Nation and many of the political leaders who came to that signed the no fossil-fuel money pledge. If you don't have any accountability to the fossil-fuel world and that money that exists there, then you're less likely to make decisions based on a monetary thing, and you're more likely to be basing your decisions on public health.
You say you're a realist, but also an optimist. What is your cause for optimism right now?
This is an interesting time. I think that our country had to go through this. If we're going to have real talk, we have to acknowledge that there's been no administration that's lived up to what they should be doing on these issues. But now because the current administration is so anti-science, so anti-environment, so anti-climate, people who weren't paying attention before are paying attention now. Foundations are saying we've got to shift our portfolios to better support this work. We have a common destiny that's tied to this.
Even scientists. I have a science background and it hasn't always been the case that scientists [were involved in public policy]. There've always been good scientists, but it's not like the larger scientific organizations were saying we need to do more. Now that is happening. For all the craziness the current administration tries to do and does, [it has] also been a catalyst for people saying we've got to start honoring each other. We've got to start working together. That's what keeps me going — I see these new relationships forming.
---
Copyright Capital & Main