What We Talk About When We Talk About the Gig Economy
Co-published by The American Prospect
Uber? That's so 2015. A new report finds that we don't know as much about the sharing economy as we think we do.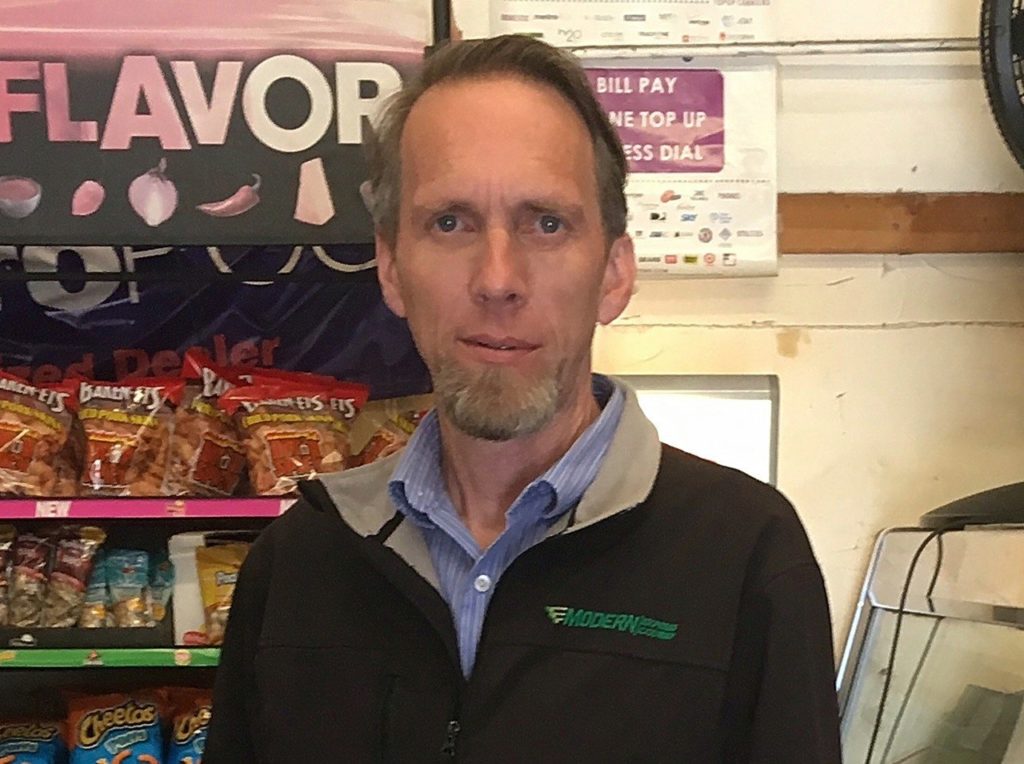 Copyright Capital & Main
---
Co-published by The American Prospect
"
I have a nostalgia for the golden age of Craigslist," says Morgan Jones between sips at a coffee shop on Oakland's Telegraph Avenue. Jones, who is tall and thin with a bushy goatee, lets out a faint sigh. For the 51 year old, the golden age occurred from the late 1990s to the mid-2000s, when someone like him—smart, but without a college degree—could land a decent job through the listings website. "I would show up to interviews willing to work hard, and I'd get hired," he tells me.
Jones returned to his native Bay Area in 1999, after a decade in the Midwest. He found work at an architectural journal, which led to a communications position at a design firm and a salary in the mid-60Ks. Then came the financial crisis of 2008. The company laid off most of its communication staff; Jones was let go in 2010, two months after he learned that his partner was pregnant. He collected unemployment for the first time in his life, and used the downtime to paint their house and focus on his baby daughter. Jones had always worked, and he figured he'd get a new job soon enough. But the recession dragged on, and companies weren't building like they had before. Months went by without an offer. It also dawned on him that he was quite a bit older than the other job applicants.
"I'm figuring out that the market has changed, that the elbows have gotten sharper, and I'm starting to wonder where I have failed," he tells me. He was hired for two short-term jobs, but other than that, spent most of his time sending resumes and waiting to hear back. Late in 2015, while returning from a job interview, he saw an ad for a courier service in Oakland. It didn't pay much above the minimum wage, but Jones was desperate, so he applied to be a driver. He didn't mind the work, calling it "disorganized but fun," though he was laid off several months later, after the company lost a contract.
That's when he saw a posting on Craigslist for Rev, an online transcription and caption writing service company. It seemed ideal. Jones could work from home, choose assignments that interested him—like a documentary about a mining disaster in Canada—and set his own schedule. Best of all, as an independent contractor, he wouldn't have a boss. Jones, who can type 60 words a minute, figured he'd make around $25 an hour.
A month later, having written captions for the Rachael Ray Show and various MTV programs, he calculated his earnings. They came to roughly $5 an hour. On the best assignments, the rate could rise to $7—still 40 percent less than Oakland's minimum wage. He was his own boss, but the work he was doing, he said, felt "close to volunteerism." With such low wages, it was no longer possible to avoid the fact that, as he settled deeper into middle age, he was "falling out of the middle class."
Jones, of course, isn't alone. During the last several years, stories about the rapid growth of the gig economy have saturated the media, often focusing on behemoths like Uber. These contractor jobs are different than those of a traditional employee, providing no guarantees of a minimum wage or benefits like unemployment insurance or workers compensation. But if we zoom out from Jones, how much do we actually know about this workforce? Are their ranks growing? Is our country undergoing a revolution in how we work?
To try and find out, researchers at the University of California, Berkeley Labor Center published a report last month called What Do We Know About Gig Work in California? They sifted through government statistics and recent industry studies, and came away with many more questions than answers.
"For a group of workers that is seen as the archetype of the 21st century economy," they write, "what we don't know about independent contractors far exceeds what we do know."
Consider that most basic of questions, the size of the gig workforce. Estimates of the number of independent contractors in the U.S. range widely, from 600,000 to 55 million. Part of the challenge has to do with differing definitions. Some datasets focus on those who earn the majority of their money as freelancers. Other surveys consider a gig worker to be someone who has earned any amount of money as an independent contractor—for example, a schoolteacher who also sold $300 worth of jewelry on Etsy last year.
A related question is whether the ranks of full-time independent contractors have grown, or whether more people are simply supplementing their regular jobs with small gigs. (Another option is that both are true.) The data here isn't conclusive, though there are indications that—despite numerous articles to the contrary—the number of full-time gig workers has remained relatively steady in recent years. Last year, according to the Census Bureau, these independent contractors made up 6.3 percent of the workforce. So one hypothesis is that any rise in gig workers is due to traditional employees taking on extra work.
"There's an important question here of whether gig work is the way people are making up for low wages at their W-2 jobs," says Sarah Thomason, a co-author of the study. "In other words, is gig work becoming the new safety net? And what does that say about our public programs meant to play that role?"
The report, while national in scope, pays special attention to California, the fount of much of the excitement—and anxiety—about the gig economy. In California, the study finds, independent contractors are more likely to be like Jones: white, male, 50 years or older, and with some college under their belt. (Jones attended but didn't graduate from Antioch College.) An estimated one in five, like Jones, don't have health insurance, twice the rate of traditional employees. Data on income, due to underreporting, is notoriously unreliable; the report puts typical wages anywhere from $24,000 to $66,667.
That California's gig workers skew older might be surprising to those who associate the industry with Millennials. But perhaps the most counterintuitive finding in the report is that on-demand platform jobs—think Uber and TaskRabbit—represent just 0.5 percent of the workforce. That number is a bit higher in select California cities like San Francisco, which tops the list at 1.2 percent. Yet even in the Bay Area, the growth of such jobs has been slowing dramatically.
"We've reached the point of diminishing returns in running the gig economy discussion through the lens of Uber," says Annette Bernhardt, a co-author of the report who directs the Labor Center's Low Wage Work Program. "Policymakers need to understand that this is a much more diverse workforce."
From the beginning, one of the challenges to understanding the gig economy has been to see past its triumphalism. "The sharing economy isn't an app, it's a mindset based on trust and cooperation," wrote Sara Horowitz, the founder of the Freelancers Union. Way back in 2001, Daniel Pink penned Free Agent Nation: The Future of Working for Yourself. "Free agents are the marketing consultant down the street, the home-based 'mompreneur,' the footloose technology contractor," he proclaimed. The book promised that we were about to enter an "exhilarating new world." On the back cover, in capitalized red font, Pink listed three characteristics of the coming employment revolution: FULFILLMENT, FREEDOM, and TIME.
For Jones, it has often felt like the opposite. He recently worked at Instacart for several months, loading up shopping carts for well-heeled customers at a Whole Foods in San Francisco. You've been to a grocery store. Now imagine spending eight hours of your day walking the aisles and picking out products for people you'll never meet: fulfillment isn't the first word that comes to mind. For another gig, Jones delivered packages for an Amazon subcontractor, using a vehicle that was monitored in real time by supervisors. So much for freedom. And time? At $5 an hour at the transcription job, he'd need to work 100 hours a week to clear $2,000 a month. That's not even enough to rent a typical one-bedroom apartment in Oakland.
Jones is relatively fortunate. His partner is an arts instructor with a steady income, and she purchased their modest house long before the Oakland housing market boomed. But his search for stable work continues. He still has an active account with Rev, the transcription service company, and each day wakes up to scan a number of job sites. Recently, he applied for a position as a gas station attendant at Chevron.
"It's not the kind of job I would have looked at before," he says. "But now, having done my share of jobs in the sharing economy, being a gas station cashier looks very attractive."

Municipal Broadband: Urban Savior or Gentrification's Wrecking Ball?
Co-published by Fast Company
While municipal-broadband initiatives and digital-friendly promotional campaigns project a narrative of progressive growth, the repercussions for disenfranchised communities often go overlooked.

---
"The coattails on tech jobs aren't like they used to be in the industrial economy, where large industries would come in and 800 jobs would be created in a factory."
---
In March, Los Angeles City Councilmember Paul Krekorian introduced a motion to study the feasibility of municipal broadband, citing the increasing indispensability of Internet access in daily life. Los Angeles would not be the first city to do so; eyeing the precedents set in Chattanooga, Tennessee, which implemented a high-speed municipal broadband program in 2010, local governments elsewhere in California, Colorado, Kentucky and other states have initiated their own efforts, buttressed by popular support.
The case for city-operated broadband is compelling. It offers comparatively fast service: Chattanooga's broadband runs up to 10 gigabits per second, whereas traditional providers such as Comcast and Verizon claim to offer a maximum of two or nearly one gigabits, respectively (and deceptively). It's celebrated as a means by which to preserve net neutrality, which prevents Internet service providers from altering the speeds and availability of individual websites. It also has the potential to liberate communities from ISPs' notorious monopolistic control of regional billing inflation, and denial of service to rural and low-income communities — a phenomenon popularly termed the "digital divide."
---
Chattanooga's tech-centric downtown has the fastest rate of gentrification in the nation.
---
Furthermore, municipalities often tout broadband alternatives as a means of "economic development," an expression typically denoting the process of attracting businesses and, by theoretical extension, creating jobs. Fast, reliable Internet connections, the logic goes, are appealing to companies — particularly tech startups that rely on consistent broadband access in their daily operations and seek environs cheaper than West Coast metropolises. Chattanooga has exemplified this selling point. As of 2015, the city had reportedly generated $865 million over a four-year period by "cutting power outages, improving data connections, lowering power bills and attracting businesses to the self-described 'Gig City'"; Mayor Andy Berke, meanwhile, has cited its fiber-optic infrastructure as a fundamental part of his city's nascent tech economy.
Yet, while cities' broadband initiatives and digital-friendly promotional campaigns project a narrative of progressive growth, the repercussions for disenfranchised communities often go overlooked.
Chattanooga has remodeled its downtown Innovation District, a locus of coffee shops and office space for the largely white, middle-class constituency of the tech-centric "knowledge economy." Mimicking Silicon Valley's tech centers, this area has aggravated displacement of low-income communities. As of 2012, downtown Chattanooga's ZIP code was found to have the fastest rate of gentrification in the nation; between 2000 and 2010, more than 500 white residents moved in, displacing nearly 1,000 African-American residents. The situation has since worsened.
---
Coding is "not going to catapult you
into the next income bracket."
---
Ken Chilton, an associate professor of public administration at Tennessee State University, told Capital & Main that Chattanooga has "done a lot in terms of funding a place that would be attractive to what Richard Florida used to call the 'creative class': that kind of young, tech, hipster persona. That was intentional." He added, "The broadband [initiative] kind of magnified that, once they figured out how to monetize it." Chilton estimates that, since then, 4,000 to 5,000 white residents have moved into neighborhoods in or near the downtown area, such as Jefferson Heights and Southside, while roughly 5,000 to 6,000 African-American residents have left.
The numbers may be even greater. "We've had [approximately] 7,000 people come into the area in the past four years," added Michael Gilliland, board chair of the community-organizing nonprofit Chattanooga Organized for Action. "A lot of this is a combination of tech professionals, higher-income earners, as well as empty-nesters."
Media outlets — and the city itself — portray Chattanooga as a progressive, burgeoning hub of innovation, a once-scrappy postindustrial municipality transformed by its novel broadband program and corresponding downtown revitalization. However, "You're only seeing a small sliver of what Chattanooga actually is," Gilliland said. "That sort of shiny facade is really hiding a lot of  inequality in the city."
Chattanooga isn't alone. Among cities entertaining nontraditional broadband projects and fostering local tech industries, Columbus, Ohio has gained significant attention. In addition to contracting with a private broadband consultancy firm in 2015 in an effort to become the next "gigabit city," Columbus won the U.S. Department of Transportation's 2016 "Smart Cities Challenge," vowing to outfit more vehicles and city resources with Internet connectivity, putatively, to benefit low-income neighborhoods. Meanwhile, corporate tech publications rank it among America's top tech-job locations, while former Silicon Valley venture capitalist and Hillbilly Elegy author J.D. Vance recently relocated there, pledging to invest in startups in Columbus and the broader Midwest.
As in Chattanooga, the image Columbus projects — a new beacon of enterprise with relatively low costs for developers and business owners — neglects a considerable portion of the existing population. "The city has an idea of what they consider to be a 'Smart' citizen," said Columbus tenants-rights organizer Bernard Hayman. "When they construct these plans, it's based around one kind of demographic — white, male, early 20s, early 30s, with a certain kind of background, certain kind of income, and a certain kind of aspiration."
This environment is increasingly evident. As is the case in most major cities, Columbus suffers from a housing-affordability crisis: As property values have risen 50 percent in neighborhoods like Franklin Park over the last handful of years, luxury housing is rendering low-income public housing scarce. More uniquely, Columbus is home to a longstanding infant-mortality crisis disproportionately affecting poor, African-American communities; in the neighborhood of South Linden, the rate is four times the national average.
Aware of many of the problems afflicting its poorest residents, Columbus' local government claims it will leverage its Smart City capabilities to address them. Columbus City Council president pro tem Michael Stinziano cited the Smart Columbus Operating System and multimodal trip-planning and common-payment system as examples "geared towards connecting neighborhoods and residents." Stinziano also alluded to the city's prenatal trip assistance program, wherein expectant mothers in underserved communities may have access to subsidized "Uber-like" ride-sharing services for transportation to medical facilities. (The initiative has garnered skepticism from urban-planning and reproductive-justice experts.)
Among some residents' concerns of cities' unfurling strategic tech initiatives is another issue: government and police surveillance. As part of its broadband program, Columbus boasts improved mobile connectivity among police stations, as well as the transmission of video from cameras that monitor specific neighborhoods — developments for a city that, in recent years, has been home to the highest rates of fatal police violence against African-Americans among major U.S. cities. (Stinziano told Capital & Main the camera installation was driven by citizen feedback.)
"If we're giving police even more powers of surveillance and control than they already have, where's the accountability for that?" asked Hayman. "How are we going to make this function in a way that's not going to . . . make people feel even more surveilled?"
Columbus and Chattanooga officials concede that economic and racial disparity pervades their cities. In an email, Chattanooga's Berke noted that "We are fully aware…that we have a responsibility to make sure this best-in-class, municipally-owned Internet infrastructure benefits all Chattanoogans, including low-income households and older citizens." Berke mentioned Tech Goes Home Chattanooga, a program that offers digital training and assists low-income residents with obtaining access to low-cost home Internet.
Still, community activists are skeptical that digital training and access alone, even if they're purported to broaden job opportunities and address transportation and health-care issues, will suffice to improve the quality of life of its most vulnerable residents. Tennessee, for example, has a historically high concentration of low-wage workers, many of whom work in tourism and hospitality, as well as service industries offering little to no job security, benefits or upward mobility.
"The coattails on tech jobs aren't like they used to be in the industrial economy, where large industries would come in and 800 jobs would be created in a factory," said Chilton. "The old factory job that might have been 40 hours a week, with some benefits, has been replaced by an accommodation job that might be 24 to 26 hours a week and no benefits."
Furthermore, while Chattanooga and other cities courting the middle-class tech labor force offer programs to train workers and "recruit candidates in underrepresented communities," Hayman cautions that the financial promise of work available to them may not be as high as suggested. "A lot of cities, and Columbus among them, look to coding as the next [way] that everyone can be an affluent tech worker, and if you gain these skills…then you have an entry into that industry," he said. "The flip side of this is that coding is not necessarily the most affluent tech job. It's becoming a rote, blue-collar kind of job, to where you're not going to make a lot of money. It's not going to catapult you into the next income bracket."
Access to alternative broadband is a boon to cities, but Gilliland and Hayman agree that technological progress alone isn't a societal panacea. Rather, meeting all residents' material needs, they contend, requires a multi-pronged effort that entails investments in housing, education and other resources necessary to all members of the community. "The public aspect has to extend beyond…just the gig," Gilliland said. "There has to be an increased investment across the board if this is going to become an equitable model. You have to be very purposeful about the attempt to lift all boats."
---
Copyright Capital & Main