What We Can Expect from a Justice Gorsuch
Supreme Court nominee Neil Gorsuch emerged Wednesday from his third day of confirmation hearings by the Senate Judiciary Committee relatively unbloodied by relentless grilling from Democrats.

Supreme Court nominee Neil Gorsuch emerged Wednesday from his third day of confirmation hearings by the Senate Judiciary Committee relatively unbloodied by relentless grilling from Democrats attempting to probe what they consider his extremist judicial philosophy.
The nominee came to the hearings with an ideological judicial rating well to the right of Antonin Scalia, the late conservative justice whose seat he would be filling, as well as with the blessings of the Heritage Foundation and the Federalist Society. Both organizations have been key in the efforts by libertarian Republican mega-donors such as hedge fund billionaire Robert Mercer and the Koch Brothers to politically reshape the country along more corporate-friendly, neoliberal and socially conservative lines.
Republicans are determined to seat Gorsuch by April 16, in time to hear arguments during the Supreme Court's final session of the current term. For their part, Democrats remain outraged over last year's unprecedented, 10-month refusal by the Senate to grant the same hearings to Obama nominee Merrick Garland, while progressives continue to express alarm over Gorsuch's 10th U.S. Circuit Court of Appeals track record.
Time and again the nominee has sided with large corporations at the expense of individual rights. Cases have included his concurrence on Burwell v. Hobby Lobby Stores — later affirmed by the Supreme Court — in which he found that businesses could deny their employees contraceptive coverage that conflicts with the owner's religious beliefs. And in the midst of Wednesday's hearings, Gorsuch's ruling in a case involving the Individuals with Disabilities in Education Act, in which he sided against a public school student with autism, was overturned by the Supreme Court 8-0.
If confirmed, Gorsuch is widely expected to deliver the coup de grace to the high court's 1977 Abood v. Detroit Board of Education decision, and the right of public-sector unions to collect fair-share agency fees. That landmark labor law narrowly survived last year's Friedrichs v. California Teachers Association case when the court deadlocked following Scalia's death in February of 2016.
To understand Gorsuch's potential impact on California, Capital & Main spoke by phone to constitutional law professor Melissa Murray. She is Interim Dean at the University of California, Berkeley School of Law and the Alexander F. and May T. Morrison Professor of Law Faculty Director at the Center on Reproductive Rights and Justice.
The Golden State, Murray said, should above all be worried by what she and other legal scholars believe is Gorsuch's most radical and far-reaching judicial prejudice — his extreme skepticism and hostility to the agency authority enshrined in a doctrine called "Chevron deference," after the 1984 Supreme Court case Chevron v. Natural Resources Defense Council.
Agency deference is the foundation of the modern administrative state, she explained. It grants policymaking flexibility to agencies like the Environmental Protection Agency and the Federal Communication Commission by giving them the flexibility to adapt often vague and obsolete laws to the changes of a rapidly evolving, technology-based economy. But it has also provided regulatory sinew to fundamental worker protections offered by laws like the Fair Labor Standards Act, the Immigration and Nationality Act, the Occupational Safety and Health Act and the Family and Medical Leave Act.
"That's a big deal, that's huge" Murray emphasized. "Honestly, if there was anything that I would be most concerned about, it would be deference, because administrative agencies touch every aspect of everyone's life."
Though Gorsuch has been tight-lipped during his confirmations hearings, Murray outlined what Californians can expect from the nominee in different areas of the law based on his opinions and other writings.
---
Labor:
"Everything we've heard on the campaign trail would suggest that this administration is more hostile to labor and, as some of Judge Gorsuch's critics have noted, he has often been more amenable to corporate interests as opposed to the interests of individuals.
Reproductive Rights:
In his book on euthanasia [The Future of Assisted Suicide], he expressed incredible admiration for what he might call a "culture of life." And his discussion of euthanasia and assisted suicide would lead many to believe that he would be hostile to the idea of abortion rights or he would actually be quite favorable of broad attempts by the state to regulate access to abortion.
Civil Rights:
I don't know that [he has] a deep hostility to civil rights; rather, it's perhaps a broader deference to legislative and executive attempts to curtail [civil rights]. Or, as Chief Justice Roberts said in the voting rights case Shelby County v. Holder, maybe we are past the point where we need the kinds of interventions that the Voting Rights Act provided. I think it's probably more likely that Gorsuch is one of these people who seems to think that we're in a kind of post-racial society and these kinds of interventions are no longer needed.
Education:
The [neoliberal] rhetoric of school choice has . . . had very deleterious effects on public schools. By the same token, the idea of choice in other contexts — reproductive rights, contraception apropos abortion — has been pretty much overlooked, and there's a kind of unevenness in that. So while I could certainly see a Judge Gorsuch being quite favorable in his approach to school vouchers as an expression of personal choice, … I imagine that the same kinds of neoliberal principles would not extend [by Gorsuch] to the right to choose in some other expression of individual liberty.
Immigration/Muslim Travel Ban:
He has made some statements in his confirmation hearings about being independent and the importance of an independent judiciary, especially in standing up to the executive, and I think those are exactly the right things to say in a moment like this one. But he has a very long record of being a government lawyer, and he was a high-ranking official in the Department of Justice under George W. Bush. In that capacity he had a very deferential posture to exercises of executive authority, and I can't imagine that philosophy will be jettisoned now.
The Environment:
Deference is a big one. The idea that Judge Gorsuch has expressed is that agencies are not equipped to interpret the laws that govern their particular doctrinal areas. He would not be in favor of allowing the EPA to administer and to interpret the Clean Air Act. Instead he would say that was a legislative decision, or rather an executive function.
Gun Control:
He is a purported originalist, so I think he would be very protective of Second Amendment rights.
Should Democrats Filibuster Gorsuch's Nomination?
Elections have consequences, and one is that the President has the authority to nominate someone to the Supreme Court, and the Senate has the duty to, through their advise and consent function, to appoint that person to the court. Judge Gorsuch is eminently qualified and is, I think, quite an appropriate pick for a more conservative-leaning president. That said, I would have to say that in March, 2016 when Merrick Garland's name was put before the Senate, President Obama was the president, and it was his right to nominate someone and it was the Senate's right to use their advise and consent function to give Judge Garland a hearing, and because Judge Garland was an unobjectionable candidate, he should have been appointed.

Rick Scott Super PAC Donations Challenge Federal Anti-Corruption Rule
Co-published by Fast Company
The Florida governor led a group that raked in cash from Wall Street firms after Scott's administration gave them pension deals.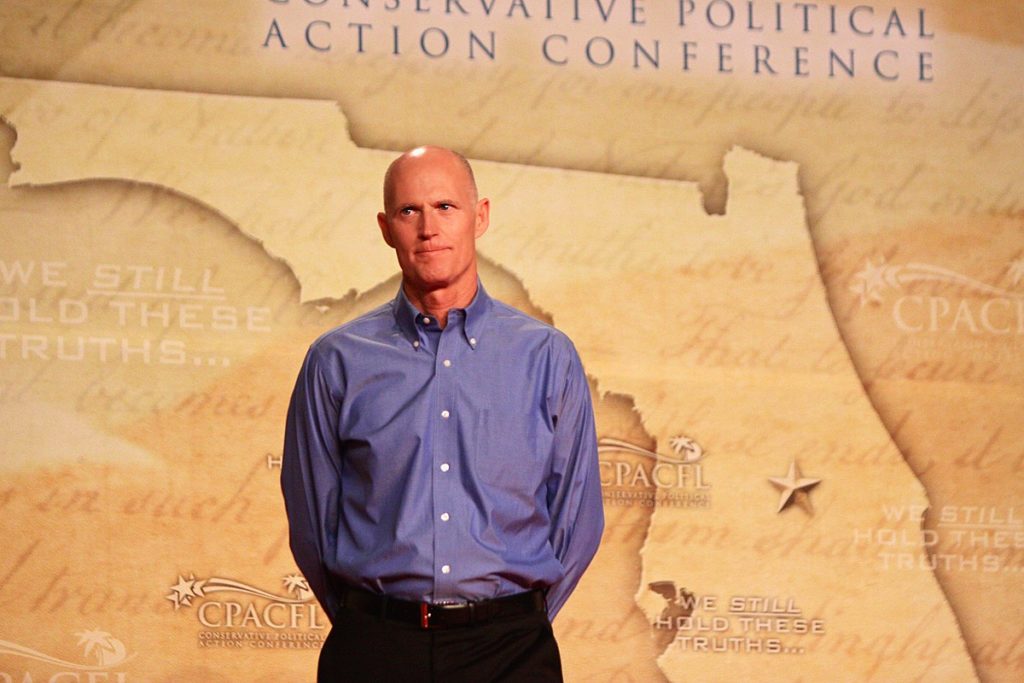 Co-published by Fast Company
A super PAC led by Florida Gov. Rick Scott raked in donations from two private equity executives after Scott's administration directed lucrative state pension investments to their firms, according to government records reviewed by MapLight and Capital & Main.
The donations were made to a committee that's now supporting Scott's U.S. Senate bid, despite a federal rule designed to prevent financial firms from bankrolling the election campaigns of public officials who oversee state pension investments.
Scott, a Republican, began chairing the New Republican PAC in May 2017 and announced his former campaign manager would serve as its executive director. Soon after, the group received $5,000 from New Mountain Capital Chief Executive Officer Steve Klinsky and $50,000 from Energy Capital Partners founder Douglas Kimmelman.
The contributions flowed to the super PAC after New Mountain Capital and Energy Capital Partners received a combined $250 million worth of new investment commitments from Florida's state pension system in 2014 and 2015. Scott is one of three state officials who oversee the $160 billion pension system. During the most recent fiscal year, the Florida investments generated more than $3 million in fees for the firms.
A 2010 Securities and Exchange Commission (SEC) rule prohibits firms from receiving investment fees from public pension systems if their executives donate campaign cash to pension overseers like Scott. SEC officials aimed to prevent investment decisions from being shaped by political influence.
But the commission didn't explicitly bar donations to "independent" political groups, unless the donations were deliberately designed to circumvent the restrictions. And it hasn't addressed whether a state official can lead a super PAC that received donations from firms with pension business and later be supported by the super PAC.
John Kuczwanski, a spokesperson for the Florida State Board of Administration, told MapLight/Capital & Main that Florida's first investments in the two private equity firms happened in 2005 and 2009, and he said Scott had nothing to do with new investments during his governorship, which started in 2011.
"The [state's] initial relationships with both managers predate Governor Scott's time in office," said Kuczwanski, whose agency manages the day-to-day operations of the pension system. "Neither the trustees, nor their appointed investment advisory council members are involved in the investment manager/fund selection process."
Scott's campaign and the super PAC did not respond to questions from MapLight/Capital & Main. New Mountain Capital and Energy Capital Partners did not return requests for comment.
Energy Capital recently completed the purchase of Calpine, whose natural gas power plant near Tampa is regulated by Scott's appointees at the Florida Public Service Commission. Kimmelman, who is now a director of Calpine, also donated $35,000 in 2017 to the National Republican Senatorial Committee, which is backing Scott's Senate campaign.
"A Very Clear Case"
Under the SEC rule — which GOP state parties have tried to overturn — investment executives are not prohibited from donating to independent political groups. But the rule allows regulators to apply restrictions to donations that are deliberately routed through third parties in order to support public officials — a situation that critics argue is happening with Scott and his super PAC.
After the governor announced his Senate bid last week, New Republican PAC's website began promoting his candidacy. End Citizens United, a Democratic-leaning political action committee based in Washington, DC, filed a complaint alleging that Scott has violated Federal Election Commission rules and is using the super PAC, which can accept unlimited donations, to evade contribution limits. Scott's campaign says he stepped down as New Republican PAC's chair in February.
In writing the original rule, SEC officials noted that while they could not restrict all donations to political action committees, contributions to third parties "may effectively operate as a funnel to the campaigns of the government officials." They said the final rule "prohibits acts done indirectly, which, if done directly, would violate the rule."
One ethics expert said that those anti-circumvention provisions should apply to the donations to Scott's super PAC.
"This appears to be a very clear case of close coordination and circumvention of the pay-to-play rule," said Craig Holman, an ethics lobbyist at the government watchdog group Public Citizen. "This is something that I'd like the SEC to pay attention to."
"No Loopholes"
The SEC has only occasionally enforced the pay-to-play rule, and the agency hasn't applied the provisions dealing with third parties to donations to super PACs. Because Scott is a sitting governor who can influence pension investments, he is covered by the rule, which has hampered the fundraising of past governors who tried to run for federal office.
A spokesman for former Texas Gov. Rick Perry's presidential campaign said the rule prevented him from raising enough money to be competitive in the 2012 race. Bloomberg reported that during the same election cycle, then-New Jersey Gov. Chris Christie was rejected as the vice presidential nominee, partly because Republicans feared the rule would prevent them from raising money from Wall Street firms that do business with his state's pension system.
"There is no way around it, and there are no loopholes," said Bill Palatucci, Christie's longtime advisor.
Even so, in recent years the rule has not deterred financial executives from donating to groups that help lawmakers who can influence pension investments. Financial executives whose firms received New Jersey and New Mexico investments continued to donate to the Republican Governors Association (RGA) when Christie and New Mexico Gov. Susana Martinez led the group. During the 2016 election cycle, executives at firms managing state pension money donated nearly $1.3 million to the GOP association, even as the group boosted the campaigns of Republican governors with power over state pension investments.
Last year, U.S. Sen. Tom Udall, D-N.M., called for the SEC to apply the pay-to-play rule to outside groups "to ensure that no one is able to circumvent these laws by using super PACs, dark money groups or other campaign spending vehicles." The RGA has argued that because it funds multiple candidates and does not allow donors to earmark contributions for particular races, it can accept donations from firms with investment business that can be influenced by individual governors. The SEC said in 2016 that donations to outside political groups "are independent expenditures that do not trigger" the rule.
"So long as the PAC faithfully observes the requirement to operate independently of candidates, a contribution to a super PAC will not trigger the [rule], even if the super PAC supports a covered official," Sam Brown, a former advisor to Federal Election Commissioner Ellen Weintraub, wrote in 2016. "Super PACs are increasingly being used in novel ways, and it remains to be seen whether these changes will result in increased circumvention risks."
---
This story is a collaboration between MapLight and Capital & Main.