What the Riot Documentaries Told Us
The networks lined up to deliver numerous retrospective documentaries on the silver anniversary of the events that began just hours after the Rodney King beating verdict was read. The results are decidedly mixed.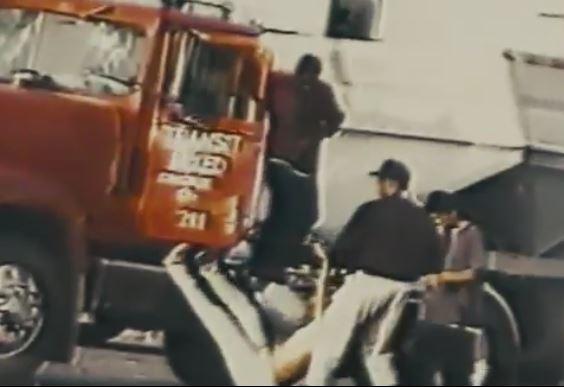 Trailer for Let it Fall: Los Angeles 1982-1992
If it is true that studying the past can keep one from not making the same mistakes in the future, then reexamining the unrest that took place 25 years ago in South Central Los Angeles could not be timelier. In the past few years, social media has highlighted a slew of killings of unarmed black people by the police, giving rise to public outrage and engendering organizations such as the Black Lives Matter Movement. Whether this more organized reaction has released enough pressure to avoid yet another civic explosion is too early to tell, but networks lined up to deliver numerous retrospective documentaries on the silver anniversary of the events that began just hours after the Rodney King beating verdict was read. The results are decidedly mixed, but history has provided some new perspectives both for those who were surrounded by the fire and those who watched it, glued to their televisions.
National Geographic's plainly titled LA 92 uses only archival footage and audio, while eschewing any narration or talking-head interviews. The conflict unfolds in a fresh, powerful and, at times, surprisingly revelatory way. Producers  Jonathon and Simon Chinn do a remarkable job of uncovering previously unseen footage that provides directors Dan Lindsey and T.J. Martin material to shape into unique and compelling ways. Among the discoveries are the largely forgotten audio tapes from Los Angeles Police Department radios after the King beating, which reveal that reveal the participating officers calling the victim a "lizard" and comparing the officers experience to something out of "Gorillas in the Mist." There is riveting footage outside the Simi Valley courtroom showcasing the confrontations between local conservative residents who support the police, and others who are enraged by the latter's actions.
In virtually every moment of the two-hour documentary there is rarely seen footage: One particularly haunting clip captures a distraught woman in the street lamenting the lack of police presence screaming over and over, "This is not fair! This is not fair!" Other gripping vignettes include a scene of an LAPD officer in riot gear sobbing and frightened, and of Congresswoman Maxine Waters wielding a bullhorn to calm her constituents.
LA 92's juxtaposition of sound and image elevates the film to a special status, with Danny Bensi and Saunder Jurriaans' often anachronistic score especially eerie and transfixing. In one coup de théâtre, the filmmakers run a 1965 news program from the streets of South Central L.A., where CBS correspondent Bill Stout reports on the Watts riot. Stout relates the sequence of events: A black motorist leads the LAPD on a chase, only to be stopped and beaten; black religious leaders call for peace, only to be ignored by an outraged public that sets the city aflame. When Lindsey (who also edited LA 92) inserts 1991 footage of the King car chase and beating, speakers at the First AME church and rioters into this older footage, the montage becomes transcendent in its message and meaning.
John Ridley's Let it Fall: Los Angeles 1982-1992 (released theatrically and now available on abc.com) takes a decidedly different approach, looking back at the conflagration through the recollections of those who lived through it. The multi-talented Academy Award-winning writer of 12 Years a Slave and ABC's acclaimed American Crime series delivers a piece that is powerful in its graceful simplicity. Ridley starts by focusing on seemingly unrelated events and topics that took place years before the explosion of April 1992. They tell the stories of drugs flooding South Central, the Los Angeles Police Department banning the use of a deadly chokehold and of the shooting of a Japanese-American woman in upscale Westwood Village that spawned the militarization of the LAPD against gangs. But like tributaries of fuel, the consequences of all these coalesce to help ignite the flames of April 29, 1992. Ridley cogently lets these individuals tell their stories their way. They unfold slowly and sensitively, mesmerizing the viewer with nuance and detail.
By rooting this journey in emotional stories, Ridley's piece resonates, with a couple of supremely moving moments that speak to the this filmmaker's deft and artful touch. While many of the other "riot docs" bludgeoned viewers with footage to make their points, like bullies with a pulpit, Ridley uses simple passages of introspection and reflection to make the heart ache. Whether it's the Korean-American mother recounting the moment she realized that the photo of a dead man on her morning paper's front page was of her son, or the police officer who came out as a lesbian to her partner as they prepared to ride into the conflagration, or one of the men convicted of pummeling Reginald Denny grappling to explain his actions as the truck driver clung to life on the hard asphalt, Ridley's piece is a series of whispers that speak louder than all the screaming moments found in most of the other docs combined.
The voice of Cecil Murray, the legendary former pastor of the influential First African Methodist Episcopal Church in South Central, seems to be divinely inspired, its deep, gravelly tone infusing every syllable. It's the voice that bookends LA Burning: The LA Riots 25 Years Later (streaming on aetv.com), A&E's riveting account of the events that shattered his community. As the film starts Murray intones, "Who will protect us from our protectors? That is the question for America." And then comes the sober montage of 10 incidents of unarmed black men, women and boys killed by the police in recent years. It's an auspicious start, and a harbinger of the 87 minutes to follow.
Twenty-six years after his acclaimed debut film Boyz in the Hood, filmmaker John Singleton returns to his roots in South Central to executive-produce a searing, emotional chronicle of the L.A. rebellion. L.A. Burning takes many of the same stories and material often used in other riot docs, but does so in a far more powerful manner. The editing (Yvette Amirian and Dan Cooper) is the star here, moving the viewer at a sizzling pace through the events, expertly juxtaposing personal and public perceptions of those volatile moments. Singleton himself appears in the piece, prophetically telling a news reporter, minutes after the verdict had been handed down, "They have just lit the fuse to a bomb that's about to go off."
But it is an explosion that was years in the making, as the doc illustrates how the community had for decades endured far too many beatings and indignities at the hands of the police and the justice system. The film concludes by tying up many loose ends — there is a quaint reunion and some wishes for a better and not bitter future — with a warning that the recent spate of blue-on-black killings may be pre-shocks to yet another quake. But in the end, it is again Murray, whose resonant voice elevates the piece sublimely, by relating a parable about a boy holding a bird — and fate — in his hands. A moving finale to a work that largely soars.
Showtime's profanely titled Burn Motherfucker, Burn! (streaming at Showtime.com) reaches the farthest of all these documentaries. Tracing the history of South Central and race relations back to post-World War II L.A., it illustrates that the issues facing the community in 1992 were determined far earlier than any single trial. It's not new turf, but director Sacha Jenkins deserves kudos for swinging for the fences, and while he strikes out at times, he, for the most part, makes contact. He doesn't just revisit the standard talking heads of the other anniversary specials, but instead finds sources deep within the community who provide a fresh and compelling take on the events leading up to that Wednesday in 1992.
Where he misses the most is when he tries to use pop culture footage and animation to tell his story. In one particular instance, he uses a clip of Gary Coleman saying, 'What you talking about Willis" as commentary on a preceding quote. It's sloppy and an easy shot, more witless than witty. Also curious is the choice of a Jane's Addiction song to start the piece (and later, other more mainstream music). It appears the filmmaker thought some rock and roll might provide a paradoxical juxtaposition, but instead it just comes across as puzzling. Burn Motherfucker, Burn! ultimately provides some necessary historical context, and the creative fires are stoked throughout — it's just that it too often doesn't burn brightly.
It is one thing to burn brightly, but it's another to be inflammatory. Lost Tapes: L.A. Riots (streaming on smithsonianchannel.com) borders on exploitation and comes across as a doc made by someone inordinately unfamiliar with the issues at hand. Featuring an overly dramatic score that could just as easily found on a Fox Shock special from the early 2000s (When Riots Attack!), this piece's hook is the numerous clips that have never before been seen. Some were taken by the police, while others were audiotapes from callers who phoned in to two community radio stations, one urban and another Korean-American.
For the most part, the new material does not add much, other than at times to capture the desperation and panic in people's voices as they called in to ask for help or to seek information. Its over-emphasis on this material is a detriment, and the result is a documentary that gives short shrift to investigating the reasons behind the rage. It's as if the doc was made by people who only watched the footage and listened to the audio that they were handed, with no understanding or desire to understand the social and civic issues that gave rise to the conflagration in the first place. Lost indeed.
The Power of the Poster
Carol Wells, the founder of the Center for the Study of Political Graphics in Los Angeles, talks to Capital & Main about the enduring power of political art.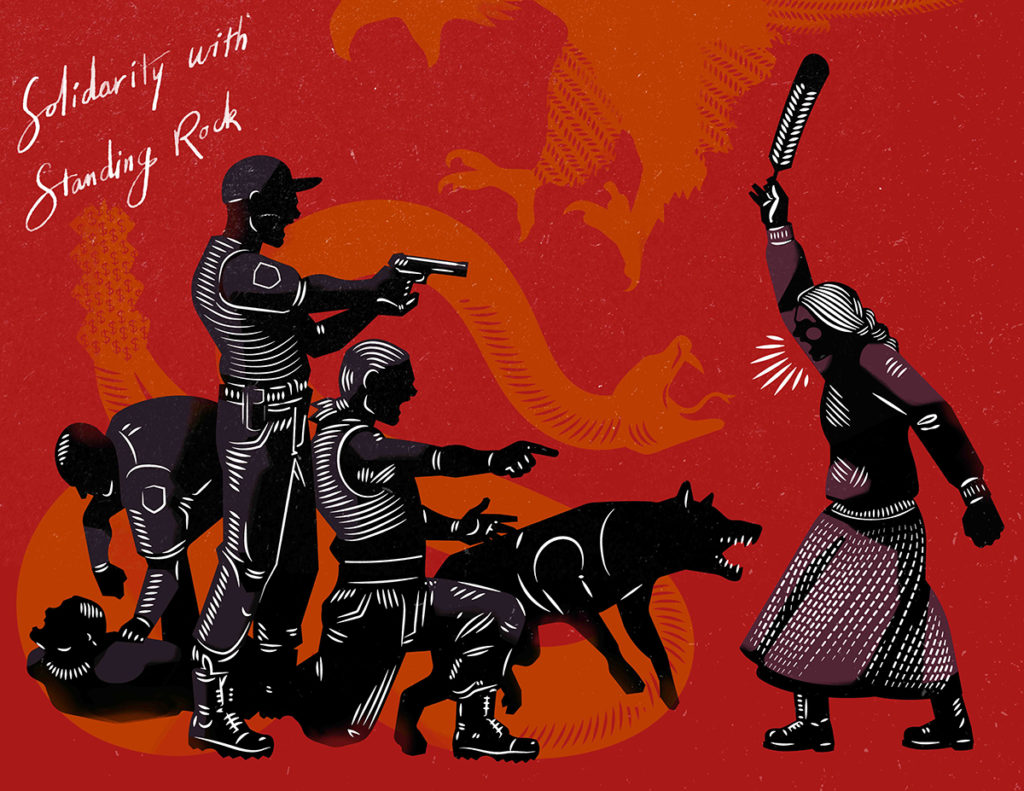 Carol Wells remembers the exact moment she discovered her calling. An art historian at the time, she was on a trip to Nicaragua with her friend David Kunzle, a UCLA art history professor, who was collecting political posters to add to his burgeoning collection. While staying with friends, Wells watched a neighbor's 8-year-old son approach a poster on the wall, stare at it intently, and then start to silently mouth the words. Wells was struck by how engaged the boy was. "In that moment I became obsessed with collecting posters."
Now over 40 years later, Wells is the founder and executive director of the Center for the Study of Political Graphics in Los Angeles. Wells has amassed approximately 90,000 posters, building one of the largest collections of its kind in the world. The Center shares its collection with the public in part through curated exhibits. This year the CSPG has produced Feminae: Typographic Voices of Women by Women and its latest is To Protect & Serve? Five Decades of Posters Protesting Police Violence, running through July 15 at the Mercado La Paloma in downtown Los Angeles.
Since that encounter in Nicaragua in 1981, Wells' obsession with collecting posters hasn't waned. In CSPG's nondescript West L.A. office space, Wells pulls out poster after poster, lecturing passionately on the backstory and cultural impact of each, including one that superimposes text from a New York Times interview with a shocking image of the My Lai massacre ("Q: And babies? A: And babies."). Recently, she managed to sit down with C&M to discuss her passion.
---
Capital & Main: So, you were an art history professor, you happen to see a kid on a trip, and suddenly your life was changed forever?
Carol Wells: Yeah, I'm in Nicaragua alone in the living room with this kid. He's looking around, and all of a sudden, he sees the poster. It was pretty big, bright green, a thick outlines of a woman holding a big basket of coffee beans. And the text in Spanish said, "In constructing the new country, we are becoming the new woman." I see him walk over to the poster and I'm watching him mouth the words. It was a pretty sophisticated concept, so I doubt he figured it out. But I literally had this epiphany: "Oh my God. That's how posters work." You're going about your daily life, and all of a sudden something breaks through the bubble, and it grabs your attention. It's the graphic, it's the color, it's the combination, and it pulls you out of your head and into that poster and it makes you ask a question. "Why is this here? What is this about? What does this mean?" And every time you ask a question, you're a different person than you were before you asked the question.
How many posters do you get a year?
We get between two to five thousand a year donated from all over the world. The bulk of our collection is [from] 1945 and later.
I assume technology has probably hurt the art form, but has it helped get the messages out?
Most people think that, and it's actually not true. Since the internet age started, there's actually a poster renaissance of works on paper. Because you can't walk with your computer monitor in a demonstration. You can't plant your monitor on your lawn.
And you can't put a laptop on the wall…
Exactly. You want to hear a really great story? Truthdig.org published a cartoon [made by] a political cartoonist named Mr. Fish. It was during the Arab spring, and he had superimposed Che Guevara with the stylized beard and King Tut's face, but it had Che's beret. And it [was titled], "Walk like an Egyptian." So, it was a reference to the music, but [it was also] a reference to what was going on the streets of Cairo. I sent it out as our poster of the week to 9,000 people. The very next day, somebody took a photograph on the street of Cairo, with somebody holding a piece of paper with that image on it. A poster can literally go around the world and people will print it out.
What struck me in viewing your exhibits is how many of these posters could still be used today, not only artistically but also, sadly, in the timeliness of their messages.
We had this fabulous poster by Yolanda Lopez, a Bay Area artist, which she first did in 1978. It depicts a young man in Aztec garb pointing a finger like Uncle Sam saying, "Who's the illegal alien, PILGRIM?" And it's a great poster, it's simple, not too many words, funny, provocative. So, we had an exhibit at UCLA in the mid '90s and there were 4 or 5 high school students standing around this poster saying, "Wow, you've got posters up to the minute." And I went over to them and I said, "Look at the date. This is before you were born."
Is that one of your goals with the exhibitions? To show the evergreen nature of this work?
Absolutely. I mean that's why we did the police abuse exhibition now. It basically goes back five decades. It's 50 years of posters protesting police abuse. Mainly in the United States, but also internationally.
What's the goal for CSPG?
Well the aim right now is really to digitize the collection and get it online. We have 10% of the collection digitized. But the mission is to collect and to document, because stories get lost. All the exhibitions, they're showing massacres, they're showing genocide, they're showing police abuse, they're showing all of these horrible things. And people often ask me, "How can you look at this stuff all day long?" I said, "Because the poster artists are optimists. They believe people can change if they have the information."
Yes, that's the reason why they're doing it, right?
That's why they're doing it, and that's why I'm doing this, because I believe that people can change if they knew the truth.
And what happens 20, 50 years from now?
Well, my goal is to stay independent, because the other option is to become part of the university. Universities, for all the fabulous things that they do, they also censor. We did an exhibition at USC in 1992 on the 500 years since Columbus, and how the legacy of racism and exploitation and genocide continues. And one of the board of trustees was Italian and took [the exhibit] as an affront to Columbus. It really wasn't about Columbus, it was about colonialism. And he ordered it down.
Do you have a favorite poster?
I'm always amazed at the creativity and vision of artists. Every week I'll say, "Oh my God, how do they think of that?" But it's always still going to be the poster I saw that kid trying to figure out. It has to be my favorite one because that one changed my life.
What makes a perfect poster?
The right balance between aesthetics and message. If you only rely on the corporate press, the New York Times and L.A. Times, for your information, you're not going to get the side from the street, from the movement, from the activists. The posters are primary historical documents that are recording the issues that were at the time, and the passions that were at the time, and the divisions that were at the time. You're not going to get it anyplace else.
---
Copyright Capital & Main