We've Met: 24 Hours at Occupy LA
After visiting a few times, I decided to go for broke and join the occupation to see it all first hand. It was very interesting to entertain the misconceptions people might have about this movement. Some may think it's populated by arrogant 20-somethings looking for attention and a party atmosphere with leftovers from Burning Man and Coachella attendees. Some may think it's a few leftist apologists and homeless people intermingling uncomfortably. Some may think it's a breeding ground for anti-American anarchists and communists plotting the takedown of our infrastructure. Others think it's just a passing fad like pointy shoes and Bedazzler jackets.
I had some of these misconceptions myself. I didn't know what to expect, but I had to reject these doubts before I could really see what was taking place. I visited during a Demands Committee meeting and the General Assembly, the nightly gathering for decision-making, to get a better reading of what was taking place. This didn't feel like a casual uprising of people looking for a party.
This didn't feel like that at all. I immediately felt like I was transported to ancient Greece, wearing sandals and robes, talking with people with different ideologies and outlooks. We took part in similar actions to those of ancient Greece… we had an intellectual revolution brought out of hunger and poverty. We had people occupying the public square, discussing politics and experimenting with alternative ways of government. What I really like is the fact that everyone here is engaging everyone else, in groups or one on one.
I remember the first night a friend and I started to try and put up my massive eight man tent. This tent was from back in my days when I was making over $100,000 a year, buying crap that I didn't need in a desire to feel good about myself. I appreciated this irony as I tried to decipher the directions for my massive tent. In about ten seconds, someone stepped in and offered to help. Five people, people I'd never met, joined in. Before I knew it there was a little committee of strangers there to help me get my tent up. After getting it up, they disappeared to find other things to do, people to help.
People make eye contact. People talk. People listen. This is where great ideas are born. Where people put aside their arrogance and allow others to speak on their issues. It's not a place where people tell you what you need to believe, or what the movement is about. It's far beyond that now. It's shapeless, formless, leaderless, and functionless. This, however, is not a bad thing.
The next morning I woke up early, far too full of feelings of what I could do to help this movement, how I could be a bigger part of identifying problems and solutions. I watched the beautiful collection of tents and sleeping bags covered in morning fog. I sat there trying to understand what this occupation could mean to me… to my country… to the world? What it is could be anyone's guess, but one sign an occupier made really stuck with me. "We are many and we've met! You are not alone. We are the 99%."
That sign inspired me to write. Whatever your particular complaint, beyond economic…whatever it is you'd like to change in this world – be it averting climate catastrophe, reversing animal cruelty on every level, increasing education and access, promoting equality on gender, race, sexual orientation, or any other thing you'd like to change in this world – here is a fertile ground where you can plant your seed.
Come and join the occupation. Interact with anyone you encounter. Spread your message.
You are not alone.
We are the 99%.
When Lawrence isn't volunteering for various environmental and animal rights organizations, he runs a green landscape architecture firm called Ashcrow Landscape Design. When he's not donating his professional time with various non-profits such as schools and shelters (both animal and human), he loves to dabble in his passion for vegan cooking. 

'Skeleton Crew' Is a Play With a Moral Spine
Set in a Detroit automobile outfitting plant, Dominique Morisseau's drama grabs you from the start with its focus on blue-collar men and women, and their struggle for dignity and self-respect.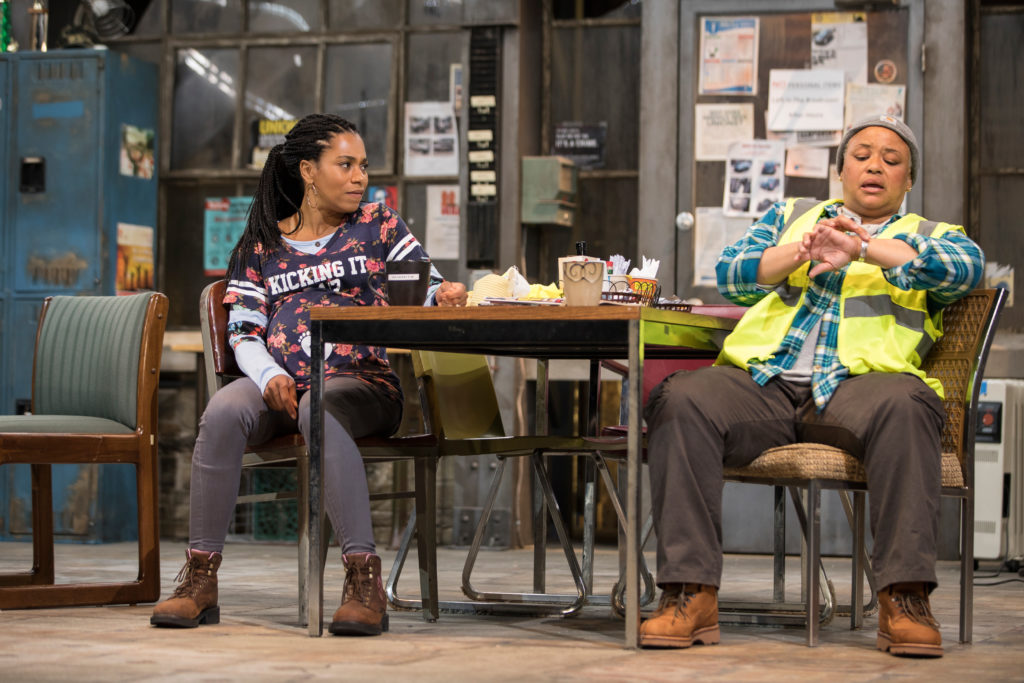 Working-class men and women of color are rarely front and center in today's media and, likewise, are presented all too occasionally on the American stage. So it's buoying to see that trend bucked in playwright Dominique Morisseau's percipient and well-crafted drama, Skeleton Crew. The play is the final installment in her Detroit  Project Trilogy; the first, Paradise Blue, is set in the 1940s amidst displacement caused by urban renewal and gentrification, while the second, Detroit '67, transpires on the eve of the 1967 Detroit riots sparked by a police action.
Directed by Patricia McGregor at Los Angeles' Geffen Playhouse, Skeleton Crew is a play with a moral spine. It takes place in 2008, when the shrinking U.S. auto industry is being further downsized. Morisseau's engaging quartet of characters — Faye (Caroline Stefanie Clay), Dez (Armari Cheatom), Shanita (Kelly McCreary) and Reggie (DB Woodside) – are employed at an automobile outfitting plant. Faye, Dez and Shanita are workers on the line while Reggie (who has a wife and kids, and has pulled himself together after a troubled youth) is their supervisor.
The first three customarily mingle in their break room (designer Rachel Myers' impressively cluttered, dingy and detailed set), trading the sort of familiar barbs and genuine concern for each other common among longtime co-workers. They also face off on philosophy: Upper-middle-aged Faye and the younger, pregnant Shanita take pride in their labor, while Dez, though a good worker, is a malcontent scornful of management and firm in the belief that everyone needs to watch out for himself. He's a thorn in Reggie's side, for while Reggie wants to be supportive of his workers, he must act at the behest of higher management. For his part, Dez resents Reggie's authority, and a palpable unease exists between them.
Besides this male matchup, we're made privy to Dez's attraction to Shanita, who mostly turns away his advances, but every now and then displays a hint of interest. Most poignant is Reggie's regard and affection for the lesbian Faye, which has roots in his boyhood when she loved, and lived, with his now-deceased mom.
These people's various predicaments intensify when rumors spread of the plant's shutdown — a disaster for all, but a particular calamity for the already near-broke Faye who, one year short of retirement, would lose her pension. The crisis forces each of these people to make a choice.
A sound piece of social realism, Skeleton Crew grabs you from the start in its focus on blue-collar men and women, and their struggle against odds for dignity and self-respect. Morisseau not only furnishes these characters a platform for their travails, she endows them with strong values, big hearts and the opportunity to choose between right and wrong.
Unfortunately, the performance I attended did not soar. Many exchanges lacked a fresh edge. The actors certainly had their characters down, but too often they appeared to be coasting on technique. (This seemed particularly true of Clay, who performed the role to great accolades in Washington, DC in 2017, also under McGregor's direction). Additionally, some of the stage movement was not entirely fluid; in confrontations, actors sometimes would just stand and face each other in an artificial way. And Cheatom's interpretation of Dez struck me as a bit overly churlish and depressive: I needed more glimpses of the intelligence and edge that would secretly attract the strong, self-directed Shanita.
The most compelling moments belong to Woodside, well-cast as a man trying his best in difficult circumstances to do the right thing.
---
Gil Cates Theater at the Geffen Playhouse, 10886 Le Conte Ave., Westwood Village; Tues.-Fri., 8 p.m.; Sat., 3 & 8 p.m. Sun., 2 & 7 p.m.; through July 8. (310) 208-5454 or www.geffenplayhouse.org