Wendy Greuel on Lobbyists, Developers and Big Box Stores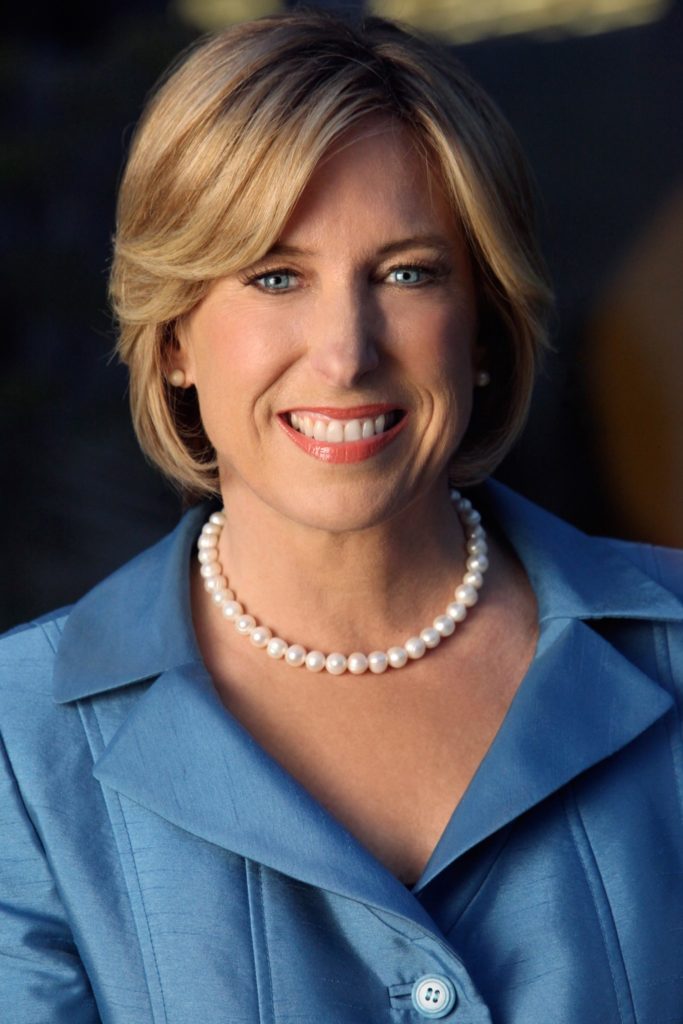 Today we continue our series of interviews with Los Angeles' front-running mayoral candidates, with the second part of a talk with City Controller Wendy Greuel. (Next week: Kevin James. See also, Part One of the Wendy Greuel interview, as well as Parts One and Two of our Eric Garcetti interview.)
Frying Pan News:  Corporate lobbyists spent more than $30 million last year to influence decisions at City Hall – far more than unions or any other group. Do you think that big business has too much power over local government?
Wendy Greuel: Thirty million dollars is a lot of money. I will, as mayor – as I do as controller and as I did as councilmember — ensure that there is a transparent process and that no one has more access than another to the kinds of decisions that are made in the city. Unfortunately, money plays a huge role in politics, but I believe it's important to know who is responding to who, who's contributing to who – all those things have to be transparent.
FPN: How would you specifically promote transparency in a way that doesn't presently exist in City Hall?
WG: I fought very hard for clean money campaigns, as a city councilmember, and also to make sure, particularly, that commissioners could not raise money for any candidates.
FPN: Would you accept funds or donations from Walmart?
WG: I am a candidate that someone who worked for Walmart gave money [to] and I returned that money. I did that before I signed a pledge that I wouldn't take any money. One of my opponents waited and said, "Well, I got the money before the pledge and it doesn't matter – I got it before the pledge." I have not taken anything from Walmart and returned anything that I received. I did sign the pledge that I would not and I'm very proud of my position on it this year.
FPN: Would you support a requirement that residents have a say in whether stores like Walmart open in their communities?
WG: I have been clear on that position, as far as ensuring that we look at what communities and neighborhoods want – and that there are laws protecting our neighborhoods and communities. That we ensure that we want to have businesses that are moving into L.A. that treat their employees fairly. And that's something I've stood up for and stood with labor leaders [on]. It's not always made me friends with the other side. What I've said is that I'm not a supporter of the kind of things that have occurred at Walmart – I want to make sure that workers have good health care and good-paying jobs.
FPN: Is Walmart's move into Chinatown something you would personally oppose?
WG: Of course I'm not on the City Council – I wasn't there when they were looking at an interim control ordinance. I've stood with labor leaders on the issue of Walmart in Chinatown.
FPN: Do you support the privatization of public services currently provided by government employees?
WG: There are lots of things [the city does] well and efficiently – I did an audit of the contracting-out procedures of the city and found that when it was deciding whether to choose city employees or to go outside, [the city] didn't look at what would be most cost effective. It just looked at what was possible and I think we have to look at what's most cost-effective. I'm not for a huge privatization of city services – I have supported the Convention Center, so that we can be much more flexible and competitive in a public-private partnership there. I don't think there is a one-size-fits-all response to ensure that we're providing equitable services and that we're the most competitive.
FPN: Would you, as mayor, ensure final passage and implementation of an exclusive waste and recycling franchise for L.A.'s commercial and multifamily sectors as expeditiously as possible – and with the strongest possible zero-waste, environmental and worker protections?
WG: I've been a supporter of the franchise concept – looking particularly at it as an environmental issue. It's [also] a traffic issue. Franchises are not unique – we have taxi franchises, we have all kinds of franchises in the city.
FPN: Some observers believe that we have to choose between expanding the economy and protecting the environment. How would you balance these needs?
WG: The two are not mutually exclusive, if you look at the fact that we're trying to locate businesses near transit stops and that we're trying to create a transit system that is going to link up to jobs.
FPN: What is the mayor's role in shaping the region's economy?
WG: To work with businesses to retain them. To look at business tax reform, which I pushed in 2006 – [and] which I got labor and business to support, because if we are a business-friendly city that creates jobs, then we're going to see more revenue come into the city. In fact, we saw that, and did it in a responsible way. It's about looking at the kinds of businesses we want to recruit, it's creating economic hubs of opportunity around our major institutions. And keeping that creative capital in Los Angeles. It's providing the kind of training that we want to see so that people are prepared for those jobs. It's keeping that technology center that people are calling Silicon Beach on the Westside, it's the manufacturing we're seeing downtown that's designed in L.A. – our fashion industry. The Clean Tech Corridor – all those things are happening.
The mayor's responsibility is, one, to design and develop and help create those opportunities, and two, to sometimes get out of the way to make sure it happens. And three, to ensure that we have that necessary infrastructure – from transportation to our ports to our airport, which are economic hubs for Los Angeles.
FPN: Do you believe that companies and developers should commit to providing jobs that pay living wages and provide benefits, as well as community benefits, as a condition of receiving economic development subsidies?
WG: I've supported those benefit packages – Project Labor Agreements – all kinds of ways in which there is a partnership between the developers and the residents of Los Angeles to ensure there are good-paying jobs.
FPN: Do you support Project Labor Agreements for the construction, operation and maintenance of facilities as a component of all publicly funded construction projects?
WG: I've historically supported them and will in the future – I think we've seen them work. It's been an important tool and we've had everyone who's participated in those PLAs actually say that they [created] a successful relationship.
Frying Pan News Exclusive: Interview with Wendy Greuel from LAANE on Vimeo.

Blue State/Red District: Trump May Blow Reelection Headwind at David Valadao
Co-published by International Business Times
A Central Valley Congressman may be worrying that the fallout from Donald Trump's policies could land on himself.

Pictured: Hanford, David Valadao's hometown and political base.
---
Whether voters hold Valadao accountable for his repeated efforts to repeal Obamacare, and his failure to protect Dreamers, remains to be seen.
---
Co-published by International Business Times
California's 21st Congressional District, which includes all of Kings County and portions of Fresno, Tulare and Kern counties, expands northward through the dusty flatness of the southern San Joaquin Valley, anchored by two main arteries, Interstate 5 and Highway 99. To the south, precisely planned orchards, occasionally interrupted by clusters of gas stations and restaurants at the exits, give way to pump jacks and fracking wells around Bakersfield.
The district is represented in Congress by Republican David Valadao, a dairy farmer, small-business owner and son of Portuguese immigrants. His vigorous support of agribusiness interests makes him a good fit for any politically conservative farming district, but CA-21 does not really tilt conservative. Although Valadao beat Democratic challenger Emilio Huerta in a roughly 57-43 percent split in 2016, Hillary Clinton won the district. Barack Obama carried it in 2008 and 2012.
Valadao's vocal support for immigrants should put him in good stead in a district that is 71 percent Latino, but it also places him at odds with his party, while other critics attack what they say is Valadao's lack of concern for environmental and worker protections, as well as for his votes on health care. Valadao represents a particularly vulnerable constituency. CA-21 has a poverty rate of just over 30 percent, making it among the poorest congressional districts in the state. Only 57 percent of residents have earned a high school diploma or higher, and fewer than 10 percent have a bachelor's degree or higher. The median household income is just under $40,000, significantly less than the statewide median household income of $64,000.
Oil fields and Kern River, viewed from Bakersfield's Panorama Bluffs. (Dean Kuipers)
But these families do not form Valadao's donor base. According to Open Secrets, oil and gas interests donated nearly $205,000 to Valadao between 2011 and 2018, making them his sixth-largest industry contributor (behind crop production, dairy and real estate). Leadership PACs, comprising contributions from unnamed sources, came in at number three.
Last year Valadao, along with fellow  Central Valley GOP representatives Jeff Denham, Devin Nunes and Kevin McCarthy, voted for the American Health Care Act (ACHA) or "Trumpcare," the proposed Republican replacement for the Affordable Care Act (ACA). Valadao had also voted to repeal the ACA during the Obama administration. Though the effort to repeal and replace the ACA with the highly unpopular GOP bill failed in the Senate, a significant number of residents in counties that make up CA-21 would have suffered with the passage of the ACHA, which would have severely cut funding for Medicaid. According to the California Department of Health Care Services, 55 percent of the population of Tulare County was eligible for Medi-Cal, the state version of Medicare. Nearly 50 percent of Fresno County, 46 percent of Kern County, and 38 percent of Kings County were eligible for Medi-Cal.
---
After February's ICE raids, "People are afraid to take their kids to school and to visit local businesses."
---
The counties that comprise CA-21 also have a very high number of people who use the Supplemental Nutrition Assistance Program (SNAP), according to county-by-county data from the U.S. Department of Agriculture in 2011, the latest year available. That could present a political challenge for Valadao because, while the 2018 renewal of the House Farm Bill gives additional subsidies to cotton farmers (an important constituent in the district), it also imposes new restrictions on SNAP eligibility. Valadao voted for the Farm Bill, which passed in the House Agricultural Committee in mid-April. (Valadao did not respond to interview requests made through his Washington office.)
Whether voters hold Valadao accountable for his repeated efforts to repeal the ACA remains to be seen. Republican leaders now openly fret about the headwinds going into the 2018 midterms, though they're reluctant to pin the blame on Trump, or even voter opposition to GOP policies. According to the political forecasting site FiveThirtyEight, Valadao has voted with Trump policies nearly 99 percent of the time, tied for second place as the "most Trump-aligned," along with more than 40 other GOP House caucus members. If Valadao faces trouble going into the midterm, it could be in spite of the few important issues where he's broken with the party line.
ICE Raids and Tariff Threats
Immigration and agriculture are intertwined in CA-21, which is dotted with historical markers of the farmworker movement. South along the 99 lies Delano, the site of the 1965 labor strike against grape growers by the Agricultural Workers Organizing Committee and the United Farm Workers. Farmworkers are the fuel of the economic engine here, and a large percentage are undocumented immigrants — the U.S. Department of Agriculture's Economic Research Service pegs the nationwide percentage of undocumented farmworkers at 50 percent. Some estimates give California a much higher figure. Finding enough farmworkers during peak harvest times has been difficult, even before the Trump administration ratcheted up rhetoric about illegal immigration and border walls, as well as an improving economy in Mexico.
Increasingly, farmers have been turning to the temporary agriculture worker visa program, H-2A, which allows employers to bring in foreign agricultural workers if the growers can provide free housing, demonstrate an agricultural labor shortage and pay wages high enough that they wouldn't undercut the local labor market.
Valadao has been an outspoken supporter of H2-A, despite criticism that it is too expensive and too bureaucratic.
---
The environment is one area where there's little if any daylight between Valadao and Trump.
---
But Immigration and Customs Enforcement raids here have made it unlikely that the worker shortage will improve. In February, ICE made a sweep across the Central Valley and arrested 232 people, including 180 who ICE said were convicted criminals or had been issued a final order of removal or had been previously removed from the U.S. In an email, the United Farm Workers confirmed to Capital & Main that 26 of those arrested in the sweep were farmworkers and that it has received reports of even more detentions, and that ICE is still present in Kern County. One ICE raid in March in Delano led to a high speed chase and crash resulting in the death of two farmworkers.
Leydy Rangel, a UFW spokesperson, said the union has received reports of even more farmworker detentions than the 26 reported. "People are afraid to take their kids to school and to visit local businesses," she said.
Valadao's office provided a statement in response to the ICE raids: "Recent incidents involving immigrants and immigration authorities have left many in our community concerned and scared – which is exactly why we must pass comprehensive legislation that repairs our broken immigration system from the ground up. Just last month, I cosponsored H. Res. 774, a legislative maneuver that will allow the House to individually debate and vote on four different pieces of immigration legislation."
A trade war could make a bigger impact on Valadao's district than the farmworker shortage. In March President Trump announced tariffs on steel and aluminum, mostly aimed at China. Beijing quickly imposed retaliatory tariffs of up to 25 percent on $3 billion worth of U.S. imports, including pistachios and almonds, California's first- and second-largest agricultural exports to China. Valadao signed a letter to President Trump urging him to "reconsider the idea of broad tariffs to avoid unintended negative consequences to the U.S. economy and its workers." He also released a statement denouncing broad tariffs – but not tariffs generally – saying, "Agriculture continues to be the foundation of the Central Valley economy and we must protect strong trade relations with foreign nations."
As far as Valadao's 2018 electoral chances go, he may need to worry that the sins of his party – or its leader, Trump – on trade policy and the attendant fallout could be visited upon himself. On immigration, the popular perception is that his ties to Trump could hurt him even more.
On DACA, Taking Heat for His Party
The White House had set March 5, 2018 as the expiration date for Deferred Action for Childhood Arrivals (DACA), pushing 700,000 recipients of this Obama-era program into uncertainty, although that termination is now being challenged in courts. Valadao has supported a permanent solution for DACA, declaring in December that it was not a partisan issue and that Congress "must come together to provide a legislative solution so these individuals may continue to live in the only home they know: the United States."
Valadao has continually affirmed his commitment to repairing the "broken immigration system," and his website mentions his support of the failed 2013 immigration reform package, H.R. 15, as well as his vote against a defense bill amendment that would block undocumented youth from serving in the military, and his cosponsoring of both H.R. 496, Bar Removal of Individuals who Dream and Grow our Economy Act (BRIDGE) Act, and H.R. 1468, the Recognizing America's Children (RAC) Act, which promised a path to legal status for undocumented immigrants brought to the United States as children.
---
Critics say Valadao's GROW bill would let California farmers grab more water at the 
expense of wildlife protections and public input on water projects.
---
Nevertheless, Tania Bernal, an undocumented immigrant and political science major at Bakersfield College, blamed Valadao for lack of legislation that would protect her.
"He said he would do everything in his power to protect Dreamers and he failed," she told me. "It's very disappointing because they are stringing us along. About 19,000 Dreamers have lost their DACA and they're vulnerable to deportation right now."
While admitting that technically it was the party, led by President Trump, that failed on DACA, Bernal said she and other local Dreamers also hold Valadao accountable for not delivering a "clean" Dream Act — legislation giving people covered under DACA a way to obtain permanent legal status in America, unconnected to border security upgrades or any other provisions.
A January, 2018 CBS News poll showed nearly nine out of 10 Americans want DACA recipients to remain in the U.S. Valadao's stance should make him bulletproof on DACA. But he has faced resistance from the far right of the GOP in his attempts to do anything for undocumented immigrants. It's not clear how many of his constituents will blame him for the inaction of his own party, especially as it relates to Dreamers. But people I talked with for this story who had an opinion on the matter were not willing to separate Valadao from the GOP.
While in Bakersfield, which is awkwardly split between CA-21 and CA-23, I visited a rally held by Faith in Kern, a grassroots group fighting for racial equity, outside the office of Valadao's fellow GOP Congressman, Kevin McCarthy. The rally was part of a 40-day political action coinciding with Lent (the demonstrators promised to later protest at Valadao's office on the other side of town). They said that they would hold both men responsible for the inaction of their party, which controls Congress. The three-dozen demonstrators were more polite and respectful than angry, and featured several DACA Dreamers who shared their stories. Eloisa Torres tearfully recalled that the recent deaths of her grandparents – whose funerals she couldn't attend in Mexico because of her precarious status – emboldened her to speak out. "If you're not fighting for what you want, you're not going to get it," she said.
Earlier, Stephanie Smith, a faith leader at Tehachapi Community United Church of Christ, had condemned Congress, Valadao and McCarthy for showing "a general disregard for people," while scolding the representatives for voting for H.R.-620, which, she said, guts the Americans with Disabilities Act.
"There are no bills for a path to citizenship under consideration, no solution for them, but we've ramped up the deportation machine that terrorizes our families, or friends, or coworkers, the people who go to our church. Human connectedness should mean more than artificial borders."
Diesel and Dust
Almost everywhere in CA-21 one is aware that mountains exist somewhere in the distance, to the east or the west. But most days they're airbrushed gray-brown by the valley's infamous smog. The American Lung Association's "State of the Air 2018" report lists two regions within CA-21 – Bakersfield and Visalia as, respectively, second- and third-worst for year-round particle pollution, also known as soot. They were also, respectively, second- and third-worst in ozone pollution because of diesel particulates from semis whizzing through their thoroughfares, and from the dust stirred up by farm operations.
The environment is one area where there's little if any daylight between Valadao and Trump.
Valadao has not supported efforts to combat climate change, and does not believe that the weather in the Central Valley, in which the last five years were the hottest in history, is a direct result of climate change. Climate activists have slammed Valadao's support of S.J. Res. 24, a "resolution of disapproval" under the Congressional Review Act that would nullify the Environmental Protection Agency's Clean Power Plan.
But Valadao's office pushed back on any assertion that he had blamed California's drought on regulation, rather than climate change. The office pointed to a more nuanced comment on his website, which stated, "While legislation cannot make it rain, it can provide relief by addressing complex and contradictory laws, court decisions, and regulations at the state and federal level that have made recent droughts increasingly detrimental."
In 2017, Valadao introduced H.R. 23, the "Gaining Responsibility on Water Act" (GROW), that he has proudly touted as a plan to modernize water policies. Critics have said GROW would let California farmers grab more water at the expense of wildlife protections and public input on water projects. Also in 2017, Valadao co-sponsored, with Kevin McCarthy, H.R. 806 (the Ozone Standards Implementation Act), which has been criticized for undermining the EPA's ability to set healthy ozone and particulate-matter standards, and delaying the implementation of clean-air solutions.
In March 2017, in the lead-up to the bill, the House heard testimony from the deputy executive officer of the California Air Resources Board, who said, "H.R. 806 would mean more people would breathe dirty air longer." Jeff Denham and Devin Nunes, who represent the rest of the smoggy Central Valley, voted for Valadao's bill.
Gary Rodriguez, a fourth grade teacher in Shafter, told me that people in the district are growing fed up with the air quality.
"Some days we can't let kids out for recess because of the air quality," he said. "The local air district does a lot of spinning about the cause of pollution. They'll say it's geography or that it's blown in from the Bay Area, Los Angeles or even China."
"You name it we're breathing it, from fracking to pesticides to vehicles," said Lupe Martinez, assistant to the director for the Center on Race Poverty & the Environment (CRPE), when I spoke with him in Delano. Martinez also connected the dots between the environment, immigration and poverty, saying that farmworkers, the backbone of agriculture, haven't benefited from the success of the industry.
"There are communities that don't have natural gas to heat their homes, so they're using wood and butane. It's not that they don't want to have natural gas, it's just that natural gas has bypassed the communities."
And that wood smoke, he said, increases air toxicity, worsened by temperature inversions that trap soot from agricultural burn-offs, especially in the winter. Martinez said he and other activists are pushing the state Public Utilities Commission to increase access to natural gas. "I don't even know if [Valadao's] aware of it," he said.
---
Copyright Capital & Main