Wendy Greuel on Lobbyists, Developers and Big Box Stores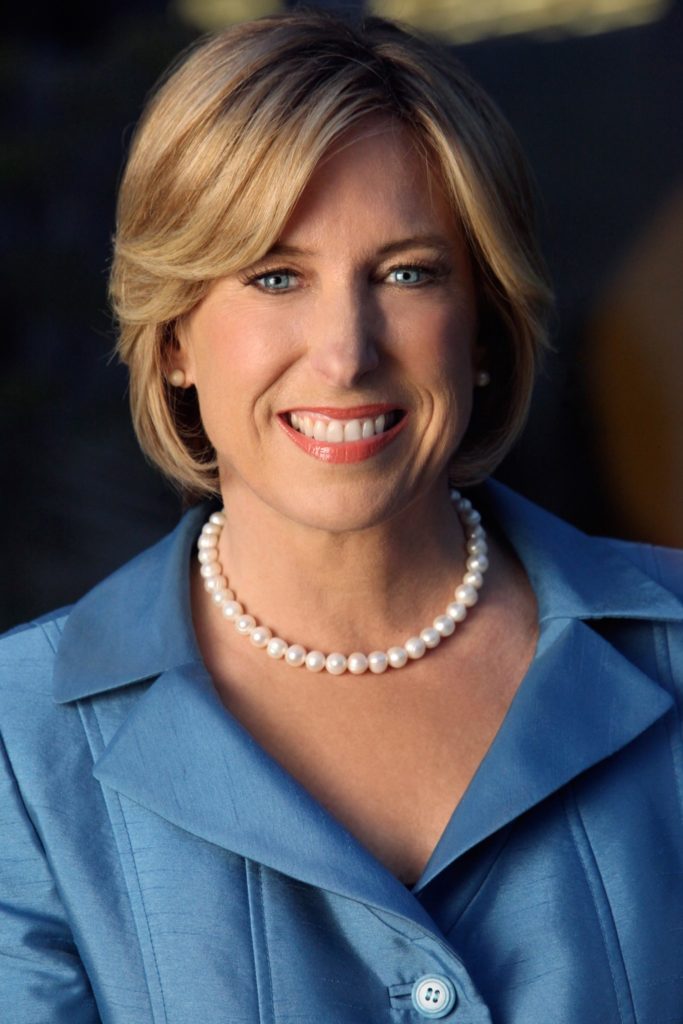 Today we continue our series of interviews with Los Angeles' front-running mayoral candidates, with the second part of a talk with City Controller Wendy Greuel. (Next week: Kevin James. See also, Part One of the Wendy Greuel interview, as well as Parts One and Two of our Eric Garcetti interview.)
Frying Pan News:  Corporate lobbyists spent more than $30 million last year to influence decisions at City Hall – far more than unions or any other group. Do you think that big business has too much power over local government?
Wendy Greuel: Thirty million dollars is a lot of money. I will, as mayor – as I do as controller and as I did as councilmember — ensure that there is a transparent process and that no one has more access than another to the kinds of decisions that are made in the city. Unfortunately, money plays a huge role in politics, but I believe it's important to know who is responding to who, who's contributing to who – all those things have to be transparent.
FPN: How would you specifically promote transparency in a way that doesn't presently exist in City Hall?
WG: I fought very hard for clean money campaigns, as a city councilmember, and also to make sure, particularly, that commissioners could not raise money for any candidates.
FPN: Would you accept funds or donations from Walmart?
WG: I am a candidate that someone who worked for Walmart gave money [to] and I returned that money. I did that before I signed a pledge that I wouldn't take any money. One of my opponents waited and said, "Well, I got the money before the pledge and it doesn't matter – I got it before the pledge." I have not taken anything from Walmart and returned anything that I received. I did sign the pledge that I would not and I'm very proud of my position on it this year.
FPN: Would you support a requirement that residents have a say in whether stores like Walmart open in their communities?
WG: I have been clear on that position, as far as ensuring that we look at what communities and neighborhoods want – and that there are laws protecting our neighborhoods and communities. That we ensure that we want to have businesses that are moving into L.A. that treat their employees fairly. And that's something I've stood up for and stood with labor leaders [on]. It's not always made me friends with the other side. What I've said is that I'm not a supporter of the kind of things that have occurred at Walmart – I want to make sure that workers have good health care and good-paying jobs.
FPN: Is Walmart's move into Chinatown something you would personally oppose?
WG: Of course I'm not on the City Council – I wasn't there when they were looking at an interim control ordinance. I've stood with labor leaders on the issue of Walmart in Chinatown.
FPN: Do you support the privatization of public services currently provided by government employees?
WG: There are lots of things [the city does] well and efficiently – I did an audit of the contracting-out procedures of the city and found that when it was deciding whether to choose city employees or to go outside, [the city] didn't look at what would be most cost effective. It just looked at what was possible and I think we have to look at what's most cost-effective. I'm not for a huge privatization of city services – I have supported the Convention Center, so that we can be much more flexible and competitive in a public-private partnership there. I don't think there is a one-size-fits-all response to ensure that we're providing equitable services and that we're the most competitive.
FPN: Would you, as mayor, ensure final passage and implementation of an exclusive waste and recycling franchise for L.A.'s commercial and multifamily sectors as expeditiously as possible – and with the strongest possible zero-waste, environmental and worker protections?
WG: I've been a supporter of the franchise concept – looking particularly at it as an environmental issue. It's [also] a traffic issue. Franchises are not unique – we have taxi franchises, we have all kinds of franchises in the city.
FPN: Some observers believe that we have to choose between expanding the economy and protecting the environment. How would you balance these needs?
WG: The two are not mutually exclusive, if you look at the fact that we're trying to locate businesses near transit stops and that we're trying to create a transit system that is going to link up to jobs.
FPN: What is the mayor's role in shaping the region's economy?
WG: To work with businesses to retain them. To look at business tax reform, which I pushed in 2006 – [and] which I got labor and business to support, because if we are a business-friendly city that creates jobs, then we're going to see more revenue come into the city. In fact, we saw that, and did it in a responsible way. It's about looking at the kinds of businesses we want to recruit, it's creating economic hubs of opportunity around our major institutions. And keeping that creative capital in Los Angeles. It's providing the kind of training that we want to see so that people are prepared for those jobs. It's keeping that technology center that people are calling Silicon Beach on the Westside, it's the manufacturing we're seeing downtown that's designed in L.A. – our fashion industry. The Clean Tech Corridor – all those things are happening.
The mayor's responsibility is, one, to design and develop and help create those opportunities, and two, to sometimes get out of the way to make sure it happens. And three, to ensure that we have that necessary infrastructure – from transportation to our ports to our airport, which are economic hubs for Los Angeles.
FPN: Do you believe that companies and developers should commit to providing jobs that pay living wages and provide benefits, as well as community benefits, as a condition of receiving economic development subsidies?
WG: I've supported those benefit packages – Project Labor Agreements – all kinds of ways in which there is a partnership between the developers and the residents of Los Angeles to ensure there are good-paying jobs.
FPN: Do you support Project Labor Agreements for the construction, operation and maintenance of facilities as a component of all publicly funded construction projects?
WG: I've historically supported them and will in the future – I think we've seen them work. It's been an important tool and we've had everyone who's participated in those PLAs actually say that they [created] a successful relationship.
Frying Pan News Exclusive: Interview with Wendy Greuel from LAANE on Vimeo.
ICE's Stealth Campaign to Expand Its Budget
The new Democratic majority in the House of Representatives could pose a challenge to the agency's chronic overspending — and to its aggressive detention and deportation policies.
---
In June the Dept. of Homeland Security asked Congress to allow it to transfer $200 million to ICE to cover agency overspending, continuing a pattern of such requests.
---
Big spending on immigration enforcement at the Department of Homeland Security promises to be a major sticking point as Congress prepares to negotiate a budget deal early next month.
Even though illegal immigration to the United States appears to be at its lowest point in 46 years, spending on immigration enforcement is at an all-time high. (The U.S. Border Patrol reported that in 2017, the last year for which statistics are available, apprehensions at the U.S.-Mexico border had dropped to 303,000, and had been declining nearly every year since 2000, when a record 1.6 million people were arrested.)
---
 By overspending its congressional allocation, ICE is effectively writing its own budget.
---
U.S. Immigration and Customs Enforcement's detention operations exceeded the agency's budget this year, while ICE spending on its vast system of immigration jails shows no sign of slowing.
But a newly elected Democratic majority in the House of Representatives could pose a challenge to the agency's chronic overspending — and to its aggressive detention and deportation policies.
ICE jailed so many immigrants in 2018 that it ran out of space in its more than 200 lock-ups, and placed 1,600 people in medium-security prisons.
Congress set detention and deportation spending for 2018 at $4.4 billion, enough to detain some 40,520 people annually.
However, by June, 44,000 men and women languished in immigration detention, filling 4,000 more beds than Congress authorized. DHS asked Congress to allow it to transfer $200 million to ICE to cover agency overspending. The department plucked the funds from several of its agencies, including the Federal Emergency Management Agency, the Coast Guard and the Transportation Security Administration.
Critics of ICE say that by overspending its congressional allocation, the agency has engineered a stealth expansion of the U.S. detention system, effectively writing its own appropriation, and skirting the Constitution's separation of powers in which Congress, not the executive branch, has the authority to set spending limits.
---
Congressman: "We shouldn't be using FEMA as a piggy bank to fund detention beds."
---
"It allows them to quickly expand the detention system contrary to congressional intent," said Heidi Altman, director of policy at the National Immigrant Justice Center, a non-profit immigrant rights group.
Such intradepartmental funds transfers aren't uncommon, but a congressional staffer who asked that his name not be used for this story said this one was controversial because nearly all of the money went to ICE for detention and deportation. ICE has received other big budget increases in the past two years. In March 2017, the agency got a $2.6 billion supplemental appropriation; three months later, ICE was back, requesting that Congress approve a $91 million funds transfer.
The $200 million June 2018 transfer, wrote DHS spokeswoman Katie Waldman in an email, was "in line with the FY 2019 president's budget request for U.S. Immigration and Customs Enforcement."
However, the additional funds covered FY 2018 overspending – not future shortfalls in 2019; Congress has yet to agree to a permanent fiscal year 2019 budget. Waldman didn't answer an email asking to clarify her comments.
---
Congressional Staffer: Whenever ICE outspends its budget and adds detention beds, it gains leverage for the next round of budget negotiations.
---
The same congressional staffer who discussed the controversy surrounding the $200 million DHS funds transfer also noted that when ICE outspends its budget and adds detention beds, it gains leverage for the next round of budget negotiations because reducing beds would mean freeing detainees and, ICE argues, their release could jeopardize public safety.
Growth by funds transfer also generally avoids public scrutiny. Transfer documents submitted by government agencies are not released to the public. But earlier this year, Sen. Jeff Merkley (D-OR) released DHS's June 2018 transfer and reprogramming request, noting that $10 million had been taken from FEMA just as Hurricane Florence was making landfall in North Carolina.
DHS shot back, claiming the funds were administrative and weren't earmarked for hurricane relief. But according to Ur Jaddou, director of the advocacy group DHS Watch, and a former Chief Counsel at U.S. Citizenship and Immigration Services, the DHS agency that oversees immigration and citizenship applications, "The government these days doesn't operate on a plethora of administrative resources. It's really functioning on a very limited budget. When they say they're using unused money, it's just a ruse."
Congress has shown its frustration with ICE's disregard for its authority, but hasn't acted to rein in agency spending.
---
Congress has scolded ICE for its "lack of fiscal discipline and cavalier management."
---
In budget recommendations for fiscal year 2019, the Senate Appropriations Committee wrote, "In light of the Committee's persistent and growing concerns about ICE's lack of fiscal discipline, whether real or manufactured, and its inability to manage detention resources…the Committee strongly discourages transfers or reprogramming requests to cover ICE's excesses."
Two years before, the explanatory language in the supplemental appropriations bill was even harsher. Appropriators pointed to a "lack of fiscal discipline and cavalier management" of detention funding, saying the agency seemed to think its detention operations were "funded by an indefinite appropriation. This belief is incorrect."
"We shouldn't be using FEMA as a piggy bank to fund detention beds," said Rep. Dutch Ruppersberger (D-MD). "Unelected agency heads shouldn't unilaterally shift taxpayer dollars for purposes they weren't intended."
Still, despite congressional annoyance with ICE's free-spending ways, it hasn't conducted meaningful oversight of the immigration detention system, said Greg Chen, director of government relations for the American Immigration Lawyers Association.
"The current leadership in Congress hasn't been interested in conducting hearings on detention spending and whether detention is even necessary at the scale it is now," Chen said.
When President Trump issued an executive order calling for no-holds-barred arrests of undocumented immigrants in January 2017, the border patrol reported that apprehensions at the U.S.-Mexico border were lower than at any time since 1972 — when the detention population was a fraction of its current size.
ICE reported that in fiscal year 2017, 41 percent of crimes of which detainees had been convicted were traffic- or immigration-related.  Just 11.4 involved murder, sexual assault, kidnapping, robbery or assault.
Chen argued that ICE has a legal responsibility to screen each person in its custody for risk – either of flight or to public safety. "ICE is just not doing that and defaulting to the practice of detaining people."
Democrats in Congress could take on a more robust role in overseeing ICE spending, now that they've gained a majority in the House. They could put conditions on spending, call for Government Accounting Office reports and hearings, cut funding, demand answers if ICE overspends and bring its actions to the attention of the press, said DHS Watch director Ur Jaddou, who is also a former congressional staffer.
"The next time they [ICE] need something," Jaddou said, Congress can respond, 'Do you really want it? You better listen.'"
---
Copyright Capital & Main