Wells Fargo Plays Scrooge to Atwater Village
Wells Fargo, which spent $281 million on corporate philanthropy in 2016, is choosing to curtail a holiday tree-lighting event — at the very moment it is seeking to generate goodwill in the communities it serves.

Worker prepares Atwater Village's holiday tree. (All photos: Jessica Goodheart)
Wells Fargo & Company has decided to evict a popular tree-lighting festival from the parking lot of one of its branches, a move coming at a time when the bank is working to rebuild its image in the aftermath of a scandal involving the opening of accounts for millions of customers without their permission.
The company's decision riled neighbors so much that they collected almost a thousand signatures on petitions, as well as letters from children, before assembling outside the bank with handmade signs and kids in strollers.
Bank officials told the all-volunteer festival group it needed to buy a $5 million liability insurance policy, one organizer said.
Video footage of the November 9 demonstration at the Atwater Village branch shows bank security forcefully shutting the door on protesters. "It just makes no sense," said community resident Bahar Tolou. A bank of Wells Fargo's size and influence, she explained, "could figure out some way" to work with the local community and "have this sweet little event that happens for two hours once a year." The Tree Lighting Festival, which attracted about 1,300 people last year, typically features Santa Claus, fire trucks, children's activities and local dancers and musicians.
Wells Fargo released a statement Monday underscoring its work to help the group find another site and its commitment to Atwater Village, where the bank has "been a long-standing community partner" and has "actively supported the tree lighting event."
But the bank stood by its decision to discontinue hosting a gathering that it says was becoming a safety hazard. It "violates our parking lot's legal capacity limit, closes our business to our customers, and places our customers' and the community's safety at risk," its statement said.
Shelli-Anne Couch, a festival organizer, said the group had offered to hold the event on a weekend so it would not interfere with bank business.
"Had we known back in August, if they'd been forthright and just honest about not using this space, we would have had ample time to shift the event," Couch said. "But they kept dragging us along. We were left scrambling."
As Couch spoke, a worker in a cherry picker strung lights around the festival's focal point, a dusty and towering evergreen that sprouts from a median strip on Glendale Boulevard. The bank parking lot is ideally situated to allow residents a space to gaze at the lit tree from across the street, she said.
Residents' frustrations also stem from the fact that bank officials offered shifting explanations for why its parking lot could not accommodate the tree-lighting ceremony after organizers met with the company in August, Couch said.
When event organizers proposed moving the tree lighting to the weekend so it would not interfere with customer traffic through the ATM lane, bank officials said the all-volunteer group needed to buy a $5 million liability insurance policy, organizer Courtney Morris said.
"We told them that we would try to secure a sponsor to pay for it, but could not in fact buy the insurance before we even knew if the branch would host," Morris said. "They seemed to want us to put the cart before the horse."
Luanna Lindsey, the banking district manager, who has reportedly led ongoing talks with community members, declined to comment for this story. Councilman Mitch O'Farrell's office did not respond to a request for comment.
As of Monday, the plan was to hold the tree lighting festival on December 10, from 5 to 7 p.m., on the lot of All'Aqua, an Italian restaurant located next door to the Wells Fargo branch. Its parking lot is a fraction of the size of the original spot, and so organizers had hoped to secure permission to close Glendale Boulevard, a potentially costly move that will be hard to accomplish on short notice.
Wells Fargo, which spent $281 million on corporate philanthropy in 2016, is choosing to curtail this event when it is seeking to generate goodwill in the communities it serves. Wells Fargo revealed in August that it may have created as many as 3.5 million deposit and credit card accounts without customers' permission over the last eight years. In July, the U.S. District Court in San Francisco approved a $142 million settlement in a class action lawsuit brought over the unauthorized accounts.
Some Wells Fargo critics have speculated that the bank is punishing City Councilman O'Farrell, who represents Atwater Village. O'Farrell filed a motion in March requesting that the city explore options to divest its $40 million holdings from the bank. Wells Fargo's contract for providing banking services to the City of Los Angeles is coming up for renewal in June 2018. The motion cites the city's 2015 lawsuit over the sham accounts, which was settled for $50 million in civil penalties, and the bank's financial support of the controversial Dakota Access Pipeline running through a sacred Native American burial ground and the tribe's water source.
"Any allegation that our decision is related to any specific activity by any member of the L.A. City Council is false," the bank said in Monday's statement.
Wells Fargo's liability concerns related to community events at its Atwater Village branch parking lot predate O'Farrell's motion.
Last spring, the L.A. Griffith Park Lions Club, which sponsors an annual pancake breakfast, was asked to increase its liability insurance from $1 million $5 million, at an increased cost to the club of $2,700, according Louis Buono, the club's vice president.
"I just think the property management people don't want the liability, not that anybody has ever gotten hurt," Buono said.
James Haydu, executive director of SEE-LA, said he began having conversations with the bank more than a year ago about the need to find another space for an event that has grown over the past dozen years. The Farmers Market, he said, has known "we would outgrow that space."
Wells Fargo Co. is continuing to host a weekly farmers' market in its Toluca Lake branch's parking lot. In June, the bank reportedly allowed tethered hot air balloon rides in its parking lot in Allentown, Pennsylvania at a "Blues, Brews & Barbecue" festival.
The events Wells Fargo hosted at its Atwater Village branch fostered a small-town feeling that can help neighborhoods cohere in a vast metropolis that can often feel isolating, supporters said. "It is a splendid event," resident Tricia Russo wrote on Facebook.
This year, Couch jumped up from a parking lot wall where she had been sitting and pointed to the tree. "Look," she said, "they are doing color this year."
It was just after 4 p.m. and the tree's newly-installed lights were beginning to glow. "I want to get a shot of that," she said before snapping a picture of the tree.
---
Copyright Capital & Main

Santa Cruz Leads the Push for Affordable Housing
California's housing shortage has made it difficult to be middle class and harder to be poor. Today's median-priced California home costs more than twice the median-priced U.S. home, according to Zillow.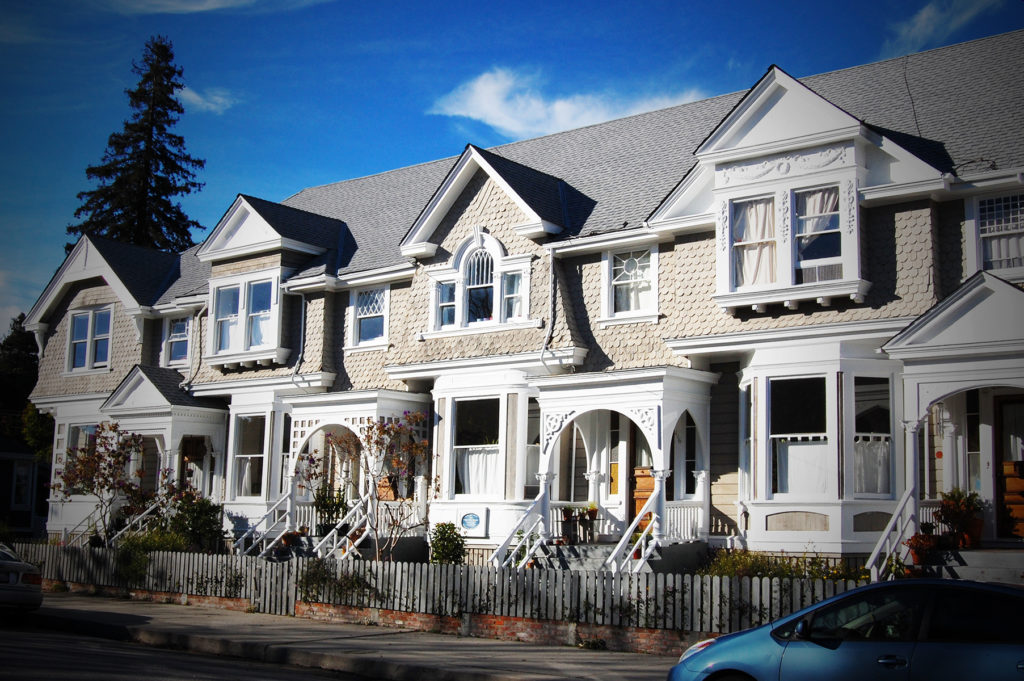 ---
California has been more expensive than most of the country for a long time, but the gap became a chasm beginning in the 1970s.
---
John Holguin should be in a celebratory mood. He is just about to close escrow on his first house. But like too many Californians, he's feeling a sense of diminished possibilities.
Holguin, 48, works for the Santa Cruz County Department of Public Works, striping roads and maintaining the county's bridges and storm drains. His wife is a school receptionist, and their combined annual income of $82,000 places them squarely in Santa Cruz County's middle class.
---
---
Yet Holguin had to withdraw from his retirement fund to afford his piece of the California Dream: a house in Watsonville, an agricultural community that has seen home prices shoot up as Bay Area tech workers and investors snatch up homes in the region.
His $3,200 monthly mortgage payment will eat up 75 percent of his take-home pay, he says. When he does retire, eight years later than planned, he and his wife will probably head for Arizona, where some of his high school classmates have already settled.
---
Activists and civic leaders are recognizing the extent of California's housing crisis. They are organizing around changes to housing codes, rent control, and local and state bond measures.
---
Holguin's two kids, junior college students, will help with the mortgage on the new home, but he does not expect them to remain in the state. "They know if they want to buy something, if they want to succeed, it's not going to be here in California," he says.
California's housing shortage has made it difficult to be middle class and harder to be poor. But there are signs in Holguin's home county, and elsewhere in the state, that activists and civic leaders are recognizing the extent of the crisis. They are organizing around changes to housing codes, rent control, and local and state bond measures.
At a June 12 Santa Cruz County Board of Supervisors meeting, Supervisor Zach Friend suggested that residents may have "reached a real tipping point" in their willingness to support new affordable housing. He was responding to almost a dozen community, business and nonprofit leaders who spoke in support of the board's unanimous vote that day to direct staff to prepare revisions to the county housing code to ease the way for more affordable housing development.
---
"It's one thing to say that you are in favor of affordable housing," but when a project is proposed in your neighborhood, "you can find a lot of reasons as to why you don't support it."
---
But it may take time to fix a problem that has been decades in the making, and it will certainly take political will to build and maintain affordable housing in sought-after coastal regions. Santa Cruz activists hope that Friend and other supervisors will vote this summer to place a bond measure of up to $250 million on the November ballot that could fund affordable rental housing, support first-time homebuyers, and provide housing for the homelessness.
Funding and policy changes are only the beginning. City and county officials must greenlight projects, sometimes over neighborhood opposition.
"It's one thing to say that you are in favor of affordable housing," Friend noted at the June 12 meeting, but when "a project actually comes forward, especially one in your neighborhood, you can find a lot of reasons as to why you don't support it."
California has been more expensive than most of the country for a long time. But the gap widened beginning in the 1970s when home prices grew from 30 percent above national levels to more than 80 percent higher by the end of the decade. Now the median-priced California home costs more than twice the median-priced U.S. home, according to Zillow.
Research suggests that the public "feels the pain" but is "not really enamored by some of the most obvious solutions," says Jim Mayer of California Forward, a nonprofit organization that focuses on fiscal and government reform. "They're really not supportive of a whole lot more homes if they think it is going to lead to more traffic and congestion, and more crime, and impact the schools."
California would need as many as 100,000 more housing units a year than it is currently building to meet the demands of its growing population, according to the state's Legislative Analyst's Office.
Meanwhile, some of John Holguin's co-workers rise in the dark to commute from Los Banos, a small bedroom community some 80 miles east. Others stay with family in Santa Cruz during the week, only to travel 150 miles home to Sacramento on the weekend. (Holguin's 17-mile commute from Watsonville along Highway 1 will take as long as 45 minutes because of traffic.) "Only in California do we have watersheds and commute sheds," says Mayer.
"My parents bought their first place at 25, and I'm 48," Holguin notes. "To me it seemed like they had it easier back then." He's right about his parents' generation of homebuyers. Back in 1975, the median home price in the state was $193,774 (in 2017 dollars). Last year, according to the California Realtors Association, it was $537,860 — nearly three times that much.
Of course, Santa Cruz is a particularly pricey slice of the California real estate market. Its sun, surf and scenery draw tourists, as well as tech industry workers from "over the hill" in Silicon Valley, who have money to spend. The median price for a single family home in Santa Cruz County shot up to $935,100 in March, a record high, the Santa Cruz Sentinel reported.
Santa Cruz County is home to lower-wage agricultural and service industries, making affordability a particular challenge for those who work there. Also, local redevelopment agencies, one of the few funding sources for affordable housing available to local governments, were eliminated in 2012, contributing to the housing shortage across the state.
Small-town Santa Cruz also faces pressure from its University of California campus, whose chancellor announced plans last fall to increase its student body by as many as 10,000 students by 2040. In a sign of voter frustration, the city of Santa Cruz approved a non-binding measure opposing the university's growth plans by a margin of 76-23 percent.
And then there is the resistance on the part of some residents to accommodate growth. Some simply want to "preserve the open space and restrain the growth" as much as possible, says Don Lane, one of the leaders of Affordable Housing Santa Cruz County, a local coalition that is advocating for a housing bond measure to be placed on the November ballot. "But you've just got all this high-priced housing, and it's still crowded, and traffic is still getting worse."
Lane, a former mayor of the city of Santa Cruz, says denser "infill" housing in commercial corridors will lead to a more efficient and effective use of space without compromising the region's preservationist traditions.
The plight of Santa Cruz's middle-income residents is not as dire as that of its poor, of which there are many. The county has among the highest poverty rates in the state. Farmworkers live in overcrowded and sometimes dangerous conditions. At the June 12 board meeting, Ann López, the director of the Center for Farmworker Families, relayed an instance of 16 people living together in a home of less than 1,000 square feet.
Matthew Nathanson, a public health nurse with the county, was motivated to advocate for an affordable housing ballot measure after witnessing the clients he serves "falling into homelessness" because of their inability to afford rent. The median rent for a two-bedroom home in Santa Cruz was $2,450 a month in May, a 4.7 percent increase from a year ago, the Santa Cruz Sentinel reported.
Nathanson, who is also a regional vice president with Service Employees International Union Local 521, says that housing has become a central issue for city and county workers like Holguin, who are becoming increasingly difficult to recruit. Road workers who are on call during the rainy season need to live "within a reasonable distance" of their jobs, he adds. And pay increases won at the bargaining table risk being "all wiped out" by the cost of housing.
The measure, which would require a two-thirds vote of the public, would be paid for by commercial and residential property owners, according to Lane. The original proposal was for $250 million, but he says the bond measure is now "looking more like $150 million" and could benefit between 1,500 and 2,000 households.
The campaign was inspired by the success of housing measures in Alameda and Santa Clara counties, he says. Another $4 billion housing measure will be on the state ballot this November.
Still, once the funding is in place, the projects will need to get approved by local governments and built. The bond measure proposed for November is only one piece of the puzzle, according to Nathanson.
"It took us a long time to get into this situation," he says. "I think there is a shift going on, but it's going to be a struggle."
---
Research assistance provided by Jake Conran.
Copyright Capital & Main