Wells Fargo Plays Scrooge to Atwater Village
Wells Fargo, which spent $281 million on corporate philanthropy in 2016, is choosing to curtail a holiday tree-lighting event — at the very moment it is seeking to generate goodwill in the communities it serves.

Worker prepares Atwater Village's holiday tree. (All photos: Jessica Goodheart)
Wells Fargo & Company has decided to evict a popular tree-lighting festival from the parking lot of one of its branches, a move coming at a time when the bank is working to rebuild its image in the aftermath of a scandal involving the opening of accounts for millions of customers without their permission.
The company's decision riled neighbors so much that they collected almost a thousand signatures on petitions, as well as letters from children, before assembling outside the bank with handmade signs and kids in strollers.
Bank officials told the all-volunteer festival group it needed to buy a $5 million liability insurance policy, one organizer said.
Video footage of the November 9 demonstration at the Atwater Village branch shows bank security forcefully shutting the door on protesters. "It just makes no sense," said community resident Bahar Tolou. A bank of Wells Fargo's size and influence, she explained, "could figure out some way" to work with the local community and "have this sweet little event that happens for two hours once a year." The Tree Lighting Festival, which attracted about 1,300 people last year, typically features Santa Claus, fire trucks, children's activities and local dancers and musicians.
Wells Fargo released a statement Monday underscoring its work to help the group find another site and its commitment to Atwater Village, where the bank has "been a long-standing community partner" and has "actively supported the tree lighting event."
But the bank stood by its decision to discontinue hosting a gathering that it says was becoming a safety hazard. It "violates our parking lot's legal capacity limit, closes our business to our customers, and places our customers' and the community's safety at risk," its statement said.
Shelli-Anne Couch, a festival organizer, said the group had offered to hold the event on a weekend so it would not interfere with bank business.
"Had we known back in August, if they'd been forthright and just honest about not using this space, we would have had ample time to shift the event," Couch said. "But they kept dragging us along. We were left scrambling."
As Couch spoke, a worker in a cherry picker strung lights around the festival's focal point, a dusty and towering evergreen that sprouts from a median strip on Glendale Boulevard. The bank parking lot is ideally situated to allow residents a space to gaze at the lit tree from across the street, she said.
Residents' frustrations also stem from the fact that bank officials offered shifting explanations for why its parking lot could not accommodate the tree-lighting ceremony after organizers met with the company in August, Couch said.
When event organizers proposed moving the tree lighting to the weekend so it would not interfere with customer traffic through the ATM lane, bank officials said the all-volunteer group needed to buy a $5 million liability insurance policy, organizer Courtney Morris said.
"We told them that we would try to secure a sponsor to pay for it, but could not in fact buy the insurance before we even knew if the branch would host," Morris said. "They seemed to want us to put the cart before the horse."
Luanna Lindsey, the banking district manager, who has reportedly led ongoing talks with community members, declined to comment for this story. Councilman Mitch O'Farrell's office did not respond to a request for comment.
As of Monday, the plan was to hold the tree lighting festival on December 10, from 5 to 7 p.m., on the lot of All'Aqua, an Italian restaurant located next door to the Wells Fargo branch. Its parking lot is a fraction of the size of the original spot, and so organizers had hoped to secure permission to close Glendale Boulevard, a potentially costly move that will be hard to accomplish on short notice.
Wells Fargo, which spent $281 million on corporate philanthropy in 2016, is choosing to curtail this event when it is seeking to generate goodwill in the communities it serves. Wells Fargo revealed in August that it may have created as many as 3.5 million deposit and credit card accounts without customers' permission over the last eight years. In July, the U.S. District Court in San Francisco approved a $142 million settlement in a class action lawsuit brought over the unauthorized accounts.
Some Wells Fargo critics have speculated that the bank is punishing City Councilman O'Farrell, who represents Atwater Village. O'Farrell filed a motion in March requesting that the city explore options to divest its $40 million holdings from the bank. Wells Fargo's contract for providing banking services to the City of Los Angeles is coming up for renewal in June 2018. The motion cites the city's 2015 lawsuit over the sham accounts, which was settled for $50 million in civil penalties, and the bank's financial support of the controversial Dakota Access Pipeline running through a sacred Native American burial ground and the tribe's water source.
"Any allegation that our decision is related to any specific activity by any member of the L.A. City Council is false," the bank said in Monday's statement.
Wells Fargo's liability concerns related to community events at its Atwater Village branch parking lot predate O'Farrell's motion.
Last spring, the L.A. Griffith Park Lions Club, which sponsors an annual pancake breakfast, was asked to increase its liability insurance from $1 million $5 million, at an increased cost to the club of $2,700, according Louis Buono, the club's vice president.
"I just think the property management people don't want the liability, not that anybody has ever gotten hurt," Buono said.
James Haydu, executive director of SEE-LA, said he began having conversations with the bank more than a year ago about the need to find another space for an event that has grown over the past dozen years. The Farmers Market, he said, has known "we would outgrow that space."
Wells Fargo Co. is continuing to host a weekly farmers' market in its Toluca Lake branch's parking lot. In June, the bank reportedly allowed tethered hot air balloon rides in its parking lot in Allentown, Pennsylvania at a "Blues, Brews & Barbecue" festival.
The events Wells Fargo hosted at its Atwater Village branch fostered a small-town feeling that can help neighborhoods cohere in a vast metropolis that can often feel isolating, supporters said. "It is a splendid event," resident Tricia Russo wrote on Facebook.
This year, Couch jumped up from a parking lot wall where she had been sitting and pointed to the tree. "Look," she said, "they are doing color this year."
It was just after 4 p.m. and the tree's newly-installed lights were beginning to glow. "I want to get a shot of that," she said before snapping a picture of the tree.
---
Copyright Capital & Main

No Walk in the Garden for the Urban Homeless
Throughout Los Angeles, landscaping is put to aggressive use, functioning as a weapon of anti-homelessness under the guise of beautification.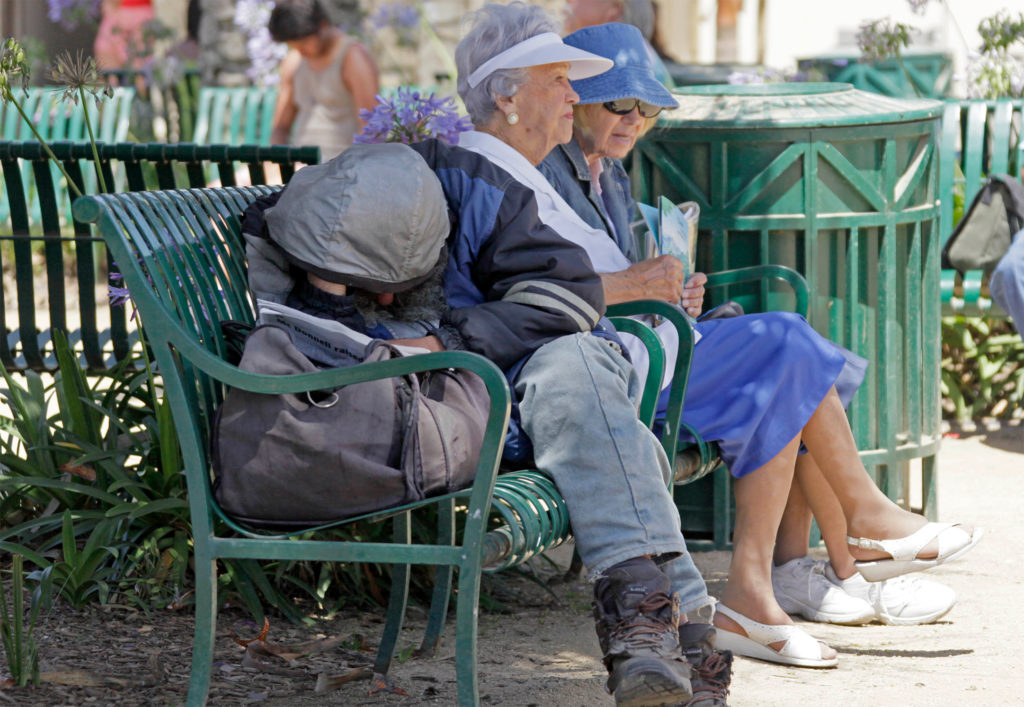 ---
The phenomenon of hostile landscaping in Los Angeles has further marginalized a swelling unhoused population.
---
Last May, in Los Angeles' coastal Venice neighborhood, Adam Smith noticed a series of planter boxes in the middle of a familiar sidewalk. Affixed near the intersection of Third and Sunset avenues, mere blocks from a Google campus and a suite of oceanside cafes, the standalone planters ran roughly the length of a wall delineating a parking lot behind a luxury condo complex.
Previously, Smith told Capital & Main, a group of six to 10 homeless people had regularly slept in tents on that block, favoring it for its relatively plentiful street light. A volunteer for the Culver-Palms Burrito Project, which prepares and serves the titular food to the unhoused of West Los Angeles, he'd become acquainted with individuals living there over the course of several years.
Once the planters were installed, however, the sidewalk was clear. "That next day, after I saw [the planter boxes] for the first time, I went there to look around because I figured they were sleeping somewhere else," Smith said. "I found people up around the corner, just, like, a block away."
---
Companies are privatizing public space to create more "landscape" for their businesses.
---
Throughout Los Angeles, landscaping is put to aggressive use, functioning as a weapon of anti-homelessness under the guise of beautification. Just as both public and private architectural design throttle space available to the unhoused internationally — via, among other examples, spikes on ledges and bars on benches to discourage sitting and lying down — and cities such as San Francisco arrange boulders to deter homeless encampments, the phenomenon of hostile landscaping in Los Angeles has further marginalized a swelling unhoused population.
Nearly 20 miles from Venice, a Los Feliz traffic median at the intersection of Vermont and Prospect avenues, and Hollywood Blvd., has regularly seen encampments arranged on its concrete ground, abutting a raised patch of desert landscaping and sycamore trees.
Christened "Vermont Triangle," the median's first redesign occurred in 2008, when the now-defunct Community Redevelopment Agency spearheaded a project to "improv[e] the pedestrian amenities" and "enhanc[e] the physical appearance of the existing median park." According to the Los Angeles Times, this yielded seating areas, lampposts to echo those at nearby Barnsdall Art Park, and the sycamores. Eventually, unhoused people began to pitch tents, availing themselves of the median's modest stretches of open public space.
Now, due to pressure from local business owners, Vermont Triangle is in flux. City Councilmember David Ryu's office, the Times noted, plans to invest $18,000 in another redesign, following a 2013 re-landscape. The 2013 update was financed in part by the Hollywood Hotel and Kaiser Permanente, according to Jeff Zarrinnam, who serves on the board of governors of the East Hollywood Business Improvement District. (Ryu's office couldn't be reached for comment.) Current proposals range from adding art installations and neighborhood signs, which Zarrinnam said the Los Feliz Neighborhood Council and East Hollywood Neighborhood Council have floated, to putting in planters.
Zarrinnam said he supports "bridge housing," a term the municipal government, neighborhood councils and local businesses use to favorably denote temporary homeless shelters and transitional housing. Yet reports indicate that the current state of temporary housing for many homeless people in Los Angeles County — who, as of May, numbered approximately 53,000 — is nothing short of abysmal. A recent investigation by radio station KPCC found infestations, harassment and medical negligence, among other scourges at various facilities throughout Los Angeles County, including those funded by the Los Angeles Homeless Services Authority (LAHSA), which conducts the county's annual homeless census.
Steve Diaz, an organizer for Los Angeles Community Action Network (LA CAN) who works with unhoused populations in downtown and South L.A., calls hostile landscaping of public space "the next level of criminalization" of homelessness. He alluded to an industrial neighborhood overlapping Skid Row, whose business owners call "The North Sea": a cluster of converted seafood warehouses and factories painted the same hues of oceanic blue — complete with landscaped sidewalks.
"They started breaking the concrete and taking away from the sidewalk to place different types of flowers, whatever garden they were putting in," Diaz said. "You have a major street [on] Skid Row that, at one point, was home to a lot of homeless folks now being gated off, and then the concrete being broken to start using these gardening pockets within the space to eliminate sidewalk access." (Miguel Nelson, a North Sea business owner involved in the area's marketing efforts, declined to respond publicly.)
As private property owners adopt guerrilla tactics to thwart homeless encampments, legal issues arise. Skid Row activist General Jeff Page has observed that, while property owners are permitted to control up to three feet of sidewalk extending from their buildings, "The North Sea is taking upwards of five to 10 feet of sidewalk, allowing only for ADA (Americans with Disabilities Act) compliance and zero space for homeless tents and/or encampments." (The Los Angeles Department of Public Works stated that the North Sea sidewalk landscaping is currently under investigation and thus couldn't comment further on the matter.)
What's more, business owners in South L.A. have illegally installed fences around their property, which, according to Diaz, will eventually give way to sidewalk landscaping. Relatedly, Adam Smith has been corresponding with city officials to ascertain the permit status of the Venice planters. The West L.A. office of the Bureau of Engineering, which issues revocable permits, told Capital & Main that it did not have a permit on file for the planters. Without one, according to the bureau, "no portion of the public right-of-way, including sidewalk, is allowed for private use."
Nevertheless, the planters remain and, according to Smith, have multiplied. Additional boxes, he said, are now ensconced in the sidewalk around the corner, to where the previously ousted people had first moved.
"For some people, [landscaping] sounds like a great idea," Diaz said. "But you're literally privatizing public space to create more 'landscape' for your business."
---
Copyright Capital & Main