Let Us Organize: Thoughts on Labor Day
Like any holiday, Labor Day comes with some inevitable scenarios. Number One is that most Americans will take a well-deserved day off, courtesy of the efforts of the labor movement. Next, many of us will barbecue on grills that were paid for by middle class jobs that only exist because of the success of that movement.
But this holiday comes with another inevitability: The Sunday morning newspaper or Web stories proclaiming that people don't want to join unions anymore. However, despite what the editorial writers and columnists say, the real reason people don't join unions is that U.S. labor laws are so weak that they are nearly worthless – and the right to join a union is a joke.
When I went to work for my first employer after high school I was part of an organizing drive and a strong majority of the workers – 43 out of 62 – signed cards asking for a union to represent us. In many countries that would be the end of the process, but in the United States 43 of us were fired on a Friday and Monday, but we won the union election held a month later by the same margin. We all went to work for union shops but it took 13 more years for that company to go union – and it was only because the owner wanted to at that point. That was in 1987 and the Department of Labor is even worse now.
When my union, the International Brotherhood of Electrical Workers, gives the test for our apprenticeship program there are usually 800 people who get to our training center (as early as two in the morning) to stand in line to take the exam. Over the course of the year 4,800 people will apply to work in an electricians union with 7,400 members. That doesn't count the thousand or so already in the electrical industry who start the process to go to work for a union shop by sending in a resume, meeting with an organizer and so forth. Almost none of these applicants are looking to start a union where they work because they intuitively know that it is nearly impossible to do this. But all of them want a union.
Four years ago, when the campaign to get the Employee Free Choice Act (EFCA) passed was in under way, there was a press conference in Glendale and one of the newspaper reporters asked several of the elected officials there why we shouldn't fix existing labor law instead of scrapping the system with EFCA. I interrupted and said, "It should be as easy to join a union as it is to join the Chamber of Commerce." That stumped him and the press conference ended and we went about our business.
A little time had passed after this incident, when I asked someone, "Where has that asshole reporter been?" I was told he had been fired – for being too pro-union.

A Woman's Art Is Never Done: The Feminae Exhibition
A striking juxtaposition between the past and present courses throughout the small gallery. Celia Blomberg's "International Women's Day March 8" can't help but make one think of 2017's Women's March, which occurred 37 years after the print's first appearance.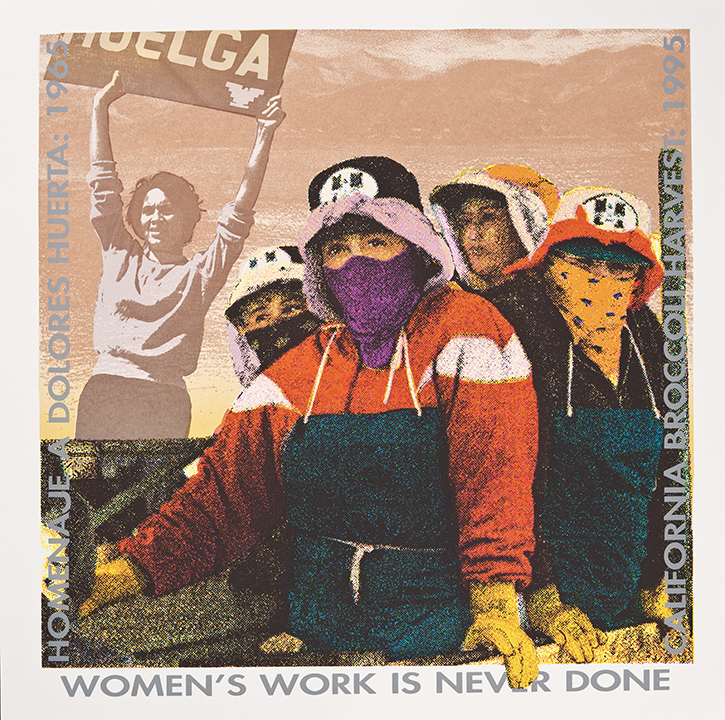 Among the 50-plus works in the Feminae: Typographic Voices of Women By Women exhibit is Yolanda Lopez's "Women's Work is Never Done." Lopez's title is particularly ironic, given the exhibit's gender-based subject matter. The show spans work from the past 50 years, making it easy to understand how much society is still grappling with its themes of gender inequality. Culled from the archives of the Center for the Study of Political Graphics, the graphic images of protest, persuasion and empowerment are truly works of art in their own right.
However, political posters aren't made to merely spruce up walls, but to help figuratively bring barriers down as well.
Two silkscreens from the 1970s, Liliana Porter and John Schneider's "This Woman is Vietnamese" and See Red Woman's Workshop's "So Long As Women Are Not Free People Are Not Free," are particularly powerful, underscoring, as they do, the fact that the subjugation and persecution of women crosses borders and cultures as an unfortunate shared global experience. These two pieces' stark simplicity exemplifies most of the work in the exhibit. In the former, a New York Times photo of a distraught Vietnamese woman with a gun held to her head is centered above these basic words typed out in a typewriter font: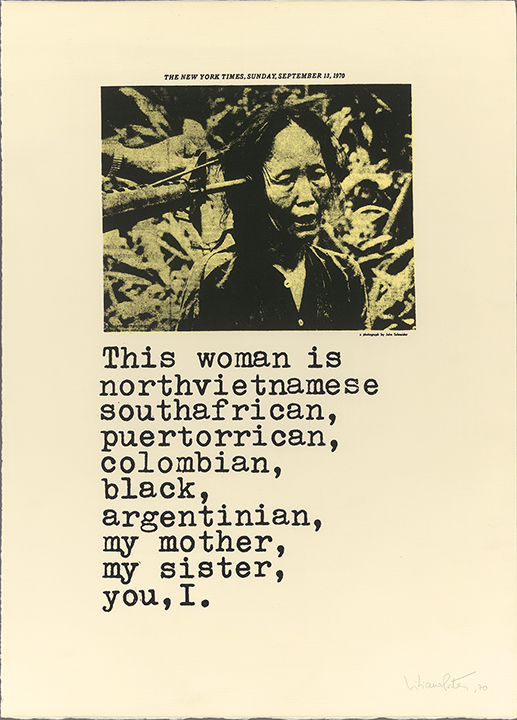 This woman is
northvietnamese
southafrican
puertorrican,
colombian,
black,
argentinian,
my mother,
my sister,
you, I.
By juxtaposing the photo with these words, the creators take the plight of this woman and immediately globalize her pain. In the latter, three female demonstrators are silkscreened in red onto a yellow background. They are marginalized by being stuck in the lower left third of the poster, but two of them are raising their fists skyward and their mouths are open, screaming in defiance. Its non-serif, eponymous type reads: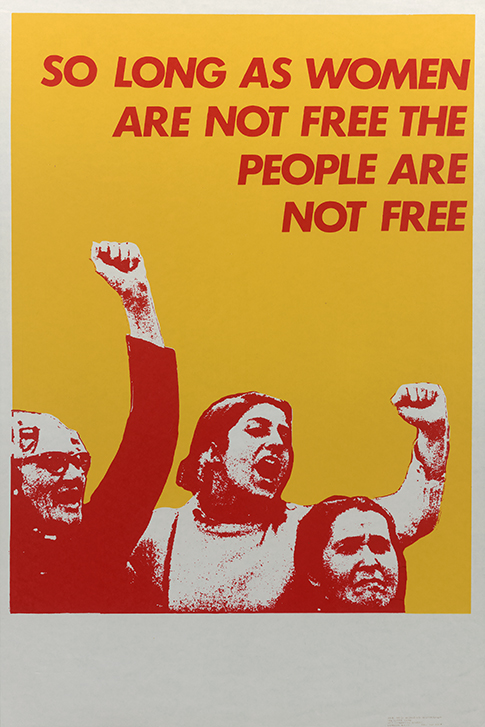 SO LONG AS WOMEN
ARE NOT FREE THE
PEOPLE ARE
NOT FREE
This piece's message takes the global message even farther, making the plight of women a human one — a common theme in the exhibition.
There is also a striking juxtaposition between the past and present that seethes throughout the small gallery. Celia Blomberg's "International Women's Day March 8" can't help but make one think of 2017's Women's March that would take place 37 years later. See Red Woman's Workshop's 1977 "Black Women Will Not Be Intimidated" could easily be repurposed to address the recent spate of blue-on-black brutality. Notable works by Barbara Kruger, Sister Corita Kent and the Guerilla Girls are also included.
Ironically , while it can be surmised that most of these works were made as populist posters to be distributed at the time as banners of protest, their beautiful simplicity and nostalgic elegance probably have resulted in the originals (mostly now found in art museums) sporting hefty vintage-resale prices.
But it is not just the art that has stood the test of time. The fact that the issues addressed in the show — feminism, choice, gender equality, war, immigration, police brutality or violence against women — are all issues at the forefront of debate in 2018 ultimately engenders conflicting feelings.
On one the hand, it is inspiring to see a vibrant exhibit that showcases such diversity in artistic styles, no doubt spawned by the diversity of the artists' own backgrounds. On the other hand, there is a realization that while there has been some progress over the past half century, there is so much work to be done.
Art Center's Hoffmitz Milken Center for Typography, 950 South Raymond Ave., Pasadena; through May 15.
---
Copyright Capital & Main