The Way We Live Now: Singing for Supper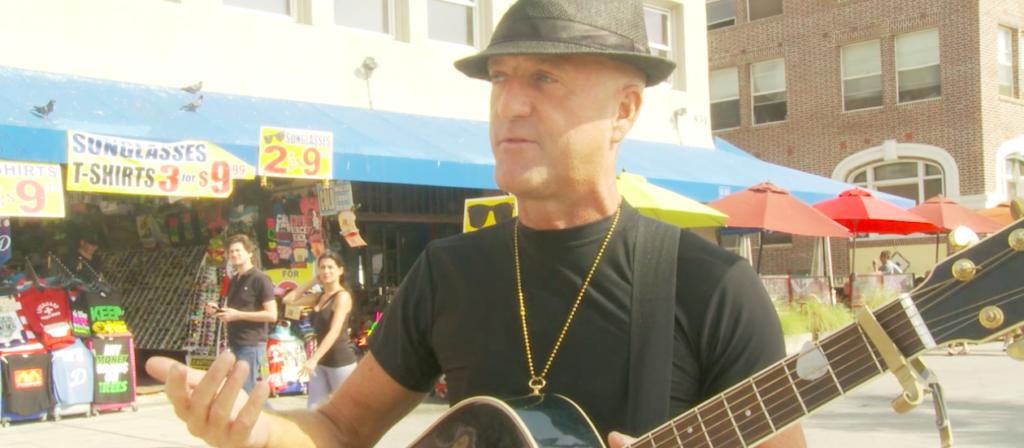 (Photo by Mikella Wickham)
The chord progression of the Red Hot Chili Peppers' song "Otherside" plays on the south end of the Venice Beach boardwalk. The middle-aged man strumming his acoustic guitar is Gary St. Germain, who spends afternoons performing songs in Venice, Burbank and Hollywood, a black pork pie hat always perched on his head. When he has free time, St. Germain plays in Venice for two or three hours at a time.


This is an encore posting from our State of Inequality series
"I don't have an amplifier," St. Germain says. "So I set up where there isn't too much music blasting and I just play what I love."
Ironically, the more busy days at Venice seem to benefit him less. It's the days when curious people stroll by that St. Germain makes 20 to 40 dollars after a few hours. According to St. Germain, one extremely busy Saturday afternoon left him with his lowest amount of donated cash ever — two dollars after two hours of playing. Still, he plays for recreation, health and to fill free time.
Years ago he was a married homeowner in his home state of Colorado. However, the marriage ended after a few years and neither he nor his wife could afford to keep their house. For a while St. Germain rented a small cabin in Evergreen, Colorado — working, he says, a "9 to 5 job" for a corporation.
"I don't want to get into it, but it was quite despicable and I was very unhappy," St. Germain adds. When he lost his job in 2007, he found it to be a blessing. He took a job with a significantly lower salary as a non-medical in-home caregiver. "I was barely making my rent, doing odd jobs selling firewood, cutting down trees in the forest where I lived. I was doing a host of things to try to get by."
St. Germain got involved with two bands in Denver and his fellow musicians later encouraged him to pursue his musical dreams in California. He sold his few valuables, cashed out his retirement funds and moved to L.A.
"I wanted to do this while I was still physically capable and having the health to do it at 50 years old."
Finding a place to live in L.A. was no breeze, however. St. Germain initially lived with an ex-girlfriend in Rancho Cucamonga, which helped with short-term stability and led to his first gig at a wedding. After joining a band through Craig's List, he lived with members in Orange County for a little more than a year. Close to seven months ago, he gained more confidence as a solo performer, took a leap and began to perform solo on the Venice boardwalk.
Taking on odd jobs between musical performances, St. Germain believes that regardless of whether money is tight, "you do have to put some effort into it. You can't just lie around thinking that things are just going to fall into your lap," he says.
At times this includes audiovisual work which, he says, is "lucrative, but very infrequent. From one month to the next I don't have any kind of a standard, set income I can count on." Music and uncertainty are the only constants in St. Germain's life. When it comes to keeping up with the reality of daily life, "I just hope I can make my rent," says St. Germain, who was evicted from a previous residence due to personal and financial issues.
"I didn't have money for firsts and lasts, for the typical lease-signing thing you need to do to live out here in L.A.," he explains. After finding himself nearly homeless, he moved in with a woman he met on Venice Beach and currently lives with her in Inglewood. "Everyone in the neighborhood is very nice, even though because [I am] Caucasian, I am somewhat the minority," St. Germain says of Inglewood.
He assists the woman with rent money and finds the location is ideal for his trips to Venice, which is only about 20 minutes away on his motorcycle. St. Germain stressed how important it is for him to continue, "believing that even though you don't know where your next meal or next paycheck is going to come from, that somehow God is going to take care of you."
St. Germain recently qualified for food stamps. "Luckily I got groceries for another month," he says. "So it could be worse."
St. Germain adds that he feels better off and healthier than he did in the past and does not blame anyone for his situation.
"I have nothing for my future," he says. "I tell people, God is my retirement. I'll let you know how that goes."
During a conversation he reflects upon the huge shift in his lifestyle from a very corporate, traditional existence to a far less stable and spontaneous way of living.
"This doesn't pay much," he says," "but this is a pretty awesome office compared to being in some cube somewhere in a fluorescently lit building."
---
(Mikella Nicole Persons Wickham is a graduating senior at USC in Los Angeles. She is earning a degree in Broadcast & Digital Journalism with a minor in cinematic arts. She has interned in broadcast news (WMAR-TV, WBAL-TV in Baltimore), in public relations with Comcast Corp. and in marketing and publicity for Universal Pictures. She  volunteers as an English tutor in downtown L.A.)