Water, Water — Everywhere and Nowhere
Just before the Oroville Dam became daily front page news, during what turned out to be a brief lull in this winter's storms, one of my neighbors asked me if I thought the drought was over. "Nope, just an interlude," I said.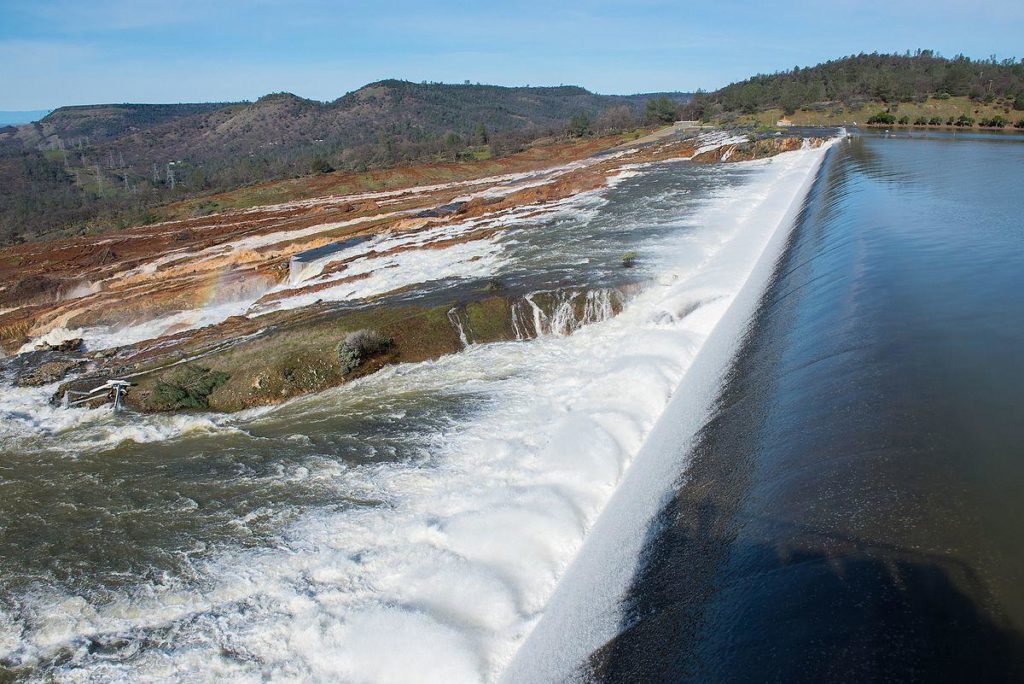 Oroville Dam's emergency spillway.
Just before the Oroville Dam became daily front page news, during what turned out to be a brief lull in this winter's storms, one of my neighbors asked if I thought the drought was over. "Nope, just an interlude," I said. Then, within the week, more rain came – rain and snow, depending on where you reside in this great state. But as far as I can tell, we still live in a continuing drought. These storms are just a brief interruption.
After so much rain, and massive, record-setting snow, why do I say that? According to climate experts, California has so depleted its water supply that it would require several years of regular, above-normal precipitation to take the state out of its long-term drought condition. Southern California in particular is desert and near desert, surviving primarily on imported water. That's why national, state and local governments built these water works in the first place. They wanted to get water to places where there was little or not enough, as well as to protect the state from periodic floods.
This condition of unpredictable precipitation leads many to advocate for increased infrastructure – more dams and aquifers – that would save water in wet seasons for dispersal in dry ones. That's why the ballot measure on water resources approved by voters in 2014 included money for dams. This year, with its overflowing dams and full reservoirs, makes a good case. Fill them now, use it later. Except for some places, like Santa Barbara's Lake Cachuma, which just jumped from eight percent to 46 percent of its capacity after recent heavy rains.
Critics of dams point to the toll they take on the host river's ecosystem. And besides the environmental impact, we do not know when the next heavy rainfall year like this one is likely to show up. It could be next year, it could be five years – or longer. Because of human-caused climate change, this season could be the new normal or a fluke.
Furthermore, when the system of rivers and streams runs full, it benefits other parts of the environment. It refreshes the California Delta – where the Sacramento and San Joaquin rivers meet – restoring fish habitat, washing away salt and bringing fresh nutrients to the soil. This benefits both the agriculture and fishing industries as well as the ecology of the river.
Even deeper problems plague us that building more dams won't solve.
Overpumping from deep wells has dropped the water table in the Central Valley, here in the Los Angeles basin and other areas across the state. These underground storage systems accumulated over millennia, but in the last century farmers and cities have drained so much water that massive storms don't begin to refill them. Even in the middle of this rainy season people in some areas of Tulare County must use bottled water. Farm land has subsided, buckling roads and cracking canals. Many rural residents drilling deeper wells come up empty. We have been drawing down on a legacy that now can't support people or produce.
As long as there is a snow pack in the Sierras, water will continue to flow to California farmers and cities. The City of Los Angeles ensured it would have its needed share of that water when it built the Los Angeles Aqueduct that stretches from above Mammoth into the city. The California Aqueduct that flows from Northern California down the Central Valley supplies many of the cities surrounding Los Angeles through the Metropolitan Water District of Southern California. But those places also depend on water from another source, the Colorado River.
The Colorado's Lake Mead typically supplies about 45 percent of what's used by areas served by the Metropolitan Water District. As long as Northern California water flows, Los Angeles remains in good condition. Adjacent cities will benefit from it too, but it won't be enough, because Lake Mead water levels remain seriously below normal, reaching record lows in the last few years. Although the lake rose eight feet so far this year, runoff expected from the Rocky Mountains has not and will not adequately replenish its stock, even as urban areas expand and thirsty farmers want more. You can't squeeze water out of a dry sponge.
So as I told my neighbor, we're in an interlude, a time between, when underlying drought conditions do not appear so obvious. That's why cities, like Santa Monica, and water districts across the Southland, continue to press for water self-reliance. And it's not time to go back to the old behaviors. Don't run water while you brush your teeth. Don't take those long showers. Let someone who recycles water wash your car. Install drought-resistant plantings. Use water as if it were precious. It is. Our life depends on it.
---
Photo: California Department of Water Resources