Water and Power: Fracking Meets Magical Realism in a New Play
Playwright Josefina López appropriates the basic construct of Ibsen's An Enemy of the People, tosses in large dollops of magical realism and transforms the lead character from a 19th-century Norwegian doctor into a 21st-century Mexican curandera.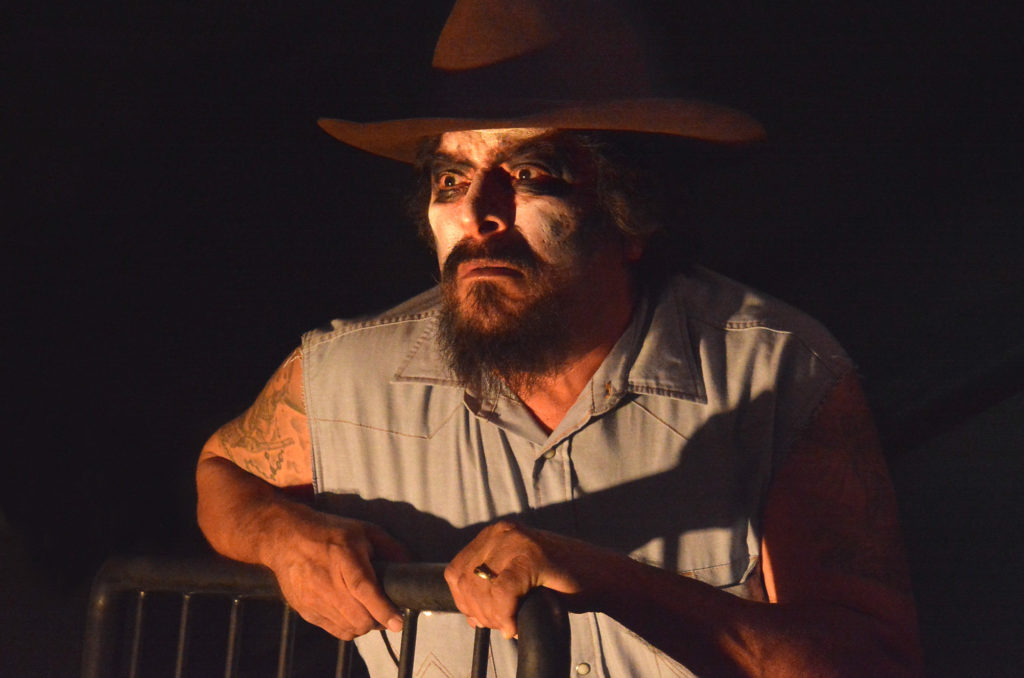 L-R: Javier Ronceros, Zilah Mendoza, William Jaramillo and Paul Renteria. (Photos: Ed Krieger)
In An Enemy of the Pueblo, playwright Josefina López appropriates the basic construct of Henrik Ibsen's classic, tosses in a few large dollops of magical realism, and transforms the lead character from a 19th-century Norwegian doctor into a 21st-century Mexican curandera. The result is a stirring adaptation that features a luminous Zilah Mendoza as an earthy, compassionate, albeit flawed, woman of principle.
As in the original, the bone of contention between the "enemy" and everyone else is the contamination of local water. Ibsen's hero, Dr. Stockmann, uncovers pollution in the public baths which, if revealed, will damage the town's tourist trade. The good doctor's predilection to tell the truth alarms government and business interests, not least of whom is his brother, the town mayor.
In López's version, Magda (Mendoza), a midwife and shaman with supranatural gifts, dreams that water in her small rural village has turned toxic, killing all her neighbors. Later, awake, she learns that poison really has been generated by a U. S. company's fracking , and that her own twin brother Pedro (Arturo Aranda, Jr.), also the mayor, has approved this violation of the land.
Magda has other problems. Her past accomplishments include vanquishing the narcos that had been plaguing her people; she did this by casting a not-quite-kosher curse on their leader, El Sapo (Paul Renteria). He now haunts her, as does her dead husband Eugenio (Javier Ronceros), who met his end pursuing this same evil dude — but with a gun, rather than a magic spell. Magda's losses and regrets have driven her to a cozy relationship with tequila; a bottle is always on hand, and she sometimes shares it with the gringo O'Connor (William Jaramillo), who'd happily take care of her if she'd let him, which she won't. Magda keeps O'Connor at a distance not only because she's still mourning her husband but because her life's priorities lie elsewhere. "I serve God," she tells those who would castigate her as a bruja —and her actions, along with her fearless tongue, give you little reason to doubt it.
Directed by Corky Dominguez, An Enemy of the Pueblo is one of those still-too-rare dramatic vehicles fashioned from a female perspective, with a strong insightful female character driving the story. Magda's most vital relationships are arguably with her daughter (Laura Bravatti), her granddaughter (Angiee Lombana), who has inherited her gifts, and the other women in her town who continually seek her help.
The plot's melodramatic elements are unabashed, but it doesn't matter because they are counterbalanced by the importance and respect the characters lend each other. As to the narrative's magical elements, it's to the credit of both playwright and Mendoza's performance that their authenticity is never in question. When Magda lifts her arm, then lowers it in one commanding swoop, you do believe something supernatural has taken place. These moments are intensely enhanced by Kevin Eduardo Vasquez's fluid lighting, as well as the visuals (that rain!) created by tech director and special effects designer Sohail e. Najafi.
Designer Marcos De Leon's set aptly conjures Magda's humble yet somehow runic abode, while J.D. Mata's music wraps the story in a befitting ballad of the desert. Abel Alvarado's costuming of Mendoza enhances the character's charm.
The production's weak link is the supporting ensemble, which includes cast members with little or no on-stage experience. This company has proud visible roots in the surrounding community, so the use of non-professionals may be a conscious directorial choice — but the bottom line is the show is not as good as it might have been with more skilled actors. Among the secondary characters, Aranda makes the best impression as Magda's sellout brother.
Still, I do recommend An Enemy of the Pueblo: A charismatic lead performance, strong feminist themes and pleasing production elements are more than ample reason to see it.
---
Casa 0101, 2102 E. First St, East L.A.; Fri.-Sat., 8 p.m.; Sun., 5 p.m.; through November 12; (323) 263-7684, tickets@casa0101.org, or www.casa0101.org. 
Copyright Capital & Main
The Power of the Poster
Carol Wells, the founder of the Center for the Study of Political Graphics in Los Angeles, talks to Capital & Main about the enduring power of political art.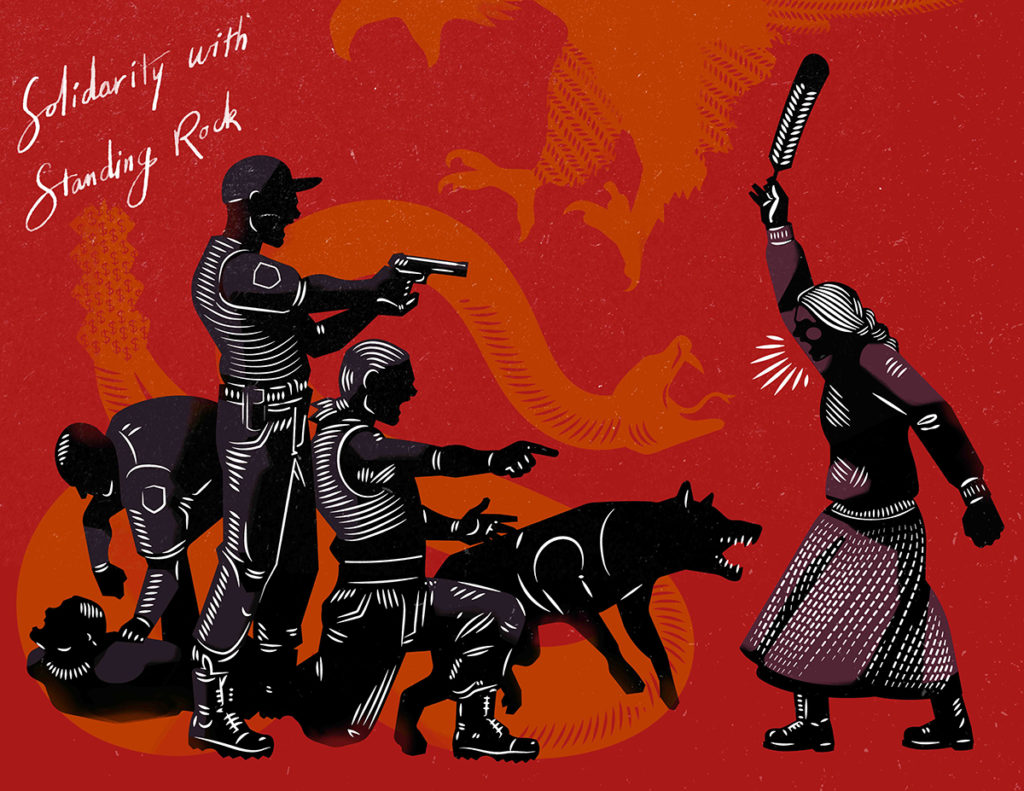 Carol Wells remembers the exact moment she discovered her calling. An art historian at the time, she was on a trip to Nicaragua with her friend David Kunzle, a UCLA art history professor, who was collecting political posters to add to his burgeoning collection. While staying with friends, Wells watched a neighbor's 8-year-old son approach a poster on the wall, stare at it intently, and then start to silently mouth the words. Wells was struck by how engaged the boy was. "In that moment I became obsessed with collecting posters."
Now over 40 years later, Wells is the founder and executive director of the Center for the Study of Political Graphics in Los Angeles. Wells has amassed approximately 90,000 posters, building one of the largest collections of its kind in the world. The Center shares its collection with the public in part through curated exhibits. This year the CSPG has produced Feminae: Typographic Voices of Women by Women and its latest is To Protect & Serve? Five Decades of Posters Protesting Police Violence, running through July 15 at the Mercado La Paloma in downtown Los Angeles.
Since that encounter in Nicaragua in 1981, Wells' obsession with collecting posters hasn't waned. In CSPG's nondescript West L.A. office space, Wells pulls out poster after poster, lecturing passionately on the backstory and cultural impact of each, including one that superimposes text from a New York Times interview with a shocking image of the My Lai massacre ("Q: And babies? A: And babies."). Recently, she managed to sit down with C&M to discuss her passion.
---
Capital & Main: So, you were an art history professor, you happen to see a kid on a trip, and suddenly your life was changed forever?
Carol Wells: Yeah, I'm in Nicaragua alone in the living room with this kid. He's looking around, and all of a sudden, he sees the poster. It was pretty big, bright green, a thick outlines of a woman holding a big basket of coffee beans. And the text in Spanish said, "In constructing the new country, we are becoming the new woman." I see him walk over to the poster and I'm watching him mouth the words. It was a pretty sophisticated concept, so I doubt he figured it out. But I literally had this epiphany: "Oh my God. That's how posters work." You're going about your daily life, and all of a sudden something breaks through the bubble, and it grabs your attention. It's the graphic, it's the color, it's the combination, and it pulls you out of your head and into that poster and it makes you ask a question. "Why is this here? What is this about? What does this mean?" And every time you ask a question, you're a different person than you were before you asked the question.
How many posters do you get a year?
We get between two to five thousand a year donated from all over the world. The bulk of our collection is [from] 1945 and later.
I assume technology has probably hurt the art form, but has it helped get the messages out?
Most people think that, and it's actually not true. Since the internet age started, there's actually a poster renaissance of works on paper. Because you can't walk with your computer monitor in a demonstration. You can't plant your monitor on your lawn.
And you can't put a laptop on the wall…
Exactly. You want to hear a really great story? Truthdig.org published a cartoon [made by] a political cartoonist named Mr. Fish. It was during the Arab spring, and he had superimposed Che Guevara with the stylized beard and King Tut's face, but it had Che's beret. And it [was titled], "Walk like an Egyptian." So, it was a reference to the music, but [it was also] a reference to what was going on the streets of Cairo. I sent it out as our poster of the week to 9,000 people. The very next day, somebody took a photograph on the street of Cairo, with somebody holding a piece of paper with that image on it. A poster can literally go around the world and people will print it out.
What struck me in viewing your exhibits is how many of these posters could still be used today, not only artistically but also, sadly, in the timeliness of their messages.
We had this fabulous poster by Yolanda Lopez, a Bay Area artist, which she first did in 1978. It depicts a young man in Aztec garb pointing a finger like Uncle Sam saying, "Who's the illegal alien, PILGRIM?" And it's a great poster, it's simple, not too many words, funny, provocative. So, we had an exhibit at UCLA in the mid '90s and there were 4 or 5 high school students standing around this poster saying, "Wow, you've got posters up to the minute." And I went over to them and I said, "Look at the date. This is before you were born."
Is that one of your goals with the exhibitions? To show the evergreen nature of this work?
Absolutely. I mean that's why we did the police abuse exhibition now. It basically goes back five decades. It's 50 years of posters protesting police abuse. Mainly in the United States, but also internationally.
What's the goal for CSPG?
Well the aim right now is really to digitize the collection and get it online. We have 10% of the collection digitized. But the mission is to collect and to document, because stories get lost. All the exhibitions, they're showing massacres, they're showing genocide, they're showing police abuse, they're showing all of these horrible things. And people often ask me, "How can you look at this stuff all day long?" I said, "Because the poster artists are optimists. They believe people can change if they have the information."
Yes, that's the reason why they're doing it, right?
That's why they're doing it, and that's why I'm doing this, because I believe that people can change if they knew the truth.
And what happens 20, 50 years from now?
Well, my goal is to stay independent, because the other option is to become part of the university. Universities, for all the fabulous things that they do, they also censor. We did an exhibition at USC in 1992 on the 500 years since Columbus, and how the legacy of racism and exploitation and genocide continues. And one of the board of trustees was Italian and took [the exhibit] as an affront to Columbus. It really wasn't about Columbus, it was about colonialism. And he ordered it down.
Do you have a favorite poster?
I'm always amazed at the creativity and vision of artists. Every week I'll say, "Oh my God, how do they think of that?" But it's always still going to be the poster I saw that kid trying to figure out. It has to be my favorite one because that one changed my life.
What makes a perfect poster?
The right balance between aesthetics and message. If you only rely on the corporate press, the New York Times and L.A. Times, for your information, you're not going to get the side from the street, from the movement, from the activists. The posters are primary historical documents that are recording the issues that were at the time, and the passions that were at the time, and the divisions that were at the time. You're not going to get it anyplace else.
---
Copyright Capital & Main