Water and Power: Fracking Meets Magical Realism in a New Play
Playwright Josefina López appropriates the basic construct of Ibsen's An Enemy of the People, tosses in large dollops of magical realism and transforms the lead character from a 19th-century Norwegian doctor into a 21st-century Mexican curandera.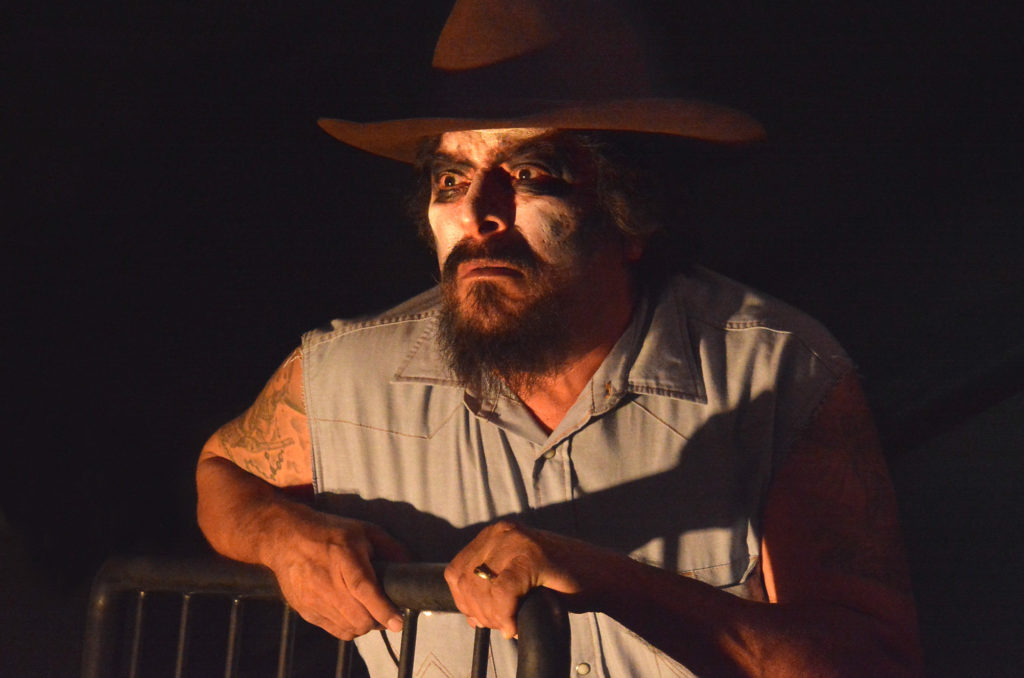 L-R: Javier Ronceros, Zilah Mendoza, William Jaramillo and Paul Renteria. (Photos: Ed Krieger)
In An Enemy of the Pueblo, playwright Josefina López appropriates the basic construct of Henrik Ibsen's classic, tosses in a few large dollops of magical realism, and transforms the lead character from a 19th-century Norwegian doctor into a 21st-century Mexican curandera. The result is a stirring adaptation that features a luminous Zilah Mendoza as an earthy, compassionate, albeit flawed, woman of principle.
As in the original, the bone of contention between the "enemy" and everyone else is the contamination of local water. Ibsen's hero, Dr. Stockmann, uncovers pollution in the public baths which, if revealed, will damage the town's tourist trade. The good doctor's predilection to tell the truth alarms government and business interests, not least of whom is his brother, the town mayor.
In López's version, Magda (Mendoza), a midwife and shaman with supranatural gifts, dreams that water in her small rural village has turned toxic, killing all her neighbors. Later, awake, she learns that poison really has been generated by a U. S. company's fracking , and that her own twin brother Pedro (Arturo Aranda, Jr.), also the mayor, has approved this violation of the land.
Magda has other problems. Her past accomplishments include vanquishing the narcos that had been plaguing her people; she did this by casting a not-quite-kosher curse on their leader, El Sapo (Paul Renteria). He now haunts her, as does her dead husband Eugenio (Javier Ronceros), who met his end pursuing this same evil dude — but with a gun, rather than a magic spell. Magda's losses and regrets have driven her to a cozy relationship with tequila; a bottle is always on hand, and she sometimes shares it with the gringo O'Connor (William Jaramillo), who'd happily take care of her if she'd let him, which she won't. Magda keeps O'Connor at a distance not only because she's still mourning her husband but because her life's priorities lie elsewhere. "I serve God," she tells those who would castigate her as a bruja —and her actions, along with her fearless tongue, give you little reason to doubt it.
Directed by Corky Dominguez, An Enemy of the Pueblo is one of those still-too-rare dramatic vehicles fashioned from a female perspective, with a strong insightful female character driving the story. Magda's most vital relationships are arguably with her daughter (Laura Bravatti), her granddaughter (Angiee Lombana), who has inherited her gifts, and the other women in her town who continually seek her help.
The plot's melodramatic elements are unabashed, but it doesn't matter because they are counterbalanced by the importance and respect the characters lend each other. As to the narrative's magical elements, it's to the credit of both playwright and Mendoza's performance that their authenticity is never in question. When Magda lifts her arm, then lowers it in one commanding swoop, you do believe something supernatural has taken place. These moments are intensely enhanced by Kevin Eduardo Vasquez's fluid lighting, as well as the visuals (that rain!) created by tech director and special effects designer Sohail e. Najafi.
Designer Marcos De Leon's set aptly conjures Magda's humble yet somehow runic abode, while J.D. Mata's music wraps the story in a befitting ballad of the desert. Abel Alvarado's costuming of Mendoza enhances the character's charm.
The production's weak link is the supporting ensemble, which includes cast members with little or no on-stage experience. This company has proud visible roots in the surrounding community, so the use of non-professionals may be a conscious directorial choice — but the bottom line is the show is not as good as it might have been with more skilled actors. Among the secondary characters, Aranda makes the best impression as Magda's sellout brother.
Still, I do recommend An Enemy of the Pueblo: A charismatic lead performance, strong feminist themes and pleasing production elements are more than ample reason to see it.
---
Casa 0101, 2102 E. First St, East L.A.; Fri.-Sat., 8 p.m.; Sun., 5 p.m.; through November 12; (323) 263-7684, tickets@casa0101.org, or www.casa0101.org. 
Copyright Capital & Main