Walmart vs. Chinatown: The Suspense Builds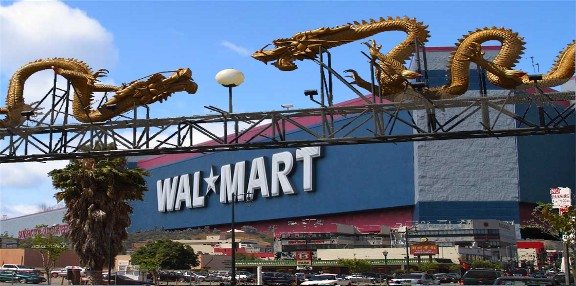 Two weeks out from the presidential election, you may not have the epic battle between L.A.'s Chinatown community and Walmart foremost in mind. But this high-stakes conflict is nothing if not riveting, with all the twists and turns of a modern-day Chandler novel.
If you haven't been paying attention the last few months, here's a quick cheat sheet: In February Frying Pan News broke the story that Walmart was planning to open its first-ever Los Angeles grocery store in historic Chinatown. The prospect of the world's largest retailer setting up shop in a neighborhood famous for its homegrown stores and restaurants prompted residents, business owners and activists to seek a temporary ban on chain stores in the area. Just as the City Council was poised to pass the ban, Walmart mysteriously – some would say suspiciously, in the wake of the corporation's stunning Mexican bribing scandal – secured building permits for its Chinatown location the night before the Council vote.
Amidst the legislative cat and mouse, Walmart created a PR mess for itself when its contracted PR firm sent an employee to an opposition rally posing as a reporter. (Mercury PR terminated the young woman, and then got the same treatment when Walmart fired Mercury.) Meanwhile, opponents generated some press of their own with the largest rally ever held against Walmart, even as they filed an appeal challenging the issuance of the building permits.
The latest chapter in this saga unfolded yesterday at City Hall, and it was a cliffhanger without an ending. Walmart foes filled the Council chambers in support of an emergency ban on chain stores in Chinatown, knowing that they needed a nearly unattainable 12 out of 15 votes to win. They were buoyed by the sight of Councilmember Bill Rosendahl, who is fighting cancer and recently announced that he will not seek another term due to his illness.
Rosendahl roused Walmart opponents with his declaration that "living wages and health care are critical to this city." He didn't have to explain that Walmart invariably falls short of these standards. Chinatown activist Sissy Trinh also raised the temperature in the room when she predicted that 30 competing small businesses would shut down if Walmart opens. Trinh's warning is not mere hyperbole – studies have shown that Walmart routinely drives out locally owned businesses.
But it was Councilmember Eric Garcetti who delivered the most eloquent remarks. Lambasting the "false dichotomy" posed by Walmart supporters that anyone opposed to the project is anti-business and anyone for it is pro-business, Garcetti challenged Walmart and its allies to have a real conversation about economic growth. That conversation, he said, must address the question of how we create jobs with living wages and benefits – rather than jobs that leave full-time workers reliant on welfare.
When the votes were tallied, 10 councilmembers had backed the emergency ban – two short of the 12 needed. Conspicuous by his absence was Tony Cardenas, while Councilmembers Joe Buscaino, Harvey Englander, Jan Perry and Bernard Parks voted against the ban.
But the battle is far from over. The emergency ban will come back to the Council for a second vote next week. In the interim, Councilmembers Cardenas and Buscaino will get an earful from constituents, who immediately launched a petition urging the two representatives to reverse their position. (Walmart foes say that Englander, Perry and Parks are beyond reach.) And the appeal of Walmart's building permits is still pending and could end up before the Council as well.
One thing's for certain: Any notions Walmart may have had of an easy entrance into Chinatown and L.A.'s grocery market have been dashed. This food fight will only get messier.