Walmart Dodges African "Blood Minerals" Rule
It must have seemed like a good idea at the time, when Senators Chris Dodd and Barney Frank drew up the landmark regulatory bill that bears their names. One of its lesser-known provisions required U.S. companies to list the inclusion of any "conflict minerals," mined in or near the violence-plagued Democratic Republic of the Congo, that comprise their brand-name products. The thinking was that this would help cut off funding for the armed groups ravaging that unfortunate country.
But that was way back in 2010, when the Dodd–Frank Wall Street Reform and Consumer Protection Act was signed into law. With touching innocence, the act entrusted the Securities Exchange Commission to establish the enforcement mechanism for this part of the legislation. This week, retail giant Walmart, along with arch-competitor Target and some other companies, got a free pass from Section 1502 of the law. The news, carried by the Wall Street Journal, was tartly summarized in a Huffington Post piece:
"Major retailers like Target and Walmart may be able to keep the connection between their products and a war-torn African country under wraps.
"Thanks to their lobbying efforts, big retailers will likely be exempt from a rule, finalized by the Securities and Exchange Commission Wednesday, which requires public companies to disclose whether their products contain 'conflict minerals' from the Democratic Republic of Congo . . ."
Conflict minerals from the DRC typically include gold, tin, tungsten and tantalum; in Walmart's case, the WSJ reported, the chain's store-brand light bulbs, footwear, clothing and canned goods contain minerals sourced from the Congo. The WSJ also noted that 6,000 companies were potentially affected by Section 1502, which has "been a source of friction between the SEC and companies ever since the law was passed."
But now all that friction is in the past as the SEC, Walmart and the rest of corporate America have rediscovered how much their self-interests overlap. And, while the SEC did move forward Wednesday to compel other companies to make public their connection to conflict minerals, even this action may be jeopardized. According to the Enough Project, "the possibility of a lawsuit against the regulations remains, as the U.S. Chamber of Commerce has threatened."
Which is why, the Enough Project says, "the SEC appeared to take away several of the key points of opposition that the Chamber of Commerce had raised, such as unrealistic cost analysis, the burden on small business, and recycling."
(Note: The WSJ article is available to paying subscribers but may also be accessed through a Google search of its headline, "Wal-Mart, Target Avoid Mining Rule".)
The Tests Facing California's New Governor
Gavin Newsom now leads the state with the nation's biggest economy and largest population — and one riven by economic inequality. What will be his most important challenges?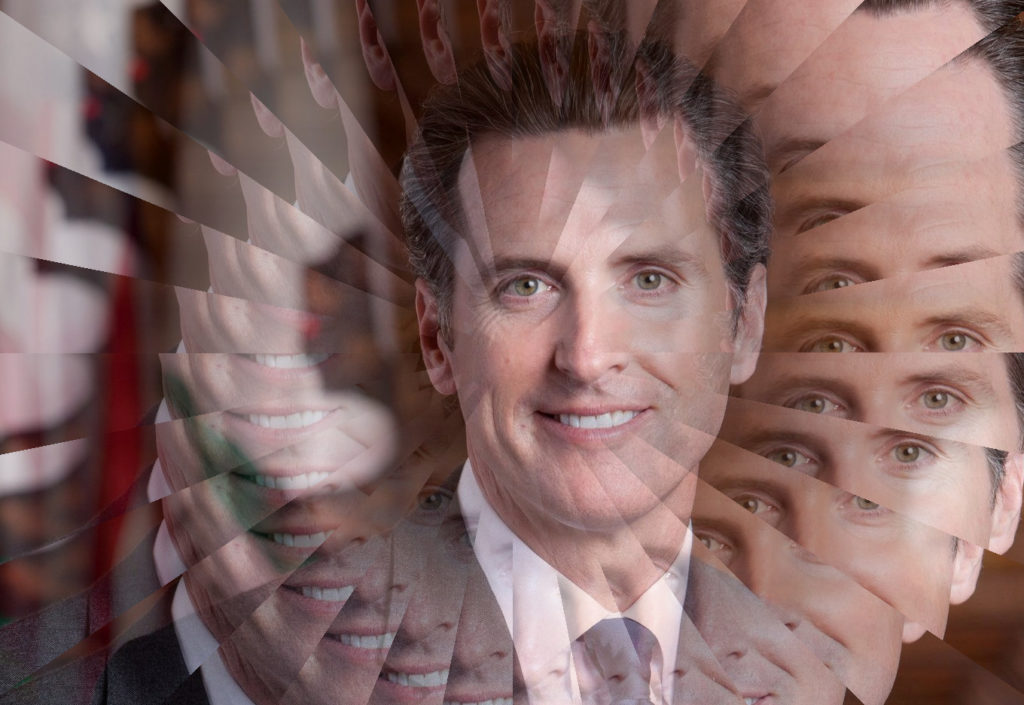 Gavin Newsom inherits a state that should be any governor's dream: A California that is the cradle of the tech revolution and brims with prosperity, a one-party state with supermajorities in both chambers for Newsom's Democrats. But there are clouds darkening the horizon: Daily prophecies tell of coming economic storms; legislative initiatives taken on behalf of immigrants, retirement security and the stemming of global warming are increasingly thwarted by a bellicose White House. And that Democratic Party monopoly in Sacramento masks a deepening ideological fault line dividing pro-business moderates and progressives – the latter of which have largely chafed for the last 16 years under the thrifty administrations of Jerry Brown and Arnold Schwarzenegger, and are eager to burst out with far-reaching (if pricey) legislation.
Then, there are memories of three high-riding liberal governors (Pat and Jerry Brown, and Gray Davis) whose programs or careers were derailed by resentful taxpayers. There are more recent memories, too: Of an impulsive, hard-partying San Francisco mayor whose blunted ambitions led him to spend eight years in the ceremonial wilderness of the lieutenant governor's office. Newsom is said to have matured into a more circumspect, pragmatic politician, although some of the old doubts were fanned back to life by an unflattering New Yorker profile that appeared shortly before his landslide victory November 6.
Perhaps overriding all these auguries is the undeniable fact that despite its enviable economy, its abundance of billionaires-in-residence and laudable array of social services, California still has the highest poverty rate in the U.S., nearly half of its children live in poverty or near-poverty, and merely finding an affordable place to live has become an existential challenge for many. These and similar factors superimpose on the state another kind of fault line, that of economic inequality. Most of the new governor's time will be spent wrangling crises that spring from this disparity. Which is why the following Capital & Main stories primarily focus on the inequality that separates so many Californians from one another.
Affordable Housing, by Jessica Goodheart.
Single-Payer Health Care, by Gabriel Thompson.
Climate Change and Big Oil, by Judith Lewis Mernit.
Inequality Interviews with Manuel Pastor, Ann Huff Stevens and David Grusky.
Early Childhood Education, by Bill Raden.
Inequality in California: Six Takeaways.
---
Copyright Capital & Main