Wall Street Pumping Cash Through Loophole in Anti-Corruption Rule
Co-published by Westword
Colorado gubernatorial nominee Walker Stapleton gets bankrolled by dark money and financial donors — as he oversees state investments.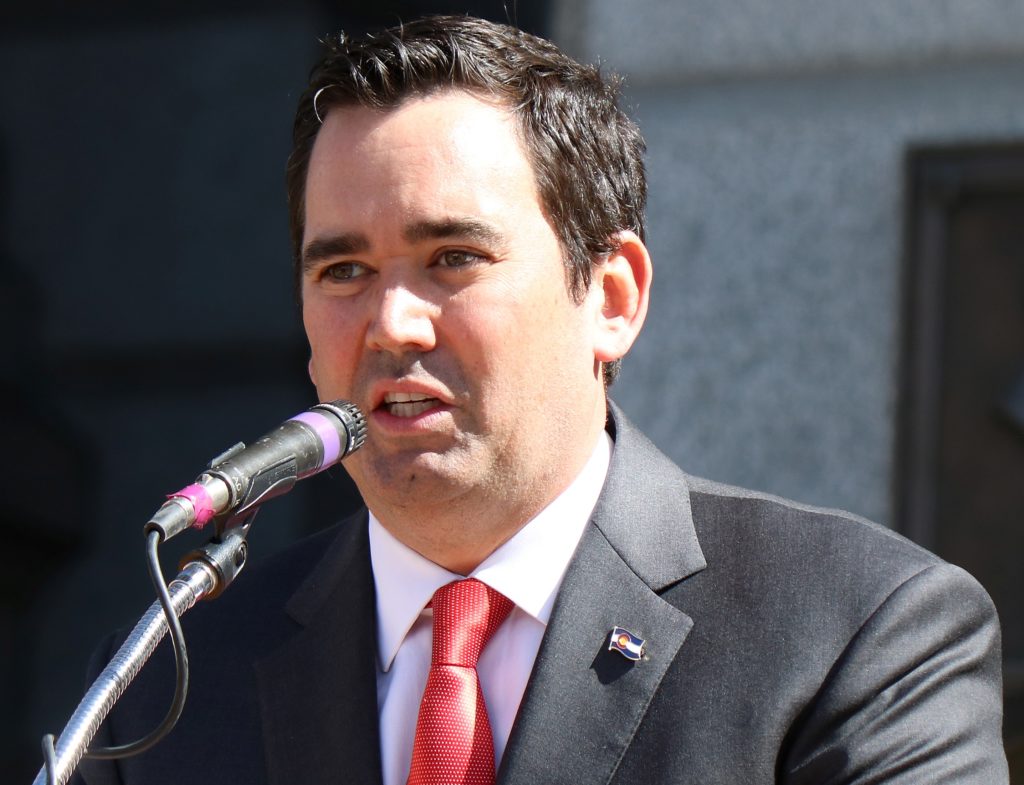 Co-published by Westword
If you are a Wall Street executive looking to land a lucrative contract to manage Colorado retirees' pension money, a federal anti-corruption rule is designed to deter you from trying to use campaign cash to influence state officials who oversee those investment decisions. Despite that regulation, however, Republican Treasurer Walker Stapleton's gubernatorial campaign is being boosted by a political group partially sponsored by financial firms that receive giant investments from the pension fund Stapleton helps run, according to documents reviewed by Capital & Main.
During Stapleton's tenure as a trustee of the Public Employees Retirement Association (PERA), four real estate investment firms have been given contracts to manage more than $1 billion of Colorado state employees' retirement savings. During the 2018 election cycle, donors from those firms have delivered more than $492,000 to the Republican Governors Association, which has been blanketing Colorado with ads supporting Stapleton's candidacy.
In addition, members of a Denver law firm that is registered to lobby at the federal level for another major PERA money manager have collectively given almost $20,000 to Stapleton's campaign and to a Colorado-based super PAC whose stated mission is to promote Stapleton's gubernatorial bid. That is on top of a separate $2.2 million worth of anonymous dark money that has flooded into super PACs supporting Stapleton — cash whose source is impossible to trace.
Stapleton's campaign did not respond to Capital & Main's questions about the investments and donations.
While Stapleton and his political apparatus have been vacuuming in money from fossil fuel donors and other corporate interests with business before the state, the financial industry donations stand out because they are potentially governed by the Securities and Exchange Commission's 2010 "pay to play" rule.
Passed in the wake of major pension corruption scandals across the country, the rule is designed to penalize financial firms that direct campaign contributions to public officials who have the power to steer state investments to donors' financial firms. It is meant to deter such campaign cash from helping those officials — and includes broad anti-circumvention provisions aimed at preventing donors from routing contributions through third-party groups that then support the election campaigns of those public officials.
Stapleton is covered by the rule because as treasurer he is a member of PERA's board of trustees. He serves on the board's investment committee, which directly oversees the pension system's investments — and as a recent Capital & Main investigation revealed, PERA fees paid out to Wall Street firms have skyrocketed during Stapleton's tenure.
If Stapleton is elected governor, he will leave the pension fund's board but will appoint three members of PERA's board, potentially giving him even more influence over which financial firms get pension investments — just after a campaign that has seen Stapleton and Colorado-based super PACs supporting him rake in more than $422,000 from donors in the financial industry, according to state records and data compiled by the National Institute on Money in State Politics.
Ethics expert Craig Holman told Capital & Main that "there has been a slow but steady rise of Wall Street firms seeking an end-run around the SEC pay-to-play rules by giving to outside groups, such as RGA or super PACs, and allowing these outside groups to spend their money promoting the public official responsible for awarding contracts to Wall Street."
He added: "Laundering campaign money through third parties can be even more corrupting than direct contributions to the candidates, given that third-party donations and spending on behalf of the same candidates have no limits."
In response to Capital & Main's open records requests, PERA officials have blocked the release of all details of fees paid to the investment firms in question.
In an emailed statement, PERA spokesperson Luc Hatlestad wrote that PERA includes "language in our management agreements that require the manager to agree to not provide gifts, money, property, etc. with the intention of influencing or appearing to influence the conduct of any PERA staff member or Trustee."
On the question of whether Stapleton is involved in real estate investment decisions that could enrich campaign donors, Hatlestad added: "The PERA Board is responsible for setting the strategic asset allocation of the PERA funds and has delegated the decisions on specific funds and individual securities to PERA's investment staff. Therefore, PERA Board members do not have involvement in choosing specific investments."
However, a PERA newsletter sent out this week made clear that as a trustee, Stapleton is given access to secret granular information about each real estate investment.
"The PERA Board receives information on each Real Estate fund investment made and has the ability to access property-level information as desired," the newsletter said. "This information, while not publicly available, allows Trustees to have detailed information on the holdings within the portfolio. Fund disclosures made to the Board by staff include a fund overview, investment strategy, a summary of key investment personnel, historical investment performance, and fees."
The RGA did not respond to Capital & Main's questions, but RGA spokesman Jon Thompson has previously asserted the organization's "anti-earmarking policy and other compliance policies ensure that candidates to whom the RGA contributes do not receive prohibited funds."
"The Modern Campaign-Finance Loophole"
Management of PERA, a public pension fund on which one in 10 Coloradans rely as a replacement for Social Security, has been a top issue for Stapleton during his two terms as state treasurer, and he has been a frequent vocal critic of the system's long-term financial outlook. A former investment banker and director of acquisitions at Lamar Companies, a commercial real estate firm, Stapleton has frequently touted his experience as a real estate investor.
The SEC rule bars financial firms from earning fees from state pension funds if their executives direct campaign donations to public officials who can influence the funds' investments. The rule was created to try to make sure investments are made on the basis of merit, not political influence. It applies not only to donations made to a public official before an investment is initiated, but also to donations when investments are in a state's portfolio — the idea being that donations should not influence public officials' ongoing decisions to expand or terminate those investments.
"Elected officials who allow political contributions to play a role in the management of these assets and who use these assets to reward contributors violate the public trust," SEC officials wrote in the rule's preamble.
The rule has stemmed some of the flow of Wall Street money directly to candidates for state offices that have power over state and local pension systems — and the commission has periodically taken action against firms that violate the rule. Republicans have responded by attempting to overturn the rule in court.
However, in recent years, the GOP has found a way around the rule entirely. Groups like the RGA have served as what the Wall Street Journal deemed "the modern campaign-finance loophole," using its third-party status to rake in financial industry money and then spend big to support public officials covered by the SEC rule.
While RGA officials assert that the group does not deliberately steer prohibited money around the SEC rule, the same Wall Street Journal report noted that multiple former officials of both the RGA and its Democratic counterpart, the Democratic Governors Association, "described the practice of guiding donations as an open secret." The result: In the last election cycle, firms managing state pension cash delivered nearly $1.3 million to the RGA, which then supported the election campaigns of state officials controlling those pension funds.
Now, in 2018, the loophole is once again open — this time in Colorado.
"TIAA Does Support the Republican Governors Association"
According to campaign finance disclosures filed with the Colorado Secretary of State's office, the RGA has funneled $3.4 million to a state PAC created "to support the election of Walker Stapleton for governor." Campaign finance disclosures and PERA records show that among the RGA's donors are contributors from four firms that currently manage about $1.4 billion in PERA assets — roughly a third of the system's real estate portfolio — across 24 different investments. According to a PERA document, nine of the investments in question were made after Stapleton joined the board of trustees as state treasurer in 2011.
Firms that manage PERA money and whose donors have given to the RGA in the 2018 election cycle are:
Crow Holdings, which gave the RGA $225,000 while managing roughly $105 million in PERA assets. Crow Holdings is run by Republican megadonor Harlan Crow.
TIAA, which contributed a total of $175,000 to the RGA in the 2018 election cycle, while it manages more than half a billion dollars in assets for PERA across seven different funds.
Prudential Financial, which gave the RGA $50,000 while its funds manage $624 million of PERA assets
Morgan Stanley, whose executives gave the RGA more than $42,000 while the firm manages $142 million worth of PERA investments.
TIAA and Prudential have also donated a total of $180,000 to the Democratic Governors Association, which has given $250,000 to a super PAC supporting Representative Jared Polis' gubernatorial bid.
A TIAA spokesperson told Capital & Main: "TIAA does support the Republican Governors Association and the Democratic Governors Association and, consistent with law, we give explicit written instructions that none of these funds may be used to support or oppose any individual candidate or ballot initiative."
The remaining three firms declined, or did not respond to, requests for comment.
Lobbyist Money and Dark Money
There is also the case of Apollo Management, which has not donated to the RGA or to Stapleton, but which employs Brownstein Hyatt Farber Schreck LLP as a registered lobbying firm in Washington, DC, according to federal records. PERA has committed $330 million to four active Apollo investments. During Stapleton's tenure, that includes an $80 million Apollo investment in 2013 and a $100 million investment commitment to a newly launched Apollo fund.
Those investments are in PERA's portfolio as firm namesake Norman Brownstein, his wife and other Brownstein, Hyatt employees have given more than $10,000 directly to Stapleton's campaign. Denver's Norman Brownstein, who in 2018 was personally registered as a lobbyist for Apollo, also gave another $10,000 to Better Colorado Now — a super PAC whose stated mission is "to oppose Democrat candidates for governor and support Walker Stapleton for governor," according to Colorado disclosure records.
The Brownstein law firm lobbies for Apollo at the same time PERA has contracted the law firm to serve as its board's fiduciary counsel since 2011 — when Stapleton first joined PERA's board. State records show that the law firm's contract with PERA was renewed by the pension system's board in March 2018, as Brownstein donors' contributions were flowing to Stapleton.
PERA officials declined to comment on whether it is appropriate for Brownstein to serve as the pension system's fiduciary counsel while Brownstein is simultaneously registered to lobby for a Wall Street firm managing hundreds of millions of dollars of PERA retirees' savings.
"We require our attorneys/employees to follow state and federal laws," Brownstein spokesperson Lara Day told Capital & Main in an email. "In addition, we provide our attorneys/employees ethics training including training on campaign finance rules."
Day said that Brownstein has never lobbied PERA on behalf of Apollo Management.
In addition to disclosed contributions from donors linked to PERA money managers, other groups promoting Stapleton have received large infusions of anonymous dark money — which can also complicate enforcement of the SEC rule.
In September, Better Colorado Now received a $500,000 donation from the Colorado Taxpayers Advocate Fund, a 501(c)(4) nonprofit that "exists to educate citizens and Colorado public officials on issues of public policy," according to its website. The fund contributed a further $400,000 to Coloradans for Fiscal Responsibility, a separate super PAC set up "to support Walker Stapleton for Governor," according to state records.
The Colorado Campaign for Jobs and Opportunity has received a total of $1.25 million in contributions from the Workforce Fairness Institute, a 501(c)(6) nonprofit that has spent heavily on a variety of anti-union causes, as well as a $100,000 donation from Vital for Colorado, a dark-money group created to oppose efforts to regulate fracking. The group has spent nearly all of the cash it has received on TV advertising in support of Stapleton, according to state campaign finance disclosures.
Because that cash comes from groups that do not have to disclose their donors, there is no way to know whether the money came from financial firms that have PERA investments and are covered by the SEC rule.
There is also the question of finance industry donors who do not currently manage PERA investments but who have given more than $422,000 of disclosed donations to Stapleton and Stapleton-supporting PACs. There is no way to know whether they will in the future solicit Colorado pension investments from Stapleton's PERA appointees if he is elected governor.
"Pay-to-Play Practices Are Rarely Explicit"
To date, the SEC has not invoked provisions in the rule that bar donors from doing indirectly what they are prohibited from doing directly. Those provisions, though, remain on the books.
"Pay to play practices are rarely explicit: Participants do not typically let it be publicly known that contributions or payments are made or accepted for the purpose of influencing the selection of an adviser," SEC officials wrote. "As it is not possible for us to anticipate all of the ways advisers and government officials may structure pay to play arrangements to attempt to evade the prohibitions of our rule, the rule includes a provision that makes it unlawful for an adviser or any of its covered associates to do anything indirectly which, if done directly, would result in a violation of the rule."
Public Citizen's Craig Holman said that "historically, the SEC has been quite vigilant in enforcing its pay-to-play rule, but it has yet to address this third-party loophole. The anti-circumvention clause provides the SEC with the authority to close this loophole, especially in egregious cases. The end-run by Wall Street is becoming so common these days it is well past time for the SEC to act – or risk losing the entire value of the pay-to-play rule itself."
Last year, New Mexico Democratic Sen. Tom Udall called for the SEC to invoke the anti-circumvention provisions in an age that has seen ever-more money flow around regulations and into elections.
"We have to make sure that the campaign finance rules that are still on the books are updated to reflect these new and dangerous circumstances — to ensure that no one is able to circumvent these laws by using super PACs, dark money groups or other campaign spending vehicles," Udall said. "The public deserves to feel confident that decisions made with public money are not being influenced by big money donors."
---
Copyright Capital & Main
ICE's Stealth Campaign to Expand Its Budget
The new Democratic majority in the House of Representatives could pose a challenge to the agency's chronic overspending — and to its aggressive detention and deportation policies.
---
In June the Dept. of Homeland Security asked Congress to allow it to transfer $200 million to ICE to cover agency overspending, continuing a pattern of such requests.
---
Big spending on immigration enforcement at the Department of Homeland Security promises to be a major sticking point as Congress prepares to negotiate a budget deal early next month.
Even though illegal immigration to the United States appears to be at its lowest point in 46 years, spending on immigration enforcement is at an all-time high. (The U.S. Border Patrol reported that in 2017, the last year for which statistics are available, apprehensions at the U.S.-Mexico border had dropped to 303,000, and had been declining nearly every year since 2000, when a record 1.6 million people were arrested.)
---
 By overspending its congressional allocation, ICE is effectively writing its own budget.
---
U.S. Immigration and Customs Enforcement's detention operations exceeded the agency's budget this year, while ICE spending on its vast system of immigration jails shows no sign of slowing.
But a newly elected Democratic majority in the House of Representatives could pose a challenge to the agency's chronic overspending — and to its aggressive detention and deportation policies.
ICE jailed so many immigrants in 2018 that it ran out of space in its more than 200 lock-ups, and placed 1,600 people in medium-security prisons.
Congress set detention and deportation spending for 2018 at $4.4 billion, enough to detain some 40,520 people annually.
However, by June, 44,000 men and women languished in immigration detention, filling 4,000 more beds than Congress authorized. DHS asked Congress to allow it to transfer $200 million to ICE to cover agency overspending. The department plucked the funds from several of its agencies, including the Federal Emergency Management Agency, the Coast Guard and the Transportation Security Administration.
Critics of ICE say that by overspending its congressional allocation, the agency has engineered a stealth expansion of the U.S. detention system, effectively writing its own appropriation, and skirting the Constitution's separation of powers in which Congress, not the executive branch, has the authority to set spending limits.
---
Congressman: "We shouldn't be using FEMA as a piggy bank to fund detention beds."
---
"It allows them to quickly expand the detention system contrary to congressional intent," said Heidi Altman, director of policy at the National Immigrant Justice Center, a non-profit immigrant rights group.
Such intradepartmental funds transfers aren't uncommon, but a congressional staffer who asked that his name not be used for this story said this one was controversial because nearly all of the money went to ICE for detention and deportation. ICE has received other big budget increases in the past two years. In March 2017, the agency got a $2.6 billion supplemental appropriation; three months later, ICE was back, requesting that Congress approve a $91 million funds transfer.
The $200 million June 2018 transfer, wrote DHS spokeswoman Katie Waldman in an email, was "in line with the FY 2019 president's budget request for U.S. Immigration and Customs Enforcement."
However, the additional funds covered FY 2018 overspending – not future shortfalls in 2019; Congress has yet to agree to a permanent fiscal year 2019 budget. Waldman didn't answer an email asking to clarify her comments.
---
Congressional Staffer: Whenever ICE outspends its budget and adds detention beds, it gains leverage for the next round of budget negotiations.
---
The same congressional staffer who discussed the controversy surrounding the $200 million DHS funds transfer also noted that when ICE outspends its budget and adds detention beds, it gains leverage for the next round of budget negotiations because reducing beds would mean freeing detainees and, ICE argues, their release could jeopardize public safety.
Growth by funds transfer also generally avoids public scrutiny. Transfer documents submitted by government agencies are not released to the public. But earlier this year, Sen. Jeff Merkley (D-OR) released DHS's June 2018 transfer and reprogramming request, noting that $10 million had been taken from FEMA just as Hurricane Florence was making landfall in North Carolina.
DHS shot back, claiming the funds were administrative and weren't earmarked for hurricane relief. But according to Ur Jaddou, director of the advocacy group DHS Watch, and a former Chief Counsel at U.S. Citizenship and Immigration Services, the DHS agency that oversees immigration and citizenship applications, "The government these days doesn't operate on a plethora of administrative resources. It's really functioning on a very limited budget. When they say they're using unused money, it's just a ruse."
Congress has shown its frustration with ICE's disregard for its authority, but hasn't acted to rein in agency spending.
---
Congress has scolded ICE for its "lack of fiscal discipline and cavalier management."
---
In budget recommendations for fiscal year 2019, the Senate Appropriations Committee wrote, "In light of the Committee's persistent and growing concerns about ICE's lack of fiscal discipline, whether real or manufactured, and its inability to manage detention resources…the Committee strongly discourages transfers or reprogramming requests to cover ICE's excesses."
Two years before, the explanatory language in the supplemental appropriations bill was even harsher. Appropriators pointed to a "lack of fiscal discipline and cavalier management" of detention funding, saying the agency seemed to think its detention operations were "funded by an indefinite appropriation. This belief is incorrect."
"We shouldn't be using FEMA as a piggy bank to fund detention beds," said Rep. Dutch Ruppersberger (D-MD). "Unelected agency heads shouldn't unilaterally shift taxpayer dollars for purposes they weren't intended."
Still, despite congressional annoyance with ICE's free-spending ways, it hasn't conducted meaningful oversight of the immigration detention system, said Greg Chen, director of government relations for the American Immigration Lawyers Association.
"The current leadership in Congress hasn't been interested in conducting hearings on detention spending and whether detention is even necessary at the scale it is now," Chen said.
When President Trump issued an executive order calling for no-holds-barred arrests of undocumented immigrants in January 2017, the border patrol reported that apprehensions at the U.S.-Mexico border were lower than at any time since 1972 — when the detention population was a fraction of its current size.
ICE reported that in fiscal year 2017, 41 percent of crimes of which detainees had been convicted were traffic- or immigration-related.  Just 11.4 involved murder, sexual assault, kidnapping, robbery or assault.
Chen argued that ICE has a legal responsibility to screen each person in its custody for risk – either of flight or to public safety. "ICE is just not doing that and defaulting to the practice of detaining people."
Democrats in Congress could take on a more robust role in overseeing ICE spending, now that they've gained a majority in the House. They could put conditions on spending, call for Government Accounting Office reports and hearings, cut funding, demand answers if ICE overspends and bring its actions to the attention of the press, said DHS Watch director Ur Jaddou, who is also a former congressional staffer.
"The next time they [ICE] need something," Jaddou said, Congress can respond, 'Do you really want it? You better listen.'"
---
Copyright Capital & Main