Walmart Workers Strike, Rally Outside Marissa Mayer's SF Penthouse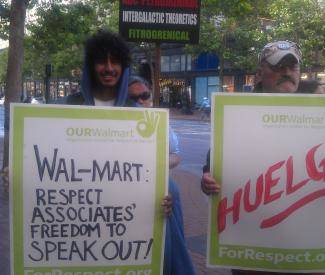 There are no Walmart stores in San Francisco. And yet, four members of the company's board of directors are influential Bay Area residents. On May 29, a group of Walmart workers assembled outside the residence of Yahoo! CEO Marissa Mayer, a Walmart director, who has a 38th floor penthouse apartment above the Four Seasons on Market Street in San Francisco.
Donning bright green T-shirts and chanting, "Stand up, live better," the workers were gearing up to join roughly 100 members of OUR Walmart, a nationwide organization of Walmart associates, in going on strike and caravanning to Bentonville, AR, where the retailer will hold its annual shareholder meeting June 7.
OUR Walmart's stated concerns include things like giving employees the option of working full-time, and providing a level of wages and benefits that ensures employees aren't forced to rely on government assistance to get by.
Dominic Ware, who works part-time at a Walmart in San Leandro, led chants on a megaphone and has been coordinating with OUR Walmart activists on a national level. Ware said he earns $8.65 an hour – 40 cents higher than the wage he started at a year ago – and stays with his grandmother, since his paycheck isn't enough to cover rent and provide for his 7-year-old daughter. He estimated that roughly half his earnings go directly back to Walmart, where he purchases groceries and other basic items.
Ware said he was going on strike and caravanning to demand a higher level of respect for Walmart employees. He described the frustration of an elderly coworker who has been unable to have her work shift adjusted to make it possible for her to catch a bus home, instead of walking late at night.
John "JJ" Juanitas, another Walmart associate, said the amount he earns working part-time at the Fremont store isn't enough to put food on the table — but he said he hasn't been able to transition to working full time despite submitting requests to do so. Asked what had inspired him to join the strike, Juanitas responded that he wanted to stand with employees who faced retaliation for participating in OUR Walmart organizing. At the same time, he added, the lack of protection for Walmart workers has been a source of anxiety, and the night before the protest, "I didn't get a good night's sleep," he said.
Mayer, widely regarded as one of the most powerful women in tech, isn't the only well-connected Silicon Valley figure helping to steer the nation's largest private employer. Bay Area billionaire Jim Breyer, an initial investor in Facebook and cofounder of venture capital firm Accel Partners, also serves on the board, as does Gregory Penner, son-in-law of Walmart board chair Rob Walton and an investor in dating website eHarmony. Aida Alvarez, another Wal-Mart board member, chairs the Latino Community Foundation of San Francisco, based at 225 Bush Street.
The protest outside Mayer's penthouse was timed to coincide with the start of the strike and caravan, but some organizers with San Francisco's chapter of Jobs with Justice were there to call attention to Walmart's ties to a factory building that collapsed in Bangladesh last month, killing 1,100 workers.
Documents unearthed by Bangladeshi labor rights activists in the aftermath of that tragic event revealed that a Canadian Walmart contractor had produced jeans in that building, which was known as Rana Plaza. Now, activists with the Bangladesh Center for Worker Solidarity are calling on Walmart to sign onto a legally binding safety accord to ensure higher levels of maintenance at facilities similar to Rana Plaza. They're asking Gap to do the same.
This story first appeared in the San Francisco Bay Guardian.