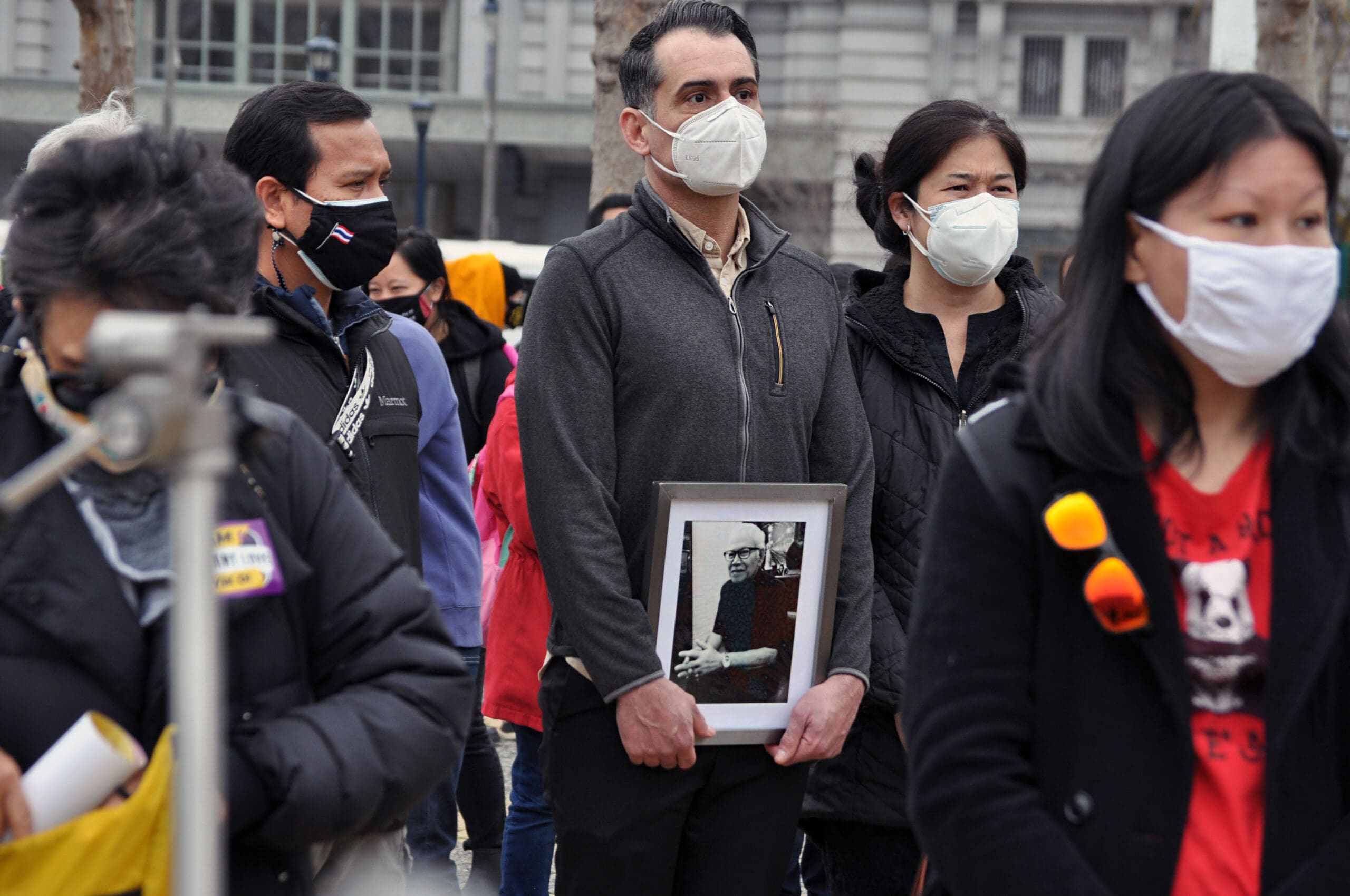 Violence Against San Francisco's Asian and Pacific Islander Communities Denounced
Hundreds attended a Lunar New Year weekend rally to decry a recent high-profile string of violent attacks on Asian and Pacific Islander people.

This article has been translated to Chinese. Read the simplified version (简体中文版). 
Hundreds attended a multicultural and multiracial rally held in San Francisco's Civic Center Plaza during the first Lunar New Year weekend on Sunday, Feb. 14. The event, organized in the effort to decry a recent high-profile string of violent attacks on Asian and Pacific Islander people, featured speakers with deep roots in San Francisco.
Before leading the crowd in a Qi Gong exercise to help transform pain and anger into "compassionate power," Sasanna Yee of Communities as One, a S.F.-based nonprofit building cross-cultural partnerships, shared a story of loss involving her own grandmother, Yik Oi Huang, who left home one day in January 2019, and did not return. Yee found her grandma at a nearby playground, where she had been brutally attacked and left for dead. "I'm here to remind folks to remember her not as a victim," said Yee, who asked the crowd to say her grandmother's name, which translates to "abundant love." "We come from a long lineage of strong women, and that's how I would love all of you to remember [her]."
Tinisch Hollins, cofounder of SF Black Wall Street and associate director of Californians for Safety and Justice, called for collective responsibility and movement building. Hollins shared her experiences as a Black woman and a survivor of crime who lost two brothers to gun violence in the city. Speaking for MegaBlack SF, an anti-racist, Black-led business empowerment organization, Hollins told the crowd, "We denounce the disgusting acts of racism and violence that have taken place in our communities and against the Asian community in San Francisco. When one of us is attacked in the city, we are all less safe. When racism motivates the attack, we all feel it." Hollins is proud of marching in the Lunar New Year parades many times, as well as recognizing different Asian dialects and knowing where they come from.
@TinischHollins of @SFBlackWallSt and @safeandjust, speaks at the San Francisco Civic Center Plaza in a crowd of several hundred about the need to address violence that both goes unnoticed and ignored in Asian and Black communities. (1/2) pic.twitter.com/yJwN2jLcnj

— Sarah Belle Lin (@SarahBelleLin) February 14, 2021
As a survivor, Hollins said she understands the trauma and the feeling of betrayal when someone is attacked in their home. "We have to acknowledge the common enemy: racism—the ideas and biases that we've all been socially conditioned to believe about each other. The belief that the color of someone's skin makes them more prone to violence or more prone to be accepting of violence. We have to eradicate that." Hollins called for going beyond moments of solidarity and doing the deep work of healing and acknowledging, namely, unaddressed trauma, addiction and homelessness in San Francisco.
In a deeply personal speech, Max Leung, founder of SF Peace Collective, recalled growing up in Chinatown, where physical violence against the elderly and women has been a decades-long issue. In March 2020, Leung formed a patrol group to protect the community and elders.
When organizers reached out to him about forming patrols across the bay in Oakland Chinatown, Leung was quick to pass along advice. "Be very mindful not to create more problems for the very community you're trying to protect," Leung had said. "Don't cause more problems between the Asian community and other communities."
San Francisco Peace Collective founder Max Leong, speaks in SF at the Civic Center Plaza about the forming a walking patrol in SF last year to protect Chinatown elders but how walking patrols are unsustainable and not a long-term solution. (1/2) pic.twitter.com/G35YTge8tv

— Sarah Belle Lin (@SarahBelleLin) February 14, 2021
The true number of anti-Asian hate incidents and hate crimes remains unknown, because so many go unreported. But a highly referenced source that started tracking them at the onset of the pandemic is Stop AAPI Hate. Recent reports show 708 anti-Asian hate incidents in the past year in the San Francisco Bay Area—the city of San Francisco had 292. (These researchers count reports of hate crimes and hate incidents together.) Stop AAPI Hate researchers believe there is higher reporting in the Bay Area because of the racially conscious culture, possibly leading victims to be more likely to report. Many believe political rhetoric spewed in recent years has led to the dramatic increase in anti-Asian hate incidents and crimes.
The last speech of the event was made by Eddy Zheng, founder and president of New Breath Foundation, who MC'd for a similar event in Oakland Chinatown the previous day. Zheng has deep ties to both Oakland and San Francisco, having worked with youth and survivors of violence in many disenfranchised neighborhoods. "I was able to understand some of the violence and poverty that is impacting people of color," said Zheng, who now advocates for more culturally competent resources for youth and seniors.
Zheng said existing resources to combat violence go towards the Mayor's Office of Violence Prevention, which includes the San Francisco Police Department, the city's department of public health and the school district. "When they restructured five years ago, they did not include Asian Americans or Chinese immigrants by having bilingual staff to support them." According to the city's website, there are no culturally specific services or staff for violence prevention efforts in Chinatown.
Zheng, who was formerly incarcerated, wants to break the stereotypes that Asian people are more financially resourced, known as the "Model Minority Myth," a false narrative that has led to the targeting of Asian people. But the truth, hidden from plain view, points to a different reality. "In Chinatown right now, families of three or four are living in single room occupancy," said Zheng. "People are just stuck in tiny little rooms, and people don't see that." The reality is that San Francisco's Chinatown has been one of the poorest and most overcrowded neighborhoods in the city. The housing crisis and COVID-19 pandemic has only exacerbated these issues, leading to outbreaks and deeper poverty for many families, immigrants, and elderly. It's why, Zheng said, structural barriers and systemic racism must be investigated and interrogated.
"If the Asian American community don't understand that, and African American community don't understand that, then who is going to lose?," posed Zheng. "It's going to be all BIPOC [Black, Indigenous, People of Color] communities that lose."
Click here to watch the livestream of this event.

All Photos by Sarah Belle Lin
---
Copyright Capital & Main 2021