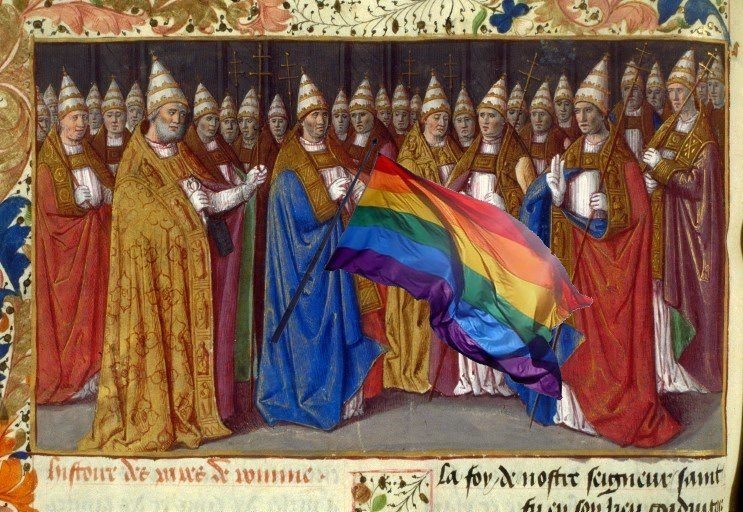 Is the Pope a tease? Not really. He's trying. He challenged the neoliberal economic system just a month into his papacy and brought up one of its difficult byproducts: growing inequality. And last week, at his recently convened synod on the family, he attempted to coax his bishops to expand their definition of the family, acknowledging yet another difficult issue: the rapidly expanding fact of gay marriage. For a brief moment, it appeared the Church was not only poised to liberalize its definition of the family, but it might even be ready to jumpstart Vatican II and go so far as to overturn one of its most cherished catechisms: denial.
It all started with an October 13 press release that included this hopeful language for LGBT Catholics (the draft was credited to a Pope Francis appointee, Monsignor Bruno Forte, a theologian known for his progressivism):
"Homosexuals have gifts and qualities to offer to the Christian community. Are we capable of welcoming these people, guaranteeing to them a fraternal space in our communities? Often they wish to encounter a church that offers them a welcoming home. Are our communities capable of providing that, accepting and valuing their sexual orientation, without compromising Catholic doctrine on the family and matrimony?"
The answer Sunday, in the final vote, was "No." Interestingly, the vote was 118-62, which means more than a third of the bishops likely favored the original text. Here's what was left of the Pope's efforts to drag the church into the 21st century (or was it the 20th?) when the smoke cleared and the bishops approved the final wording of the synod's preliminary report:
"No grounds whatsoever exist for assimilating or drawing analogies, however remote, between homosexual unions and God's design for matrimony and the family." They threw in a crumb at the end: "Any sign of unjust discrimination in their regard is to be avoided." Avoided? So if you must discriminate, we can tolerate that? What kind of message does that send?
It's imperative to further parse this statement. What does "no grounds whatsoever" mean? We all know gay couples who love and care for one another, which is what marriage is about – isn't it? Hopefully, all couples share that common ground. So, is the Church then saying, in effect, that love and caring are not part of marriage? Interesting. Actually, more like bizarre. Denial will apparently not be joining Limbo in the ash heap of Catholic doctrine.
But all is not lost, as fortunately this is just a working paper and over the course of the next year, statements can be amended again and again until they are finalized in October of 2015. This isn't the last we've heard on this. Personally, I know few American Catholics who would concur with the anger, callousness, unreasonableness and negativity displayed in this most recent statement.
What's more, Pope Francis himself was given a standing ovation when he chastised dogmatic bishops at the closing ceremonies, pointing out their "hostile rigidity." Thank you. Pope Francis may not be able to change much in the world economy or the family, let alone his own church, but he's making good use of his bully pulpit and he deserves credit for that.
People are talking. We all remember his statement from last year in regards to gay people: "If a person seeks God and has goodwill, then who am I to judge?" In fact, during that same interview, Pope Francis became the first pope to use the term "gay" instead of "homosexual," which is not only a respectful gesture to LGBT persons, but an important acknowledgment that gay life is a social phenomenon not a medical one. Pope Benedict, as you'll recall, referred to gay relationships as "intrinsically disordered," which sounds like a diagnosis. He's not a doctor of course, though he was a "reluctant" member of the Hitler Youth, which might explain his callousness toward people who don't fit some "ideal."
The sad truth is that this synod, thus far, has changed nothing. Still, there are those who are looking on the bright side. Gay Catholic activists were ecstatic when the first statement came out. Marianne Duddy-Burke of Dignity USA exclaimed: "It is undeniable that there has never been any Vatican document that made positive, respectful statements about same-sex relationships, so that is an undeniable breakthrough."
Francis DeBernardo, executive director of New Ways Ministry, agreed. "Regardless of the fact that this is a working document," he said, "it is still significant in that it reveals a strong current of affirmative attitudes at high levels in the church towards lesbians and gay people."
Conservative Catholic groups such as Voice of the Family employed the usual hyperbolic response we've grown used to from the right, calling it "one of the worst official documents drafted in Church history." Really!? In history? What about the Inquisition that sanctioned torture, anti-Semitism and execution for heresy? Oh that's right, denial.
Pope Francis seems to want to challenge the entrenched and moribund attitudes of an increasingly irrelevant church, and thus make it relevant. In his opening remarks, he asked bishops not to be afraid to speak their minds honestly and openly, and to say things that might displease him. Hopefully as the year progresses more bishops will gather the courage to step up and speak their minds.
Francis is thus leading by example, and by so doing, he might just bring out the best in those around him. In fact, I'd go so far as to say that Pope Francis, just like those gays, "has gifts and qualities to offer to the Christian community."

LISTEN: How Two African-American Entrepreneurs Are Determined To Change Diets In The Black Community
On the latest episode of "The Bottom Line" podcast, Naturade's Claude Tellis and Kareem Cook share how their own families' experience with diabetes has spurred them to promote healthy eating options.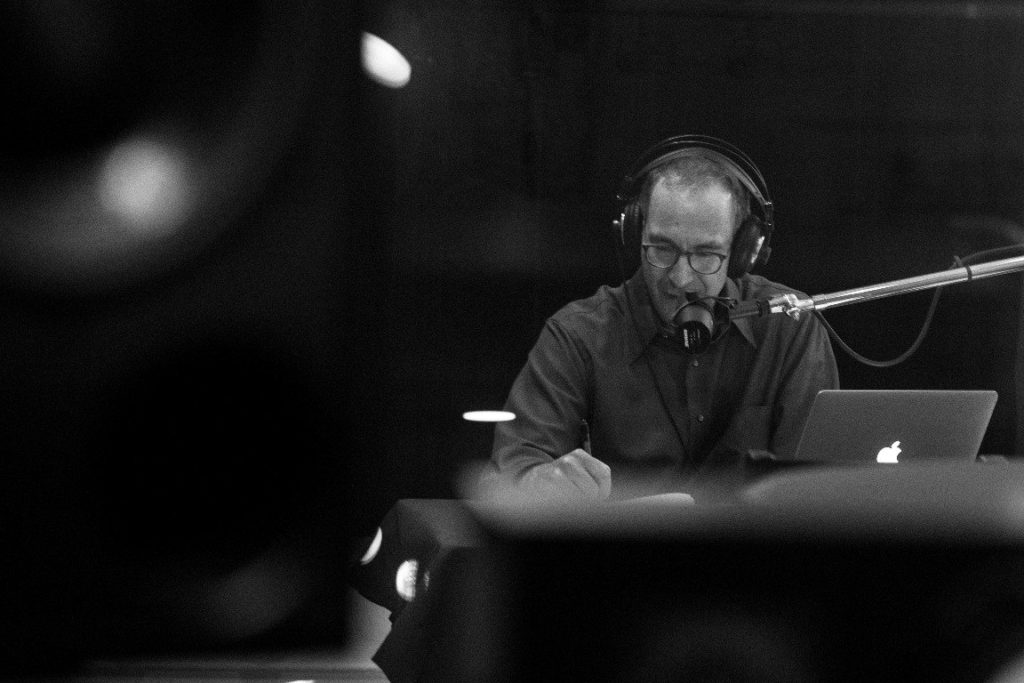 Many entrepreneurs pride themselves on solving some sort of "pain point" for their customers. But as Claude Tellis and Kareem Cook, the co-owners of health-products provider Naturade make clear, some pain points are a lot more serious than others.
"I had an uncle that went into the doctor, wasn't morbidly obese or anything, lived in Louisiana and . . . the family was faced with, 'Do we amputate both of his legs or not?'" Tellis told me on the latest episode of my podcast, The Bottom Line. "He never made it out of the hospital. He died, and he was about 55 years old."
Another uncle, says Tellis, who serves as Naturade's CEO, "was faced with losing a couple toes." Eventually, "they had to take his leg from the knee down."
In the African-American community, dealing with this grim loss of life and limb—often brought on by diabetes and peripheral arterial disease—has become disturbingly routine. "You just kind of grew up with insulin in the refrigerator," says Cook, Naturade's chief marketing officer.
And so Tellis and Cook have set out to combat this crisis by helping underserved populations—especially those in black neighborhoods—eat better. Their vehicle for sparking change is Naturade, which they acquired in 2012 for $8 million.
Although the Orange, Calif., company is nearly a century old, Tellis and Cook have revamped it completely, including introducing a new product that is now their No. 1 seller: VeganSmart, a plant-based meal replacement that is high in protein, low in sugar, and full of vitamins and minerals. Its suggested retail price is $35 for 15 servings.
"What we really wanted," says Tellis, "was something that had Whole Foods quality that could be sold to a Walmart consumer."
To achieve that vision, they've built the brand methodically. Step one, Tellis says, was making sure that vegans bought in, so that "people when they look online will see that there's an authenticity and there's a rigor" to what's being offered.
From there, they handed out VeganSmart at Wanderlust yoga festivals, aiming to attract a hip, upscale crowd. This helped advance a "premium viewpoint of the product," Tellis says.
Finally, there came the last step: bridging into urban America. To catch on there, they've adopted an influencer strategy, tapping rappers like Styles P and Da Brat and professional basketball players to promote VeganSmart. (Grant Hill, soon to be inducted into the NBA Hall of Fame, is an investor in Naturade.)
The result is a profitable company that is now selling into, among other retailers, both Whole Foods and Walmart—just as Tellis and Cook had planned it.
Not that any of this has come easy. The duo, who met as Duke University students in the early 1990s, have played in the health-food space for more than 15 years now.
Their first venture, launched in 2002, was a vending machine company called Healthy Body Products, which supplied nutritious snacks and drinks instead of junk food and soda. The business won contracts with the Los Angeles Unified School District, but it was difficult to scale. So Cook and Tellis ultimately sold the venture—but not before gaining some insight into what it takes to persuade those in the mainstream to eat right.
At one point, they brought in actor Michael Ealy (then fresh off one of the Barbershop films) to talk to the students about the importance of maintaining a good diet. "One of the biggest things we learned in our first business was how to make it cool," Tellis explains.
And, of course, if that doesn't work as a motivator, there's always a second message to fall back on. "Everyone wants to be cool," says Cook. "And no one wants to die."
You can listen to my entire interview with Tellis and Cook here, along with Bridget Huber reporting on Impact America Fund's efforts to help improve low- to moderate-income areas, and Karan Chopra laying out what small rice farmers in West Africa can teach American business leaders.
The Bottom Line is a production of Capital & Main.