Unjust Desserts: A Review of 'My Mañana Comes'
It's often apparent at countless restaurants around the country that the hardest working employees are the bussers, with the "back of the house" providing the foundation for the entire culinary enterprise.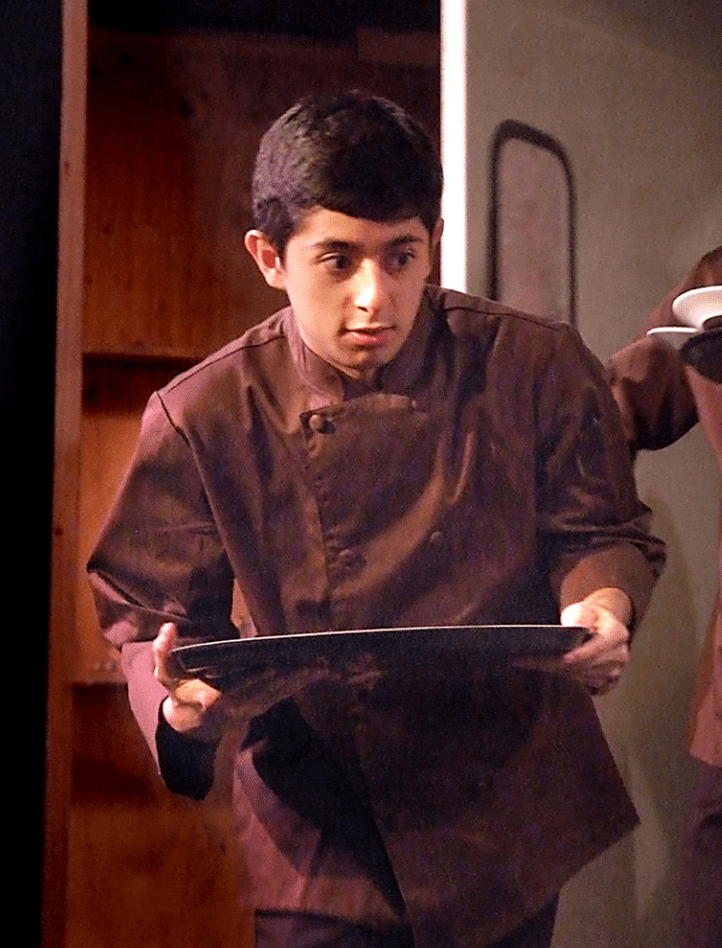 (Photo by Ed Krieger)
It's often apparent at countless restaurants around the country that the hardest working employees are the bussers, with the "back of the house" providing the foundation for the entire culinary enterprise. That said, they are also the lowest paid in the service industry's economic food chain, and the meager wages can make it difficult to forge a life beyond their weekly schedules.
The four busboys in Elizabeth Irwin's My Mañana Comes, now running at Los Angeles' Fountain Theatre through June 26, serve as archetypes for those who toil behind the scenes every night in America's eateries. And for this quartet, the recipe for their future calls for gallons of sweat and a sprinkle of hope, topped off with a dollop of powerlessness.
Mañana 's workers pour, fold, wash and carry their way through shift after shift in the back kitchen of a posh Upper West Side French restaurant. There is Peter (Lawrence Stallings), a stand-up guy constantly staggered by misfortune, who has his sights set on a managerial job at the chef's next venture. By his side is the diligent and frugal Jorge (Richard Azurdia), who has spent the last four years cautiously saving money to build a big house for his family back in his home in Pueblo, Mexico. Under his wing is Pepe (Pablo Castelblanco), a wide-eyed immigrant who is struggling to learn at once the ways inside and outside the kitchen, and who also awaits the arrival of his brother to join him in pursuing the American Dream. Finally there is Whalid (Peter Pasco), a mischievous third generation pocho who cares less about identifying with his Mexican brothers and more about whether he can afford, ironically, to take his latest date to a dinner at Applebee's.
While they work, the men discuss whether they can afford new shoes or preschool, the stresses of family life and of having their fates determined by the whims of decisions made by those in front of the house. Undercurrents of race and class swirl around them as they work, but it's less a black and brown issue, and more one defined by how long one has been punching his time card on this side of the border.
Although their common work bonds and unites them, their individual end goals, and the difference in the value of the dollar in the States and in Mexico, ultimately leads  to a combustible conclusion that underscores the complexity of the immigration issue.
The acting is uniformly excellent, with the men forging palpable bonds that seem as strong as steel. So when the drama in the last act boils over, the audience can almost feel the stinging heat from loyalty and camaraderie betrayed.
Armando Molina's directing is solid and keeps the action moving, while special kudos go to scenic and production designer Michael Navarro's spot-on kitchen set.
Playwright Irwin's experience in kitchens is obvious, and while no individual bites stand out, the overall effect of her words is memorable. Her slice-of-life piece serves to provoke a broader rumination on workers' rights in the food industry.
As a result, it's hard to walk away from Irwin's searing play without thinking of the thousands of kitchens across this land where this experience plays out every day. It makes one hope that the many workers laboring in the back of the house can one day afford a life with less stress and more self-determination. Until then, unfortunately, the harsh realities of today make it so tomorrow can't come soon enough.
Fountain Theatre, 5060 Fountain Ave., Los Angeles. (323) 663-1525.
Alex Demyanenko has produced numerous television series and specials. Among his credits is the HBO documentary Bastards of the Party.

Weak Stage Production Mars Drama About Returned Vet
The second drama in playwright Quiara Alegría Hudes' trilogy juxtaposes one soldier's post-war tribulations with stories generated by a group of recovering drug addicts.

A 2012 Pulitzer Prize winner, Water by the Spoonful is the second in Quiara Alegría Hudes' trilogy revolving around Elliot, a young war veteran from a Puerto Rican family living in Philadelphia. The first play, Elliot: A Soldier's Fugue, is an interweaving of several narratives that relays the experiences of war from the standpoint of the working-class soldier. It's a strong, lyrical work (although the production, at the Kirk Douglas Theatre through February 25, doesn't fulfill that potential).
In this second, less compelling installment at the Mark Taper Forum (yes, I know it won a Pulitzer, but that goes to show how subjective literary prizes can be), the playwright juxtaposes Elliot (Sean Carvajal)'s post-war tribulations with the stories generated by a group of recovering drug addicts. The play's fractured narrative proves a liability, with problems related to the writing compounded by Lileana Blain-Cruz's lax direction, weak performances, and an unimaginative scenic design (Adam Rigg) that drains the show of whatever dynamic a couple of the performers manage to scrounge up.
The story takes place in 2009, six years after Elliot, haunted by a ghost and nursing a pronounced limp from a war injury, returns from Iraq. He's working at a Subway and hoping for a career as an actor, while maintaining a mutually supportive friendship with his cousin Yazmin (Keren Lugo), a music professor. Elliot is struggling with his PTSD but managing to cope until his world spins out of control when his adoptive mom Ginny, much loved by her family and the community, nears death.
Keren Lugo and Sean Carvajal
These scenes involving a family in crisis alternate with others that depict the online squabbling of the members of the recovery group, who bear the pseudonyms of Chutes&Ladders (Bernard K. Addison), Orangutan (Sylvia Kwan) and Fountainhead (Josh Braaten). Haikumom (Luna Lauren Vélez), the site leader, is (we later discover) Elliot's biological mother, Odessa, and she also is in recovery. The play takes its title from a recollection by Elliot of an event in his childhood: He and his baby sister were ill and needed a spoonful of water every hour – something Odessa failed to administer, with tragic results. Elliot has never forgiven her.
Much of Act 1 is taken up with the repartee among the group, but these characters never physically interact, and these "online" sequences are long-winded and static. It doesn't help that the actors are positioned willy-nilly about the proscenium, fronting a drab living room interior unrelated to their dialogue. Why these scenes were not mounted in a separate area of the stage and with a different lighting design is a puzzlement.
The play gets more interesting in the second act, with Elliot's emotional crisis intensifying and brought to a head in his confrontation with Odessa. Unfortunately, the drama is done in by subpar acting. Carvajal, employing a weird pseudo-street dialogue (it's as if he has marbles in his mouth), sounds an unconvincing one-note. (As someone born and raised in Philadelphia, I can personally testify that that is not how residents of Philly speak.) Lugo's Yazmin lacks personality of any sort — she seems to be there just for Elliot to play off of. Vélez's performance in a linchpin role projects neither charisma nor clarity.
The best work is by Addison as a 50-something white collar guy emotionally invested in the group and with a growing attachment to Orangutan, a much younger woman, and Braaten as a well-heeled cokehead, desperately trying to hold his life together. These actors bring a certain heft to their roles that the other performances are missing. It's too bad we don't get to see them perform at their best.
The third play in the trilogy, The Happiest Song Plays Last, opens at the Los Angeles Theatre Center on Feb. 22, with an entirely different ensemble. Here's hoping they can do better.
Mark Taper Forum, 135 N. Grand Ave., downtown; Tues.-Fri., 8 p.m.; Sat., 2:30 & 8 p.m.; Sunday, 1 & 6:30 p.m.; through March 11. Centertheatregroup.org.
---
Copyright Capital & Main