Unjust Desserts: A Review of 'My Mañana Comes'
It's often apparent at countless restaurants around the country that the hardest working employees are the bussers, with the "back of the house" providing the foundation for the entire culinary enterprise.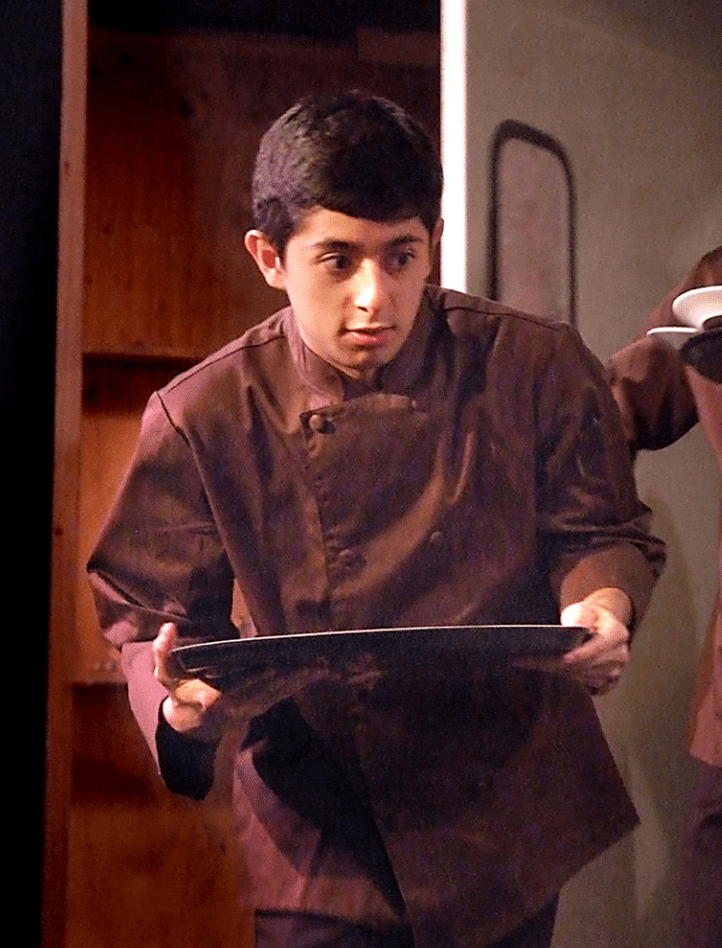 (Photo by Ed Krieger)
It's often apparent at countless restaurants around the country that the hardest working employees are the bussers, with the "back of the house" providing the foundation for the entire culinary enterprise. That said, they are also the lowest paid in the service industry's economic food chain, and the meager wages can make it difficult to forge a life beyond their weekly schedules.
The four busboys in Elizabeth Irwin's My Mañana Comes, now running at Los Angeles' Fountain Theatre through June 26, serve as archetypes for those who toil behind the scenes every night in America's eateries. And for this quartet, the recipe for their future calls for gallons of sweat and a sprinkle of hope, topped off with a dollop of powerlessness.
Mañana 's workers pour, fold, wash and carry their way through shift after shift in the back kitchen of a posh Upper West Side French restaurant. There is Peter (Lawrence Stallings), a stand-up guy constantly staggered by misfortune, who has his sights set on a managerial job at the chef's next venture. By his side is the diligent and frugal Jorge (Richard Azurdia), who has spent the last four years cautiously saving money to build a big house for his family back in his home in Pueblo, Mexico. Under his wing is Pepe (Pablo Castelblanco), a wide-eyed immigrant who is struggling to learn at once the ways inside and outside the kitchen, and who also awaits the arrival of his brother to join him in pursuing the American Dream. Finally there is Whalid (Peter Pasco), a mischievous third generation pocho who cares less about identifying with his Mexican brothers and more about whether he can afford, ironically, to take his latest date to a dinner at Applebee's.
While they work, the men discuss whether they can afford new shoes or preschool, the stresses of family life and of having their fates determined by the whims of decisions made by those in front of the house. Undercurrents of race and class swirl around them as they work, but it's less a black and brown issue, and more one defined by how long one has been punching his time card on this side of the border.
Although their common work bonds and unites them, their individual end goals, and the difference in the value of the dollar in the States and in Mexico, ultimately leads  to a combustible conclusion that underscores the complexity of the immigration issue.
The acting is uniformly excellent, with the men forging palpable bonds that seem as strong as steel. So when the drama in the last act boils over, the audience can almost feel the stinging heat from loyalty and camaraderie betrayed.
Armando Molina's directing is solid and keeps the action moving, while special kudos go to scenic and production designer Michael Navarro's spot-on kitchen set.
Playwright Irwin's experience in kitchens is obvious, and while no individual bites stand out, the overall effect of her words is memorable. Her slice-of-life piece serves to provoke a broader rumination on workers' rights in the food industry.
As a result, it's hard to walk away from Irwin's searing play without thinking of the thousands of kitchens across this land where this experience plays out every day. It makes one hope that the many workers laboring in the back of the house can one day afford a life with less stress and more self-determination. Until then, unfortunately, the harsh realities of today make it so tomorrow can't come soon enough.
Fountain Theatre, 5060 Fountain Ave., Los Angeles. (323) 663-1525.
Alex Demyanenko has produced numerous television series and specials. Among his credits is the HBO documentary Bastards of the Party.

'Skeleton Crew' Is a Play With a Moral Spine
Set in a Detroit automobile outfitting plant, Dominique Morisseau's drama grabs you from the start with its focus on blue-collar men and women, and their struggle for dignity and self-respect.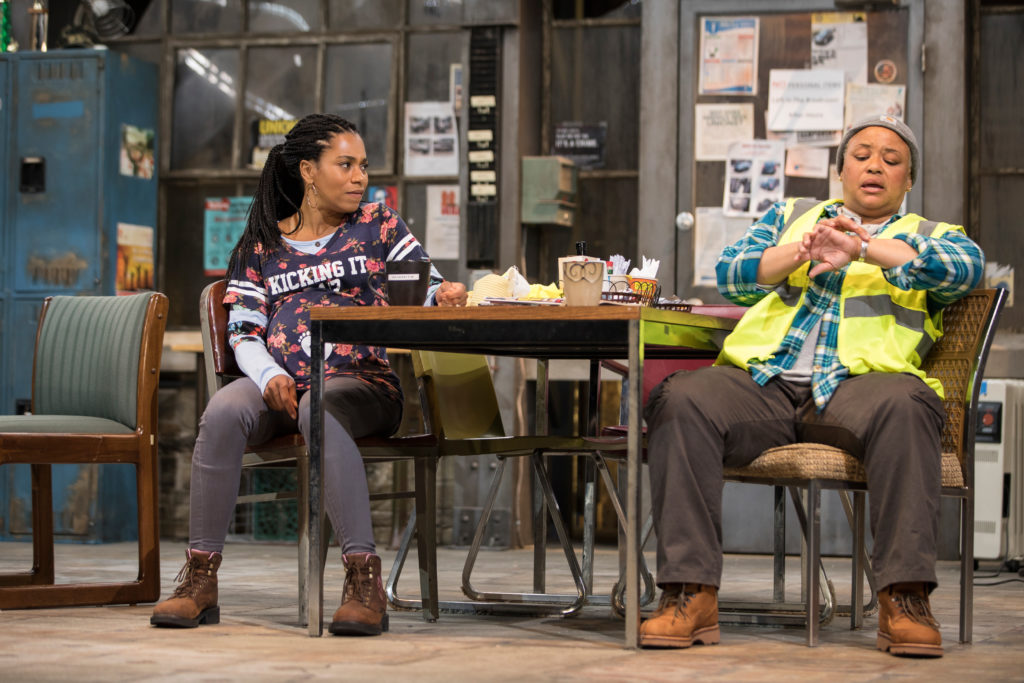 Working-class men and women of color are rarely front and center in today's media and, likewise, are presented all too occasionally on the American stage. So it's buoying to see that trend bucked in playwright Dominique Morisseau's percipient and well-crafted drama, Skeleton Crew. The play is the final installment in her Detroit  Project Trilogy; the first, Paradise Blue, is set in the 1940s amidst displacement caused by urban renewal and gentrification, while the second, Detroit '67, transpires on the eve of the 1967 Detroit riots sparked by a police action.
Directed by Patricia McGregor at Los Angeles' Geffen Playhouse, Skeleton Crew is a play with a moral spine. It takes place in 2008, when the shrinking U.S. auto industry is being further downsized. Morisseau's engaging quartet of characters — Faye (Caroline Stefanie Clay), Dez (Armari Cheatom), Shanita (Kelly McCreary) and Reggie (DB Woodside) – are employed at an automobile outfitting plant. Faye, Dez and Shanita are workers on the line while Reggie (who has a wife and kids, and has pulled himself together after a troubled youth) is their supervisor.
The first three customarily mingle in their break room (designer Rachel Myers' impressively cluttered, dingy and detailed set), trading the sort of familiar barbs and genuine concern for each other common among longtime co-workers. They also face off on philosophy: Upper-middle-aged Faye and the younger, pregnant Shanita take pride in their labor, while Dez, though a good worker, is a malcontent scornful of management and firm in the belief that everyone needs to watch out for himself. He's a thorn in Reggie's side, for while Reggie wants to be supportive of his workers, he must act at the behest of higher management. For his part, Dez resents Reggie's authority, and a palpable unease exists between them.
Besides this male matchup, we're made privy to Dez's attraction to Shanita, who mostly turns away his advances, but every now and then displays a hint of interest. Most poignant is Reggie's regard and affection for the lesbian Faye, which has roots in his boyhood when she loved, and lived, with his now-deceased mom.
These people's various predicaments intensify when rumors spread of the plant's shutdown — a disaster for all, but a particular calamity for the already near-broke Faye who, one year short of retirement, would lose her pension. The crisis forces each of these people to make a choice.
A sound piece of social realism, Skeleton Crew grabs you from the start in its focus on blue-collar men and women, and their struggle against odds for dignity and self-respect. Morisseau not only furnishes these characters a platform for their travails, she endows them with strong values, big hearts and the opportunity to choose between right and wrong.
Unfortunately, the performance I attended did not soar. Many exchanges lacked a fresh edge. The actors certainly had their characters down, but too often they appeared to be coasting on technique. (This seemed particularly true of Clay, who performed the role to great accolades in Washington, DC in 2017, also under McGregor's direction). Additionally, some of the stage movement was not entirely fluid; in confrontations, actors sometimes would just stand and face each other in an artificial way. And Cheatom's interpretation of Dez struck me as a bit overly churlish and depressive: I needed more glimpses of the intelligence and edge that would secretly attract the strong, self-directed Shanita.
The most compelling moments belong to Woodside, well-cast as a man trying his best in difficult circumstances to do the right thing.
---
Gil Cates Theater at the Geffen Playhouse, 10886 Le Conte Ave., Westwood Village; Tues.-Fri., 8 p.m.; Sat., 3 & 8 p.m. Sun., 2 & 7 p.m.; through July 8. (310) 208-5454 or www.geffenplayhouse.org