U.C. Health Care Employees Walk the Line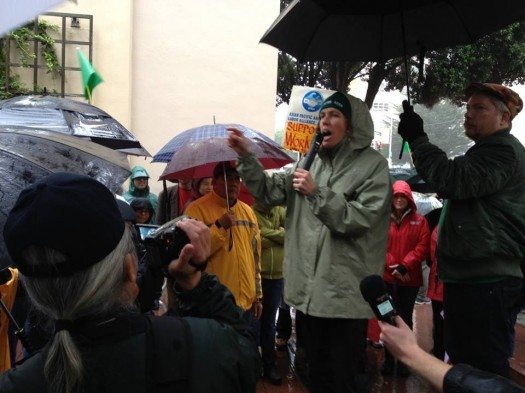 Kathryn Lybarger, with microphone, at U.C. San Francisco Medical Center.
Yesterday, some 22,000 surgical and X-ray technicians, custodians, servers, cooks and other workers at nine University of California campuses and all of U.C.'s medical centers began a one-day unfair labor practice strike over what they say is intimidation and harassment of workers who took part in an earlier strike over patient safety in May.
AFSCME Local 3299 President Kathryn Lybarger said:
Our members have both the legal right and moral responsibility to stand up for the safety of the students and patients we serve. By attempting to silence workers, U.C. hasn't just repeatedly broken the law—it has willfully endangered all who come to UC to learn, to heal and to build a better life for their families.
As it did in the May action, before today's walkout began, Local 3299 took measures to ensure that patient care needs would be met, including keeping many key workers on the job and forming a Patient Protection Task Force to ensure that unforeseen emergency medical needs at U.C. hospitals will be met during the one-day work stoppage.
Graduate teaching assistants represented by UAW Local 2865, U.C. students, elected officials and other U.C. workers also are taking part in the strike.
Following the May strike, over what Lybarger said was "U.C.'s intransigence on safety,"
"Dozens of our members faced illegal intimidation—interrogations from their bosses during performance evaluations and both written and verbal threats of discipline to try and scare them into silence."
(Mike Hall is a former West Virginia newspaper reporter, staff writer for the United Mine Workers Journal and managing editor of the Seafarers Log. His post first appeared on Labor's Edge and is republished with permission.)