UN Housing Official Shocked by L.A.'s Homelessness
Nearly 58,000 people are homeless in Los Angeles County, according to a 2017 count — up from 20 percent from the year before.

Photos by Charles Davis
"You almost forget you're in Los Angeles," Leilani Farha remarked, looking up at a shabby hotel with a cartoon palm tree on its sign — a reminder of Southern California, the dream, in a part of the city better known as a nightmare. Skid Row is a place thousands of people sleeping in tents call home. The United Nations' special rapporteur on housing, Farha stepped over trash and around the many people camped out on the sidewalks in a quest to better understand this otherworldly America, just blocks from luxury condos.
"I need to understand that world," Farha had said a couple of hours earlier, Wednesday, at a public forum hosted by the Los Angeles Community Action Network, a Skid Row advocacy group. Appointed in 2014, the human rights lawyer and head of the nonprofit Canada Without Poverty was in town to identify obstacles to the realization of "the right to adequate housing and land." She received an education, with people from across the region telling her what is like for them to sleep in cars and tents in a place oft-sold as paradise.
The obstacles were readily apparent within minutes: too little affordable housing and too many police.
"It's not illegal to be homeless," said Kim Sandoval, "but everything we do is illegal." Sandoval lives in Orange County, where every city has an ordinance against sleeping on the sidewalks; even publicly feeding the homeless is officially discouraged in some parts of Orange County. The most extreme form of poverty is effectively, if not literally, criminalized — one man testified that he committed a minor crime just so he could sleep legally — in a jail cell.
"I've been out here 15 years," Sandoval said. "Not proud of it. In and out of state [prison]. In and out of county [jail]. I'm also a drug addict who is now slowly recovering. But every day is a fight for me. I shouldn't have to fight for where I live; where I want to lay my head."
Sandoval said she's on a list to receive permanent supportive housing, but that she's been on it for a year. In the meantime, no landlords want her state-provided vouchers for rent — not when there are plenty of other potential tenants with reliable, expendable incomes in one of the country's least affordable housing markets. "Everybody has to remember they're one paycheck away from this," she said. She sleeps outside a courthouse.
It's no better by the coast.
David Busch said he has been homeless since 1994. "I've slept on the street the entire time," he said. It's never been this bad, however. "What we have in Venice Beach is a combination of the two deadliest things toward homeless people in America today: Inflated real estate and high tech." He noted the presence of companies such as Google, Facebook and Snapchat in the former hippie enclave now called "Silicone Beach." The increased presence of multinational tech giants has allegedly corresponded with increased police harassment of the homeless.
Busch said he was arrested for maintaining a porta-potty — an arrest that was ostensibly made for reasons of a public health crisis. "We know that here in California we have an epidemic of encampments and along with that we have an epidemic of Hepatitis A," he recounted. Indeed, between March and October 2017, almost 600 Hepatitis A cases were reported, mostly in San Diego. As PBS reported, in a typical year the state sees just 180 cases.
"The way to deal with homeless people is not to criminalize them," Busch said. "The way to deal with encampments is to provide us with services: education, food, clothing and shelter."
In March 2017, Los Angeles County voters approved a ballot measure that was sold as a means to pursue that gentler approach, with a quarter-cent sales-tax hike that would raise over $1 billion in three years to fund services for the homeless, including 10,000 units of affordable housing. But the extent of the problem far exceeds the proposed solutions.
Nearly 58,000 people are homeless in Los Angeles County, according to a 2017 count — a 23 percent increase from the year before. "The reason for the number of people living in encampments and in their vehicles is very simple," Shayla Myers, an attorney with the Legal Aid Foundation of Los Angeles, testified at the forum. "The City of Los Angeles is 560,000 units short of affordable housing for very low- and extremely low-income households."
Myers said city officials talk the right talk, while primarily concerning themselves with the wishes of the well-to-do, especially when touting urban renewal that results in gentrification.
According to Myers, instead of treating the presence of thousands sleeping on its streets as an emergency, a city that's hosting the Olympics in 2028 has "doubled down on its commitment to seizing and destroying people's property." The stated reason is cleanliness and disease, but the embraced solution is myopic and cruel, placing "the onus of public health, of alleviating the public health crisis, on unhoused people."
Farha, who is preparing a report for the UN on informal settlements, shook her head throughout the testimony. After two hours, she'd heard enough.
"How the fuck did we get here?" she asked, apologizing for her profanity. It's just that, she expained, "the fight is so base. In the frickin' richest country, a relatively stable democracy, it's so base — I mean, fighting for the right to sit; fighting for the right to shit; fighting for the right to sleep, in a tent."
"People are being annihilated here," she continued. "I have my work cut out for me."
---
Copyright Capital & Main

No Walk in the Garden for the Urban Homeless
Throughout Los Angeles, landscaping is put to aggressive use, functioning as a weapon of anti-homelessness under the guise of beautification.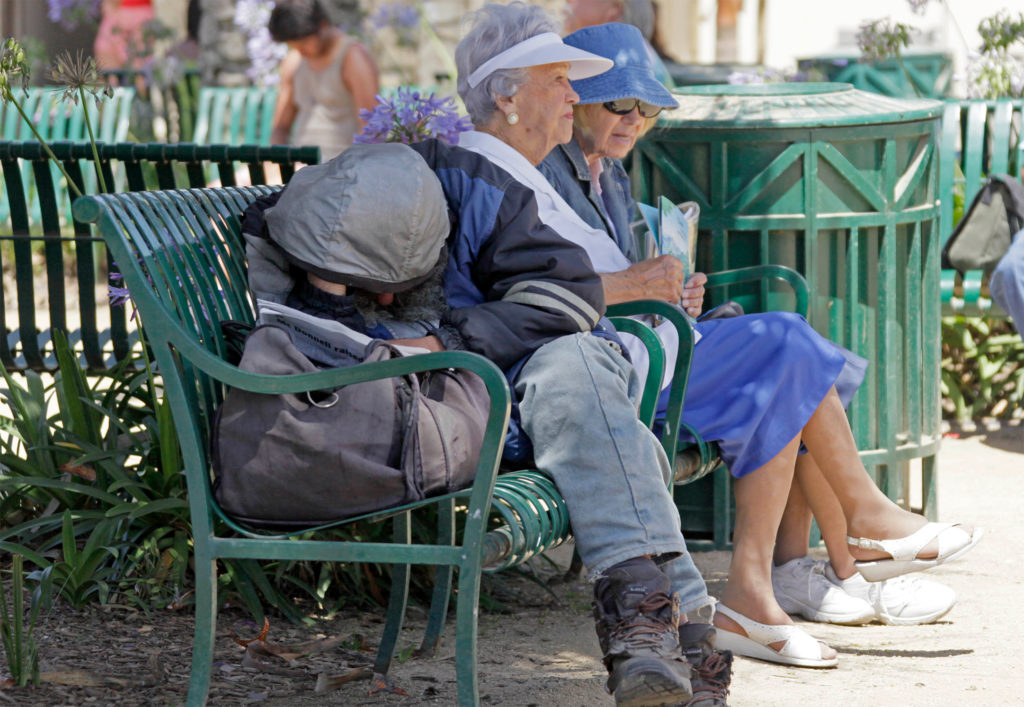 ---
The phenomenon of hostile landscaping in Los Angeles has further marginalized a swelling unhoused population.
---
Last May, in Los Angeles' coastal Venice neighborhood, Adam Smith noticed a series of planter boxes in the middle of a familiar sidewalk. Affixed near the intersection of Third and Sunset avenues, mere blocks from a Google campus and a suite of oceanside cafes, the standalone planters ran roughly the length of a wall delineating a parking lot behind a luxury condo complex.
Previously, Smith told Capital & Main, a group of six to 10 homeless people had regularly slept in tents on that block, favoring it for its relatively plentiful street light. A volunteer for the Culver-Palms Burrito Project, which prepares and serves the titular food to the unhoused of West Los Angeles, he'd become acquainted with individuals living there over the course of several years.
Once the planters were installed, however, the sidewalk was clear. "That next day, after I saw [the planter boxes] for the first time, I went there to look around because I figured they were sleeping somewhere else," Smith said. "I found people up around the corner, just, like, a block away."
---
Companies are privatizing public space to create more "landscape" for their businesses.
---
Throughout Los Angeles, landscaping is put to aggressive use, functioning as a weapon of anti-homelessness under the guise of beautification. Just as both public and private architectural design throttle space available to the unhoused internationally — via, among other examples, spikes on ledges and bars on benches to discourage sitting and lying down — and cities such as San Francisco arrange boulders to deter homeless encampments, the phenomenon of hostile landscaping in Los Angeles has further marginalized a swelling unhoused population.
Nearly 20 miles from Venice, a Los Feliz traffic median at the intersection of Vermont and Prospect avenues, and Hollywood Blvd., has regularly seen encampments arranged on its concrete ground, abutting a raised patch of desert landscaping and sycamore trees.
Christened "Vermont Triangle," the median's first redesign occurred in 2008, when the now-defunct Community Redevelopment Agency spearheaded a project to "improv[e] the pedestrian amenities" and "enhanc[e] the physical appearance of the existing median park." According to the Los Angeles Times, this yielded seating areas, lampposts to echo those at nearby Barnsdall Art Park, and the sycamores. Eventually, unhoused people began to pitch tents, availing themselves of the median's modest stretches of open public space.
Now, due to pressure from local business owners, Vermont Triangle is in flux. City Councilmember David Ryu's office, the Times noted, plans to invest $18,000 in another redesign, following a 2013 re-landscape. The 2013 update was financed in part by the Hollywood Hotel and Kaiser Permanente, according to Jeff Zarrinnam, who serves on the board of governors of the East Hollywood Business Improvement District. (Ryu's office couldn't be reached for comment.) Current proposals range from adding art installations and neighborhood signs, which Zarrinnam said the Los Feliz Neighborhood Council and East Hollywood Neighborhood Council have floated, to putting in planters.
Zarrinnam said he supports "bridge housing," a term the municipal government, neighborhood councils and local businesses use to favorably denote temporary homeless shelters and transitional housing. Yet reports indicate that the current state of temporary housing for many homeless people in Los Angeles County — who, as of May, numbered approximately 53,000 — is nothing short of abysmal. A recent investigation by radio station KPCC found infestations, harassment and medical negligence, among other scourges at various facilities throughout Los Angeles County, including those funded by the Los Angeles Homeless Services Authority (LAHSA), which conducts the county's annual homeless census.
Steve Diaz, an organizer for Los Angeles Community Action Network (LA CAN) who works with unhoused populations in downtown and South L.A., calls hostile landscaping of public space "the next level of criminalization" of homelessness. He alluded to an industrial neighborhood overlapping Skid Row, whose business owners call "The North Sea": a cluster of converted seafood warehouses and factories painted the same hues of oceanic blue — complete with landscaped sidewalks.
"They started breaking the concrete and taking away from the sidewalk to place different types of flowers, whatever garden they were putting in," Diaz said. "You have a major street [on] Skid Row that, at one point, was home to a lot of homeless folks now being gated off, and then the concrete being broken to start using these gardening pockets within the space to eliminate sidewalk access." (Miguel Nelson, a North Sea business owner involved in the area's marketing efforts, declined to respond publicly.)
As private property owners adopt guerrilla tactics to thwart homeless encampments, legal issues arise. Skid Row activist General Jeff Page has observed that, while property owners are permitted to control up to three feet of sidewalk extending from their buildings, "The North Sea is taking upwards of five to 10 feet of sidewalk, allowing only for ADA (Americans with Disabilities Act) compliance and zero space for homeless tents and/or encampments." (The Los Angeles Department of Public Works stated that the North Sea sidewalk landscaping is currently under investigation and thus couldn't comment further on the matter.)
What's more, business owners in South L.A. have illegally installed fences around their property, which, according to Diaz, will eventually give way to sidewalk landscaping. Relatedly, Adam Smith has been corresponding with city officials to ascertain the permit status of the Venice planters. The West L.A. office of the Bureau of Engineering, which issues revocable permits, told Capital & Main that it did not have a permit on file for the planters. Without one, according to the bureau, "no portion of the public right-of-way, including sidewalk, is allowed for private use."
Nevertheless, the planters remain and, according to Smith, have multiplied. Additional boxes, he said, are now ensconced in the sidewalk around the corner, to where the previously ousted people had first moved.
"For some people, [landscaping] sounds like a great idea," Diaz said. "But you're literally privatizing public space to create more 'landscape' for your business."
---
Copyright Capital & Main