On January 23 of this year, Scabby the Rat, a 16 foot tall rodent first inflated in 1990 by protesting Chicago bricklayers, had a scare. Sean McGarvey (@BCTDPrez), president of the AFL-CIO Building and Construction Trades Department, took to Twitter following a meeting with presidents and state councils to address his 488 followers: "Issued a call to retire the inflatable rat. It does not reflect our new value proposition." Jill Cashen, Communications Director for United Food & Commercial Workers (UFCW) responded favorably @BCTDPrez and to her 387 followers, notching up the rhetoric to #deflatetherat.
On January 24, @ScabbyTheRat (7,737 followers) who reports on "anti-labor activity no matter where it happens" had a day in the sun, albeit it a busy one. Catapulted by Mike Elk (@MikeElk, 10,278 followers) — perhaps labor's most dedicated and voracious Tweeter — and his story from In These Times, @ScabbyTheRat tweeted 28 times, up 933 percent from the rat's typical day of social networking. Among them, @ScabbyTheRat pleaded to #SaveScabby.
A week later, with no confirmed sightings of the Scabby, a wishful suspicion finds Scabby just as we left her, in a warehouse, gently swaying in the winter draft and waiting to be called upon. Daniel Wright (@DanSWright, 595 followers), a contributor to Firedoglake (@firedoglake, 13, 584 followers), offered a no-less plausible and far funnier alternative: "[m]aybe it was Scabby's idea to leave the AFL-CIO, rats know how to leave sinking ships." (More from Wright later.) True or not, McGarvey, or at least @BCTDPrez, must have had second thoughts about his value proposition – the original tweet has disappeared into the Twittersphere. (And not lost down a feed, but lost all together. Gone. Deleted.) All and all, disaster averted. Right?
Amid the chatter of Scabby, the Bureau of Labor Statistics (BLS, @BLS_gov, 8,577 followers) released its 2012 Union Members Summary. The findings (whether read on paper or across a variety of digital media) left labor to ponder sobering statistics for unions, workers and a precarious middle class. Union membership dipped to 11.3 percent (the lowest since the Great Depression), while 400,000 workers were squeezed from unionized positions. The summary did share a couple of silver linings, some surprising: union membership rose in the southern states of Arkansas, Georgia, Kentucky, Louisiana and Oklahoma. (Weird.) More predictable was California's strongish showing, whose newly added 100,000 union members speak to the growing and empowered Latino communities – the very same population that helped spur President Obama to reelection.
Sarita Gupta (@saritasgupta, 289 followers), Executive Director for Jobs with Justice (@jwjnational, 7,774 followers) an organization that builds power for working people via networks and coalitions, Huff-posted this on the BLS' stark findings: "At first glance, you might think these numbers indicate that workers no longer want or need unions. In reality, workers are trying to organize, but outdated labor laws and anti-union employers are standing in their way."
Without question, labor laws are behind the times, perhaps most obviously in their inability to protect — or even so much as account for – a growing temporary and contingent workforce. To these ends, Richard Kahlenberg (@RickKahlenberg, 384 followers) and Moshe Z. Marvit (@MosheMarvit, 54 followers; he is quite new to Twitter) offer a much needed cry for labor to extend beyond a dated National Labor Relations Board (NLRB, @NLRB, 4,539 followers) as a means of avoiding "a year's hard work being undone in a single day." And while their call for a civil right to organize is bold and necessary, if not controversial, it can serve in the short run as nothing more than a spark and a talking point in an effort to spur policy reform that would better tackle labor's priorities. (Should legislation ever be amended to include it, my thirty-something hair will either be grey or totally gone. Or perhaps in the year 2054, technology will render these distinctions avoidable, impossible, or utterly pointless.)
But while the realities for unionized labor are daunting, what the numbers can't or won't show are where organizing and working people are making exciting and impressive inroads. Alongside the victory of the Chicago Teachers, there was no bigger labor story in 2012 than Walmart associates staging a nationwide Black Friday action on the heels of the very first strikes against the retail giant (@Walmart, 308,955 followers). Similarly, warehouse workers caught in the unjust and 100 degree thoroughfare of a Walmart supply chain made themselves heard and seen (Warehouse Workers United, @wwunited, 1,559 followers) by walking off the job and then continuing to walk literally 50 miles more from the warehouses in Ontario, California to Los Angeles City Hall (all the while cutting into corporate profits, however small). Effective actions such as these extended into the realm of fast food workers, taxi drivers, port truck drivers and car washeros, all looking for a better living and an updated assessment of fairness.
Kenzo Shibata (@KenzoShibata, 6,320 followers) the New Media Specialist (and that term is important) of Chicago Teachers Union (CTU, @CTULocal1, 7694 followers) was the man behind the social media efforts that helped enhance solidarity around Chicago teachers during their September strike. He commends CTU leaders for being progressive enough to change his title from Publications Editor. Days after the strike began, CTU boasted 16,000 new followers on Facebook. Furthermore, Shibata was able to help ignite #CTUStrike and #FairContractNow to Twitter's top two trends on September 10, 2012, the day teachers walked off the job.
Just as the BLS' numbers can't reflect the efforts of people like Shibata, they cannot show the fruits of how those arguing outside of collective bargaining are getting it done. Using innovative and non-traditional techniques, not to mention their strong online presences, groups like OurWalmart (@ForRespect, 1,822 followers), Making Change at Walmart (@ChangeWalmart, 3,227 followers) and ROC-United (@rocunited, 1,803 followers) were able to turn pre-majority strikes into lasting and ongoing efforts, emboldening frightened workers unaware of their rights. Similarly, #WalmartStrikers also jettisoned to the very top of Twitter's trending topics.
Furthermore, technology has successfully contributed to defeating poorly worded ballot propositions aimed at limiting unions' relevance and influence. In California, the California Labor Federation (@CaliforniaLabor, 10,164 followers) testifies to the power of #NoOn32 and the enthusiasm found once traditional TV ads were abandoned for outreach done over via Facebook and Twitter. Suddenly, a younger generation was engaged in a format that they have trouble keeping their eyes off and their hands from updating. A similar story can be said for Ohio's beating back of SB5.
But Michigan tells a different story. Unions went big (and many would say "too big") with Prop 2, a proposal that would have amended the state's constitution to labor's benefit. After Michigan supporters couldn't get the job done (or at least the word out), relying heavily on TV ads to drive home their message, a deafening silence fell over the world of labor on election night. This silence would grow deeper in December, when right-to-work legislation was rammed through the Michigan house. While many cried "lame-duck," an objective outsider might have remarked on the lack of organization in the state. With the success of Ohio's fight against SB5 just 300 miles away, how could so much have gone so wrong? Surely there could have been a network of shared strategy.
Back to Scabby. Regardless if she (or her online presence) remains an ally of labor or not, the rat's greatest power wasn't in her buckteeth, bloodshot eyes or a tummy with festering wounds. It was her innovation – finding a new, updated means of establishing visibility, voice and presence. Only later would she reveal her silver lining: constituted as symbolic speech, and hence not subjected to the laws and confines of traditional picketing, she could be present in picketers' absence.
Everyday online, avatars of you, me and everyone (and sometimes several at once) are present in our literal absences. And this is either great, crazy, preposterous, awesome, a waste of time, or the culmination of life's true singular purpose. You be the judge. Regardless, and no matter if you are young or old, social media is here and very real. (Or surreal. Or at least virtual.). While social media might be gross or inhumane to some (myself included, at least where Facebook is concerned), communication lines have rarely been as open as they are now.
In a series of recent rulings, the NLRB declared that workers have a right to discuss working conditions freely and without fear of retribution, whether the discussion takes place at the office or on Facebook. This is a wonderful thing, and it is to be cherished (while it lasts.The way things are going – for labor, Aaron Swartz, Bradley Manning and otherwise – surely this privilege will cease to have its day).
The ability to negotiate and be "seen" by employers is vital. But it is becoming increasingly less feasible in the real world as employers are closing the door on fairness, or at least all things union. Out of sight is out of mind. So perhaps the argument must be restated, or at least begun and reframed, where communication can actually take place. Profit-seekers love trends, but must be cautious of trending – quips can spread like wildfire online, and before you know it, a major corporation might have a PR problem when their Twitter feed is riddled with calls for change.
Lastly, while a reframing is in place, it should be clear by now that any discussion of the shrinking of unions (and hence, the middle class) spun around money will never convince employers interested in the bottom line. And perhaps the reason McGarvey's "value proposition" gained traction on Twitter in the first place was that he came off like he was accommodating the corporate class.
Here's Daniel Wright again:
"This accommodation strategy is essentially Third Way economics, pretending labor unions are somehow both good for Capital and Labor – news flash: they aren't. That's why Capital has been trying and succeeding at crushing Labor for the past 30 years. They don't want to pay higher wages and provide benefits they want to cut those costs so they can have higher profits."
Just as labor is asking for the laws to get with the times, it is time for unions to do the same. There are too many locals that go unaccounted for on Twitter and too many important people are missing an @ at the front of their names. This is a call to all workers, young and old, organized or not, who care about respect, dignity and fair wages, to point your device (or find a device at the local library, or get a device, or share a device, or make up a device) and aim it at the people you care about, and against the people who are eliminating the possibility of dignity in an honest day's pay. Of course, old strategies (and print) cannot be foregone completely, as that only further excludes those already subjected to exclusion, but the responsibility must rest on the young (and young enough), the capable and the curious to advocate and educate in the digital realm.
Perhaps "[i]ndependent journalist, [r]abblerouser and #classwar instigator" Sarah Jaffe (@sarahljaffe, 11,727 followers) said it best on Twitter: "Dear labor folks: if your response to today's [BLS] statistics is anything other than "ORGANIZE" you lose."
I would add, "Online."
And here's something to think about as you're trying to come up with a clever Twitter handle after you realize your first choice has been taken: on Klout, a website that scores social influence, @ScabbyTheRat fares better than Richard Trumka (@RichardTrumka, 7,554 followers). And lastly (and unfortunately), workers everywhere should consider co-opting Corona beer. But only so long as you're of age, and drinking. Some prefer it with lime.
UPDATE: Since I wrote this story, Trumka has pulled ahead of Scabby on Klout. While I can't be certain why (as I don't know nor could ever understand exact algorithms behind Klout's system) Trumka did garner 200 new Twitter followers in the past week or so, and I suspect that #SOTU and the announcement of cutting Saturday mail may have something to do with it.
In any event, to still illustrate the idea, Scabby does still have more "social influence" than Sean McGarvey, Seth Harris, and the Bricklayers Union, the very entity that inflated her.
(Jason Bacasa is the creative director of Unionosity, where his post first appeared. Republished with permission.)

'Skeleton Crew' Is a Play With a Moral Spine
Set in a Detroit automobile outfitting plant, Dominique Morisseau's drama grabs you from the start with its focus on blue-collar men and women, and their struggle for dignity and self-respect.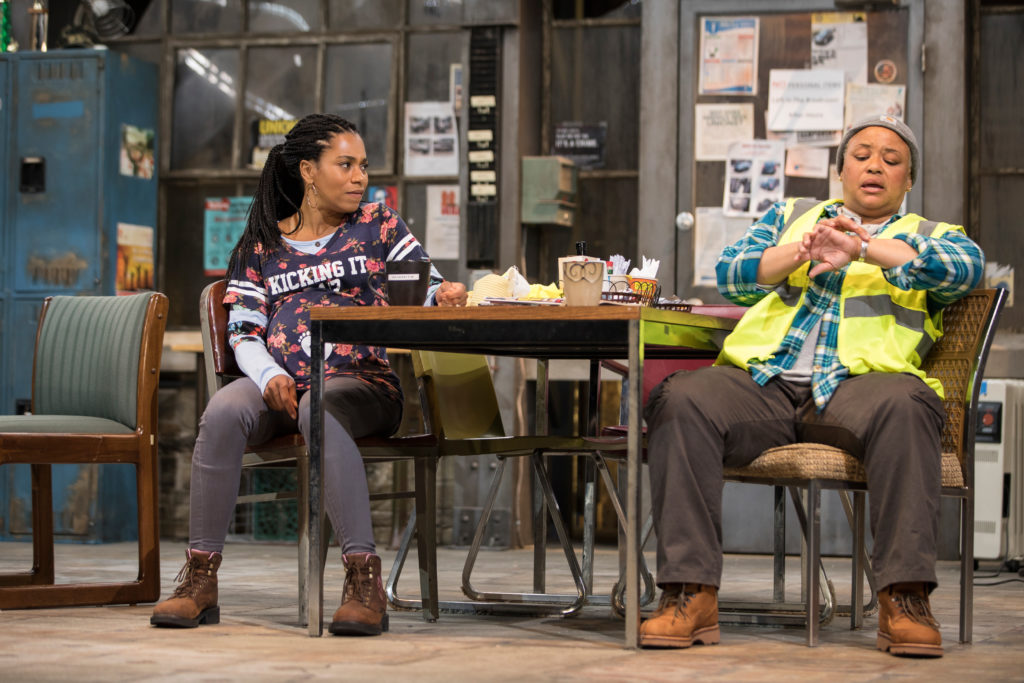 Working-class men and women of color are rarely front and center in today's media and, likewise, are presented all too occasionally on the American stage. So it's buoying to see that trend bucked in playwright Dominique Morisseau's percipient and well-crafted drama, Skeleton Crew. The play is the final installment in her Detroit  Project Trilogy; the first, Paradise Blue, is set in the 1940s amidst displacement caused by urban renewal and gentrification, while the second, Detroit '67, transpires on the eve of the 1967 Detroit riots sparked by a police action.
Directed by Patricia McGregor at Los Angeles' Geffen Playhouse, Skeleton Crew is a play with a moral spine. It takes place in 2008, when the shrinking U.S. auto industry is being further downsized. Morisseau's engaging quartet of characters — Faye (Caroline Stefanie Clay), Dez (Armari Cheatom), Shanita (Kelly McCreary) and Reggie (DB Woodside) – are employed at an automobile outfitting plant. Faye, Dez and Shanita are workers on the line while Reggie (who has a wife and kids, and has pulled himself together after a troubled youth) is their supervisor.
The first three customarily mingle in their break room (designer Rachel Myers' impressively cluttered, dingy and detailed set), trading the sort of familiar barbs and genuine concern for each other common among longtime co-workers. They also face off on philosophy: Upper-middle-aged Faye and the younger, pregnant Shanita take pride in their labor, while Dez, though a good worker, is a malcontent scornful of management and firm in the belief that everyone needs to watch out for himself. He's a thorn in Reggie's side, for while Reggie wants to be supportive of his workers, he must act at the behest of higher management. For his part, Dez resents Reggie's authority, and a palpable unease exists between them.
Besides this male matchup, we're made privy to Dez's attraction to Shanita, who mostly turns away his advances, but every now and then displays a hint of interest. Most poignant is Reggie's regard and affection for the lesbian Faye, which has roots in his boyhood when she loved, and lived, with his now-deceased mom.
These people's various predicaments intensify when rumors spread of the plant's shutdown — a disaster for all, but a particular calamity for the already near-broke Faye who, one year short of retirement, would lose her pension. The crisis forces each of these people to make a choice.
A sound piece of social realism, Skeleton Crew grabs you from the start in its focus on blue-collar men and women, and their struggle against odds for dignity and self-respect. Morisseau not only furnishes these characters a platform for their travails, she endows them with strong values, big hearts and the opportunity to choose between right and wrong.
Unfortunately, the performance I attended did not soar. Many exchanges lacked a fresh edge. The actors certainly had their characters down, but too often they appeared to be coasting on technique. (This seemed particularly true of Clay, who performed the role to great accolades in Washington, DC in 2017, also under McGregor's direction). Additionally, some of the stage movement was not entirely fluid; in confrontations, actors sometimes would just stand and face each other in an artificial way. And Cheatom's interpretation of Dez struck me as a bit overly churlish and depressive: I needed more glimpses of the intelligence and edge that would secretly attract the strong, self-directed Shanita.
The most compelling moments belong to Woodside, well-cast as a man trying his best in difficult circumstances to do the right thing.
---
Gil Cates Theater at the Geffen Playhouse, 10886 Le Conte Ave., Westwood Village; Tues.-Fri., 8 p.m.; Sat., 3 & 8 p.m. Sun., 2 & 7 p.m.; through July 8. (310) 208-5454 or www.geffenplayhouse.org