Union Staffers: Time's Up, L.A. Times
The L.A. Times newsroom remains in a state of siege. Tronc has established an alternative editorial team for its shadowy "Los Angeles Times Network," and has declined to explain to Times staffers what its intentions are for this new enterprise.
Workers at the Washington Post won their first union contract in 1937, the year the Hindenburg crashed and burned. New York Times staffers got theirs around the time the Japanese attacked Pearl Harbor. In the first years of the 20th century, the owners of the Los Angeles Times not only crushed union opposition at the paper, but turned their hometown into the most rabidly anti-union big city in America. For over 100 years, the Los Angeles Times' newsroom remained a bulwark against organized labor, maintained by below-the-masthead editors and reporters, as well as by management.
So why did L.A. Times staffers choose to unionize last month by a vote of 248-44?
During her 41 years as a journalist and three decades at the Times, Bettina Boxall had never worked in a unionized newsroom. Until last year, the veteran Pulitzer Prize-winning reporter on environmental and water issues would have kept working at an open shop if given a choice. "My father was a military officer, and no members of my family were ever in a union," she tells me, "and watching them from afar — unions haven't had a great reputation."
When Boxall began at the Times, it was certainly a patriarchy, but a patriarchy rolling in profits and exceedingly generous when it came to employee compensation and job security.
In recent years, corporate mismanagement and merciless cost-cutting began to soften Boxall's stance. Now the bosses had nothing to offer and seemed to be taking everything away. Accrued vacation time? Gone. The 401(k) plan? Raided by a profane real-estate mogul who drove the company into bankruptcy. Layoffs and buyouts pared down the newsroom from 1,200 to around 400 – sending thousands of years of journalistic experience out the door.
These depredations brought long-standing inequities into starker relief, and sharpened focus on new ones. "Women are paid less than men," Boxall says. "I know that for a fact. And the long-standing Metpro program [for young minority journalists] has turned into a source of cheap young labor."
The climate of oppression and fear at the paper came not only from Chicago-based Tronc, the newspaper conglomerate that now owns the Times, but from the top of the masthead. More than a year ago, in Los Angeles magazine, I chronicled the excesses of former editor and publisher Davan Maharaj — the paranoia, the interference with investigative pieces and behavior that had helped turn the newsroom into a hostile work environment for women.
Until he was placed on unpaid leave because of allegations about past sexual improprieties, Ross Levinsohn, the Times' CEO and Maharaj's successor in the publisher's chair, pursued an agenda of click-baiting at all costs. To implement it, he hired Lewis D'Vorkin, who during his career at Forbes and other publications had earned the sobriquet "Prince of Darkness." D'Vorkin held the post three months until Tronc removed him, following scathing coverage of his misrule. "We'd almost become like an abused family," Boxall says of the Times newsroom. "We wouldn't react in an overt strong way. We were passive in the face of anything they did to us."
At her first organizing rally late last summer, Boxall took the podium and declared to her beaten-down colleagues that she had never signed a unionization card, but she was going to sign one that night. She would become one of the chief organizers of the effort, teaming with younger colleagues like 30-year-old data journalist Anthony Pesce, who had made the first call to the NewsGuild-Communication Workers of America  in 2016, and had championed the unionization drive from its inception.
Boxall believes that the massive job cuts of the past two decades actually made victory easier – the union advocates only had to convince a majority of 400 staffers, not of 1,200. The chronic instability of newsroom and business leadership – with publishers and editors coming in to make big changes and then packing up their offices seemingly as soon as they arrived — may have made the paper more dysfunctional, but it also ensured that there would be no company standard bearer in the building with the kind of longstanding authority and solid workforce relationships that can be effective at countering a unionization drive.
For their part, the Tronc executives back in Chicago proved no more competent at repulsing a union effort than they had been at choosing leaders to run the Times. It certainly didn't help that Lewis D'Vorkin put his name on some of the anti-union pleas emailed to a staff that largely loathed him.
The newsroom remains in a state of siege. Tronc has established an alternative editorial team for its shadowy "Los Angeles Times Network," and has declined to explain to Times staffers what its intentions are for this new enterprise. Many believe it  may be used to undermine or bypass the newly unionized workforce. Some say that the Times' journalistic integrity and their own livelihoods will remain under threat as long as Tronc controls the paper.
Nevertheless, the establishment of the L.A. Times Guild seems to have somewhat dissipated the air of futility, anger and disgust that clouded so many of my earlier conversations with staffers. Boxall likens the feeling to what countless victims of sexual harassment must have experienced during the past year – finding strength in numbers as they confront their abusers after so much silence and disregard.
"We care about the institution of the L.A. Times," Boxall says, "and we're concerned about the revolving door and an ownership only interested in profits, not civic duty. Well, time's up. It's kind of the equivalent of the #MeToo movement. We've had enough of this."
---
Copyright Capital & Main
The Power of the Poster
Carol Wells, the founder of the Center for the Study of Political Graphics in Los Angeles, talks to Capital & Main about the enduring power of political art.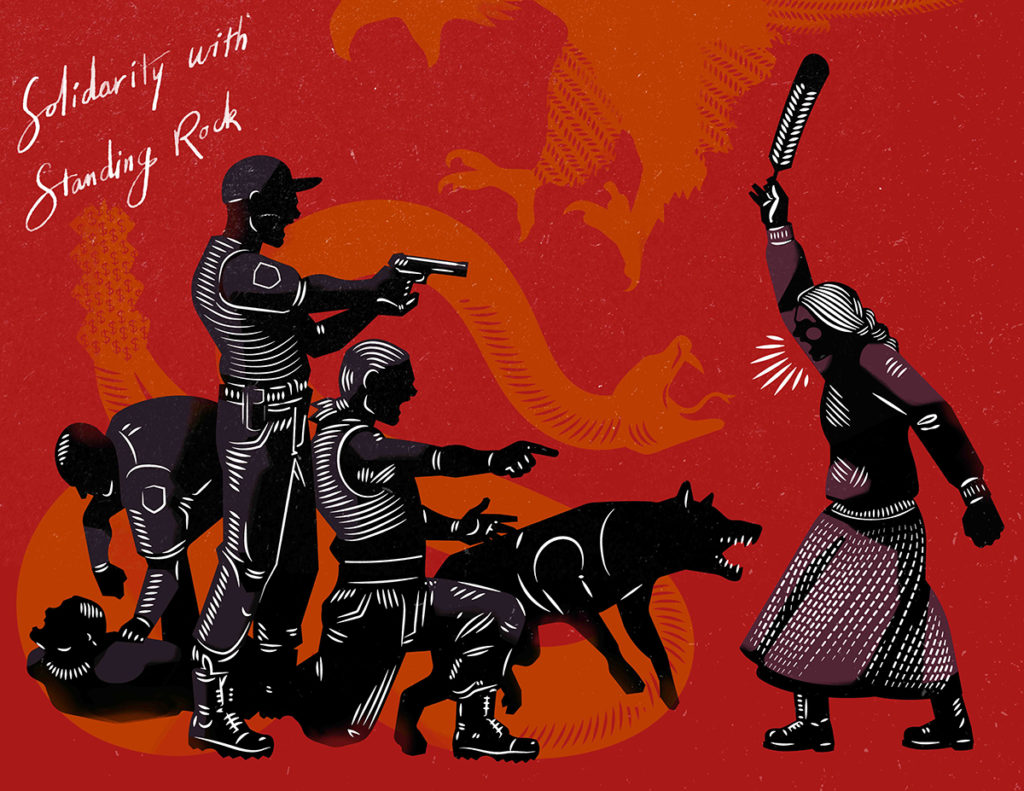 Carol Wells remembers the exact moment she discovered her calling. An art historian at the time, she was on a trip to Nicaragua with her friend David Kunzle, a UCLA art history professor, who was collecting political posters to add to his burgeoning collection. While staying with friends, Wells watched a neighbor's 8-year-old son approach a poster on the wall, stare at it intently, and then start to silently mouth the words. Wells was struck by how engaged the boy was. "In that moment I became obsessed with collecting posters."
Now over 40 years later, Wells is the founder and executive director of the Center for the Study of Political Graphics in Los Angeles. Wells has amassed approximately 90,000 posters, building one of the largest collections of its kind in the world. The Center shares its collection with the public in part through curated exhibits. This year the CSPG has produced Feminae: Typographic Voices of Women by Women and its latest is To Protect & Serve? Five Decades of Posters Protesting Police Violence, running through July 15 at the Mercado La Paloma in downtown Los Angeles.
Since that encounter in Nicaragua in 1981, Wells' obsession with collecting posters hasn't waned. In CSPG's nondescript West L.A. office space, Wells pulls out poster after poster, lecturing passionately on the backstory and cultural impact of each, including one that superimposes text from a New York Times interview with a shocking image of the My Lai massacre ("Q: And babies? A: And babies."). Recently, she managed to sit down with C&M to discuss her passion.
---
Capital & Main: So, you were an art history professor, you happen to see a kid on a trip, and suddenly your life was changed forever?
Carol Wells: Yeah, I'm in Nicaragua alone in the living room with this kid. He's looking around, and all of a sudden, he sees the poster. It was pretty big, bright green, a thick outlines of a woman holding a big basket of coffee beans. And the text in Spanish said, "In constructing the new country, we are becoming the new woman." I see him walk over to the poster and I'm watching him mouth the words. It was a pretty sophisticated concept, so I doubt he figured it out. But I literally had this epiphany: "Oh my God. That's how posters work." You're going about your daily life, and all of a sudden something breaks through the bubble, and it grabs your attention. It's the graphic, it's the color, it's the combination, and it pulls you out of your head and into that poster and it makes you ask a question. "Why is this here? What is this about? What does this mean?" And every time you ask a question, you're a different person than you were before you asked the question.
How many posters do you get a year?
We get between two to five thousand a year donated from all over the world. The bulk of our collection is [from] 1945 and later.
I assume technology has probably hurt the art form, but has it helped get the messages out?
Most people think that, and it's actually not true. Since the internet age started, there's actually a poster renaissance of works on paper. Because you can't walk with your computer monitor in a demonstration. You can't plant your monitor on your lawn.
And you can't put a laptop on the wall…
Exactly. You want to hear a really great story? Truthdig.org published a cartoon [made by] a political cartoonist named Mr. Fish. It was during the Arab spring, and he had superimposed Che Guevara with the stylized beard and King Tut's face, but it had Che's beret. And it [was titled], "Walk like an Egyptian." So, it was a reference to the music, but [it was also] a reference to what was going on the streets of Cairo. I sent it out as our poster of the week to 9,000 people. The very next day, somebody took a photograph on the street of Cairo, with somebody holding a piece of paper with that image on it. A poster can literally go around the world and people will print it out.
What struck me in viewing your exhibits is how many of these posters could still be used today, not only artistically but also, sadly, in the timeliness of their messages.
We had this fabulous poster by Yolanda Lopez, a Bay Area artist, which she first did in 1978. It depicts a young man in Aztec garb pointing a finger like Uncle Sam saying, "Who's the illegal alien, PILGRIM?" And it's a great poster, it's simple, not too many words, funny, provocative. So, we had an exhibit at UCLA in the mid '90s and there were 4 or 5 high school students standing around this poster saying, "Wow, you've got posters up to the minute." And I went over to them and I said, "Look at the date. This is before you were born."
Is that one of your goals with the exhibitions? To show the evergreen nature of this work?
Absolutely. I mean that's why we did the police abuse exhibition now. It basically goes back five decades. It's 50 years of posters protesting police abuse. Mainly in the United States, but also internationally.
What's the goal for CSPG?
Well the aim right now is really to digitize the collection and get it online. We have 10% of the collection digitized. But the mission is to collect and to document, because stories get lost. All the exhibitions, they're showing massacres, they're showing genocide, they're showing police abuse, they're showing all of these horrible things. And people often ask me, "How can you look at this stuff all day long?" I said, "Because the poster artists are optimists. They believe people can change if they have the information."
Yes, that's the reason why they're doing it, right?
That's why they're doing it, and that's why I'm doing this, because I believe that people can change if they knew the truth.
And what happens 20, 50 years from now?
Well, my goal is to stay independent, because the other option is to become part of the university. Universities, for all the fabulous things that they do, they also censor. We did an exhibition at USC in 1992 on the 500 years since Columbus, and how the legacy of racism and exploitation and genocide continues. And one of the board of trustees was Italian and took [the exhibit] as an affront to Columbus. It really wasn't about Columbus, it was about colonialism. And he ordered it down.
Do you have a favorite poster?
I'm always amazed at the creativity and vision of artists. Every week I'll say, "Oh my God, how do they think of that?" But it's always still going to be the poster I saw that kid trying to figure out. It has to be my favorite one because that one changed my life.
What makes a perfect poster?
The right balance between aesthetics and message. If you only rely on the corporate press, the New York Times and L.A. Times, for your information, you're not going to get the side from the street, from the movement, from the activists. The posters are primary historical documents that are recording the issues that were at the time, and the passions that were at the time, and the divisions that were at the time. You're not going to get it anyplace else.
---
Copyright Capital & Main