Union Staffers: Time's Up, L.A. Times
The L.A. Times newsroom remains in a state of siege. Tronc has established an alternative editorial team for its shadowy "Los Angeles Times Network," and has declined to explain to Times staffers what its intentions are for this new enterprise.

Workers at the Washington Post won their first union contract in 1937, the year the Hindenburg crashed and burned. New York Times staffers got theirs around the time the Japanese attacked Pearl Harbor. In the first years of the 20th century, the owners of the Los Angeles Times not only crushed union opposition at the paper, but turned their hometown into the most rabidly anti-union big city in America. For over 100 years, the Los Angeles Times' newsroom remained a bulwark against organized labor, maintained by below-the-masthead editors and reporters, as well as by management.
So why did L.A. Times staffers choose to unionize last month by a vote of 248-44?
During her 41 years as a journalist and three decades at the Times, Bettina Boxall had never worked in a unionized newsroom. Until last year, the veteran Pulitzer Prize-winning reporter on environmental and water issues would have kept working at an open shop if given a choice. "My father was a military officer, and no members of my family were ever in a union," she tells me, "and watching them from afar — unions haven't had a great reputation."
When Boxall began at the Times, it was certainly a patriarchy, but a patriarchy rolling in profits and exceedingly generous when it came to employee compensation and job security.
In recent years, corporate mismanagement and merciless cost-cutting began to soften Boxall's stance. Now the bosses had nothing to offer and seemed to be taking everything away. Accrued vacation time? Gone. The 401(k) plan? Raided by a profane real-estate mogul who drove the company into bankruptcy. Layoffs and buyouts pared down the newsroom from 1,200 to around 400 – sending thousands of years of journalistic experience out the door.
These depredations brought long-standing inequities into starker relief, and sharpened focus on new ones. "Women are paid less than men," Boxall says. "I know that for a fact. And the long-standing Metpro program [for young minority journalists] has turned into a source of cheap young labor."
The climate of oppression and fear at the paper came not only from Chicago-based Tronc, the newspaper conglomerate that now owns the Times, but from the top of the masthead. More than a year ago, in Los Angeles magazine, I chronicled the excesses of former editor and publisher Davan Maharaj — the paranoia, the interference with investigative pieces and behavior that had helped turn the newsroom into a hostile work environment for women.
Until he was placed on unpaid leave because of allegations about past sexual improprieties, Ross Levinsohn, the Times' CEO and Maharaj's successor in the publisher's chair, pursued an agenda of click-baiting at all costs. To implement it, he hired Lewis D'Vorkin, who during his career at Forbes and other publications had earned the sobriquet "Prince of Darkness." D'Vorkin held the post three months until Tronc removed him, following scathing coverage of his misrule. "We'd almost become like an abused family," Boxall says of the Times newsroom. "We wouldn't react in an overt strong way. We were passive in the face of anything they did to us."
At her first organizing rally late last summer, Boxall took the podium and declared to her beaten-down colleagues that she had never signed a unionization card, but she was going to sign one that night. She would become one of the chief organizers of the effort, teaming with younger colleagues like 30-year-old data journalist Anthony Pesce, who had made the first call to the NewsGuild-Communication Workers of America  in 2016, and had championed the unionization drive from its inception.
Boxall believes that the massive job cuts of the past two decades actually made victory easier – the union advocates only had to convince a majority of 400 staffers, not of 1,200. The chronic instability of newsroom and business leadership – with publishers and editors coming in to make big changes and then packing up their offices seemingly as soon as they arrived — may have made the paper more dysfunctional, but it also ensured that there would be no company standard bearer in the building with the kind of longstanding authority and solid workforce relationships that can be effective at countering a unionization drive.
For their part, the Tronc executives back in Chicago proved no more competent at repulsing a union effort than they had been at choosing leaders to run the Times. It certainly didn't help that Lewis D'Vorkin put his name on some of the anti-union pleas emailed to a staff that largely loathed him.
The newsroom remains in a state of siege. Tronc has established an alternative editorial team for its shadowy "Los Angeles Times Network," and has declined to explain to Times staffers what its intentions are for this new enterprise. Many believe it  may be used to undermine or bypass the newly unionized workforce. Some say that the Times' journalistic integrity and their own livelihoods will remain under threat as long as Tronc controls the paper.
Nevertheless, the establishment of the L.A. Times Guild seems to have somewhat dissipated the air of futility, anger and disgust that clouded so many of my earlier conversations with staffers. Boxall likens the feeling to what countless victims of sexual harassment must have experienced during the past year – finding strength in numbers as they confront their abusers after so much silence and disregard.
"We care about the institution of the L.A. Times," Boxall says, "and we're concerned about the revolving door and an ownership only interested in profits, not civic duty. Well, time's up. It's kind of the equivalent of the #MeToo movement. We've had enough of this."
---
Copyright Capital & Main
'Skeleton Crew' Is a Play With a Moral Spine
Set in a Detroit automobile outfitting plant, Dominique Morisseau's drama grabs you from the start with its focus on blue-collar men and women, and their struggle for dignity and self-respect.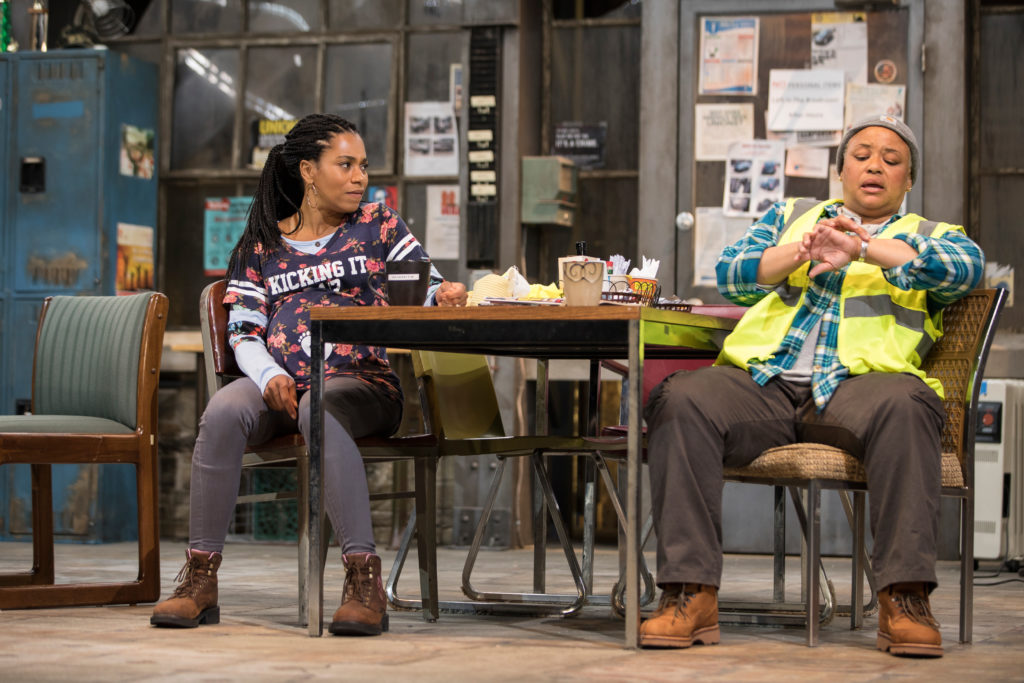 Working-class men and women of color are rarely front and center in today's media and, likewise, are presented all too occasionally on the American stage. So it's buoying to see that trend bucked in playwright Dominique Morisseau's percipient and well-crafted drama, Skeleton Crew. The play is the final installment in her Detroit  Project Trilogy; the first, Paradise Blue, is set in the 1940s amidst displacement caused by urban renewal and gentrification, while the second, Detroit '67, transpires on the eve of the 1967 Detroit riots sparked by a police action.
Directed by Patricia McGregor at Los Angeles' Geffen Playhouse, Skeleton Crew is a play with a moral spine. It takes place in 2008, when the shrinking U.S. auto industry is being further downsized. Morisseau's engaging quartet of characters — Faye (Caroline Stefanie Clay), Dez (Armari Cheatom), Shanita (Kelly McCreary) and Reggie (DB Woodside) – are employed at an automobile outfitting plant. Faye, Dez and Shanita are workers on the line while Reggie (who has a wife and kids, and has pulled himself together after a troubled youth) is their supervisor.
The first three customarily mingle in their break room (designer Rachel Myers' impressively cluttered, dingy and detailed set), trading the sort of familiar barbs and genuine concern for each other common among longtime co-workers. They also face off on philosophy: Upper-middle-aged Faye and the younger, pregnant Shanita take pride in their labor, while Dez, though a good worker, is a malcontent scornful of management and firm in the belief that everyone needs to watch out for himself. He's a thorn in Reggie's side, for while Reggie wants to be supportive of his workers, he must act at the behest of higher management. For his part, Dez resents Reggie's authority, and a palpable unease exists between them.
Besides this male matchup, we're made privy to Dez's attraction to Shanita, who mostly turns away his advances, but every now and then displays a hint of interest. Most poignant is Reggie's regard and affection for the lesbian Faye, which has roots in his boyhood when she loved, and lived, with his now-deceased mom.
These people's various predicaments intensify when rumors spread of the plant's shutdown — a disaster for all, but a particular calamity for the already near-broke Faye who, one year short of retirement, would lose her pension. The crisis forces each of these people to make a choice.
A sound piece of social realism, Skeleton Crew grabs you from the start in its focus on blue-collar men and women, and their struggle against odds for dignity and self-respect. Morisseau not only furnishes these characters a platform for their travails, she endows them with strong values, big hearts and the opportunity to choose between right and wrong.
Unfortunately, the performance I attended did not soar. Many exchanges lacked a fresh edge. The actors certainly had their characters down, but too often they appeared to be coasting on technique. (This seemed particularly true of Clay, who performed the role to great accolades in Washington, DC in 2017, also under McGregor's direction). Additionally, some of the stage movement was not entirely fluid; in confrontations, actors sometimes would just stand and face each other in an artificial way. And Cheatom's interpretation of Dez struck me as a bit overly churlish and depressive: I needed more glimpses of the intelligence and edge that would secretly attract the strong, self-directed Shanita.
The most compelling moments belong to Woodside, well-cast as a man trying his best in difficult circumstances to do the right thing.
---
Gil Cates Theater at the Geffen Playhouse, 10886 Le Conte Ave., Westwood Village; Tues.-Fri., 8 p.m.; Sat., 3 & 8 p.m. Sun., 2 & 7 p.m.; through July 8. (310) 208-5454 or www.geffenplayhouse.org