Uncovered California: Community College Students' Quest for Mental Health Services
Surveys suggest that somewhere in the region of one in four community college students will experience a diagnosable mental health problem at some point, but approximately 40% of them won't seek timely help.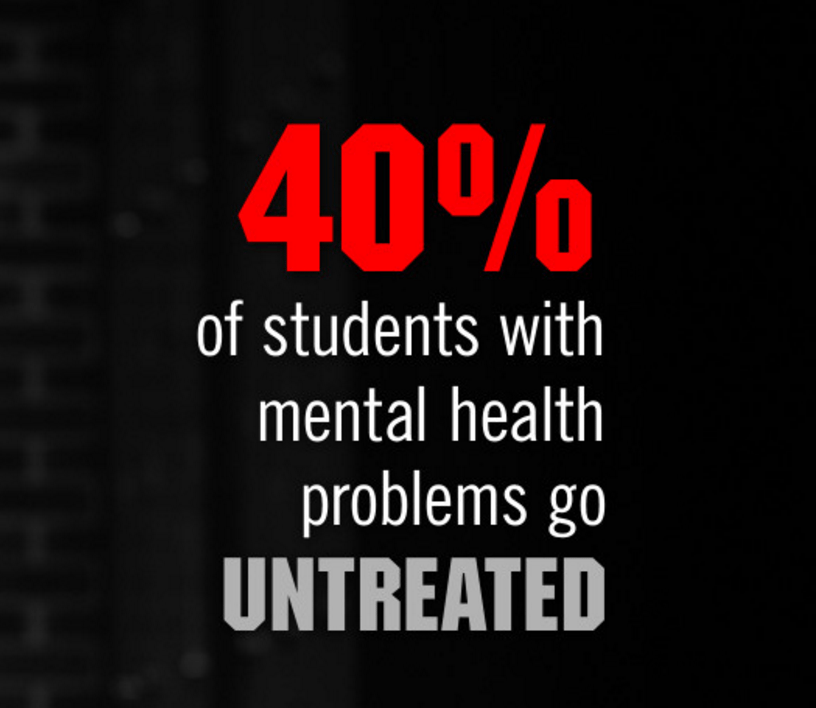 On April 19, 35-year-old Sacramento City College student Rachel Wilson testified before the state Assembly's higher education committee. A survivor of sexual assault and multiple suicide attempts, she described the lack of mental health support services available to her at school. Wilson was followed by an American River College professor, whose own son had killed himself while studying at a community college. The professor talked about three students who had recently committed suicide at her school, and of the lack of mental health services to help troubled individuals. When faculty members saw someone in crisis, she said, they were instructed to call campus police and have them take the student away.
"Mental illness is not a crime," she told legislators. Then she repeated it: "Mental illness is not a crime."
Both women wanted the legislators to support Kevin McCarty's (D-Sacramento) Assembly Bill 2017, which would significantly expand mental health services across California's vast community college system.
Roughly two million Californians attend classes in one or another of the 113 community campuses dotted around the state. Surveys suggest that somewhere in the region of one in four of these students will experience a diagnosable mental health problem at some point, but approximately 40 percent of them won't seek timely help. And too often, the institutions at which they study won't be proactive in linking them up with vital services. As a result, they go untreated.
"Uncovered California" is a three-part series of stories and videos examining how the Golden State is trying to fill holes in its health care coverage. Sasha Abramsky's articles look at working people who are falling through coverage cracks, and at what's being done to help community college students gain access to mental health services. Debra Varnado reports on efforts to expand the role of nurse practitioners to increase medical services for low-income Californians.
In the wake of the 2007 Virginia Tech shooting, education systems around the country have realized the importance of identifying potentially troubled students and helping them access help before they spiral deeper into crisis. "It's really important. We have to catch these students, the suicidal students," says Susan Quinn, director of Student Health Services at Santa Rosa Junior College, and research director at the Health Services Association of California Community Colleges.
Despite this awareness, the mental health services infrastructure of California's community college system remains haphazard at best; and at many of the colleges it is virtually nonexistent. Santa Rosa Junior College has more resources than most, says Quinn, yet it only has one full-time psychologist, eight half-time student interns, and a handful of counselors paid on an hourly basis, to cater to the needs of nearly 27,000 students. Nearly four out of every 10 community colleges, Quinn continues, don't have any health services onsite at all.
Twelve years ago, California's voters passed Proposition 63, imposing an additional one percent tax on million-dollar-plus earners so as to generate a pool of money that could be used to bolster the state's failing mental health services. Taken as a whole, the initiative has been a roaring success, argue supporters, who include the Steinberg Institute, a Sacramento-based organization dedicated to addressing Californians' mental health challenges. Founded by ex-Senate President Pro Tem and Sacramento mayor-elect Darrell Steinberg, the institute has found that people who received services such as trauma intervention and assistance from mobile health teams under its auspices were far less likely to require aid from emergency services, to need hospitalization, to end up homeless or to be incarcerated, than were those who didn't access treatment.
However, the law hasn't been universally acclaimed. Conservative fiscal groups, such as the Howard Jarvis Taxpayers Association, have long opposed it because of the increased tax burden it imposes on wealthier Californians. And last year the Little Hoover Commission issued a critical report suggesting that it was impossible to accurately assess the success stories claimed by Proposition 63's supporters since oversight mechanisms weren't up to par, and programs were being funded that weren't demonstrably beneficial in terms of reducing the mental health crises. Other critics have accepted the claims that local programs funded with Proposition 63 dollars are working, but have argued that while many of the law's programs are good, they haven't gone far enough, that the measure leaves many vulnerable groups underprotected.
Seven years after Proposition 63's passage, California's counties started coordinating early intervention services under the umbrella of the California Mental Health Services Authority. Recognizing that many college students were going untreated for their mental health conditions, the authority, in coordination with the University of California and California State University systems, and community colleges, began surveying tens of thousands of students about their mental health status, and whether or not they were accessing treatment. In a 2015 paper published this year on the website Psychiatric Services, the researchers released their findings. Amongst the most notable was that community college students "remained significantly less likely to receive mental health services compared with their UC and CSU peers."
That ought not to have been a surprise. For unlike the UCs and CSUs, which have some discretion over how they spend their dollars, and have thus been able to build up mental health counseling services for their students, funding for the community colleges is rigidly distributed. Health services, which include mental health, are funded via a per-student fee, which not all colleges charge and which is capped at $19 per student per semester, far less than the roughly $300 per semester in health fees charged by the UCs.
For the larger community colleges and districts, this might mean the presence of a handful of nurses and a couple of counselors; although in a few cases, such as the City College of San Francisco (CCSF), it can range up to what Becky Perelli, CCSF's director of Student Health Services, calls "pretty comprehensive services." For the smaller colleges, however, it means a void. Gavilan, for example, currently has 6,300 students, but only one nurse. Feather River has 1,789 students, but only $46,321 coming in to spend on health services. Barstow, Taft College and several other schools have zero dollars coming in from student fees that they can put into developing a health care system on campus.
In fact, the Faculty Association of California Community Colleges estimates that only 45 of the 72 districts into which the 113 campuses are divided have any mental health programs onsite. And, even then, says spokesman Austin Webster, oftentimes instructors are told to call the campus police department if one of their students seems to be having a mental health crisis.
What makes this particularly galling, Susan Quinn argues, is that research shows that community college students "are more at risk [than UC students], because they are a more marginalized population, their socio-economic status is less. So we really are in a pickle. There should be established mental health providers with that focus." At a bare minimum, says outgoing HSACCC president Naomi Forey, each campus should have a health services office, staffed by at least a couple counselors, since 75 percent of serious mental illness develops before people reach the age of 24, and since community colleges cater to such large numbers of young people. There need to be, Quinn says, investments to establish a campus culture "where everyone in the community recognizes and responds to mental health crises. That public health model is shown to be what really works."
To partially address this gap, Assemblyman Kevin McCarty, who chairs the Assembly Budget Sub-Committee on Education Finance, introduced AB 2017, which, over each of its five years of existence, would use $40 million of the nearly $2 billion that Proposition 63 raises annually, to build up a mental health services infrastructure on campuses. While the grants will be available to all public higher education institutions in the state, between 60 and 70 percent of the dollars will be earmarked for community colleges.
"This will create a shot in the arm for colleges to increase mental health services on campus," McCarty tells Capital & Main. "This can only make our colleges more healthy, more conscious about mental health."
Six weeks after Rachel Wilson's testimony, McCarty's bill moved over to the Senate. Although AB 2017 has rattled nerves at the County Behavioral Health Directors Association of California, which fears a series of raids on the Proposition 63 pool of cash, and has stirred worries that the counties' role in distributing and spending the money will be undermined, the association has been unable to slow its march. That's not least because Darrell Steinberg has thrown his weight behind it. In an internal memo written in early June, CBHDA recognized as much: Steinberg's influence "with current legislative leaders has been very powerful," the authors wrote, "leaving CBHDA in a less optimal strategic position to oppose or influence the legislation at the last minute."
Essentially unopposed in the legislature, AB 2017 will almost certainly be sent to Governor Jerry Brown for his signature before the summer is out. If Brown signs it, a College Mental Health Services Trust Account will be established to disburse $40 million per year. "We've received no opposition," says Anna Hasselblad, the Steinberg Institute's public policy director. "Student associations are in line with us all the way, the Faculty Association is a co-sponsor, the California Community Colleges' League is a co-sponsor." And, she says, perhaps most important for the bill's prospects of success, it has had "bipartisan support throughout."
Assuming it becomes law, as of early next year colleges will have to apply for grants out of this fund, and there will be some matching fund requirements – to ensure that the colleges have some skin in the game themselves, so that they can keep their mental health services operational once the five-year life of the fund runs its course.
"The proposal to increase funding for student mental health services is one of our top priorities," explains Hasselblad. "There's the greatest need at the community colleges. They have the largest number of students enrolled. "
Late last year, the RAND Corporation issued a report, Payoffs for California College Students and Taxpayers from Investing in Student Mental Health, on the impact of Proposition 63 spending. It concluded that every dollar invested in mental health services for community college students leads to more than an $11 return, in terms of improved graduation rates and higher wages.
If McCarty's bill passes, says CCSF's Becky Perelli, "it will mean there will be funds to build some infrastructure in institutions, staffing, and technology, to provide resources to people around mental health. Licensed people who can really work to help identify students in need."
Will it meet all the mental health challenges on campus? By no means. After all, with more than two million students at community colleges, $40 million annually can only go so far. But it's a start. It will allow desperately under-resourced colleges to begin investing in their mental health infrastructures. And, for the tens of thousands of college students who currently do not have their mental health needs adequately met, that can only be a good thing.

Living Homeless in California: The University of Hunger
A January study found that 11 percent of students on the California State University's 23-campuses reported being homeless during the past year. At Humboldt State nearly a fifth said they'd been homeless at one point during 2017.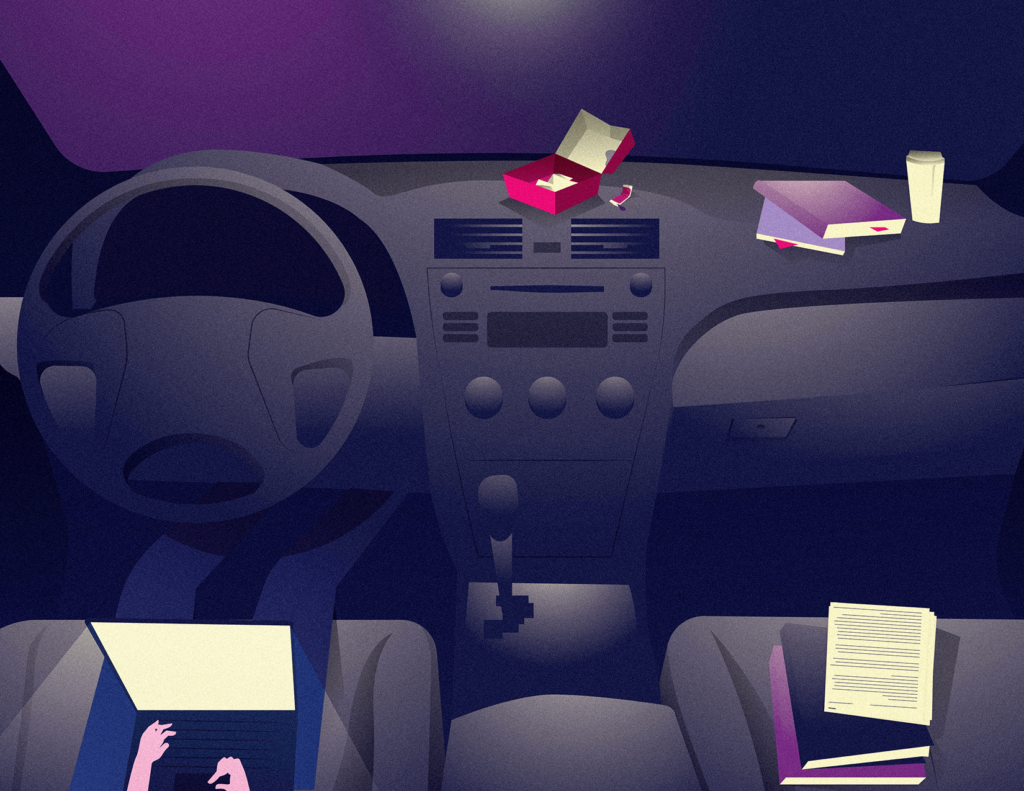 ---
Homeless students told of sleeping in the woods and of completing research assignments at McDonald's, to take advantage of free Wi-Fi.
---
In August of 2016, Chanté Marie Catt left her home in Redding, in the Sacramento Valley, to begin her first semester at Humboldt State University. Catt was 36, with a boyfriend and 1-year-old daughter, and possessed a booming laugh and no small amount of confidence. After nearly two decades running her own pet-care business in Los Angeles, she had begun to feel limited by her lack of a college degree, and several years earlier followed her parents north and enrolled at Redding's Shasta College. The transfer to Humboldt had her dreaming of towering redwoods and cool ocean breezes. "We were excited to start a new life, maybe buy a house," she says.
The couple tried to find a place from Redding, scouring Craigslist for openings without luck. In person, Catt figured, her prospects would improve. Once they had checked into a campground north of the university and enrolled their daughter in daycare, she dedicated her time to visiting property management companies. A week went by, then another. She paid application fees to management companies—$20 here, $43 there—and called through every listing she found, but even with a solid credit and rental history, never heard back. The family bounced from one campsite to another, with occasional stops at a motel to clean up. It was an expensive way to live, and she rapidly blew through $16,000 in financial aid and student loans. One day, out of a combination of anger and desperation, Catt took to Craigslist from her motel room. "I'm a sociology student," she wrote, "starting research on our homeless students and on the property management companies here. Anyone want to share their stories!?"
Within hours, she received more than 150 responses. Homeless students told her of moving from couch to couch, of sleeping in the woods and of completing their research assignments at McDonald's, where they took advantage of free Wi-Fi. "My children are cold, we are broke from all the rental application fees and I'm tired of it," wrote a mother of two. A graduate student who worked full-time revealed that he was living in his car for the second consecutive semester: "I never knew it would be this hard to find a place to rent."
Several weeks later, while still homeless, Catt had organized a campus group, the Homeless Student Advocate Alliance, and was spending her free time passing out fliers to attract more members. They weren't hard to find. "Every couple of students I talked to was experiencing some sort of displacement," she says. For many students at Humboldt, going to college meant becoming homeless.
---
One homeless-student conference included workshops on outdoor living, covering topics like how to light fires to keep homework dry.
---
The true scale of this crisis was revealed last January in a groundbreaking report commissioned by the California State University system. The study found that 11 percent of students on the university's 23-campuses reported being homeless during the past year. The problem was most acute at Humboldt State, where nearly a fifth of the student body had been homeless at one point the previous year.
"In large part, students are homeless because they don't get enough financial aid," says Jennifer Maguire, a Humboldt social work professor, who co-authored the study with Rashida Crutchfield of Long Beach State. "It's even worse here, because we're in a rural area with a very limited housing stock." According to the North Coast Journal, a local newspaper, there aren't even enough rental units in the city of Arcata, where the university is located, for the students who need housing—much less anywhere else. And while the university plans to build more student housing, it can currently only guarantee slots for first-year students.
This shortage allows landlords to crank up rents and reject applicants at whim. For students without a financial cushion, the situation can quickly turn into a full-blown emergency—and in the CSU system, that's a lot of students. More than half the students at Humboldt are the first in their family to attend college, and a third are Latino. Many work full-time; some have kids. "The 'non-traditional' student is now the traditional student," says Maguire.
On a cool April morning, more than 200 people packed into a theater at the College of the Redwoods in nearby Eureka, for a forum on homelessness co-hosted by Humboldt State. "I mentioned to a community member last week that I would be attending this summit today and she asked me, 'What does homelessness have to do with HSU?'" said Humboldt State president Lisa Rossbacher. The crowd laughed, which represented at least some progress. It's no longer a secret that Humboldt State students struggle with homelessness.
---
"My children are cold, we are broke from all the rental application fees and I'm tired of it," wrote a Humboldt State University student.
---
Much of the progress is due to the efforts of activists like Catt. After several months of homelessness, her family eventually landed an apartment, thanks in part to an emergency welfare grant. By that time, she had organized the homeless student alliance, which was pressing the university to finally address the problem. Last fall, the group held a three-day conference at Humboldt State that included workshops on outdoor living, which covered topics like how to light a fire and keep your homework dry. On the third day, a group of students put up tents on the quad and stayed for two nights. They then moved to the library, which they occupied, and demanded that it remain open 24 hours a day to give homeless students a safe and warm place to be.
The next day, an administrator contacted Catt and offered her the position of off-campus housing liaison, which had been one of the alliance's demands. Since January, Catt has worked with more than 100 students, many of whom are in need of housing or have dealt with retaliation from landlords. It's a start, though there are limits to what she can accomplish. One student who was living out of her car recently came to Catt's office, and Catt gave her a code to the campus lockers, which are normally reserved for students taking physical education classes. The student broke down in tears at the prospect of a hot shower. A few days later, Catt texted her that a landlord had recently called with a room to rent, but the student had moved back in with her parents. "She told me it had just been too cold out there," says Catt.
A couple of days after the homeless summit, I met Jasmine Bigham, a 23-year-old transfer student, on the steps of the campus library. Like Catt, she had arrived at Humboldt in 2016, and anticipated finding housing within a week or two. "Weeks turned to months," she says. She spent a semester living out of her Subaru Outback, searching for places to park at night that looked safe, then curling up on the back seat. She didn't tell her parents. "No parents want their kids living like that," she says—and anyways, they didn't have much extra money. Bigham is from a small town in neighboring Siskiyou County, and before college had lived inside a metal shop designed to store tractors and supplies; her parents created walls by hanging tarps. "I sort of grew up having to figure shit out," she says.
---
Homelessness has caused Jasmine to give up on some dreams. She wants a college education, so that means giving up a home.
---
After a semester in the Subaru, she bought a used trailer for $1,000 and parked it at a KOA campground for $600 a month. That felt safer, but then the trailer's ceiling collapsed and an intoxicated neighbor harassed her, so she left for a room in a house that was infested with mold and rats. She could only handle the grime for so long, so last year she sold her Subaru and plowed the rest of her savings—which she earned by waitressing in Lake Tahoe—into a GMC van. Since January, she's been living at a parking lot next to student housing.
As we walk from the library to the parking lot, Bigham outlines her semester budget. Scholarships nearly cover her tuition, and she's in charge of the rest. Right now she's not working, because she's taking 19 units, the maximum allowed. The parking pass is $180 a year, and she rents two lockers, at $5 a piece, for the semester. Each day she stops by the campus food pantry, where she fills plastic containers with soup and picks up rice and beans. She describes the area around campus as a food desert but in reverse—filled with only "really expensive healthy food" that's out of her reach. She takes a bus to Eureka, then walks a mile to reach a more affordable grocery store, where she can load up on quinoa, bell peppers and mangos. She has a camping stove, or else prepares meals for the week at friends' homes.
At the parking lot, she points out several other vehicles where students are living. She'll graduate in December, and tells me that when she returns this fall she hopes to get the other homeless students to park together, to create a greater sense of safety. She opens the back of her van, which is meticulously organized: a plastic container for her clothes, a folded mattress she bought on sale at Ross Dress for Less, an ice chest and cans of beans. "I had to learn what food stays good and what doesn't," she says.
Bigham tells me that she's always felt different. She is an African American from an all-white rural community. She grew up on a "broken-down ranch" with cows and pigs, while many students at Humboldt talk about eating meat as if it were a crime. "The hardest thing is people not understanding," she says, leaning against her van. "If you talk about how people don't have enough to eat, they say, 'Well, why don't they just feed themselves?'"
Homelessness has caused her to give up on some dreams. She loved track, and was recruited by a couple of larger colleges to throw the javelin, but didn't want to live in a big city. She hoped to continue with athletics, but juggling a full academic load while being homeless didn't leave much room for anything else. She shrugs and smiles. "You can either be sad or you can figure it out. If you don't have money, but you still want to do things, you have to give up something," she says. She wants a college education, so that means giving up a home.
---
Copyright Capital & Main