Uncovered California: Community College Students' Quest for Mental Health Services
Surveys suggest that somewhere in the region of one in four community college students will experience a diagnosable mental health problem at some point, but approximately 40% of them won't seek timely help.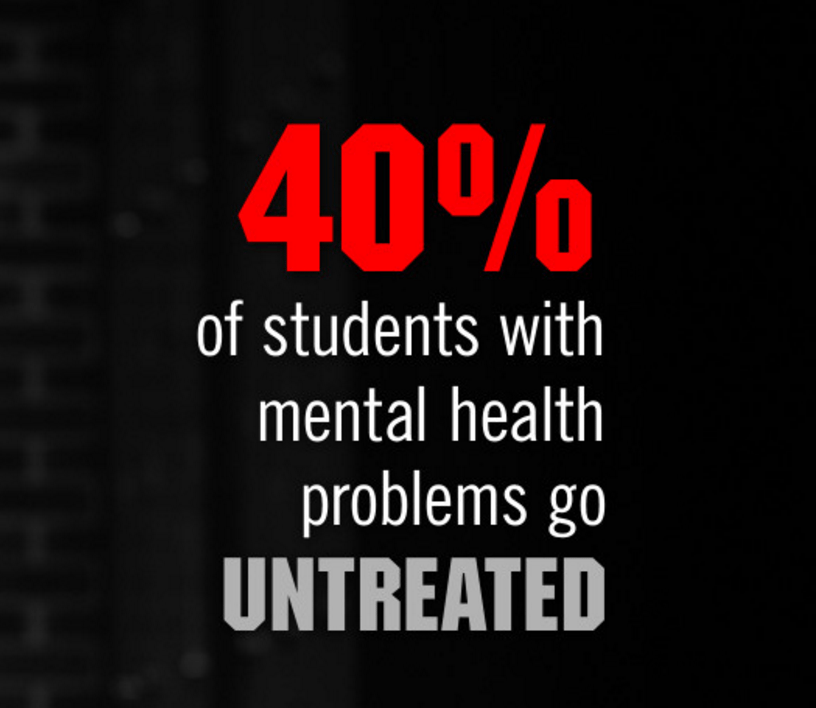 On April 19, 35-year-old Sacramento City College student Rachel Wilson testified before the state Assembly's higher education committee. A survivor of sexual assault and multiple suicide attempts, she described the lack of mental health support services available to her at school. Wilson was followed by an American River College professor, whose own son had killed himself while studying at a community college. The professor talked about three students who had recently committed suicide at her school, and of the lack of mental health services to help troubled individuals. When faculty members saw someone in crisis, she said, they were instructed to call campus police and have them take the student away.
"Mental illness is not a crime," she told legislators. Then she repeated it: "Mental illness is not a crime."
Both women wanted the legislators to support Kevin McCarty's (D-Sacramento) Assembly Bill 2017, which would significantly expand mental health services across California's vast community college system.
Roughly two million Californians attend classes in one or another of the 113 community campuses dotted around the state. Surveys suggest that somewhere in the region of one in four of these students will experience a diagnosable mental health problem at some point, but approximately 40 percent of them won't seek timely help. And too often, the institutions at which they study won't be proactive in linking them up with vital services. As a result, they go untreated.
"Uncovered California" is a three-part series of stories and videos examining how the Golden State is trying to fill holes in its health care coverage. Sasha Abramsky's articles look at working people who are falling through coverage cracks, and at what's being done to help community college students gain access to mental health services. Debra Varnado reports on efforts to expand the role of nurse practitioners to increase medical services for low-income Californians.
In the wake of the 2007 Virginia Tech shooting, education systems around the country have realized the importance of identifying potentially troubled students and helping them access help before they spiral deeper into crisis. "It's really important. We have to catch these students, the suicidal students," says Susan Quinn, director of Student Health Services at Santa Rosa Junior College, and research director at the Health Services Association of California Community Colleges.
Despite this awareness, the mental health services infrastructure of California's community college system remains haphazard at best; and at many of the colleges it is virtually nonexistent. Santa Rosa Junior College has more resources than most, says Quinn, yet it only has one full-time psychologist, eight half-time student interns, and a handful of counselors paid on an hourly basis, to cater to the needs of nearly 27,000 students. Nearly four out of every 10 community colleges, Quinn continues, don't have any health services onsite at all.
Twelve years ago, California's voters passed Proposition 63, imposing an additional one percent tax on million-dollar-plus earners so as to generate a pool of money that could be used to bolster the state's failing mental health services. Taken as a whole, the initiative has been a roaring success, argue supporters, who include the Steinberg Institute, a Sacramento-based organization dedicated to addressing Californians' mental health challenges. Founded by ex-Senate President Pro Tem and Sacramento mayor-elect Darrell Steinberg, the institute has found that people who received services such as trauma intervention and assistance from mobile health teams under its auspices were far less likely to require aid from emergency services, to need hospitalization, to end up homeless or to be incarcerated, than were those who didn't access treatment.
However, the law hasn't been universally acclaimed. Conservative fiscal groups, such as the Howard Jarvis Taxpayers Association, have long opposed it because of the increased tax burden it imposes on wealthier Californians. And last year the Little Hoover Commission issued a critical report suggesting that it was impossible to accurately assess the success stories claimed by Proposition 63's supporters since oversight mechanisms weren't up to par, and programs were being funded that weren't demonstrably beneficial in terms of reducing the mental health crises. Other critics have accepted the claims that local programs funded with Proposition 63 dollars are working, but have argued that while many of the law's programs are good, they haven't gone far enough, that the measure leaves many vulnerable groups underprotected.
Seven years after Proposition 63's passage, California's counties started coordinating early intervention services under the umbrella of the California Mental Health Services Authority. Recognizing that many college students were going untreated for their mental health conditions, the authority, in coordination with the University of California and California State University systems, and community colleges, began surveying tens of thousands of students about their mental health status, and whether or not they were accessing treatment. In a 2015 paper published this year on the website Psychiatric Services, the researchers released their findings. Amongst the most notable was that community college students "remained significantly less likely to receive mental health services compared with their UC and CSU peers."
That ought not to have been a surprise. For unlike the UCs and CSUs, which have some discretion over how they spend their dollars, and have thus been able to build up mental health counseling services for their students, funding for the community colleges is rigidly distributed. Health services, which include mental health, are funded via a per-student fee, which not all colleges charge and which is capped at $19 per student per semester, far less than the roughly $300 per semester in health fees charged by the UCs.
For the larger community colleges and districts, this might mean the presence of a handful of nurses and a couple of counselors; although in a few cases, such as the City College of San Francisco (CCSF), it can range up to what Becky Perelli, CCSF's director of Student Health Services, calls "pretty comprehensive services." For the smaller colleges, however, it means a void. Gavilan, for example, currently has 6,300 students, but only one nurse. Feather River has 1,789 students, but only $46,321 coming in to spend on health services. Barstow, Taft College and several other schools have zero dollars coming in from student fees that they can put into developing a health care system on campus.
In fact, the Faculty Association of California Community Colleges estimates that only 45 of the 72 districts into which the 113 campuses are divided have any mental health programs onsite. And, even then, says spokesman Austin Webster, oftentimes instructors are told to call the campus police department if one of their students seems to be having a mental health crisis.
What makes this particularly galling, Susan Quinn argues, is that research shows that community college students "are more at risk [than UC students], because they are a more marginalized population, their socio-economic status is less. So we really are in a pickle. There should be established mental health providers with that focus." At a bare minimum, says outgoing HSACCC president Naomi Forey, each campus should have a health services office, staffed by at least a couple counselors, since 75 percent of serious mental illness develops before people reach the age of 24, and since community colleges cater to such large numbers of young people. There need to be, Quinn says, investments to establish a campus culture "where everyone in the community recognizes and responds to mental health crises. That public health model is shown to be what really works."
To partially address this gap, Assemblyman Kevin McCarty, who chairs the Assembly Budget Sub-Committee on Education Finance, introduced AB 2017, which, over each of its five years of existence, would use $40 million of the nearly $2 billion that Proposition 63 raises annually, to build up a mental health services infrastructure on campuses. While the grants will be available to all public higher education institutions in the state, between 60 and 70 percent of the dollars will be earmarked for community colleges.
"This will create a shot in the arm for colleges to increase mental health services on campus," McCarty tells Capital & Main. "This can only make our colleges more healthy, more conscious about mental health."
Six weeks after Rachel Wilson's testimony, McCarty's bill moved over to the Senate. Although AB 2017 has rattled nerves at the County Behavioral Health Directors Association of California, which fears a series of raids on the Proposition 63 pool of cash, and has stirred worries that the counties' role in distributing and spending the money will be undermined, the association has been unable to slow its march. That's not least because Darrell Steinberg has thrown his weight behind it. In an internal memo written in early June, CBHDA recognized as much: Steinberg's influence "with current legislative leaders has been very powerful," the authors wrote, "leaving CBHDA in a less optimal strategic position to oppose or influence the legislation at the last minute."
Essentially unopposed in the legislature, AB 2017 will almost certainly be sent to Governor Jerry Brown for his signature before the summer is out. If Brown signs it, a College Mental Health Services Trust Account will be established to disburse $40 million per year. "We've received no opposition," says Anna Hasselblad, the Steinberg Institute's public policy director. "Student associations are in line with us all the way, the Faculty Association is a co-sponsor, the California Community Colleges' League is a co-sponsor." And, she says, perhaps most important for the bill's prospects of success, it has had "bipartisan support throughout."
Assuming it becomes law, as of early next year colleges will have to apply for grants out of this fund, and there will be some matching fund requirements – to ensure that the colleges have some skin in the game themselves, so that they can keep their mental health services operational once the five-year life of the fund runs its course.
"The proposal to increase funding for student mental health services is one of our top priorities," explains Hasselblad. "There's the greatest need at the community colleges. They have the largest number of students enrolled. "
Late last year, the RAND Corporation issued a report, Payoffs for California College Students and Taxpayers from Investing in Student Mental Health, on the impact of Proposition 63 spending. It concluded that every dollar invested in mental health services for community college students leads to more than an $11 return, in terms of improved graduation rates and higher wages.
If McCarty's bill passes, says CCSF's Becky Perelli, "it will mean there will be funds to build some infrastructure in institutions, staffing, and technology, to provide resources to people around mental health. Licensed people who can really work to help identify students in need."
Will it meet all the mental health challenges on campus? By no means. After all, with more than two million students at community colleges, $40 million annually can only go so far. But it's a start. It will allow desperately under-resourced colleges to begin investing in their mental health infrastructures. And, for the tens of thousands of college students who currently do not have their mental health needs adequately met, that can only be a good thing.

California's Schools Chief: Why a Low-Profile Job Matters — And Is Awash in Election Money
Whoever is elected Superintendent of Public Instruction in November will have a historic opportunity to correct the course of a system in which the public good has increasingly been compromised by the competing demands of private interest.

---
What makes the superintendent far more than a glorified administrator is the authority that comes with a popularly elected mandate.
---
The most persuasive evidence that the California Dream is rooted in Enlightenment notions of free public education, democratic governance and equity can be found in the state's founding document. Not only does the 1849 Constitution sketch out the contours of public schools, accountability, a funding mechanism and a Department of Education, but the framers stipulate that it be led by an elected State Superintendent of Public Instruction (SPI).
Fast-forward 169 years to the election of a new superintendent and the latest test of California's commitment to its foundational cornerstone. The stakes are high. Though California spends 40 percent (or $56 billion) of its $138 billion budget on its six-million student public school system, the past four decades have seen the state slip from among the top-five states for school funding to consistently ranking in the bottom five. Whoever is elected on November 6 will have a historic opportunity to correct the course of a system in which the public good has increasingly been compromised by the competing demands of private interest.
What, exactly, does the superintendent do? The political shorthand typically describes the $175,000-a-year position as Sacramento's elected equivalent to Betsy DeVos, the Trump-appointed U.S. Secretary of Education.
---
The superintendent can use the post's bully pulpit to act as a super-lobbyist
on behalf of students.
---
On paper, the SPI interprets regulations, sets curriculum and teaching standards, collects school accountability data and manages the day-to-day business of the sprawling California Department of Education. The superintendent is thus an implementer but not a maker of policy — which is the bailiwick of the governor and his appointed president of the State Board of Education.
But those roles represent a great deal of power, and not just for their direct impact on California students and their families. Jack O'Connell, whose two-term tenure as schools superintendent immediately preceded Tom Torlakson's election as superintendent in 2010, says the sheer size of the California Department of Education means that decisions by its superintendent reverberate far beyond state borders.
"There's an organization that all 50 state superintendents belong to," notes O'Connell, "and there's a line on their agenda — 'Hey California, what's happening?' Because [we're doing] what's going to come next [elsewhere]. So when we start requiring algebra in eighth grade, textbook companies are going to start putting algebra in eighth grade, and those are the same textbooks that other states are going to use."
What ultimately makes the SPI far more than a glorified administrator or compliance officer is the authority that comes from having a mandate. Unlike the 37 states that follow the federal model by appointing the chief executive of their education agencies, California is among a select group that gives voters the final say. Winning a statewide election translates into power, says Julian Vasquez Heilig, a professor of educational leadership and policy studies, and the director of the Doctorate in Educational Leadership at California State University, Sacramento.
"You look at other states, like Texas, [where] the Commissioner of Education is appointed. This position is different," Heilig explains. "The Superintendent of Public Instruction is not beholden to the governor but is setting an agenda for education. So it's a really important office. Teacher associations have [the superintendent race] as one of their top priorities, because they understand the sort of independence that this elected official has."
That institutional independence, plus the opportunities afforded by the SPI's automatic seat on the State Board of Education, has evolved into an almost mystical power of personal persuasion. Superintendents often refer to it as "the bully pulpit," though during the 1960s, that term was realized in its worst sense — when populist Republican segregationist Max L. Rafferty used his pulpit for declaring war on the counterculture, and became a national figure in the process.
In its best sense, however, the SPI can use those powers of persuasion and independence to act as a kind of super-lobbyist and coalition-builder from inside or outside the state schools bureaucracy to advocate for students. Democrat Bill Honig, who spent a decade in the job from 1983 to 1993, was renowned for his public battles with Republican Governor George Deukmejian. In 1990, that meant organizing a statewide resistance against Deukmejian's attempted cut of $800 million from the schools. Honig calls it the "convening power," and he credits Torlakson's mastery of it, in tandem with Jerry Brown, for transformative changes like Local Control Funding Formulas, alternative school-accountability measures and bringing Common Core to California.
"This is a very complex educational system in California, with local school districts and boards, and teachers, unions, counties, the Department of Ed and the State Board," Honig says. "I mean, there's a lot of moving parts. When we are the most effective is when we're moving in a common direction under a common philosophy, and that's what's happened in the last eight years under Brown and [board president] Michael Kirst and Tom Torlakson."
Democrat Delaine Eastin concurs. State schools superintendent from 1995 to 2003, Eastin had to operate under both the governorships of Republican Pete Wilson and Democrat Gray Davis. It was under Wilson that she similarly found herself politically isolated and facing a hostile governor, who she also had to sue for illegally withholding money from schools. She adds, however, that effective independence can also depend on the determination of the individual occupying the office.
"Having a voice at the table that's steadfast and articulate is really important," Eastin says. "The superintendent can be ineffective if the superintendent sits on his hands, or her hands. But it is important that the superintendent be nimble and to not paint with too broad a brush. … Sometimes you have to go toe to toe."
The superintendent race has already attracted the inflationary levels of campaign spending by education PACs and independent expenditure committees that critics say is rattling the integrity of California elections. But the June gubernatorial primary reached a new spending height with a political belly flop that was solely the work of a PAC controlled by the California Charter Schools Association (CCSA). In a failed attempt to boost the election hopes of pro-charter candidate Antonio Villaraigosa, the charter lobbying group dropped $22 million into the former Los Angeles mayor's flagging campaign against Lieutenant Governor Gavin Newsom.
Now, five weeks out from the general election, the only option open for charter school forces is to repeat that performance by pulling out the money stops in the superintendent's race, where Marshall Tuck, a former Los Angeles charter school operator in his second run for superintendent, is facing teachers-backed Tony Thurmond, a progressive Assemblymember and former social worker from Richmond. The two Democrats finished the primary with Tuck barely edging out Thurmond, 37 to 35.6 percent. Although officially nonpartisan, the PAC spending makes the race the latest proxy for the broader battle between progressives and neoliberals for the soul of California's fractious Democratic Party.
Because charters are ground zero for that fight in California education, it's little surprise that Tuck and Thurmond's sharpest differences revolve around fixes to the state's deeply divisive charter school law. Public schools have long complained that the law's authorization and funding mechanisms doom struggling schools and push fiscally stressed districts into insolvency. Thurmond has said he'd consider supporting a "pause" to new charters; Tuck has flatly rejected any brake to charter expansion but would give extra funding to districts hemorrhaging enrollment to keep them afloat during downsizing.
The issue has made Superintendent the only non-ballot initiative race to make the California Fair Political Practices Commission website's "Top Ten" list of heaviest PAC spending for the general election. Recent filings with California Secretary of State show the Tuck campaign far out front in the super-PAC money race, with Tuck at $14.3 million, mostly from EdVoice for the Kids PAC, a charter PAC associated with Reed Hastings, the billionaire Netflix CEO and a major charter school funder. The Thurmond campaign stands at roughly $5 million, mostly from unions. (Disclosure: Some of Thurmond's campaign contributors are financial supporters of this website.)
At the end of the day, the effectiveness of any superintendent hinges on an ability to strike an amicable working partnership with the State Board of Education and the governor — to move an agenda in "a common direction" under a common philosophy. And if bad blood left by the charter lobby's bare-knuckle primary campaign against Gavin Newsom should mean that a Superintendent Tuck wouldn't be off to a running start with a Governor Newsom, there's still plenty of common ground between the two camps on school funding, early education, California's teacher crisis and closing the achievement gap.
But whoever wins, there remains a unique opportunity for a superintendent and governor on the same philosophical page to change the paradigm for reform and bring peace to a destructive quarter-century of charter-versus-public school warfare that has come mostly at the expense of students.
---
Copyright Capital & Main