Two Massachusetts Towns Say No to Walmart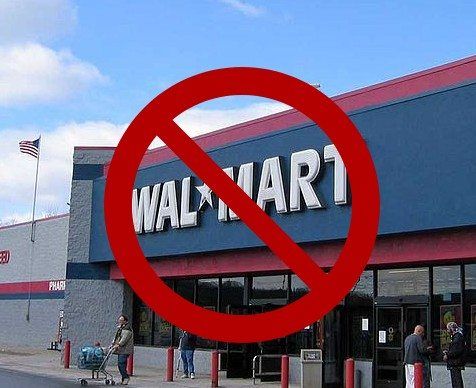 Last month Walmart pulled out of Somerville and Watertown, two cities outside of Boston, claiming it wasn't economically feasible for the company to open markets in these areas. Here's what Walmart spokesperson Steven Restivo told Boston.com: "One of the primary deciding factors on any given site – whether it's in an urban, suburban or rural market – is that it makes sense from a business perspective and contributes to our bottom line."
It's hard to believe a company that has been around for 50 years didn't foresee that these markets wouldn't "make sense from a business perspective" before it announced plans to open them. Walmart knows what it takes to expand and survive, including hiring expensive lobbyists, handing out money to nonprofits and reducing its market size to avoid local planning requirements. I dug a little deeper and found that the real story is much more complicated than Walmart wants to let on.
In Watertown, where Walmart planned on building a mammoth Supercenter, residents, small businesses and workers protested the giant retailer's poor business practices, which often result in the loss of local enterprises and increase the strain on city services. The mayor of Watertown joined local residents in rejecting the company's puffed-up promises of jobs, which as other communities have found, sound good initially but quickly decrease in quality and quantity soon after. Walmart once promised that its Crenshaw Boulevard store in Los Angeles, for example, would create 400 jobs.But employees at the store say there aren't more than 250 people employed there now.
In Somerville , the locally formed Somerville Stands Up to Walmart group and State Senator Denise Provost hosted a forum for residents to hear an actual Walmart worker tell them exactly what to expect from Walmart jobs.
Walmart makes millions from its stores but it wasn't actually clear what Somerville and Watertown residents would get. The experience of other towns (across the country and in Massachusetts) could be described as that of having unwelcome house guests. They eat all the food and don't offer to pay you back, squeeze someone out of their room and jam the bathroom up when others need to use it. Walmart sucks up scarce local funds, creates traffic headaches around its stores and shutters local businesses. Given this history, it's no wonder residents of Watertown and Somerville were concerned about Walmart.
Residents of both towns built a broad base of supporters, held community meetings, talked to their elected officials and took their story to the media. In Somerville , opponents even took out a billboard ad. Residents tried, unsuccessfully, to get Walmart to come to the table and figure out what it could do to make sure the store was also good for the neighborhood's bottom line. Would it agree to pay its fair share of property taxes? Would it ensure that employees were paid a living wage so that no one had to rely on public assistance? The answer, while not expressed directly, was clear: The company refused to sit down at the table with the local communities.
Walmart's messy exit from these two cities shows that the company's "economic analysis" had no line item for community needs. The company was arrogant and greedy and it didn't anticipate that local residents, businesses and workers would stand up and have their own ideas about what they wanted for their communities.
Somerville and Watertown are just two examples of dozens of cities across the country taking a stand against a multi-billion-dollar bully (others include the recent rejection of Walmart in Queens, N.Y. and the creation of the Save Altadena group, which is battling Walmart in the foothills of Los Angeles). We've seen this type of behavior before. Walmart hasn't changed its ways and, once again, communities are fighting back and winning against an unwanted house guest.